Homes
This seaside Chennai home by Empatio Architecture is drenched in layers of rustic minimalism and modern brutalism
NOV 6, 2023
| By Pratishtha Rana
A clever semblance to a storybook, where each chapter reveals distinct characters, memorable plots and a sundry of emotions — this three-bedroom home in Thiruvanmiyur, in the southern stretch of Chennai, is a revelation of inspiring design clues, turn by turn. Designed by Chandhana Ramesh, Founder and Principal Architect of Empatio Architecture-Chennai, the home commands an overall organic mood while striking an equilibrium between modern minimalism and cozy layering.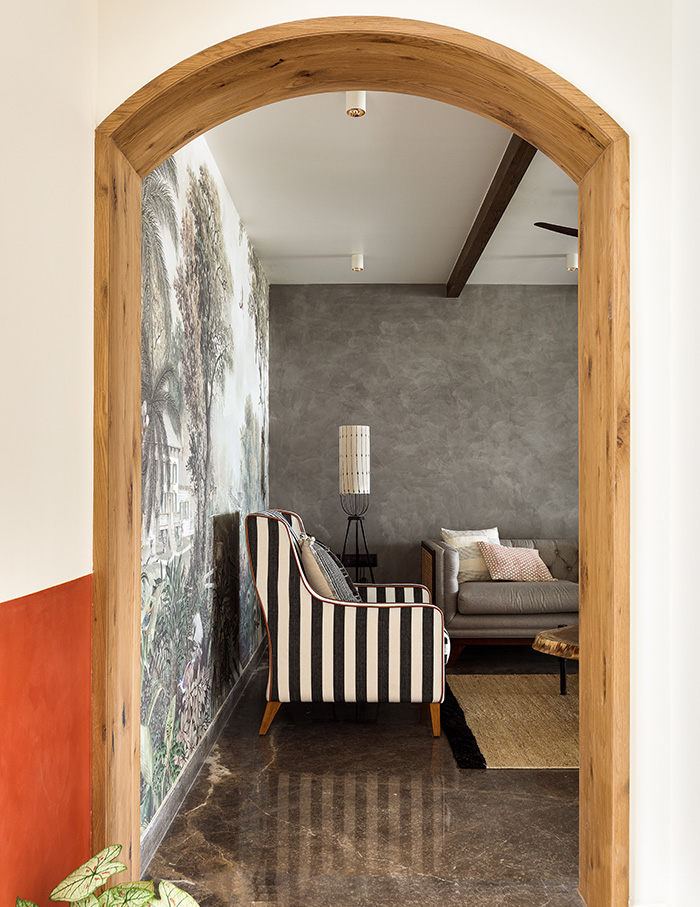 Perched on the 16th floor, the quaint abode sprawls an area of 1,700 sq ft. What stands out is the home's easy access to the dreamy visuals of the sea and the endless skyline, bringing indoors, lasting impressions of the beach-skirted residential locale of Thiruvanmiyur. The initial brief was simple. The family envisioned the interiors to be sombre and comforting, something that is not overbearing to the eyes and instils a sense of tranquility for the homeowners. Thus, the winning material and color palette was decided to be natural, neutral, and organic, seamlessly interspersed with abundant filters of daylight.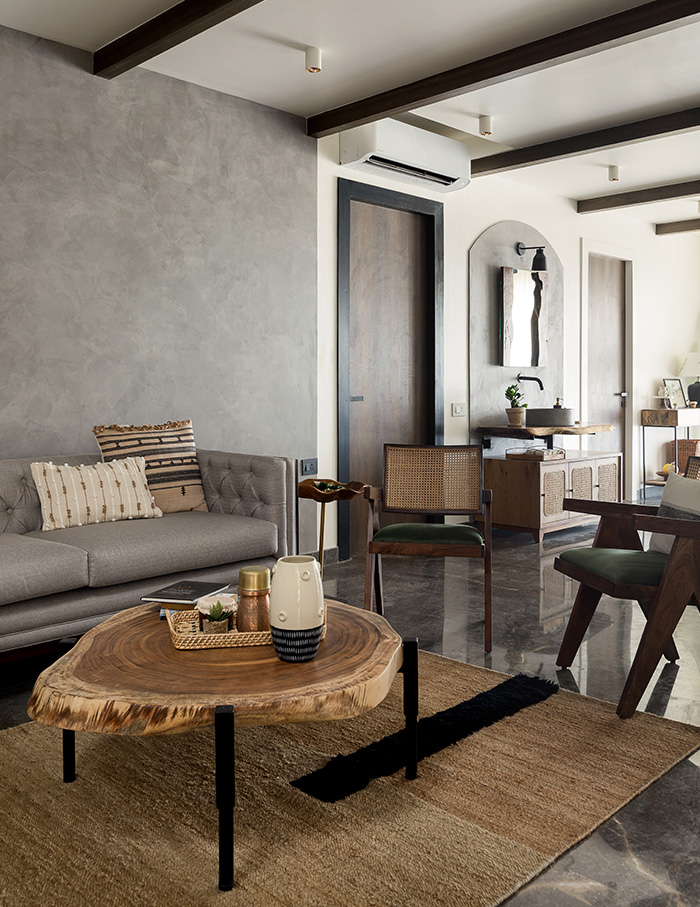 Layers that reveal
The original canvas of the residence uncovered a dark-toned, greyish-brown marble flooring in the living area. Surprisingly or unsurprisingly, this became the base for all the colors, textures and decor elements that were added eventually. But what is a home without some hints of experiments? Treading the boundaries of eclecticism and individuality, this den in Chennai is gently layered with a multitude of styles, from mid-century modern and tropical to rustic farmhouse and a little bit of chic industrial.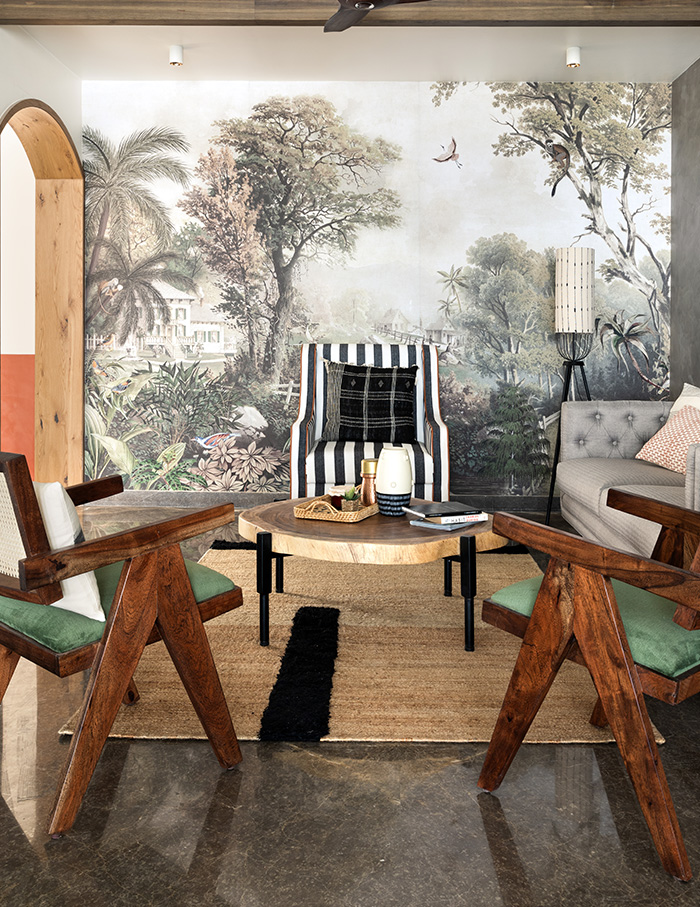 Around the home
An easy navigation dictates every turn and corner of the home. Ambling indoors, the entrance foyer is laid out as a corridor that transfers muted lighting to the study-and-yoga studio abutting one wall through a fluted glass opening. The intelligent use of fluted glass throughout lends not just private divisions to the space but also aids in spreading the ambient light. Adding a personalized mood from the very beginning, a custom-made terracotta mirror dresses up the wall of the foyer. A wooden arched doorway gives a peek into the living room, which finally trickles into a dining area.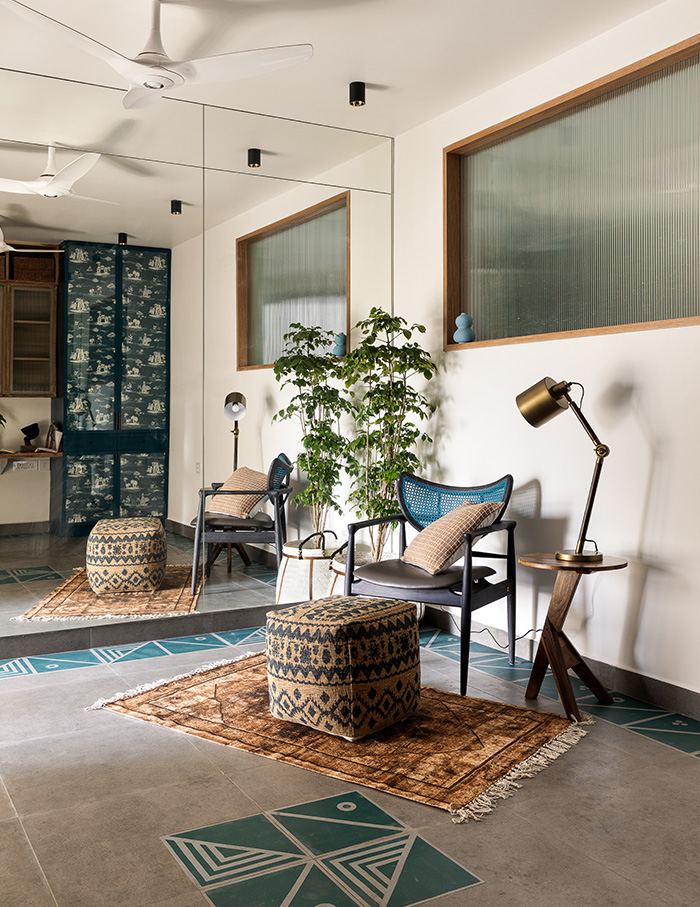 Transpiring rustic visuals, the ceiling is decked with wooden rafters, while the walls are left bare for other interior elements to be in focus. Weaving in whispers of nature, a statement wall stands central with a tropical mural wallpaper. More evident but effortless nature-inspired cues are brought inside with a library of raw concrete finish, Ashwood, oakwood and cane, seen in the furniture and furnishings. Collectible-worthy custom coffee table, Pierre Jeanerette chairs, a jute rug and a grey sofa further ensure a continued dialogue between urban and natural.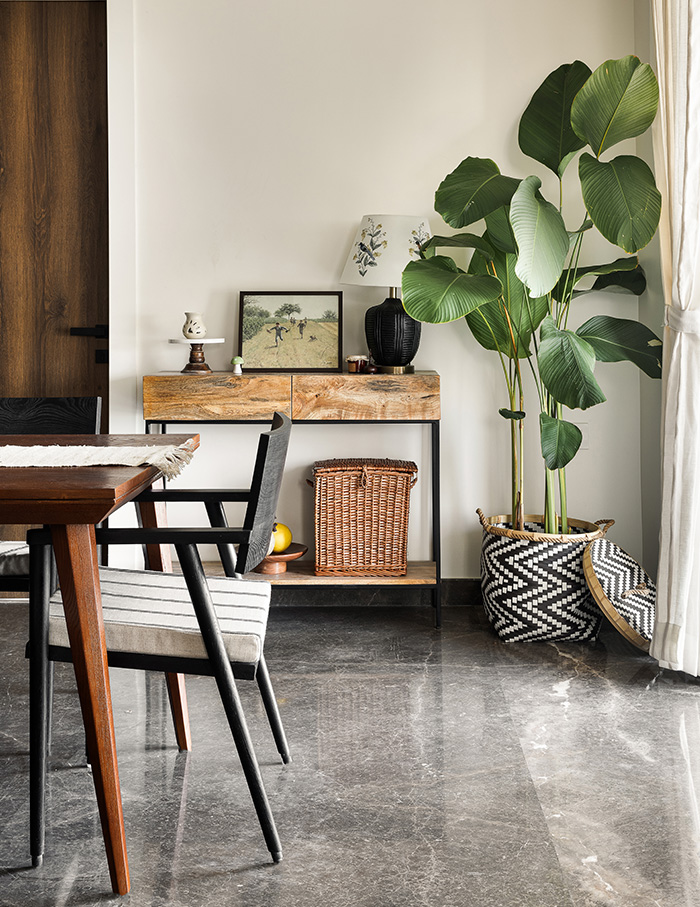 A slow rhythm wafts through the white-toned kitchen and dining zone, with minimal but functional decor dotted around. The kitchen, where the culinary business sets in motion, marinates in an organized layout but with a free-spirited direction, highlighting a distinguished farmhouse-aesthetic and a sober color scheme. While an adjacent sculptural wash area spotlights the concrete finish wall panel, once again exemplifying the raw-earthy temper of the abode. Treading ahead to the private boudoir corners — the master bedroom sits as a pinnacle of tranquility wrapped in a bohemian vibe with its sprightly sage green accents.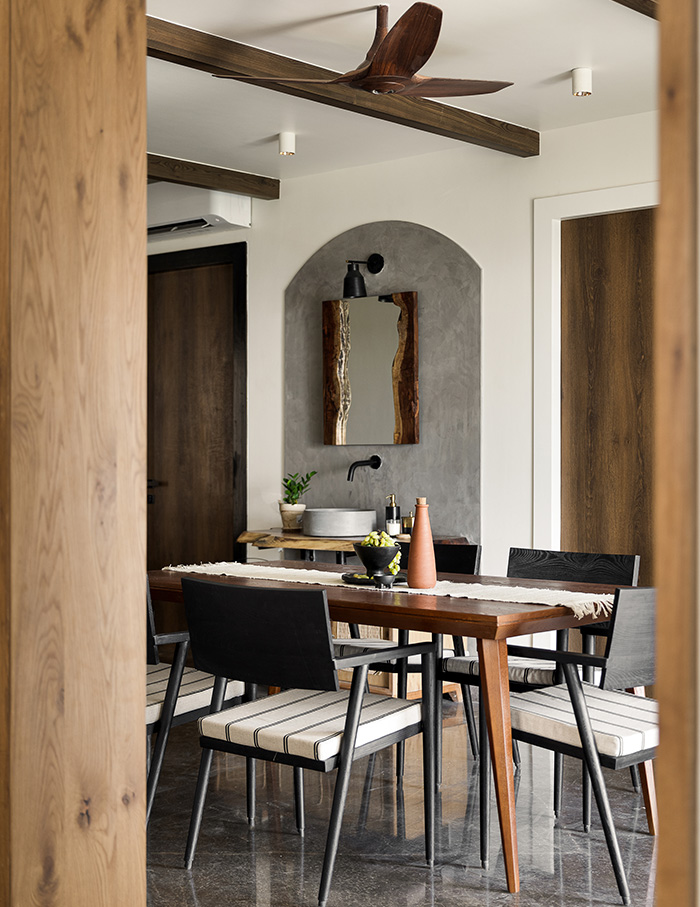 The other bedrooms showcase organic materials as an overarching theme with contrasting blue accents. Back near the foyer, a tall pane mirror stands guard in the yoga studio, a multifarious room that readily transforms into other community-friendly functions — be it as a study, reading or entertainment corner, or just to soak in some moments of solitude as well. Teamed with lightweight furniture that can be used flexibly, the mirror doubles up this room in an expansive sense, bestrewing more light around, while adding openness and a continued charm to it.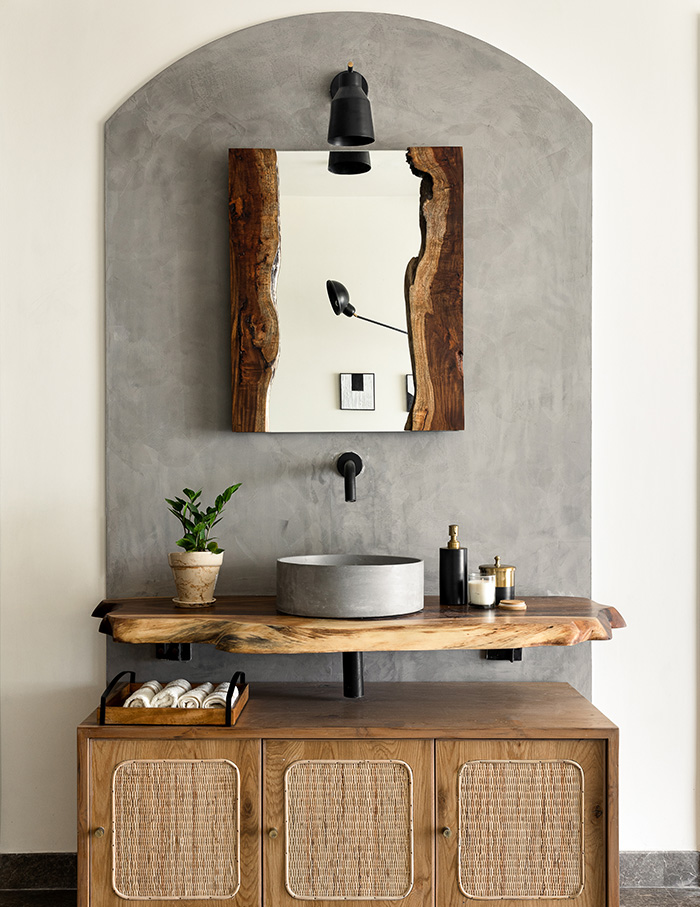 The Chennai charm
Being dwellers of the capital city of Tamil Nadu, the homeowners and the designer ensured to pursue Chennai as the central theme and influence for the residence, seen generously in motifs, patterns, decor objects amongst other elements. As Chandhana elucidates, "Traditional vintage pieces are reused to create new furniture that create a unique aesthetic for the home. For example, the vanity mirror in the master bedroom has a carved bas-relief panel which was sourced from down south and repurposed into a standing mirror. While in the study and yoga studio, fabric-paneled wardrobe shutters reflect clear influences of Chennai's skyline."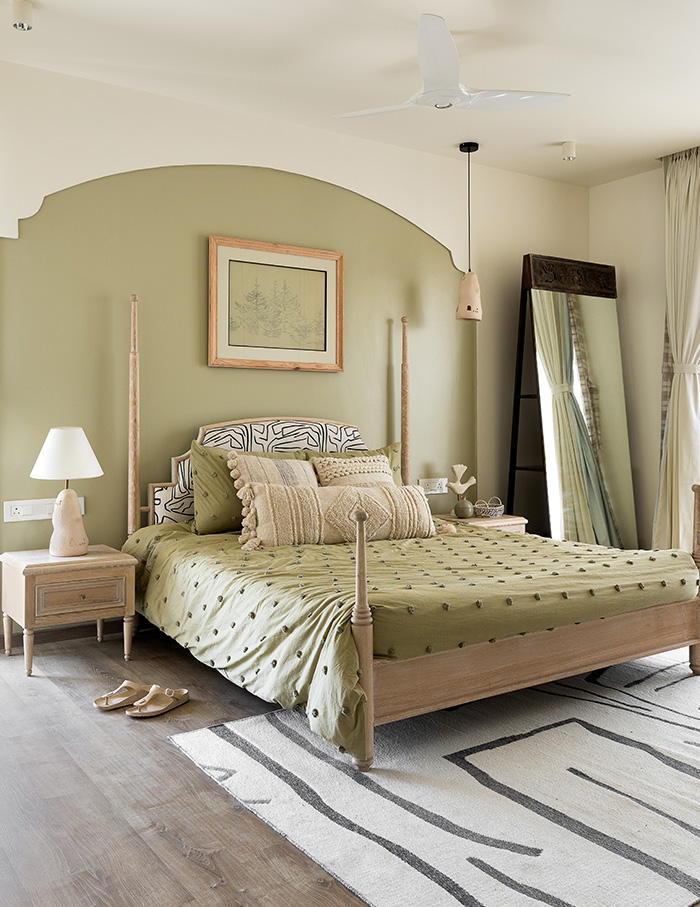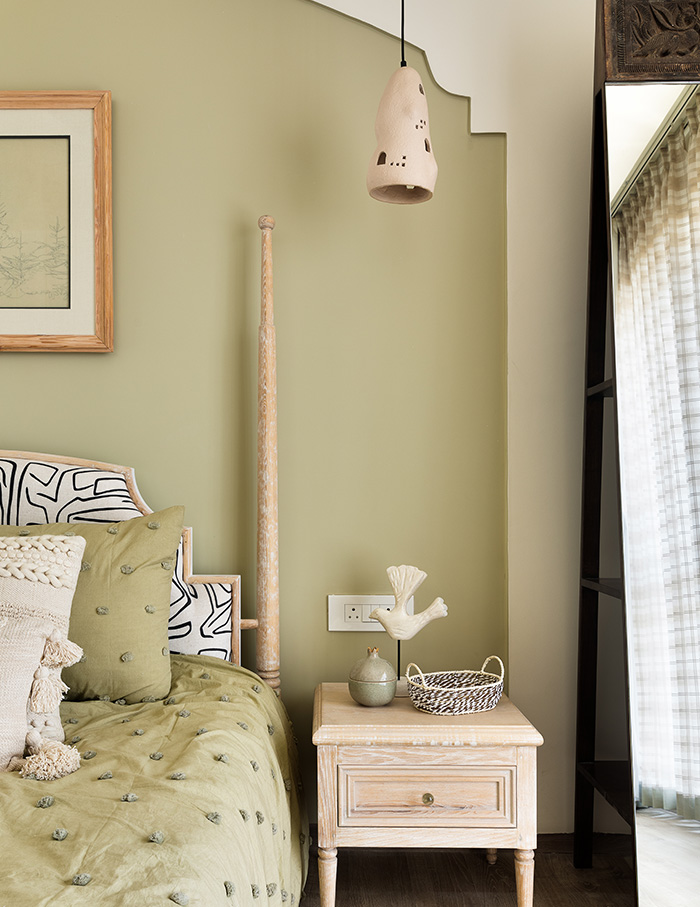 Poised and uninterrupted, draped in sleek and clean geometry, this city home in many ways mirrors the quintessential scenes of modern-brutalist interiors, where conscious splashes of soft greys, browns, creamy whites, and bright leafy greens introduce a new take on eclectic timelessness.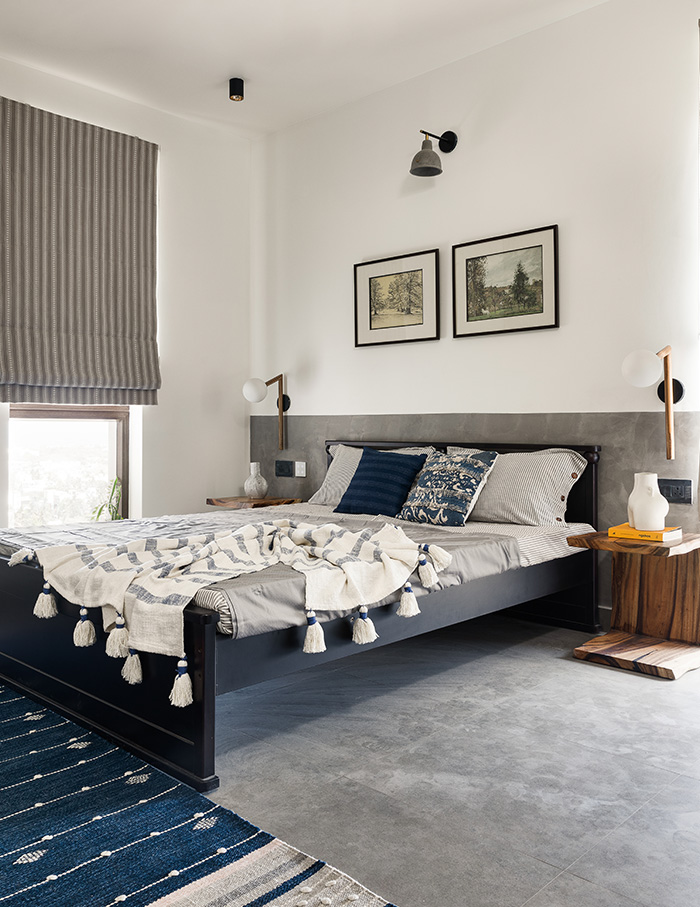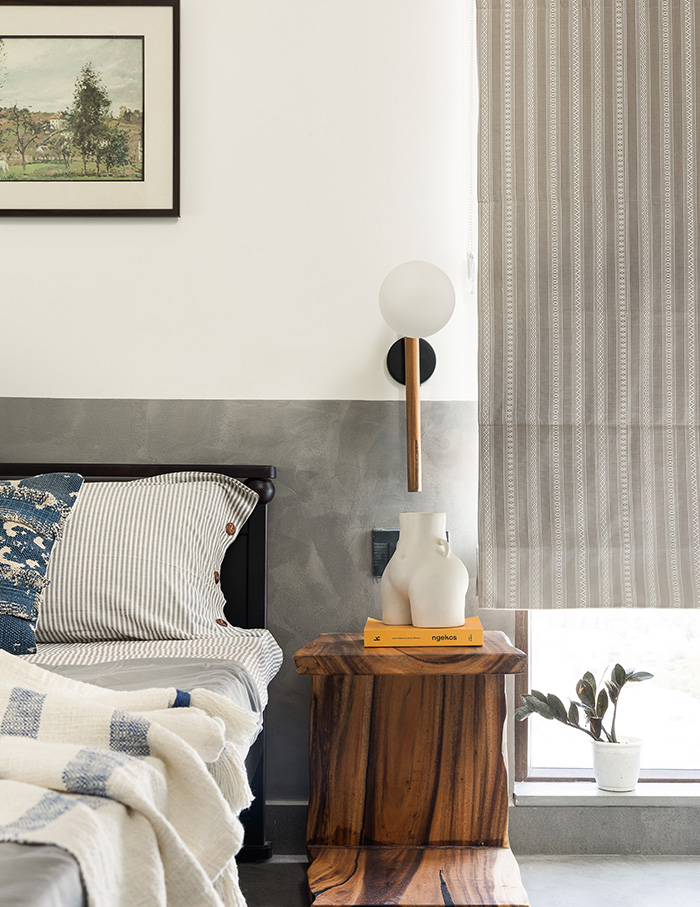 Also read:A Chennai home reveals greens and grandiose concocted by Farah Ahmed and Dhaval Shellugar of FADD Studio