Design
Cheery vibes, delightful patterns and playful decor—#EDAdores these spaces, curated for kids!
MAY 27, 2021
| By Saloni Rege
When the spaces for tiny tots are as cute and playful as them, we cannot resist showcasing their delightful charm! We've curated a list of projects wherein spaces for kids have acted as playgrounds for designers—the latter channelising their inner child to paint a pretty picture with decor elements, cherished by the young ones.
#EDAdores these rooms, conceptualised by varied designers to create a memorable experience for the toddlers as they grow up…
Kid's Activity Room by 42MM Architecture
Play, study and sleep—these are the three components that define the corners of this kid's room (see scroll above), tucked within Gurugram's Magnolias DLF apartment. Realised as an open layout, founder and architect Rudraksh Charan of 42MM Architecture has focused on freedom of movement and flexible interpretation. Designed for a preschooler, the room is characterised by bold shades and geometric forms. It aligns with the idea of breaking away from the volumetric constraints. The softness of curved furniture complements the linearity of the space. Elements like the floating bed, side tables and shelving unit act as storage options as well as pieces of art.
IPSAA's Aerocity by Chalk Studio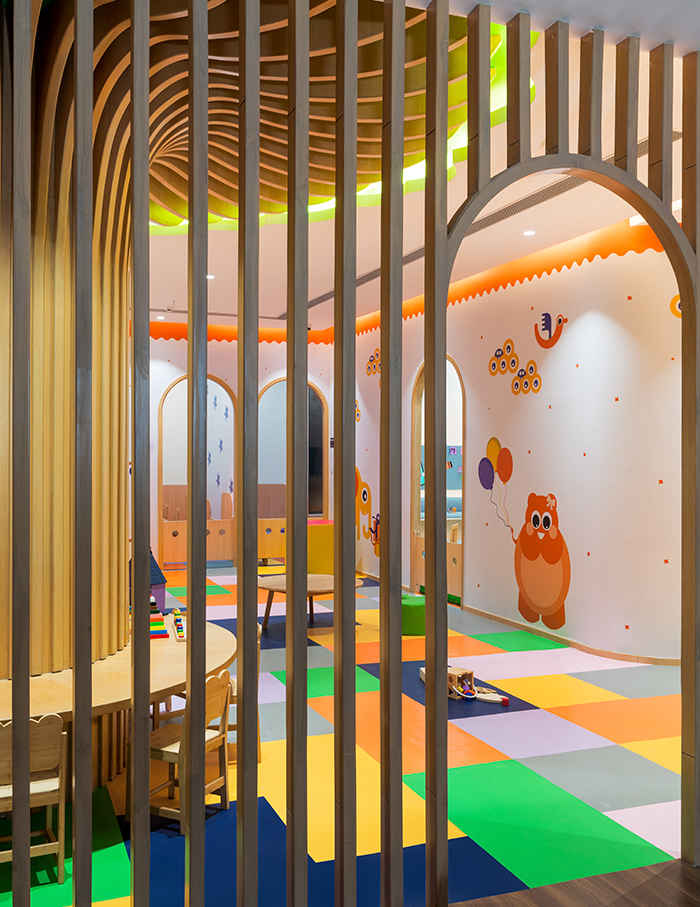 Vibrant and cheerful, IPSAA's Aerocity is a day-care centre that's designed around a circular wooden tree. Crafted by Chalk Studio's designers Priyanka Singh and Deepak Sharma, this cute and lively space is ideal for toddlers to learn and frolic. Covering an area of 1,300 sq ft, it comprises a compact reception, play and dining zone, two classrooms, a breastfeeding area and a nap room. The fun space stands out with its curvaceous forms, arches, artworks, interactive furniture and geometric patterns.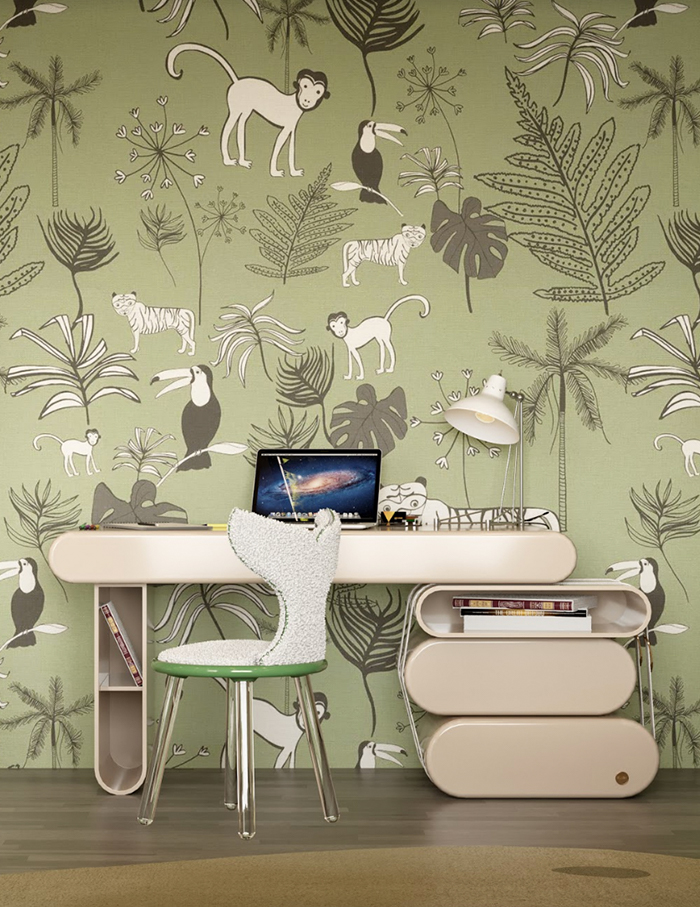 Suggestive of its moniker, the room is defined by the serenity and adventures of a jungle that's exciting for a child to explore. Circu has curated this space as part of a magical series that showcases the best kids bedroom! Inspired by elements from Jungle Book and the eternally loved Mowgli, the brand transforms this space into a canvas of fun and mystery. The brand's Tristan Bed is the centrepiece, accompanied by cloud nightstands and a foliage backdrop. While the study area is suited for learning, the illusion section houses a play area with split-level seating and a cosy Teepee at the centre. The dreamy bedroom is a perfect testament to comfort and imagination.
Toddler's Room by MADS Creations
Curated for a year-old toddler (see scroll above), this bright and stimulating room is filled with exciting design elements! Keeping in mind the child's needs as he grows, founder and interior designer of MADS Creations Meenu Agarwal, has conceptualised this room with explorable tactile and textural materials. A bed with soft cushioning and a vertical piping headboard is paired alongside a seating area with comfy chairs. Delightful hues and wallpapers add a fun vibe while ample storage, dedicated spaces and shelving units score brownie points for practicality. However, the arched reading nook remains the highlight of the room!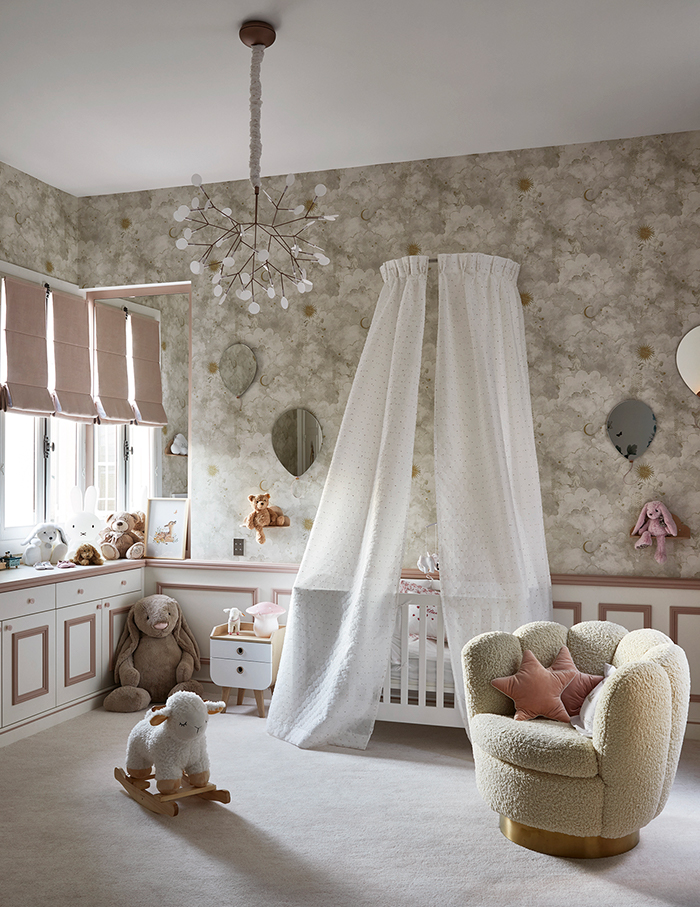 Plush and elegant best describe this tiny tot's bedroom that is adorned with stylish yet playful furniture for a calm and welcoming environment. Revolving around a soft and neutral palette, the room settles in an apartment on the sought-after Right Bank of Paris, curated by French interior designer Stéphanie Coutas. Dominotiers' 'Stars and monkeys' wallpaper adds a textural charm to this serene room. Additionally, a shell-like Mirage armchair from Eichholtz makes way for a cushy seater alongside a Théophile & Patachou cot bed that's draped in a princess vibe.
Daughter's Bedroom by The Local Studio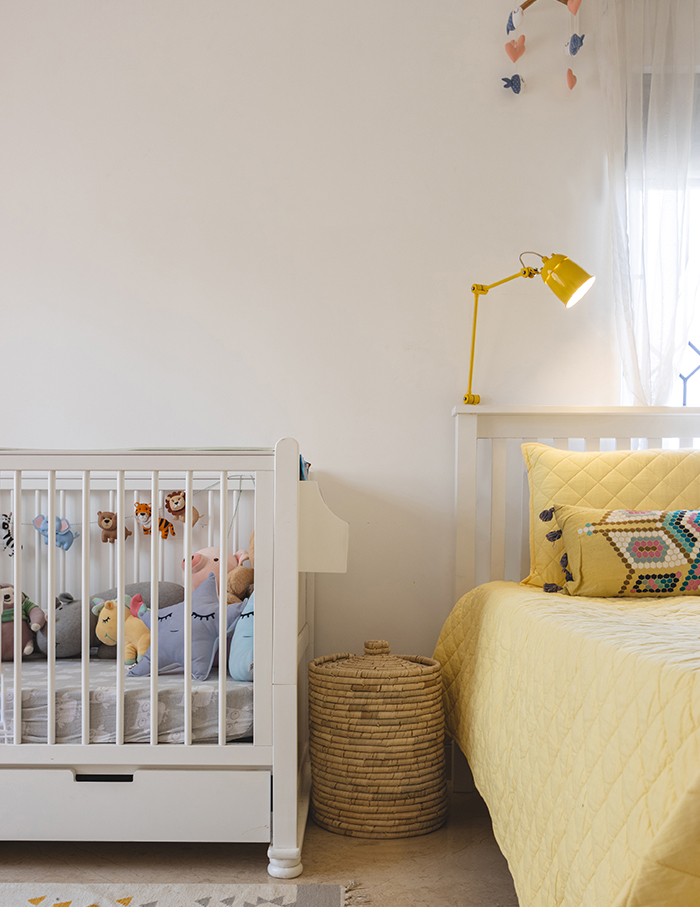 Tucked within Parkview penthouse in Bangalore, this daughter's room is fashioned by The Local Studio's founder and principal architect Madhurima Kordale. Treating the room as a blank canvas, the space is dressed in pristine white walls and furniture so as to leave room  for the little girl's imagination.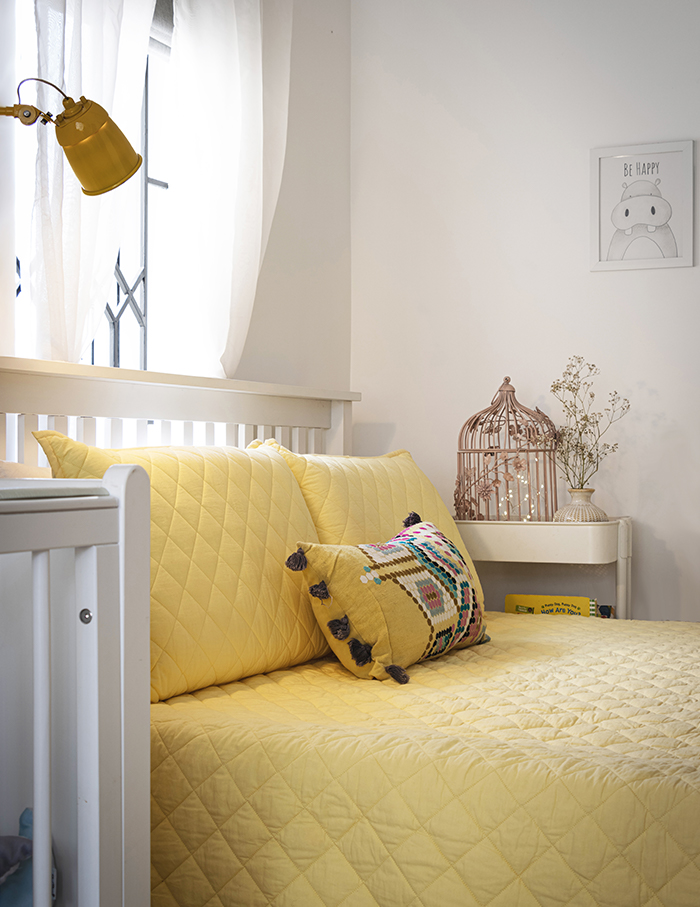 Complementing the sober tones are pops of gender-neutral yellow that bedeck the accessories and furnishings, while reflecting happiness. The room witnesses a crib as well as a bed to flexibly adjust the toddler's needs as she outgrows the present one. Buttercup cotton bedding by Belleven Home adds a covetable and cheery essence.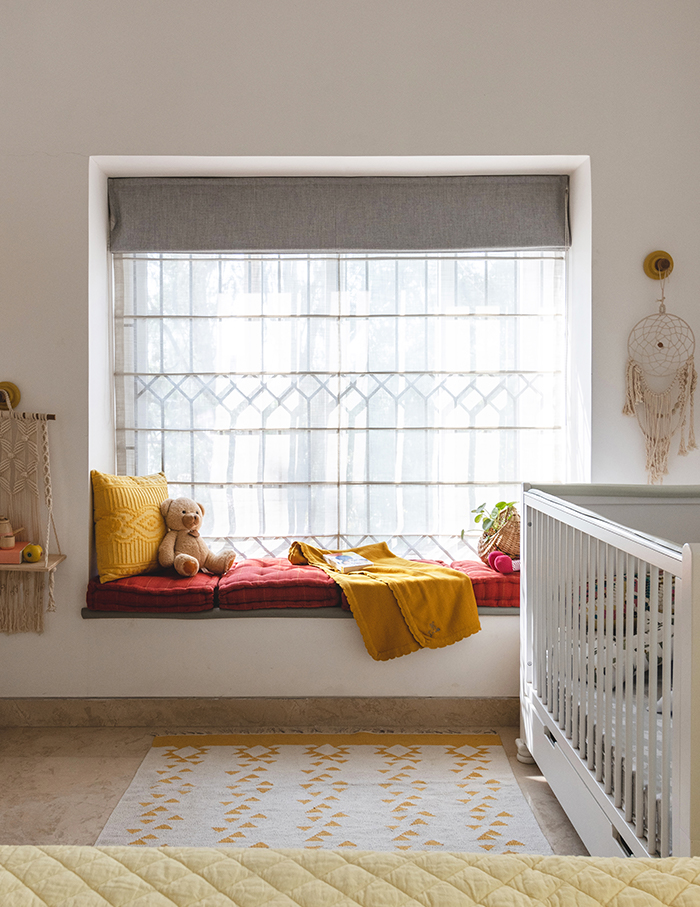 Botticino marble floor unifies the room in muted and earth-ish tones. The bay window is embellished in crimson seat cushion by Fabindia, IKEA sheer curtains and main blinds from Drapes Avenue. It certainly adds a cosy reading nook and an opening to the outside world.
Little Girl's Room by Essentia Environments
Coming alive with deftly blended patterns, prints and chirpy artworks, this warm bedroom (see scroll above) is created by founder and interior designer Monica Chawla of Essentia Environments. Rendered in blush pinks, creamy tones and beige accents, the versatile yet distinct colour palette is set to mature gracefully with time. Designed at an intersection of sophistication and fun, the little girl's neutral-hued room that sits on a chevron patterned floor is a dream for many!
Little Boss' Cave by Thinkcutieful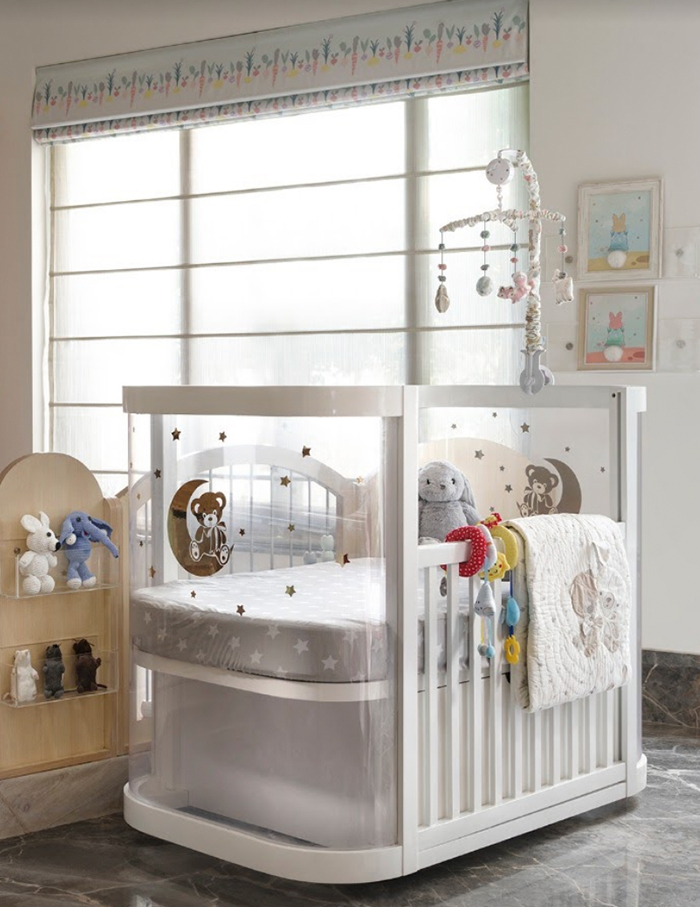 Designed as a home nursery as well as a playroom for an infant, this light-drenched and super adorable space in Faridabad is conceptualised by Thinkcutieful's founder Romilla Tewari. It integrates the parents' love for reading and travelling and meets the comfort and safety of a newborn baby boy. Splashed with fun elements and a colourful scheme, the space is ideal for the toddler's growing needs.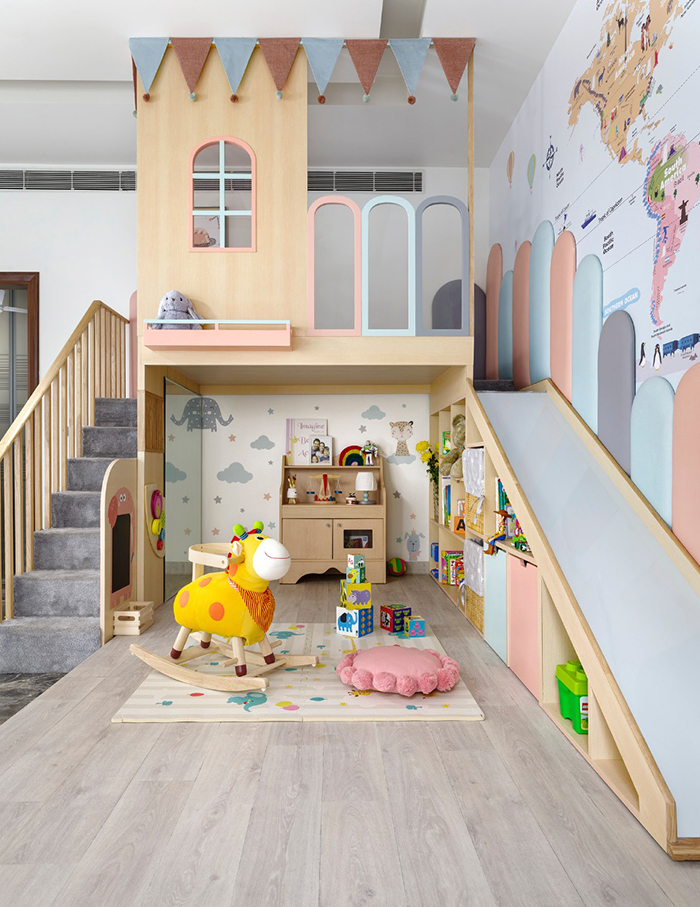 Decked with a double bed, a crib, multiple creative storage spaces and an elevated play area having—a swing, slide and a climbing zone, the room provides ample space to crawl, run, fall while ensuring that the clutter-free decor renders a protected haven. Sensorial sections on the wall and a child-friendly world-map complement the pastel hues and help the kid's motor skill development.
Toddlers' Room by Amogh Designs 
Wrapped in a modern eclectic theme (see scroll above), this 250 sq ft room in Ahmedabad is crafted by founders Pankti Shah and Shalvi Shah, spearheading Amogh Designs. Realised as an interactive and vibrant space for two toddlers, the room is spacious enough for them to play, study and engage in other activities. Low height beds gracefully sit on a wooden floor that exudes warmth. Customised wallpaper backdrops, PU finished arched wardrobes, an interesting playhouse and handmade paintings radiate a playful and vital dimension to the space. Snuggish furniture and calming tones of blush pink and olive further make way for a relaxed yet spirited environment.
Little V's Bedroom by Studio Deshi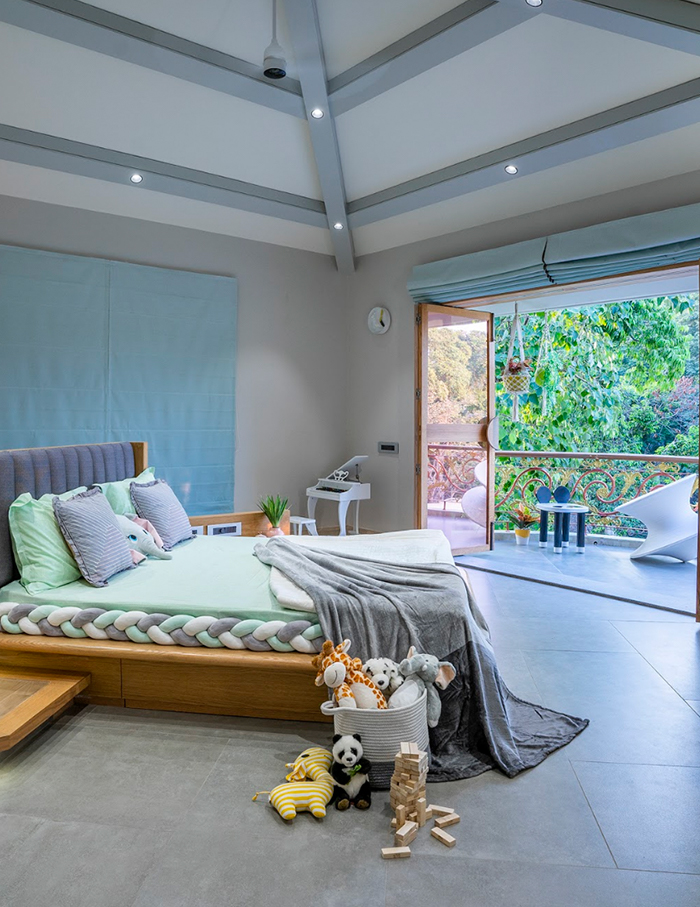 This adorable age and gender-neutral kid's bedroom is designed by founders Devanshi Doshi and Shivam Vaidya of Studio Deshi. The pastel-hued 500 sq ft room breaks away from conventional planning and places a cosy bed right at the centre of the pitched roof. And that too diagonally! We love how this arrangement aligns with the tiling pattern and gives rise to a levelled activity area, with a cute canopy corner. It's because of this efficient orientation that the main spaces overlook the balcony and outdoor greens. Optimal storage and carved voids provide efficiency as well as lightness to the unit. Another major highlight is a niche arched seating that displays a custom-designed map of famous landmarks and animals, ideal for putting up travel polaroids.
Kids' Room by Peekaboo Patterns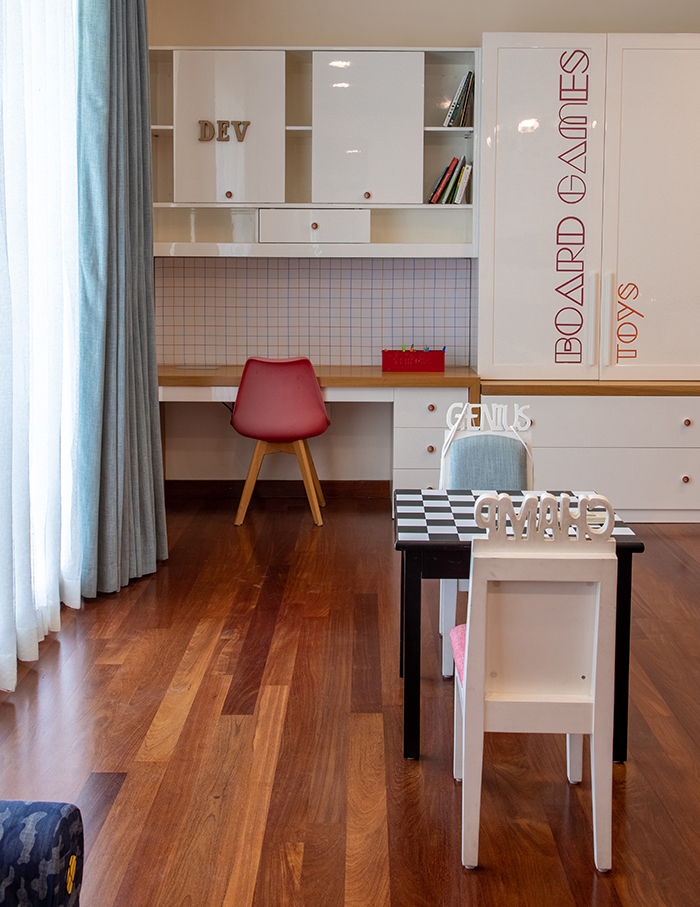 "A perfect room layout and design are important for nurturing confident kids. Natural light, personalised walls, adequate free space, functional storage, comfortable bed with the right colour palette—ensures mental, emotional and physical well-being," shares Garima Agarwal, founder of Peekaboo Patterns. Abiding by her design philosophy, she has curated this arena of comfort, fun and inspiration for celebrity actors Surya and Jyotika's kids in Chennai.
Adapting to a modern build-to-grow approach, the space is draped in conscious hues and meaningful details. Cherry-picked accessories, a majestic diva mirror, a cosy elevated reading corner and a multifunctional pegboard, resonate with the teen girl's taste! Deploying a soft charm are pastel hues that envelope the multiple beds and seaters—ideal to host slumber parties or movie nights. Quotes and posters of her favourite stars on the wall, coupled with the dazzling LED 'girl power' logo underline the daughter's personality.
On the other hand, the tween boy's room is vibrant and sporty! His love for basketball is reflected through decals and posters, lending a playful accent to the space. A chest of drawers with tonality in shades is an eye-catcher piece. The L-shaped beds are flanked against the walls to create space for fun activities. A sophisticated white glossy storage unit and study face another highlight of the room—a unique chess ensemble that advocates positivity to complement his talent for the game.