Lifestyle
Celebrate your favourite heroes with #ED's recommendation of Father's Day gifts
JUN 15, 2021
| By Jayasmita Ray
Choosing a gift for our favourite heroes is always a challenge. Be it our father, father-in-law or those father figures who have always been your source of strength, the best gifts are often the ones that money can't buy. The gift of time, gratitude and perhaps a day off to paint the town red. However, if you are determined to make this Father's Day even more special, we've put together a list of gifts for all types of dads. From music players to furniture to bar accessories and cabinets, this extensive list has something for every dad!
#ED curates the ultimate Father's Day gifts to thank the person who makes everything special for us all year round.
Phonograph CD Jukebox by ANEMOS (see scroll above)
The age-old music players that are endowed with new-age technology is a dream for any music lover who wishes for a rendition of the classic jukebox. Tune in with premium quality speakers for crystal clear sound and features such as Bluetooth connectivity and broadcast radio. Perfect for fathers and grandfathers to sway to the classics!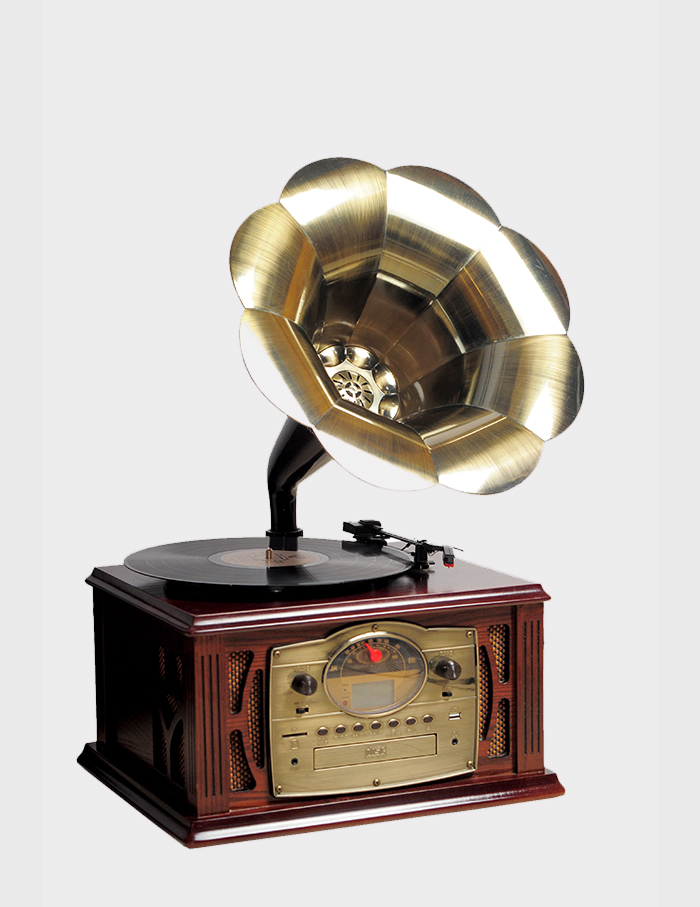 Exuding a sense of royalty and elegance, the classic Gramophone from Anemos' range of music players is a vintage piece of décor provided with Bluetooth wireless audio streaming receiver, USB recorder, 3.5mm phone jack, 3.5mm aux input for MP3 players and an external device, metal horn, remote control for CD/USB. This timeless gift is a thoughtful expression of gratitude for Father's Day!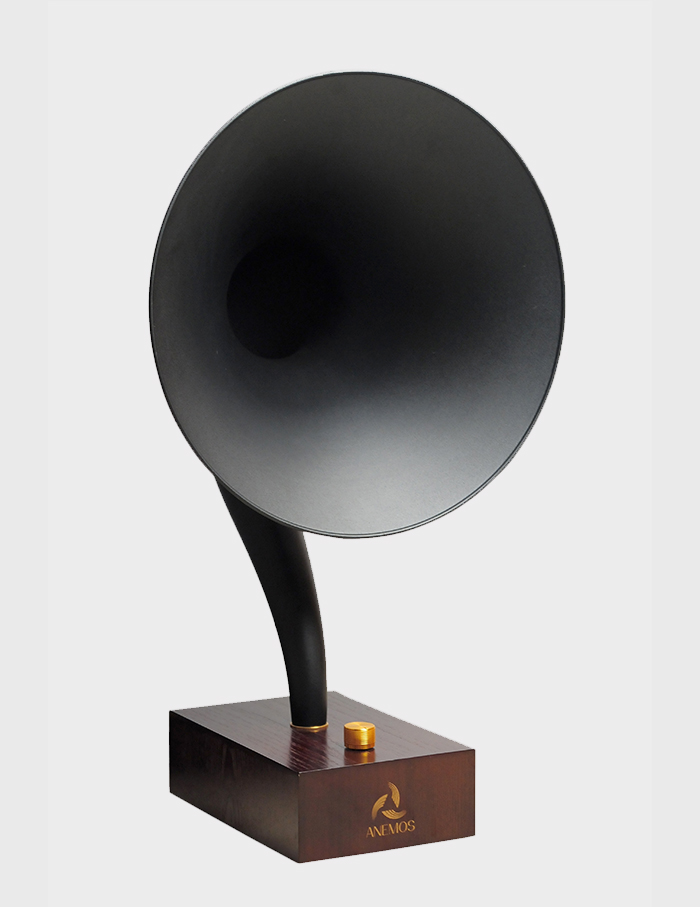 Styled in acoustic, classical form, the Aluminium Horn from Anemos brings out the music savant in every dad. With Bluetooth for wireless music streaming along with an additional 3.5mm aux-in jack for audio Input and DC power adapter alongside built-in speakers with incredible sound, the Horn clad is made quintessentially for the evergreen father.
Tommy by Saint Louis Crystalware available at EMERY STUDIO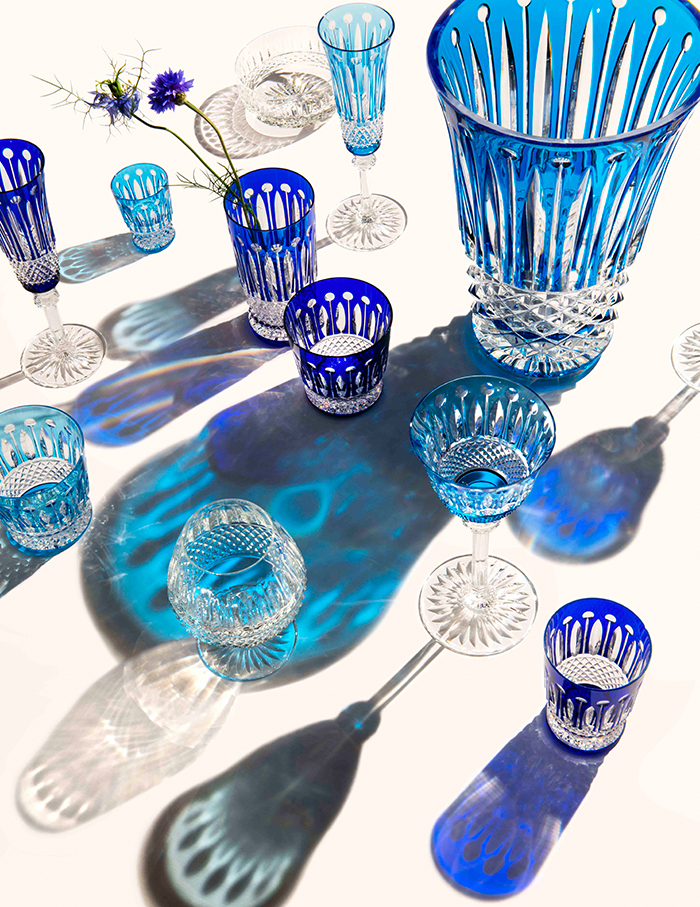 Handmade, premium crystal glasses from Saint Louis are a magnetic addition to your father's collection. With an array of luxury drinkware and barware products, each crystal creation is hand-cut, showcasing rigorous craftsmanship. Diamond, bevel-cuts and its signature star-shaped base add to the luminous French chandelier that is available in an array of colours. 
Ring Nude Glass by SOURCES UNLIMITED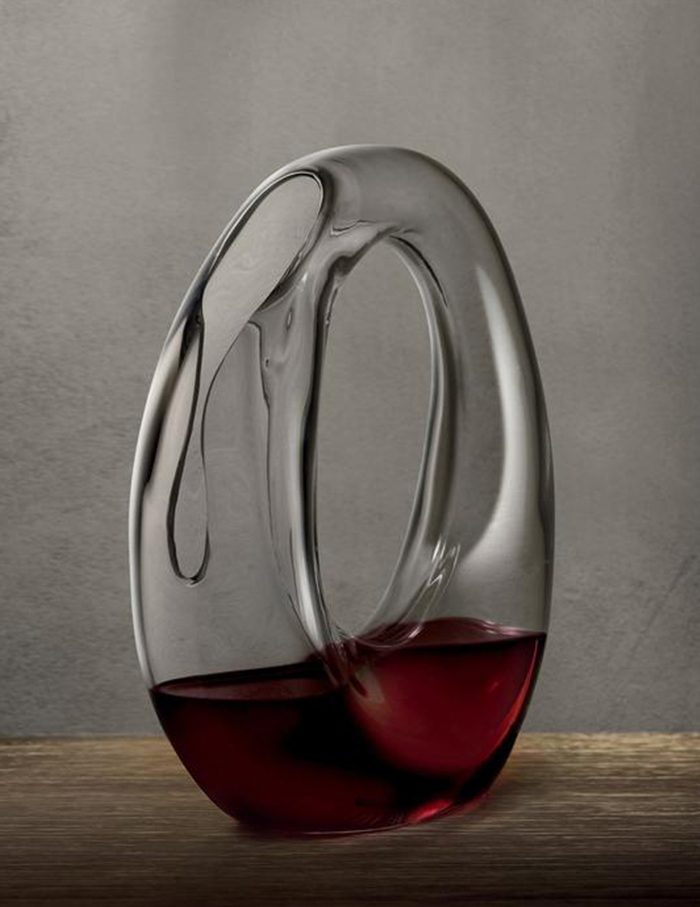 With an artisanal approach to glassware, the sculptural Ring Nude Glass, designed by Ron Arad delivers sparkling clarity fashioned in a lead-free crystalline glass. This stylish decanter is a conversation starter, intensifying the colours of the liquor served in it.
Nude Red, White or Water Carafe by SOURCES UNLIMITED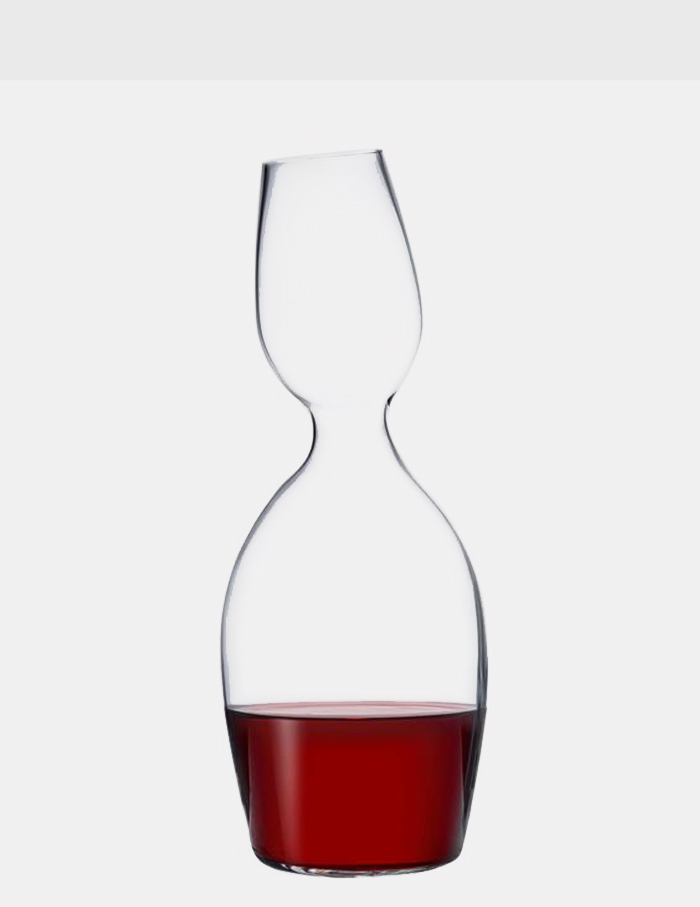 Bespoke glassware design by Ron Arad in an hourglass form, this sensual water carafe is a stunning gift for Father's Day. Pushing the limits of design and challenging perspectives, the Nude Carafe satiates all senses with elegance.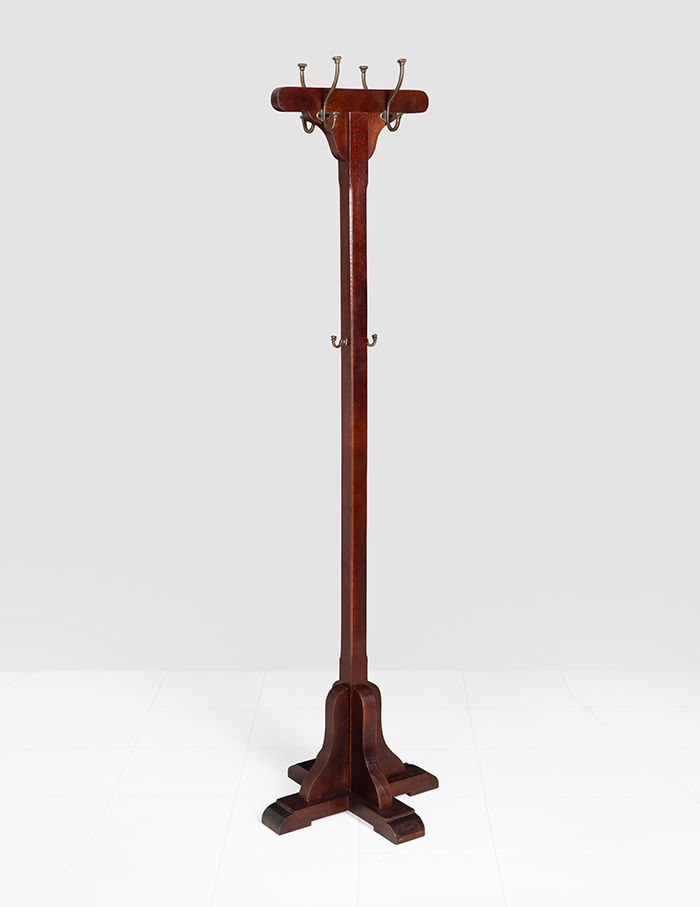 A sophisticated coat stand with an unspoken, old-world charm; the Oliver coat stand in primary and mango wood, with iron hook detailing, is the ultimate functional yet noble souvenir for this Father's Day!
 In Vitro by FLOS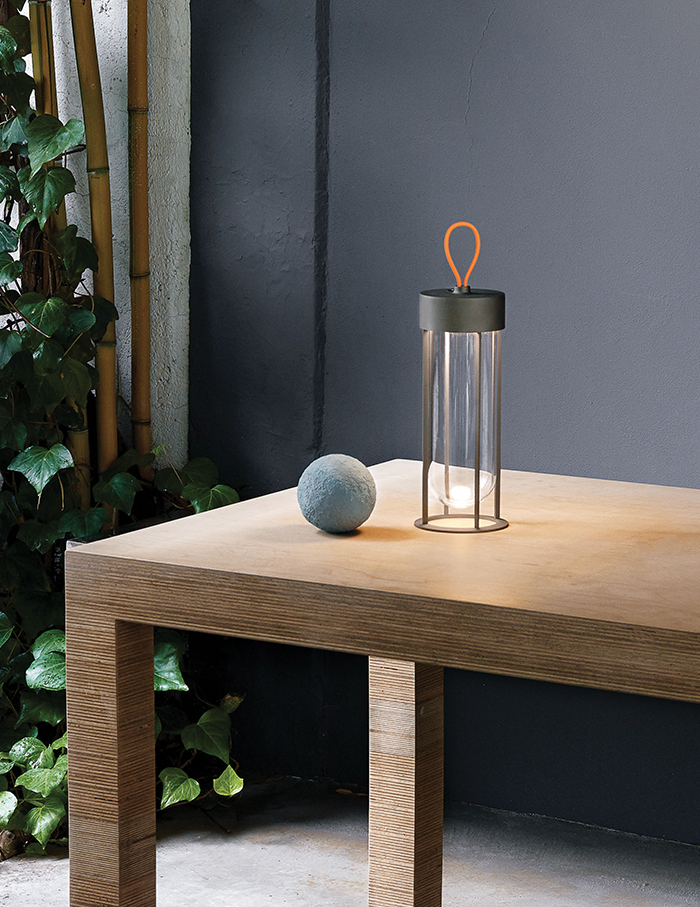 Designed by Philippe Starck, In Vitro is an elegant outdoor lighting collection of glowing glass lanterns that magically appear to illuminate on their own resembling pure architectural volumes of light. This glorious collection in sleek style available in forest green and grey is a radiant piece of décor for Father's Day.
Sole di Capri by FORNASETTI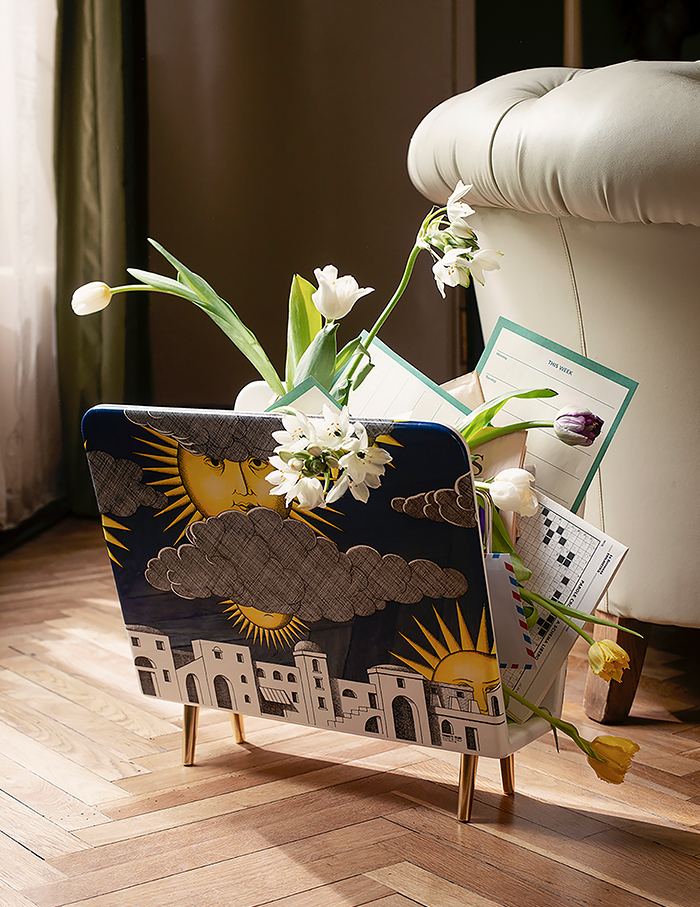 For the bibliophile dad, the Fornasetti magazine rack "Sole di Capri" with a hand-painted, silk-screened and lacquered print of the sun, clouds and architecture serves the purpose with class in brass and wood. 
Host Bar Cabinet & Trolley by GIORGETTI (see scroll above)
Sources Unlimited pioneers unconventional yet sinuous design forms with its unique bar cabinet. Raise a toast to 'Host' this Father's Day displays experimentation in contemporary spaces as it revives the ritual of the 50s cocktail ambience of New York clubs. In collaboration with Adam D. Tihany.
The best gift for our fathers–convenience. This unique headphone stand is exactly what every dad needs. The multi-functional unit that can hold your phone at a perfect angle has an organizer space to keep your essentials and a tray to hang your headphones or just about anything else.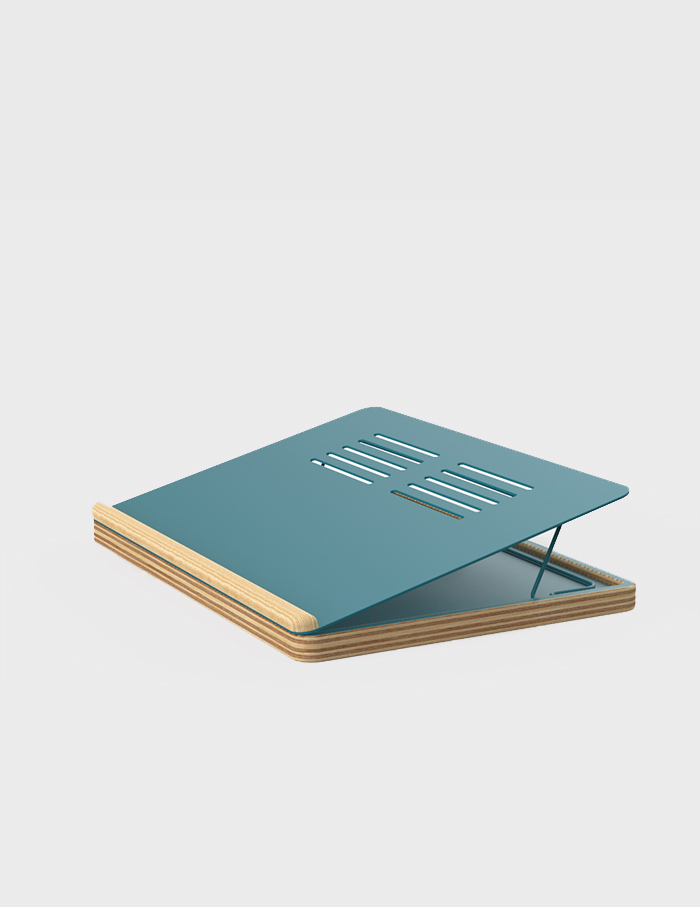 A multi-purpose laptop stand, for a multi-tasking father. The perfect sidekick, this piece also has a secret space to hold your stationery while working which makes this laptop stand multi-purpose to ensure work from home is smooth.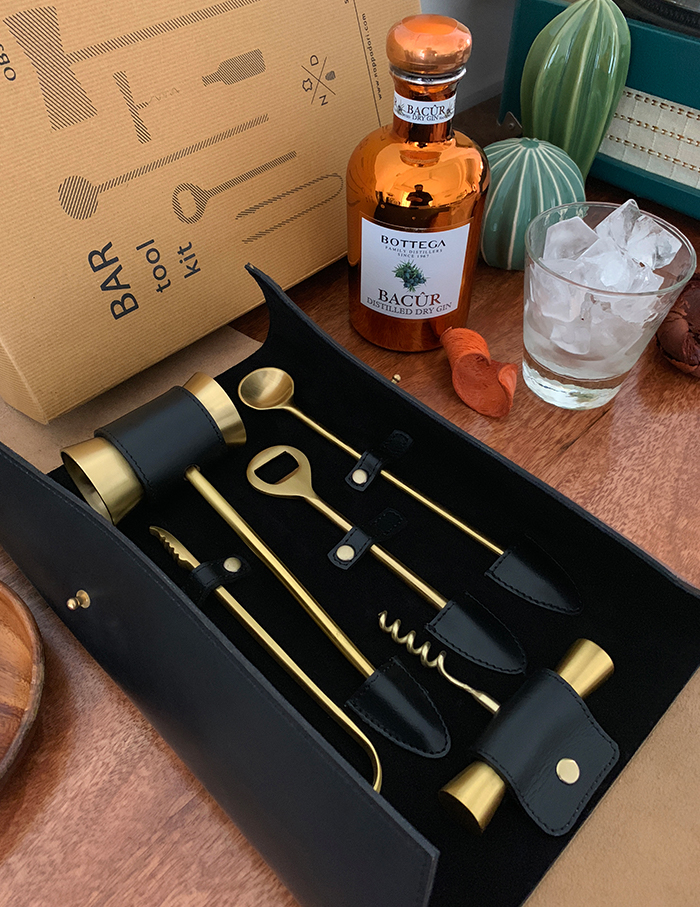 Equipped with a solid arsenal of brass tools, the Bar Tool Kit is made for the dad who loves handcrafted drinks. Made in genuine leather, the kit includes a jigger, bar spoon, bottle opener, corkscrew and tongs to empower your bartending skills.
Ritzenhoff Bierglas at PLUSCH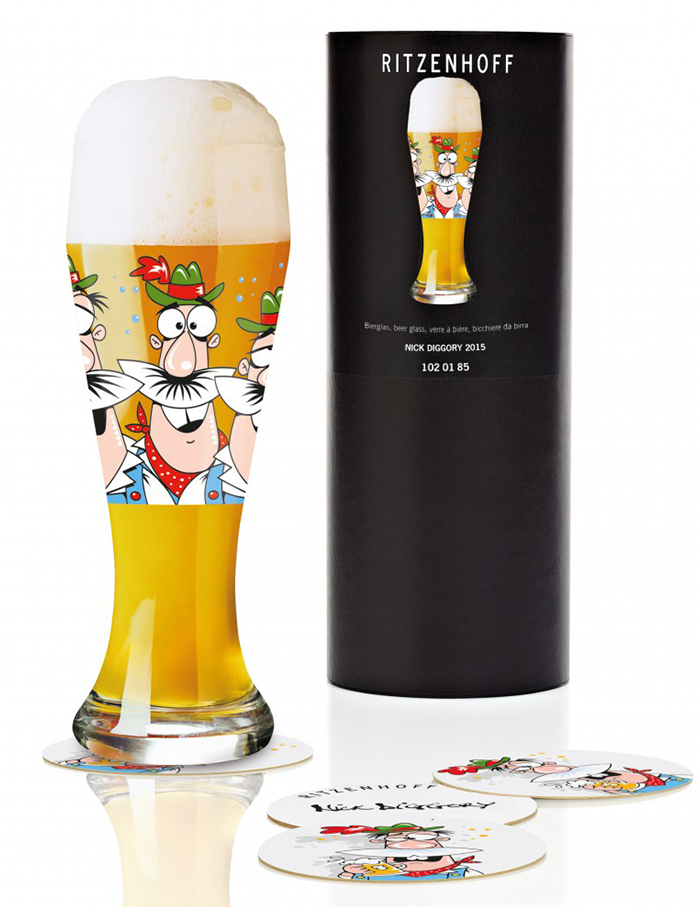 Decked in incredible illustrations by Nick Diggory, the Ritzenhoff Beer Glass crafted in Germany is perfect for beer maven fathers. Ritzenhoff commissions global creative artists and designers to create designs on a theme using vivid colours and caricatures making it a refreshing gift option for any occasion. 
Stirling Decanter by RALPH LAUREN HOME available at SEETU KOHLI HOME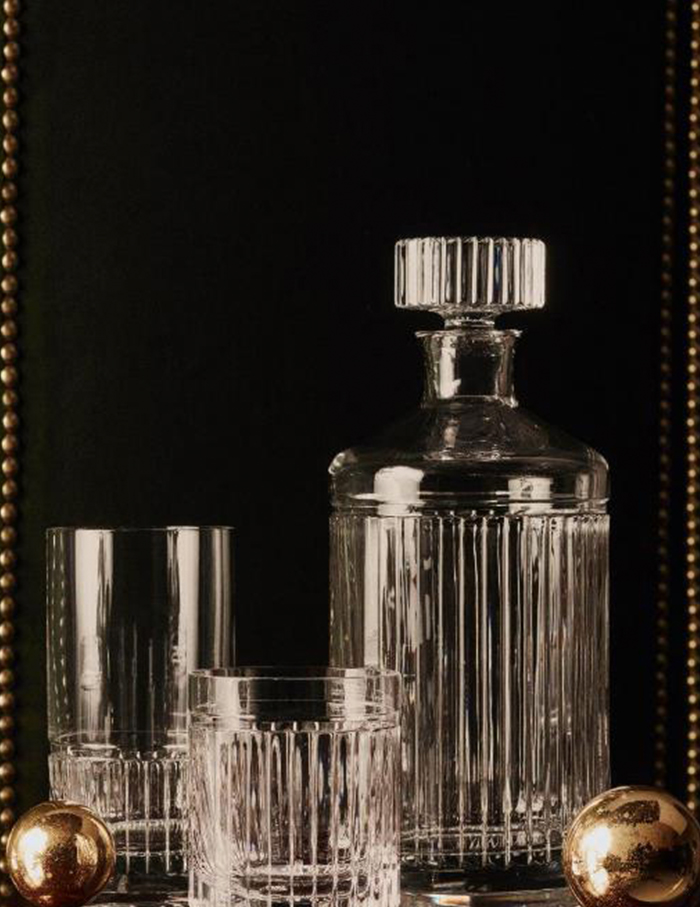 Made of exquisite crystal glass, the luxe Stirling Decanter by Ralph Lauren Home is inspired by the classic Ralph Lauren classic tuxedo shirt. It is cut meticulously at a specific angle to emanate the shirt's pleats while lead-free crystal glass promotes eco-friendly manufacturing.
Garret Flask by RALPH LAUREN HOME available at SEETU KOHLI HOME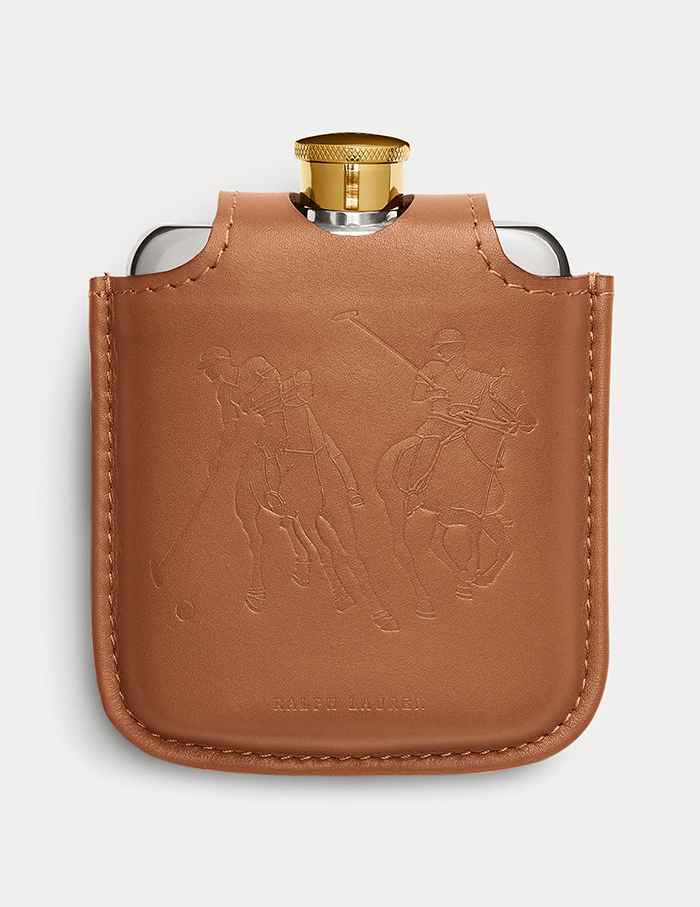 A classic portable bar accessory with refined style, the Garret Flask by Ralph Lauren Home to make your dad feel special. Made of moisture-wicking canvas, handsome supple leather and solid brass, this flask is hand-stitched with contrasting thread on brown leather.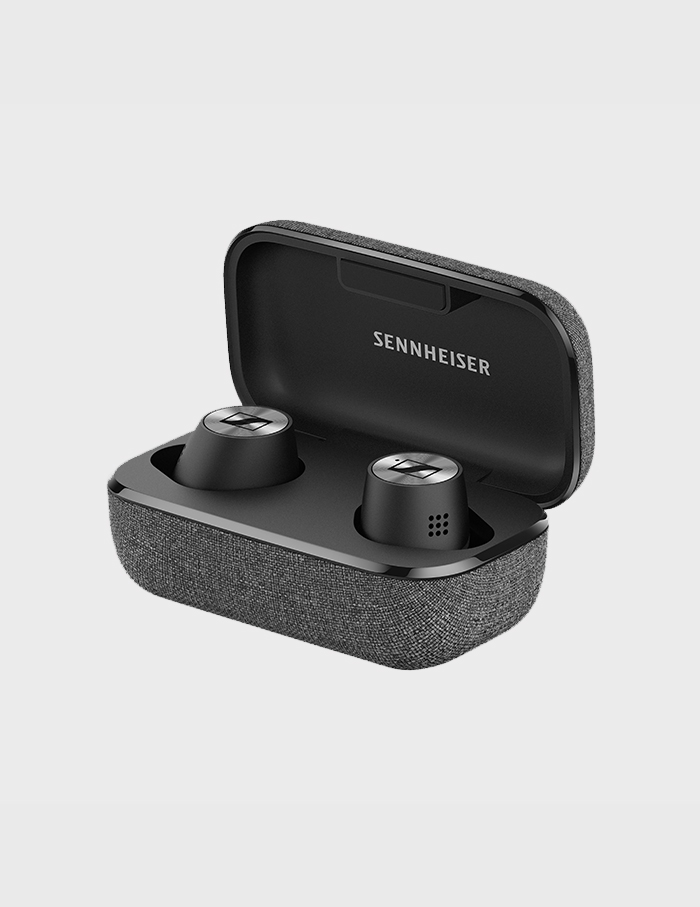 Shaping the future of audio, the latest addition in Sennheiser's true wireless segment is the Momentum True Wireless-2nd generation. These earbuds deliver the best listening experience. The 7mm dynamic drivers along with built-in equalisers and Active Noise Cancellation is the ultimate gift for this Father's Day. 
Bramante Cabinet by SICIS available at Tessera India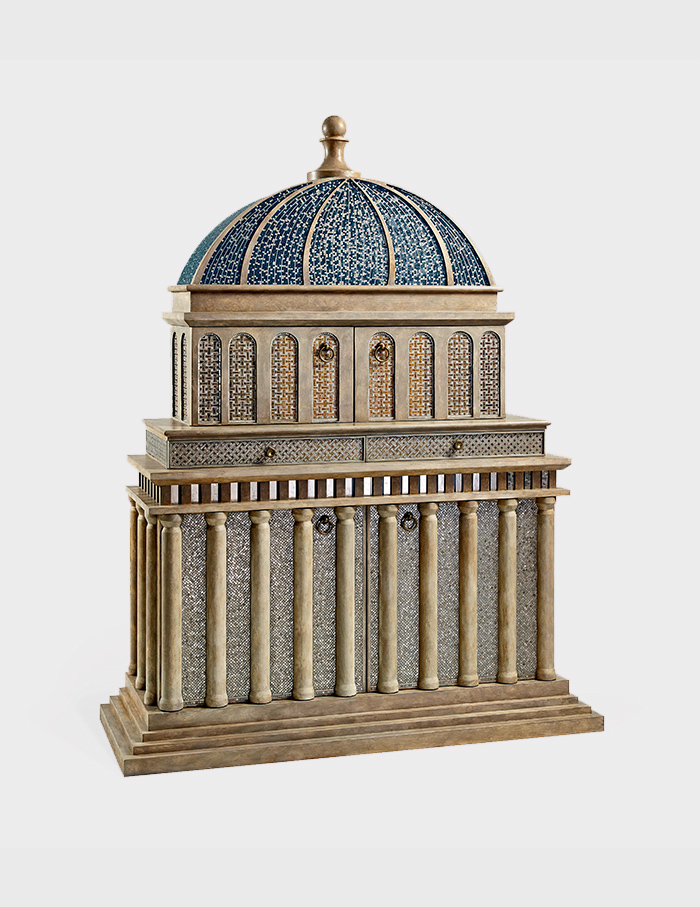 An ode to Italian architect Donato Bramante's Tempietto at San Pietro in Montorio, in Rome the Bramante Cabinet by Sicis is an elegant representation of classical grandeur. We love the intricate detailing and opulent build of this functional piece of art.
Doge Wine Cabinet by SICIS available at Tessera India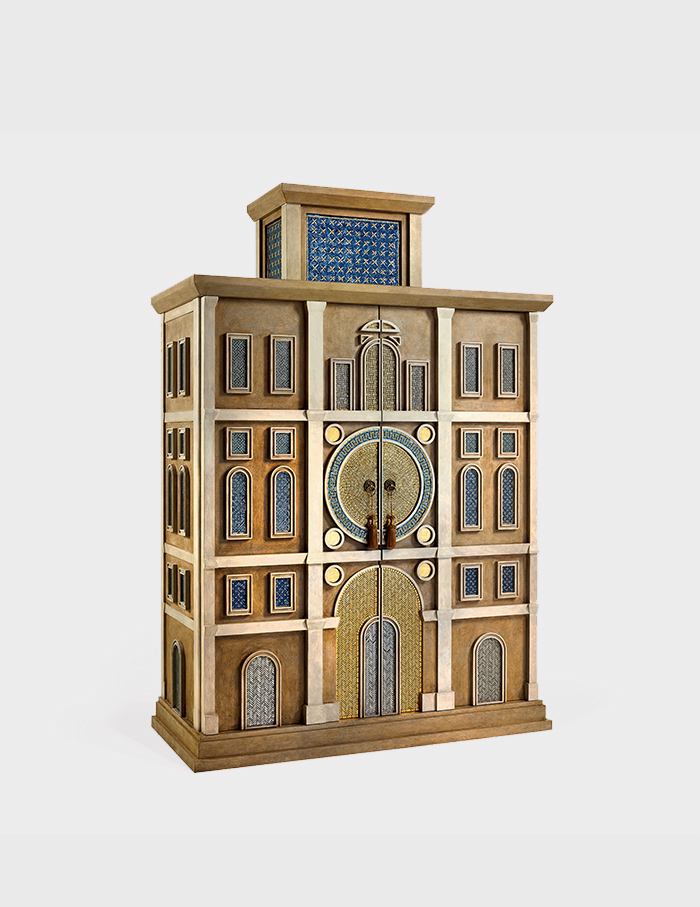 A toast to the Italian renaissance and features the exterior of the clock tower in Venice, the Doge Wine Cabinet is designed by Massimiliano Raggi. The architectural structure with a wine cooler option is clad in wax coating and hand plastered finish, adorned with bronze, mirror glass and platinum artistic mosaic.
Sampaolo Buffet by SICIS available at Tessera India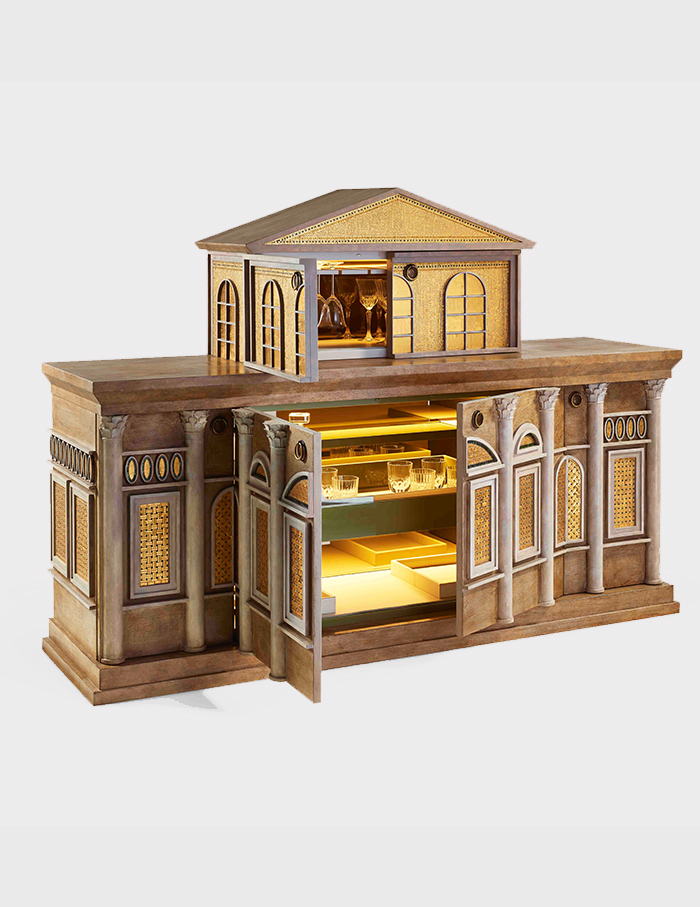 Featuring the iconic exterior of the Basilica of Saint Paul Outside the Walls in Italy, the Sampaolo Buffet is made for the art lover in every father. Crafted elegantly from wood, the bespoke piece displays stunning hand-decorated mosaic inserts on the front and the sides. Lightly padded interiors in mats and mirrors, the knobs glimmer in bronzed brass. Additionally, a sensor alerts the LED light inside when the cabinet is opened.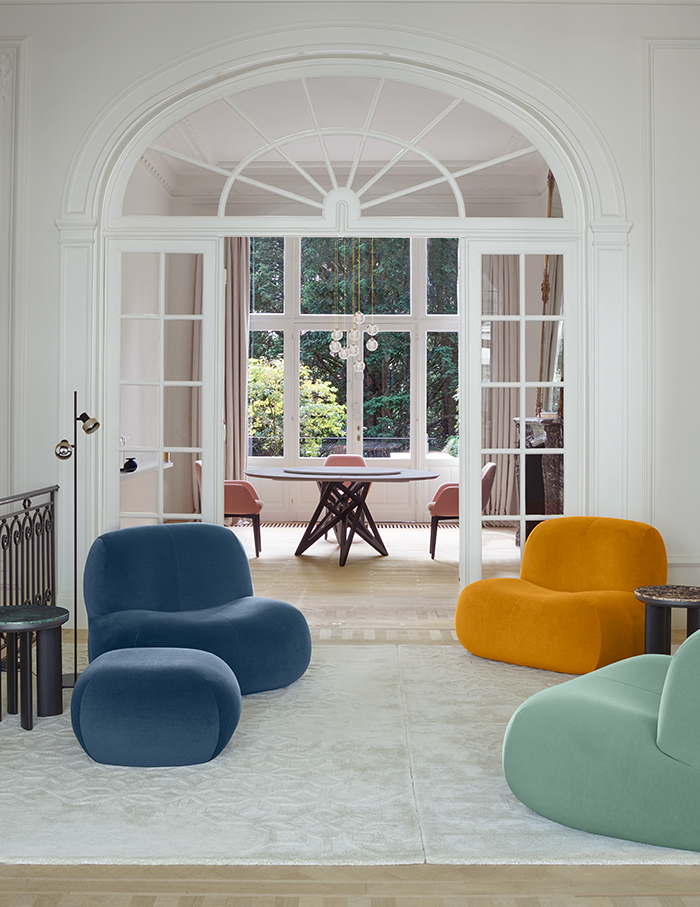 Radiating luxury and comfort, these loungers by Ligne Roset at Ventura Interiors are the perfect gift for contemporary spaces this father's day. The Prado modular sofa in vermillion is a stylish and bold addition to the living room. The Pukka collection is a marvel of design, adding a feminine design, soft and organic touch, which fills the space with sensual comfort. 
Chelsea Barware Set by WEST ELM
Effortlessly curated to satiate the mixologist father, the Chelsea Barware set lends atmosphere to classic cocktails and custom drinks. Designed by Aaron Probyn with sleek, modern lines in the brass finish makes for the perfect gift.