Design
Case of the Trellis—D'Decor's newest collection of trimmings are a treat for the eyes and jewels for the household
FEB 18, 2022
| By Twinkle Tolani
Endorsed by the eclectic Gauri Khan and her beau Bollywood superstar Shah Rukh Khan, D'Décor, a leading manufacturer and exporter of curtains and upholstery fabrics has proved its mettle and philosophy to go beyond for a decade, from its foundation in 1999 and launch in 2010.
THE TRELLIS COLLECTION
The brand's latest offering is a brand new line of trimmings christened the Treillis Collection. The range is a confluence of distinct textures and designs that reimagine stereotypical contemporary design. The collection looks at home decor essentials from a new lens with a focus to optimise smart functionality for the home.
Chic opulence unfurls through drapes, blinds, furniture, and cushions reinstated through unique characteristics. The Treillis Trimmings wows with lively colour combinations, playful fringes, stylish cord embroideries, and cutwork adorned with metallic threads.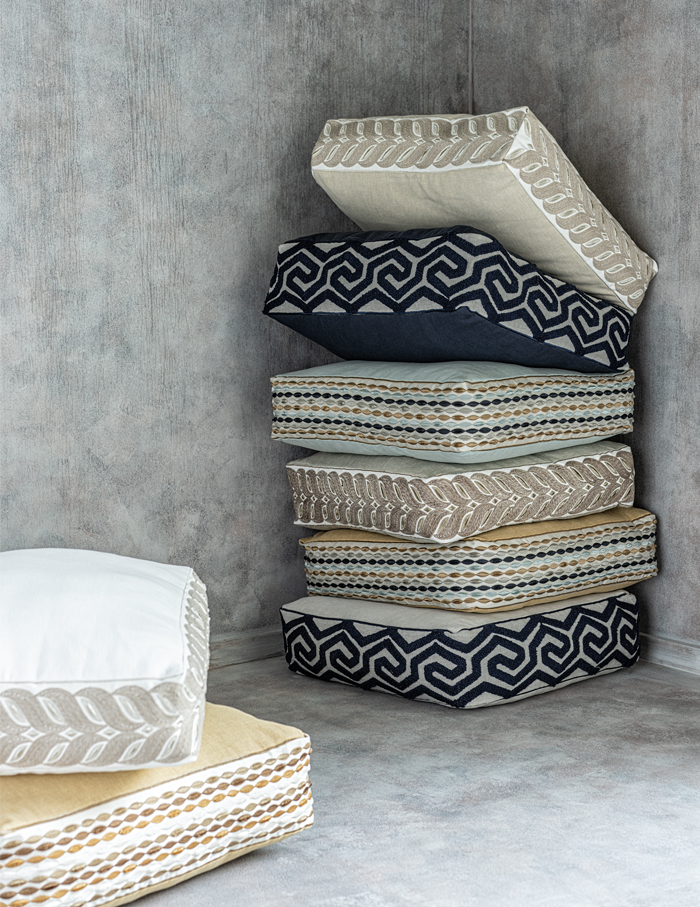 A plethora of widths will provide a wide range of possibilities for creative finishing touches. Exquisitely crafted using various techniques of embroidery to evoke a relaxed ambience infused with a quiet, old-world charm, natural elements are the crowning glory of the offerings.
Available in a palette of navy, green and vermillion, these trimmings instantly bump up the charm of cushions and curtains. Encapsulating earthy tones with colonial-era design, D'Decor's latest home decor offering is evocative at its core, celebrating understated luxury, whilst keeping in mind longevity.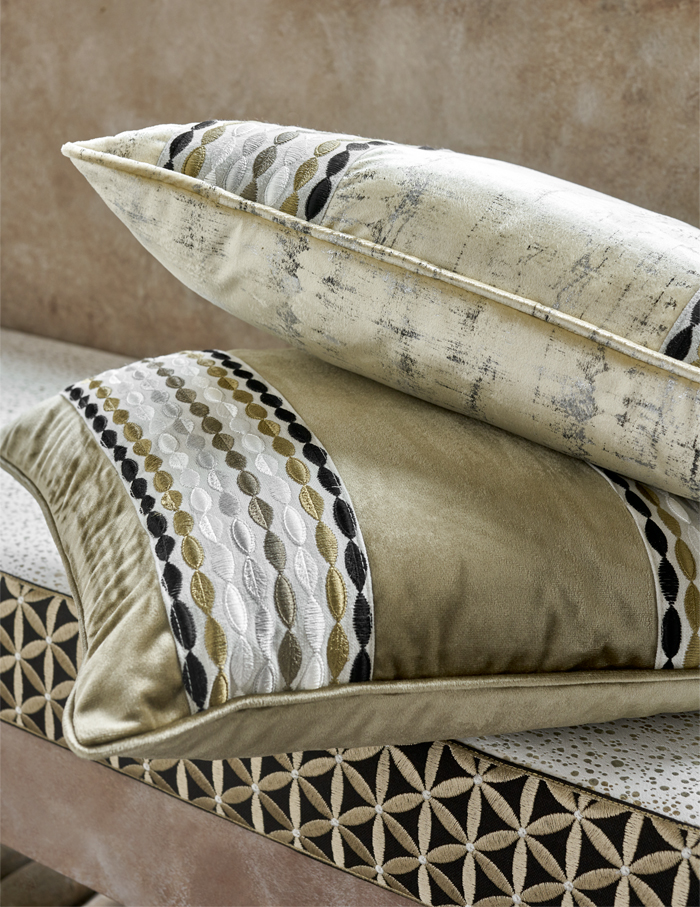 THE D'DECOR DYNAMIC
D'Decor's five state-of-the-art manufacturing plants with latest European Machines are situated at Tarapur, near Mumbai. The output at the plants exceeds 150,000 meters a day. D'Decor exports to more than 65 countries globally including the USA, Europe, West Asia, Middle East, Russia, Australia, New Zealand and South Africa.
With the D'Decor Store in Bandra, Mumbai launched in 2014 the brand ventured into retail and currently hosts numerous well-established stores in cities including Delhi, Bangalore, Ahmedabad, Chennai and Kolkata. The introduction of franchise stores in cities like Chandigarh, Nagpur, Jaipur and other such cities has strengthened the brand's retail core.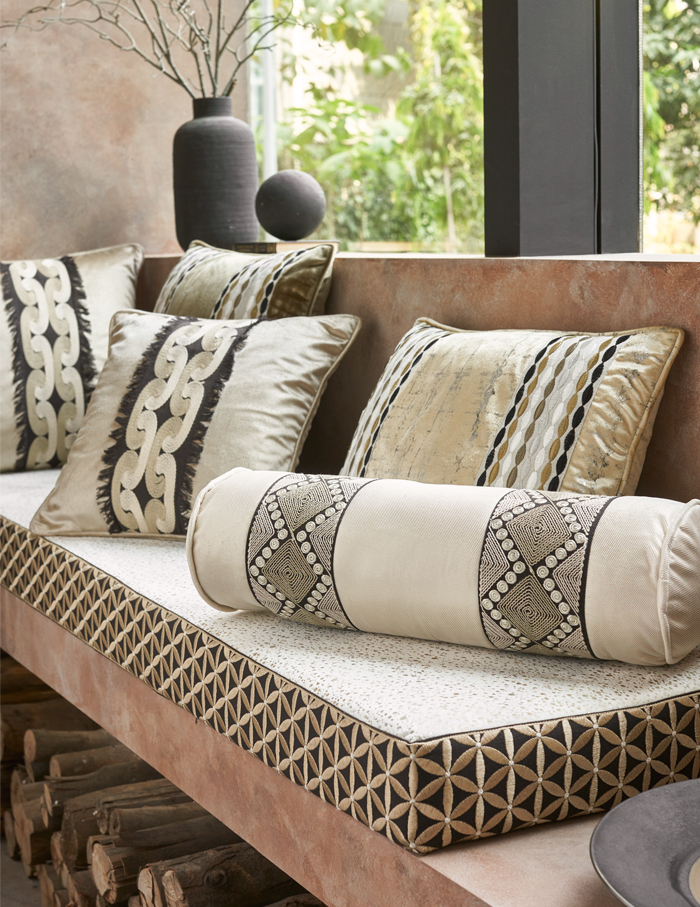 D'DECOR'S EBBING OFFERINGS
D'Decor versatile bedding range spans from embroidered to digitally printed bedding sets, and from dohars to comforters to woven jacquards. Plain and dobby bed sets including bed elements like pillows and white duvets make this range exemplar to D'Decor's coverage.
The recently launched D'Decor Blinds has already set up a blinds manufacturing unit in Tarapur, and has more than 125 galleries of D'Decor Blinds pan India within a year of its launch.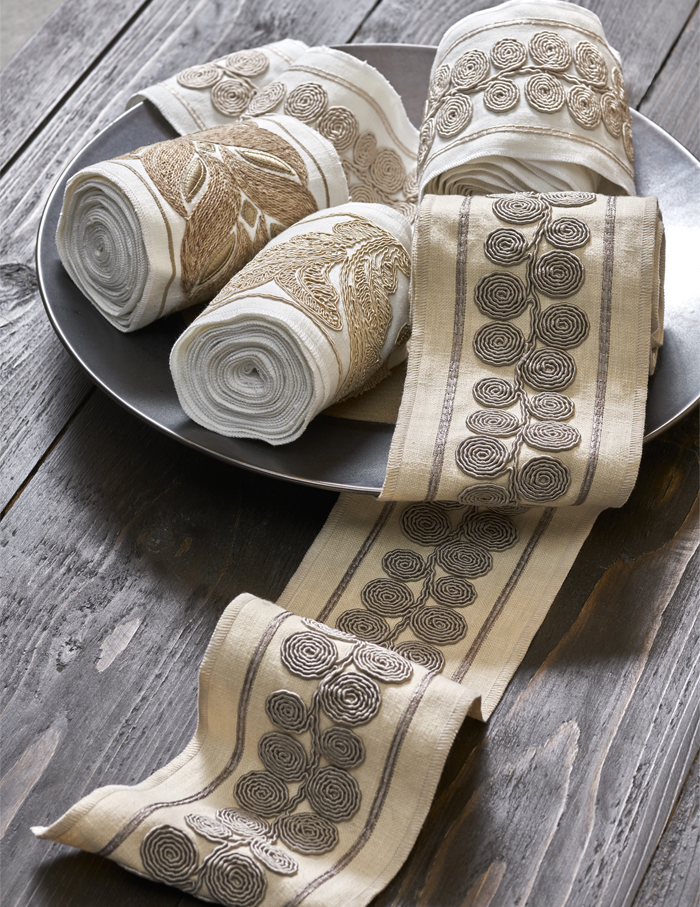 D'Decor Rugs, launched in 2017, sports over 150 styles of sophisticated designs with a dash of quirk every season. The beautiful collection of handmade rugs is guaranteed to provide a style option for every home.
WallArt by D'Decor delves into the wallpaper world with a collection that comprises a range, designed and curated specifically to accentuate Indian homes with taste and tales.