Homes
Janki Vyas of Studio 2+2 pursues a predominantly Nordic theme for this 4BHK abode in Ahmedabad
OCT 22, 2020
| By Jhanvi Somaya
"The apartment was designed to be more than just a regular living space, it was a place of leisure," says interior designer Janki Vyas about her project in Ahmedabad. Pursuing a theme revolving around sobriety, the occupants desired a basic home layout with a reading area, a well-designed kids room, and a fulfilling kitchen and dining space. 
So, this 2,400 sq ft home is created such that it stands out yet feels welcoming. The vestibule is mirror cladded with dark and minimal concepts such as metal wireframes and a simplistic bench. The guest bedroom and storeroom are accessible on either side of this entryway. 
The central axis of the vestibule meets the mirror in the 600 sq ft living room, which has been designed to cater to various activities including reading. Seen alongside is a six-seater dining table and the main seating area that accommodates up to 10.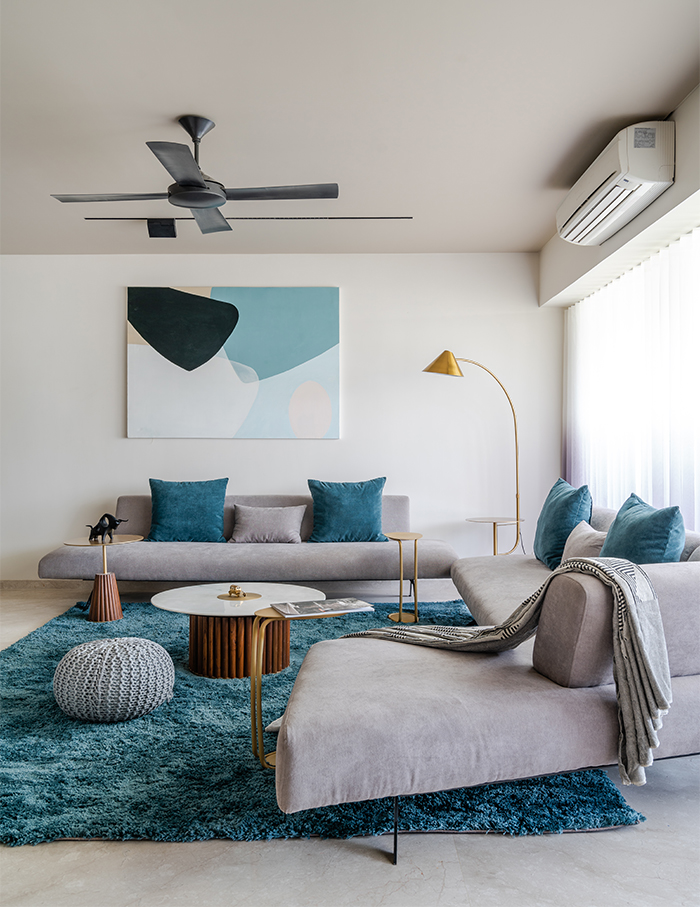 From this lounge, the balcony is easily accessible through sliding shutters, where tall furniture allows the homeowners to sit back and take in the urban view. An exploration on the other end of the living room leads to the modular kitchen. Here, back painted champagne coloured glass and a coated white serving counter stand out. The mild green wall texture with streaks of champagne, adjacent to the kitchen, is the perfect background for the asymmetrical mirror.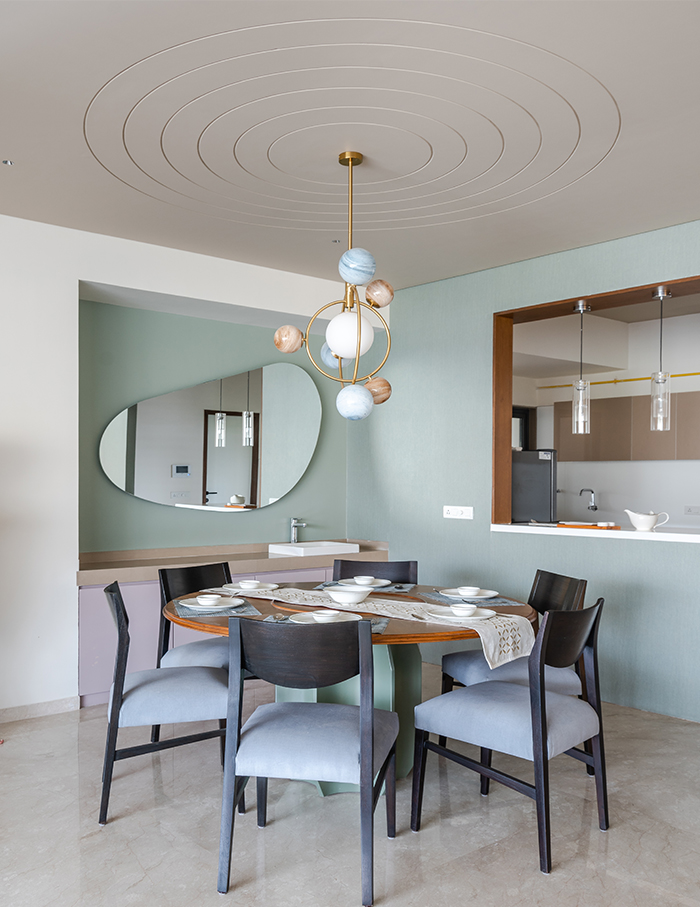 The living area leads to a smaller space, a designated prayer room, with refurbished wood pattis and a halo made of hammered brass plates. The idol is kept on a high pedestal with a stainless steel round top. Beyond this section are the private quarters—a children's room with a study, living and playing area, the master suite and a secondary room for the family. Designed in warmer tones with shades of cool colours, the master bedroom adheres to the theme of sobriety.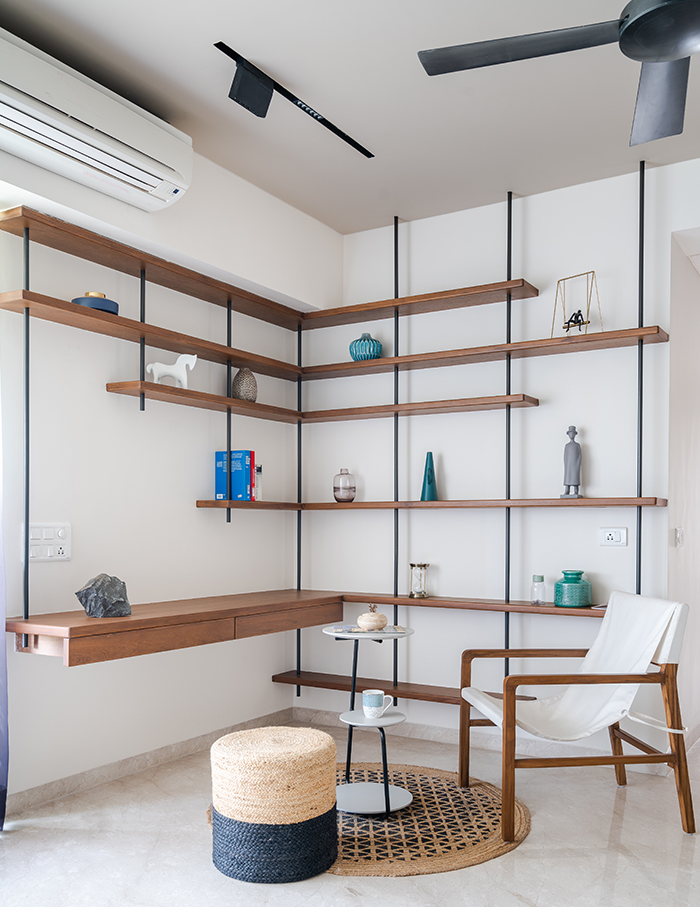 Keeping it humble, economic yet beautiful, Vyas followed a Nordic colour palette alongside, contemporary trends and artistic additions with the lights and resin side tables.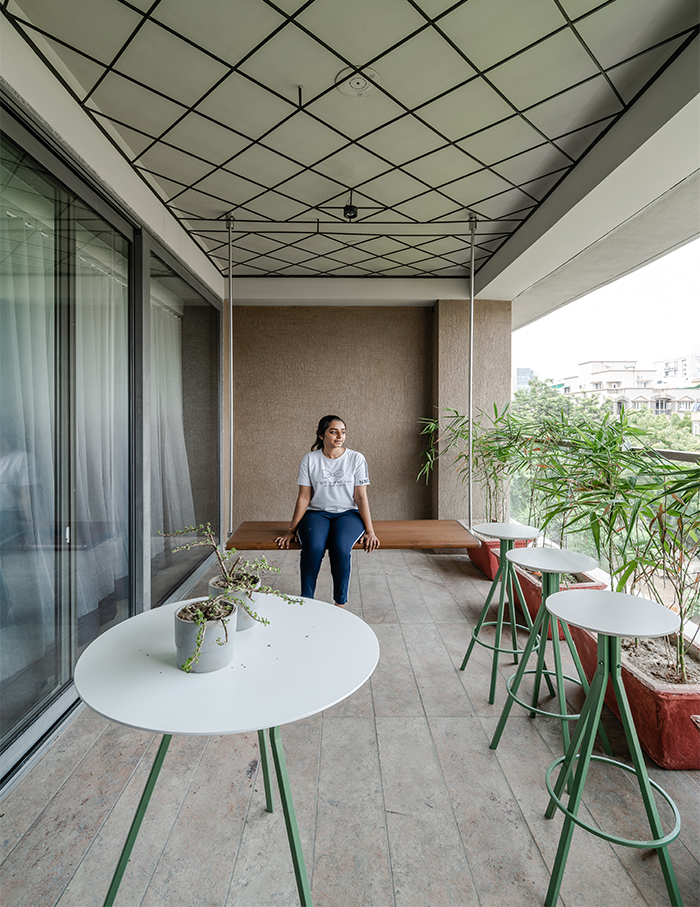 The material palette is a composition of metal and glass. Each room features certain different materials to subtly distinguish it from another. Textiles consist of cotton blended fabrics in the living spaces and linens for the sheer curtains. Tones of wood are added to add warmth to the cool palette, while wallpapers and canvases are used to add bold colours to the interiors.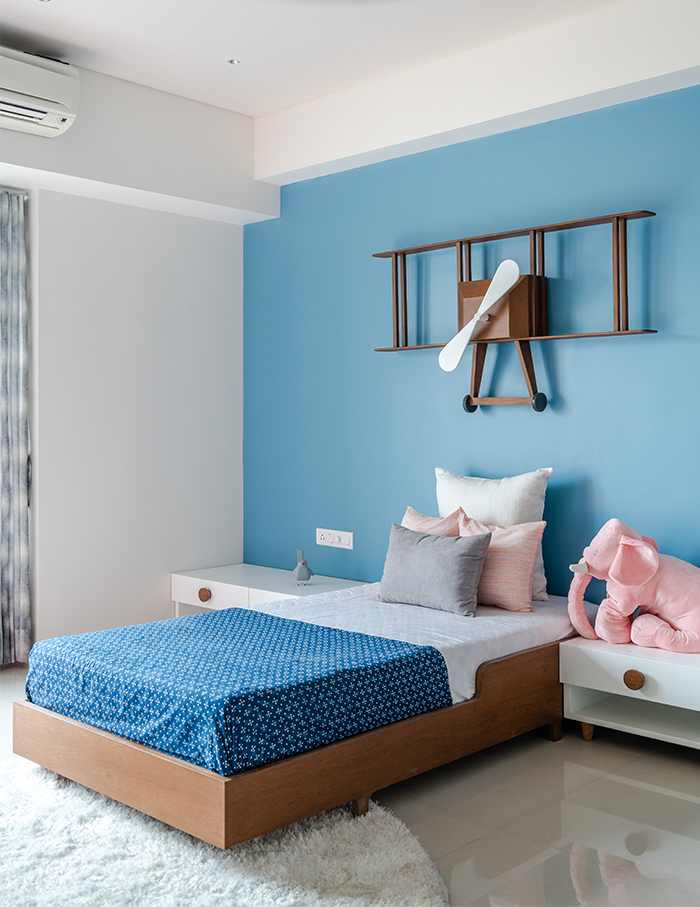 "Keeping in mind the functionality of the space, the design philosophy is extremely practical, hence the goal is to create a good blend of all elements and express a humble and sober design throughout this home," concludes Vyas.