Design
Brussels based FAINA gallery by Yakusha Design is akin to an artsy yet cosy 'home away from home'
AUG 12, 2020
| By Aneesha Bhadri
A classic neutral palette in a homely setting forms the surprisingly appealing backdrop for statement pieces from FAINA, the Ukrainian minimalist furniture and decor brand. Accents and accessories, both contemporary and quirky, lend a charming contrast to the monochromatic scheme with their rounded contours.
The brand's founder, Kyiv based architect and designer Victoria Yakusha, specifically selected this two storeyed wooden country house for its non-gallery look to showcase her collection in a home-like setting. She remembers first seeing the cottage's high ceiling and supporting wooden beams and immediately came up with the concept of "a future residence with a warm and natural interior". It forms the perfect escape from the bustle of the business centre of Brussels.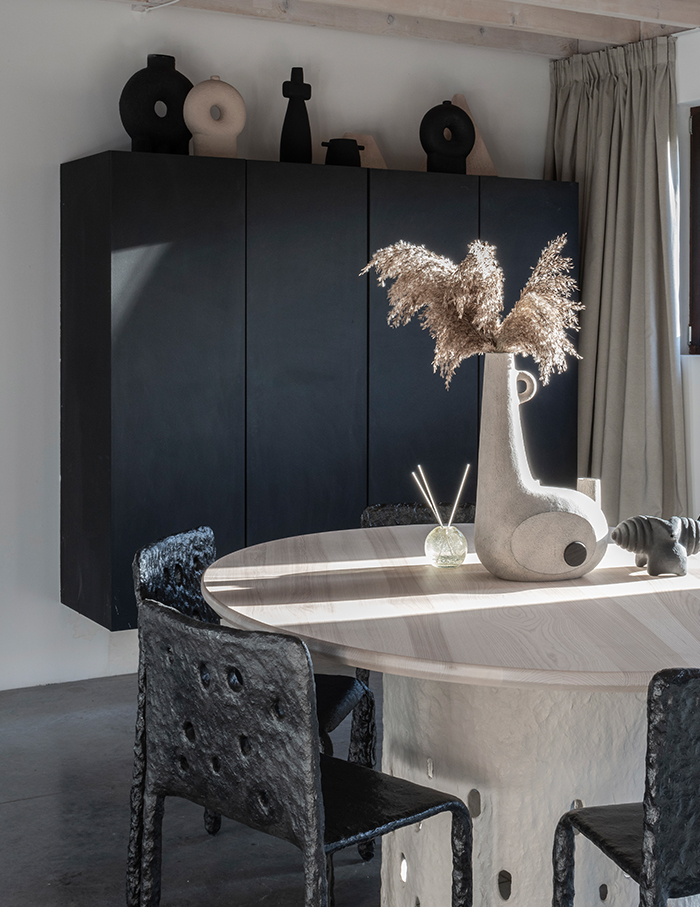 The almost 2,000 sq ft residential gallery with a private garden is located in Uccle, one of the calmest and greenest municipalities in Brussels. Its ground floor comprises an entrance hall, kitchen, living room, while three bedrooms and two baths occupy the upper level. Alongside the beds and baths, the storey's use of wooden facade, concrete floor, brick wall and massive windows opens the space out to daylight.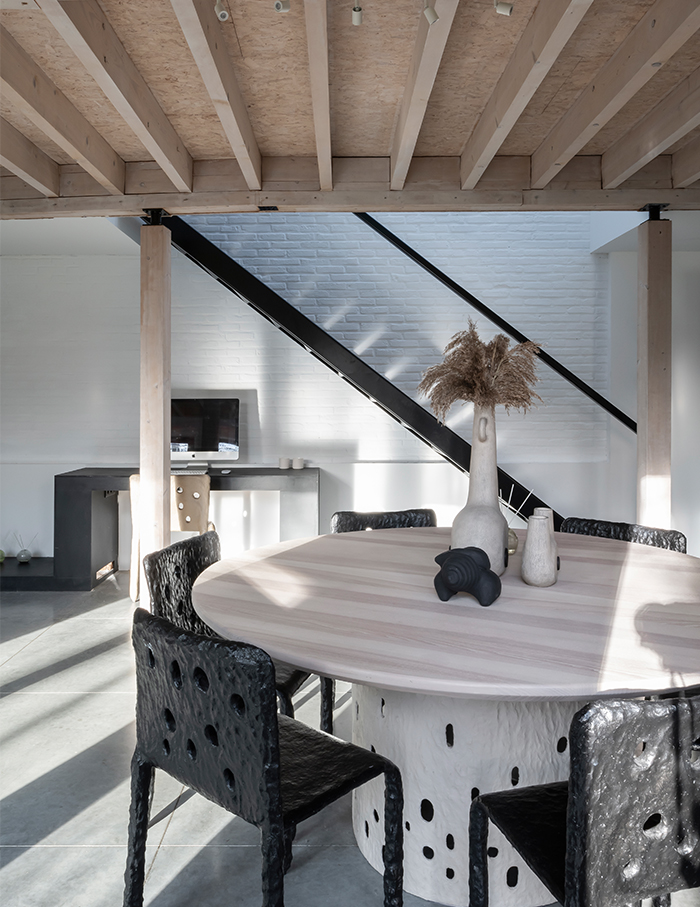 "The space had to fit almost the entire FAINA collection of 25 pieces into one interior. We succeeded with this task by combining different textures and colours in one space, avoiding the look and layout of a typical furniture showroom," says Yakusha.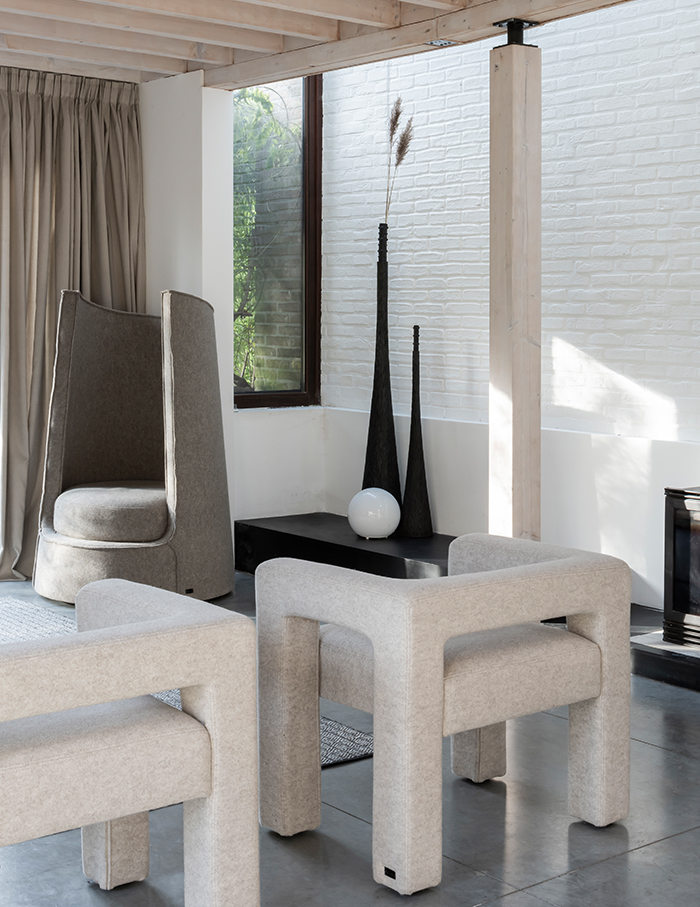 The entrance leads directly to a small and minimally furnished kitchen, followed by the expansive living room with a fireplace, dining table, comfy modular sofa, working zone and stairway. Solid wood, ceramic and felt are dominating decor materials, and create the tactile balance between concrete, steel finishes and brick walls.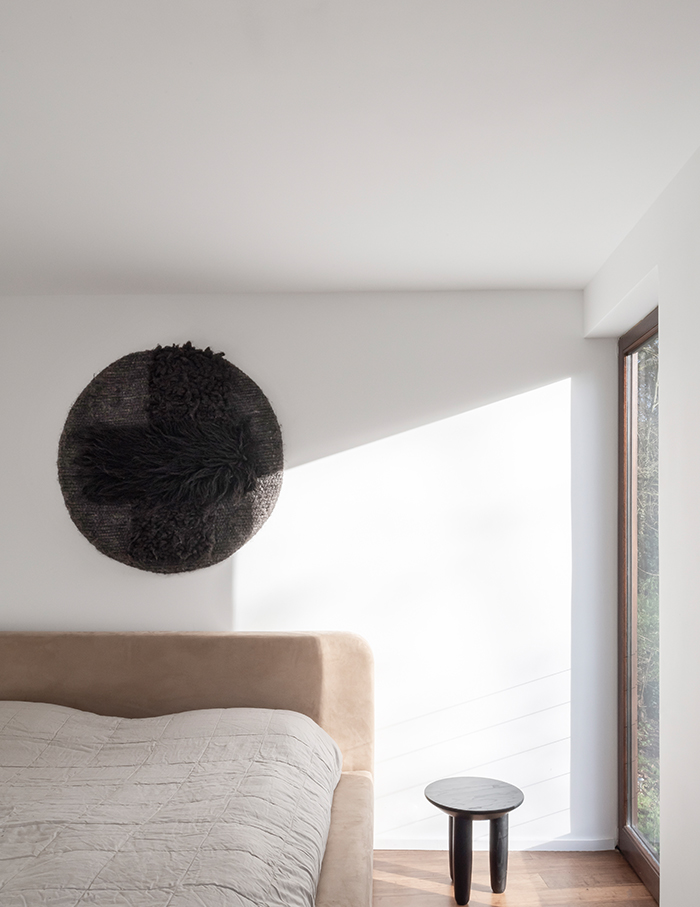 On the lower level, minimalist furniture in neutral beige shades is strewn about. Warm natural light and comfortable sitting places encourage visitors to explore the design exposition, and linger with a glass of wine on a cosy armchair by the fireplace. The master bedroom on the upper level features the double bed Pampukh, Domna armchair and the handcrafted tapestry Centre.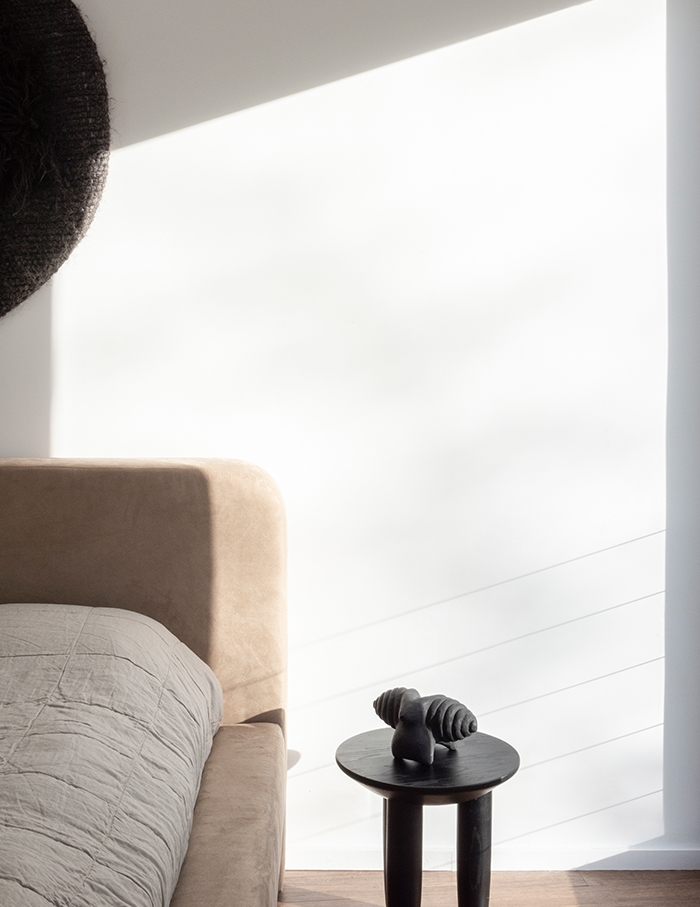 In this project, Yakusha maintains design restraint by using only two colours and employing objects of laconic shapes in the true spirit of her studio's philosophy of live minimalism. Her favourite space is the living room and dining table Ztista—made from recycled materials such as metal, paper, textiles, clay and hay—where she and her team spend evenings and often meet guests. The small courtyard, hidden behind the trees from the street, is another favourite.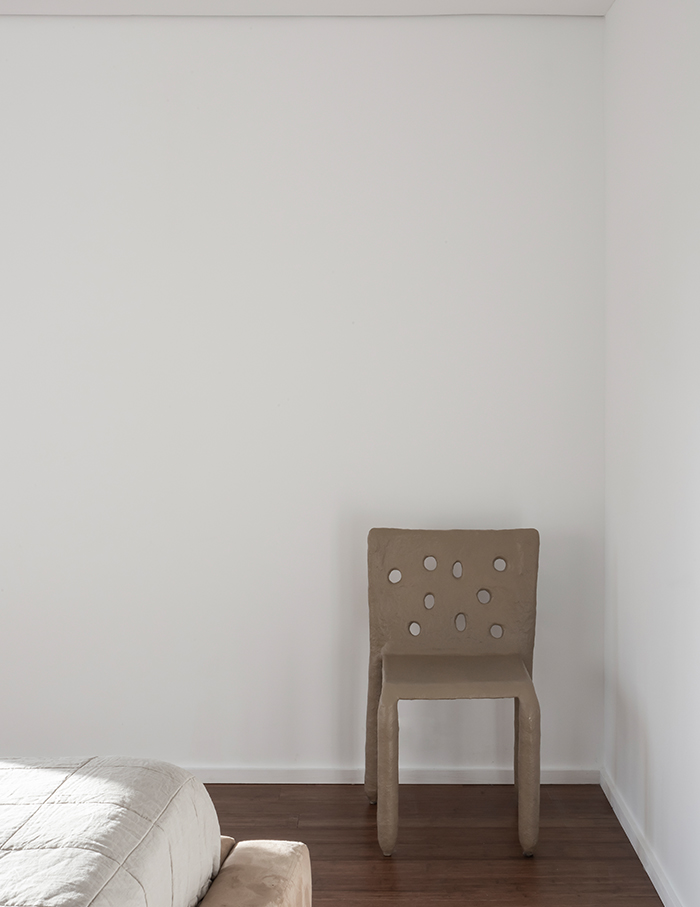 "I really like to use handmade objects in the interiors, where some traditional handicraft techniques are involved, about which you can spend hours telling guests. I believe that in addition to functionality, the design should also have a soul, a certain background, then the interior will be unique. When you combine natural materials, their beauty, diversity and imperfections with traditions of craftsmanship, then you have a live design, where is no space for fakes, arrogance or imitation," concludes the architect.
Scroll below for more images of FAINA by Victoria Yakusha…