Homes
Shourya Patel and Dexter Fernandes of Uneven give this Vadodara home breezy interiors
JUN 13, 2020
| By Sakshi Rai
Modelled to combat the city's soaring summer temperatures, this serene, two storeyed home in Vadodara blends modern design and smart living. Crafted by architectural practice Uneven, founded by Shourya Patel and Dexter Fernandes, the sprawling property predominantly employs a monotonal grey palette but breaks away with complementing hues of yellow and pale pink to offer contrast.
The architectural firm envisioned this home as a concise residence, identified with elements of eco construction and clad in a minimalistic canvas of natural and rustic materials. Various antique elements, exposed concrete slabs adorned with patterns, natural stones in outdoor areas and an amalgamation of glossy and matte vitrified tiles for the flooring lend character to the space.
Subtle but effective green parameters include cross ventilation throughout the house, solar panels on the sloping roofs providing energy, cavity walls that reduce the overall temperature in the exteriors, drains designed for rainwater harvesting.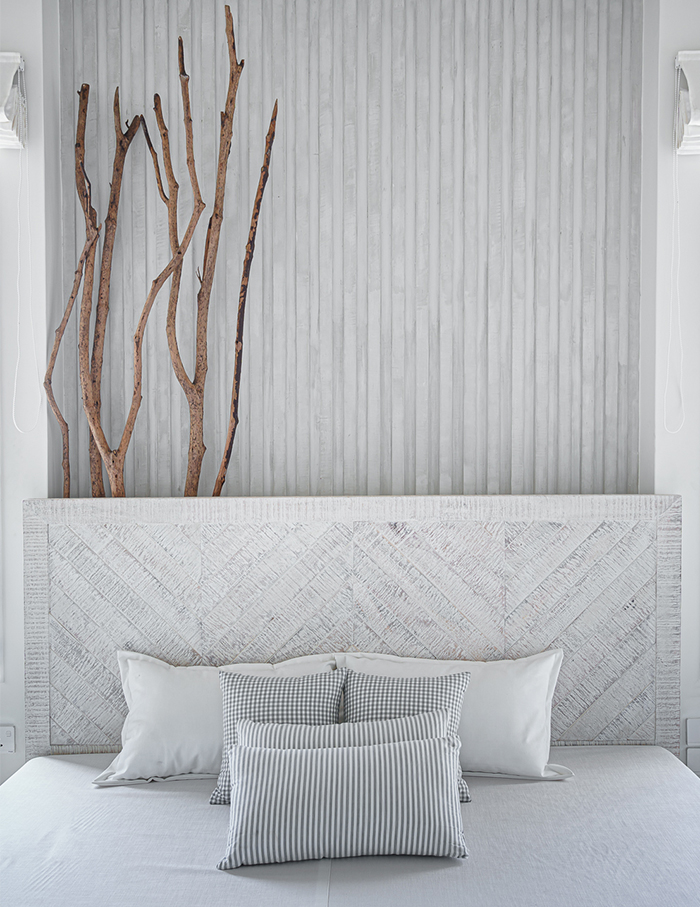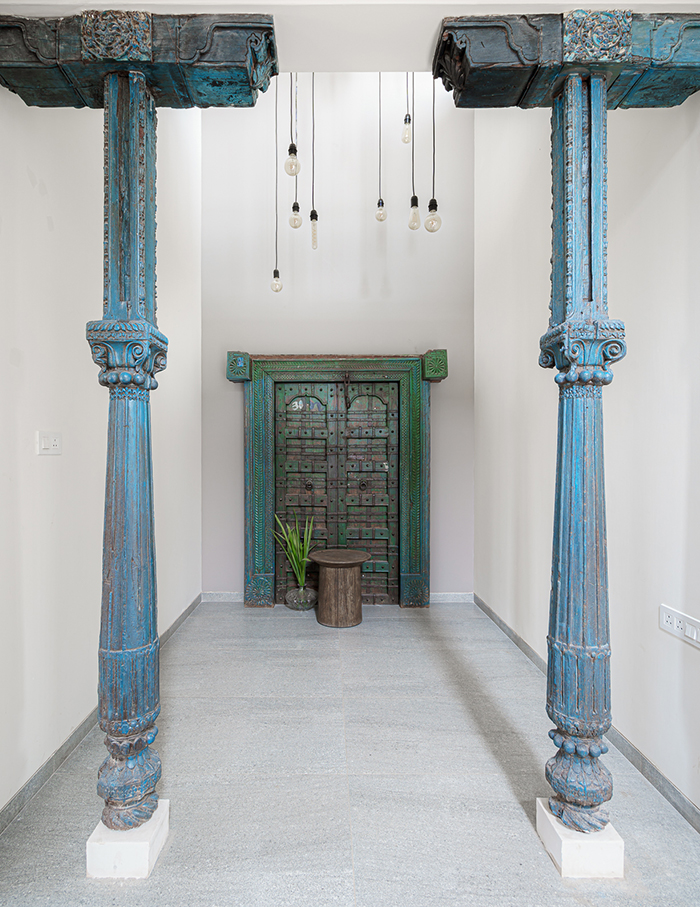 The entrance is marked by a quaint porch, which reveals a stylish foyer and a pathway leading to the garden. Further inside, a spacious living room opens onto the deck and brings a little bit of the outdoors in. A large, clutter free space is created by blurring the lines between the dining area and kitchen, ensuring overall visual connectivity.
One of the master suites is on the same level. It is built with an en suite bathroom, walk in wardrobe and a cosy garden space. The patch of green and outdoor seating provides the family elders with a chance to indulge in gardening as well as enjoy the evenings.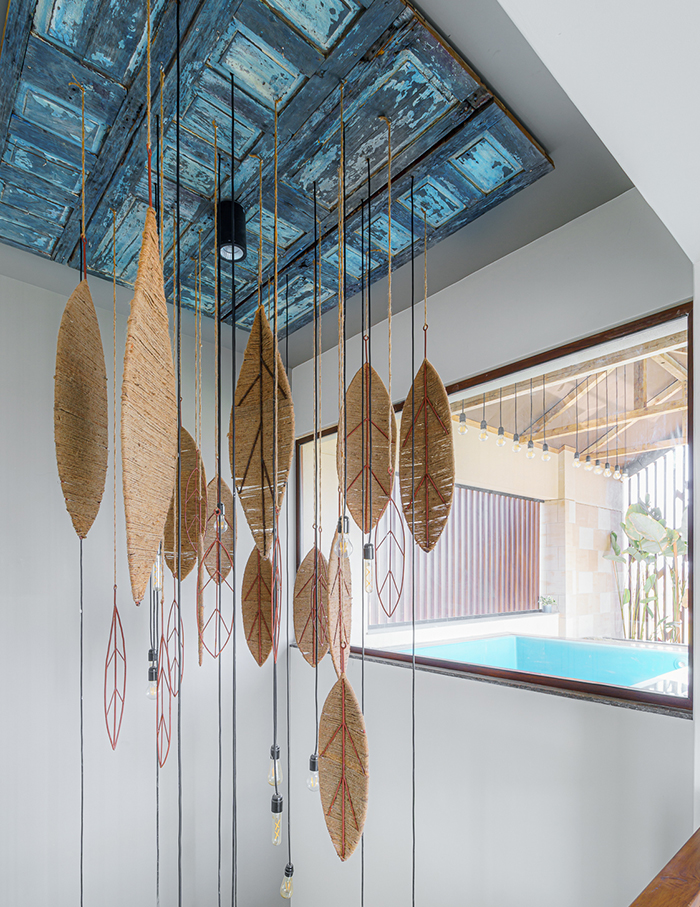 As one ascends upstairs, the most striking visual is that of the double heighted puja nook. This voluminous space is decorated with a bespoke chandelier made using light bulbs and metallic leaves—all held at different lengths to resemble a sculpture. It is from this point on the stairway that one can best experience the structural beauty and natural ventilation of the house.
Both the bedrooms—the master and children's are located on this level—have a grid like layout, to allow room for expansion or modification in the future. Bathed in muted wall colours and chic finishes, the interiors are classy and elegant. The enormous walk in wardrobes ensure that the room requires no additional storage space, leaving ample free space in the design. The bathrooms too are conceptualised to be private havens with inventive details and state of the art equipment.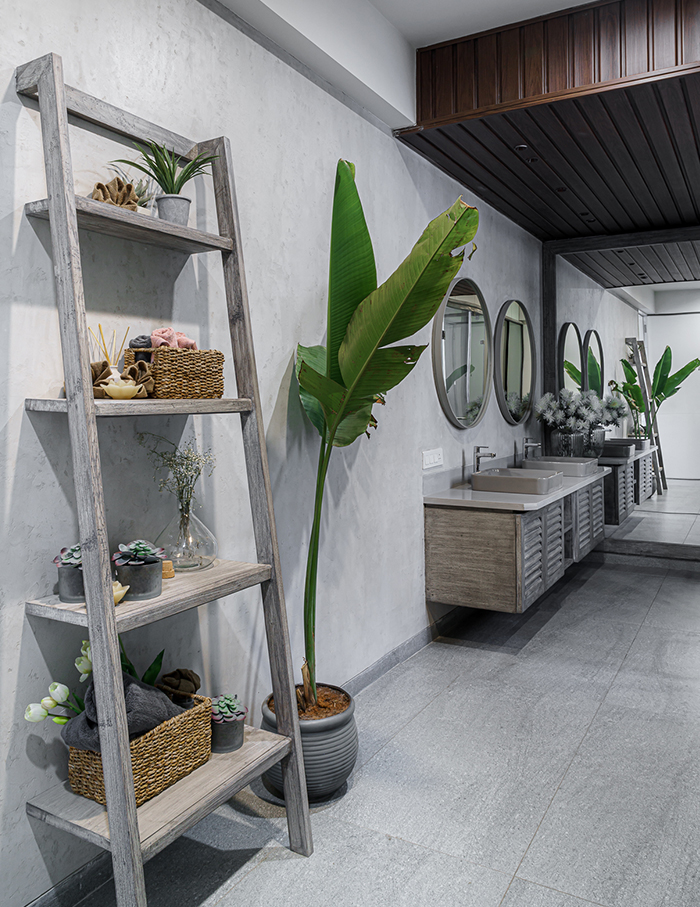 Sprawled across the uppermost floor, directly above the kids' room, is a spare bedroom that doubles up as an entertainment zone. A majority of the remaining space is refashioned to accommodate a serene terrace garden with an adjoining splash pool, swing and a cosy seating space. To inculcate a sense of openness while still ensuring privacy, the leisure bound environment is strategically fitted with fins (to act as sun cutters), making this the perfect spot to unwind, entertain and rejuvenate.