Homes
Bluewaters Residence by Sachid Umesh manifests a tropical tenor clad in calming hues and textures
DEC 14, 2021
| By Anushua Aich
Interiors enveloped in a clean and crisp palette of brown, blue and white—Bluewaters Residence crafted by Sachid Umesh of Space_Agency is one such urban home that city dwellers won't be able to take their eyes off from.
Located near Hosa Lake in Sarjapur, South Bangalore, this 1400 sq ft apartment was initially known as a three bedroom abode. With a young couple moving in and this apartment being their first home, they decided to make it a two bedroom house with a larger primary bedroom rather than three average sized bedrooms.
To execute this idea articulately, Sachid Umesh knocked off a wall between two rooms and created a lavish primary bedroom suite. He adds, "The couple required a space that was functional in terms of storage and a space that would let them entertain guests. The aim was to create a space they could grow into in the years to come."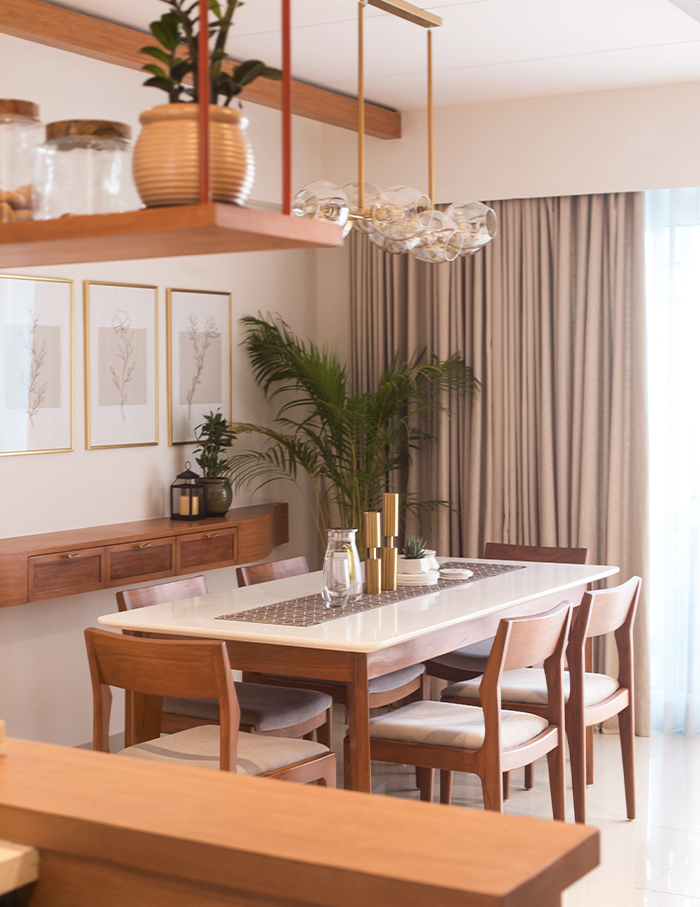 Drawing inspiration from the surroundings of the apartment like the lake and exposure to plenty of natural light, Umesh conceptualised the theme of the abode as tropical modern design. Staying true to this expression, Umesh chose a muted colour palette, entailing beige, white and grey, for the living and dining space. These mild shades further highlight the warmer elements in the room like the wooden beams and rattan furniture with brass accents.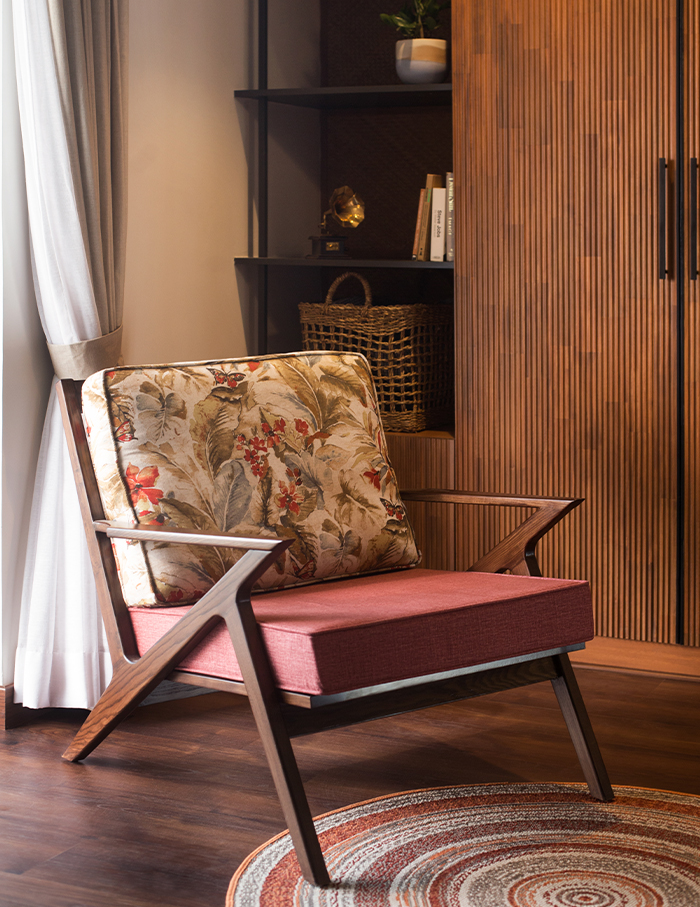 Against this neutral backdrop, the kitchen is featured in cooler tones of airforce blue accompanied by a white quartz countertop. The kitchen being cosy and compact, the blue-hued cabinetry adds a refreshing pop of colour to the otherwise neutral space.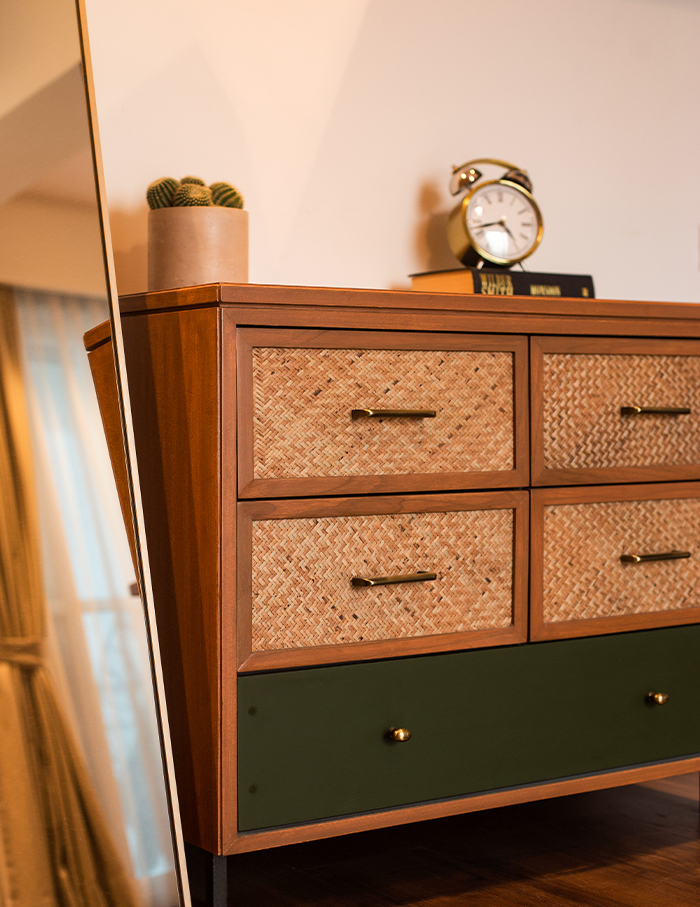 Meanwhile the primary bedroom reflects a contrasting moodboard which is decked up in tones of coral and green. An oversized tropical-themed wallpaper completes this space, emerging as the show-stealer statement.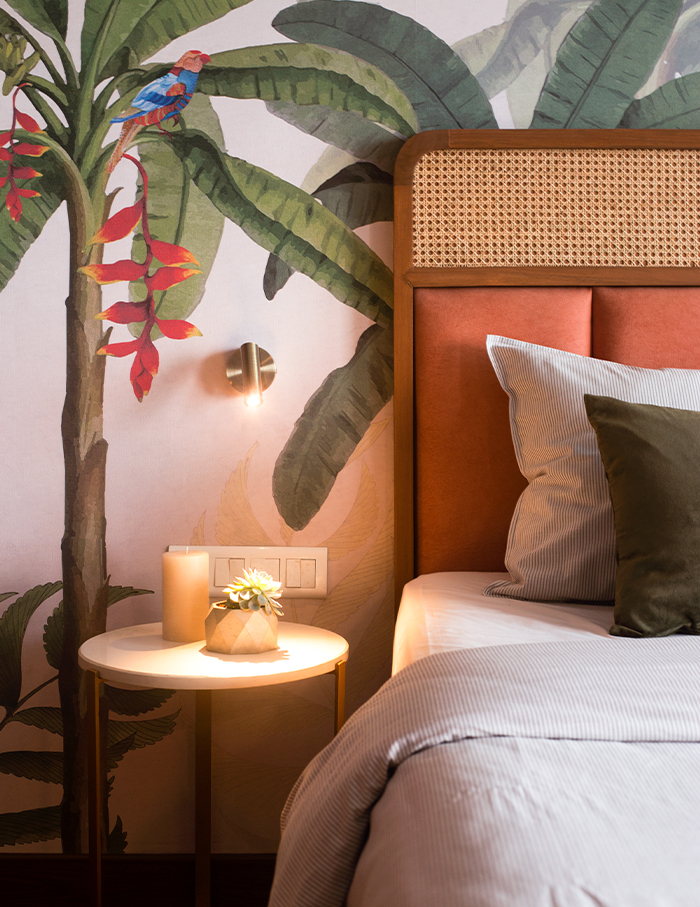 What also adds value to the flair of the abode is the mindful material palette brought about by Umesh. To strengthen the tropical theme of the house, he has layered the interiors with delicate details. These details are manifested in furnishings and furniture across the house.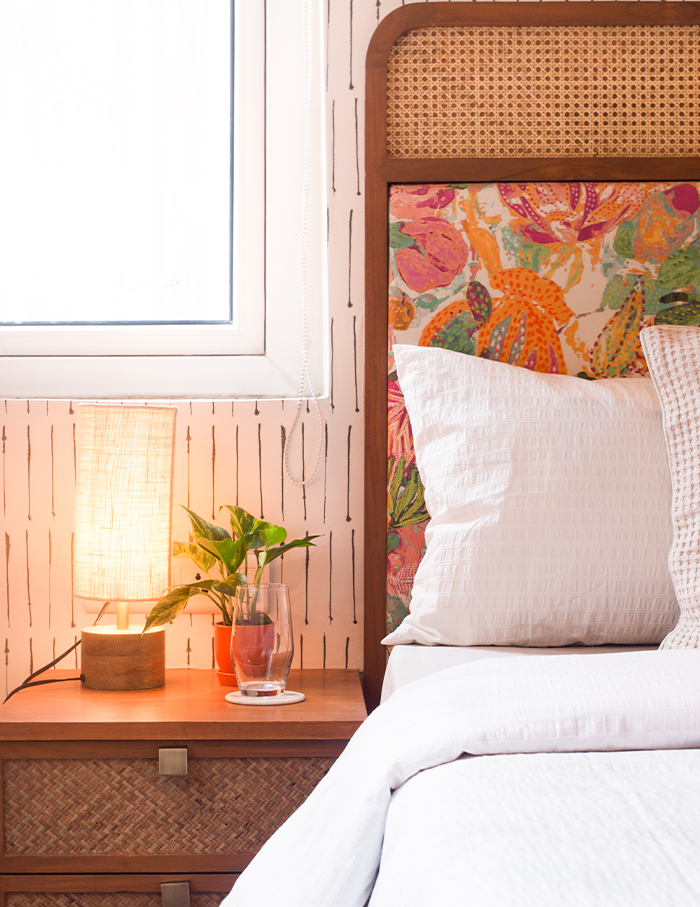 The custom made full-height workspace and shelving unit in metal millwork in the primary bedroom not only visually blends the area together but through it's materiality focuses on facts—that work and leisure should have spaces of their own.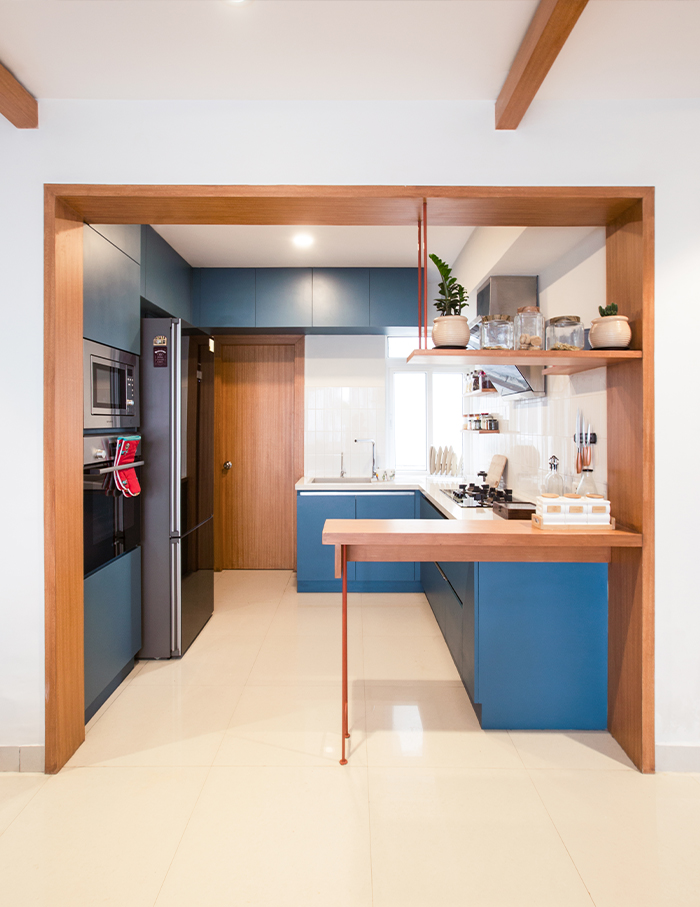 To bring forth a balanced weightage to the rest of the apartment, Umesh explains, "We blended natural touches of rattan furniture and wooden flooring, with some pops of colour in terms of fabrics, rugs and other features."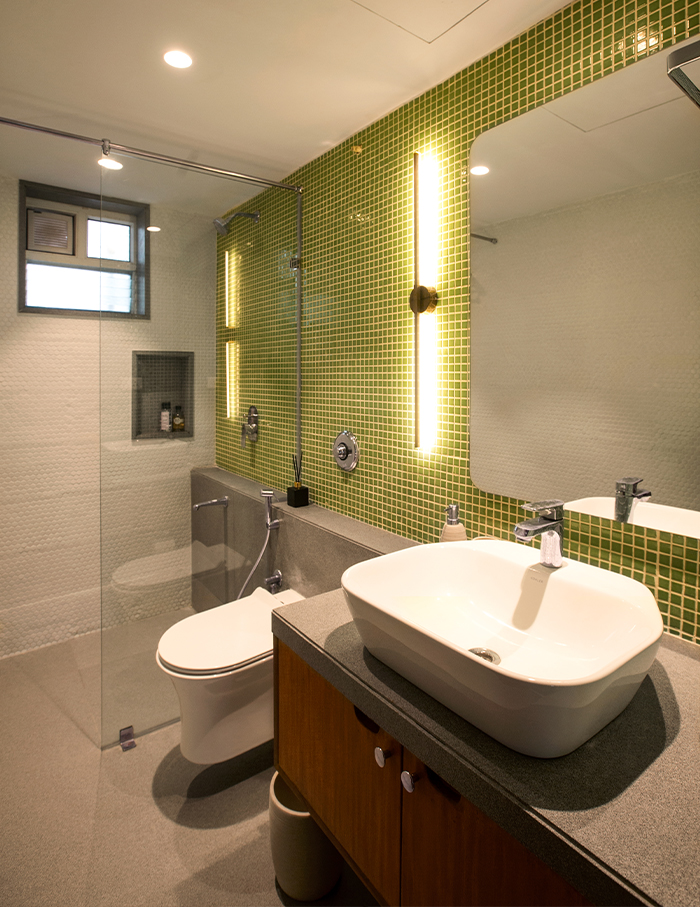 Adorning it with soft hues and tropical decor accents, Sachid Umesh has come up with a flawless contemporary-luxury themed abode. With natural materials and greenery in the form of planters, the home reflects a perfect composure that is sure to keep boredom away.
If you loved the tropical-tinted aura of this house, make sure you check out this Chennai home by 85:15