Homes
Inside a New York-style home in Mumbai designed by Quirk Studio
SEP 22, 2022
| By Maheshwari Vickyraj
 With meticulous design comes this neutral abode that reveals elements of modest elegance, subtle oddities, and calibrated drama.
 Being inspired by the french word Blanc which means white is this 1500sqft home located in Mumbai designed by principal designer and co-founder Disha Bhavsar & Shivani Ajmera of Quirk Studio.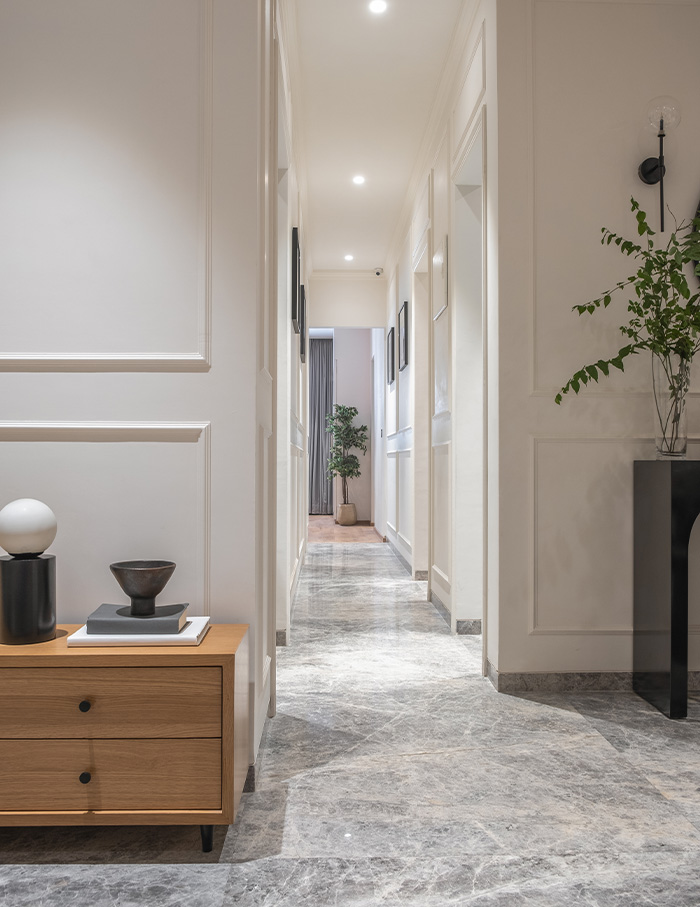 "We have used the Blanc Home to show how achromatic colours may be combined with neutrals to create a clean, modern, and energetic atmosphere," says Disha Bhavsar. 
The Curious Brief 
 This home is dominated by shades of white, combining the minimalist chic of a New York City apartment with the opulence of a palace.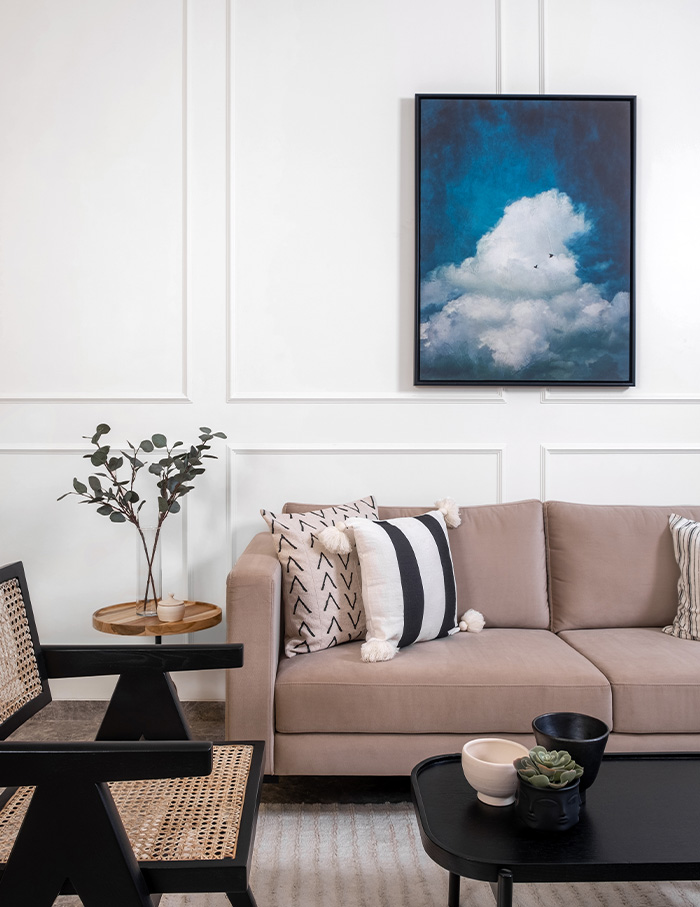 The Blanc Home was designed with a young family in mind as their first luxury residence. Its emphasis is on practicality, which is combined with a modern and minimalist design language that is expressed through monochromatic aesthetics and is well implemented through attention to detail.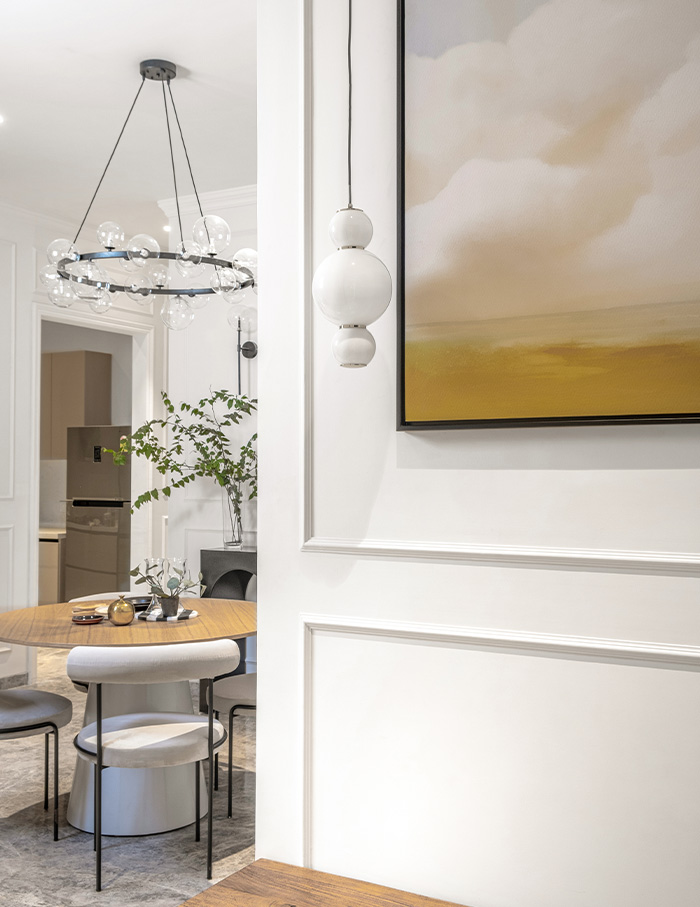 Tour every turn of the Blanc Home
Entering the small foyer, one is immediately greeted by a white wall with rectangular moulding frames and a rustic-looking wooden bench. A pair of alabaster table lamps with a framed painting of sunny clouds serve as the space's focal point.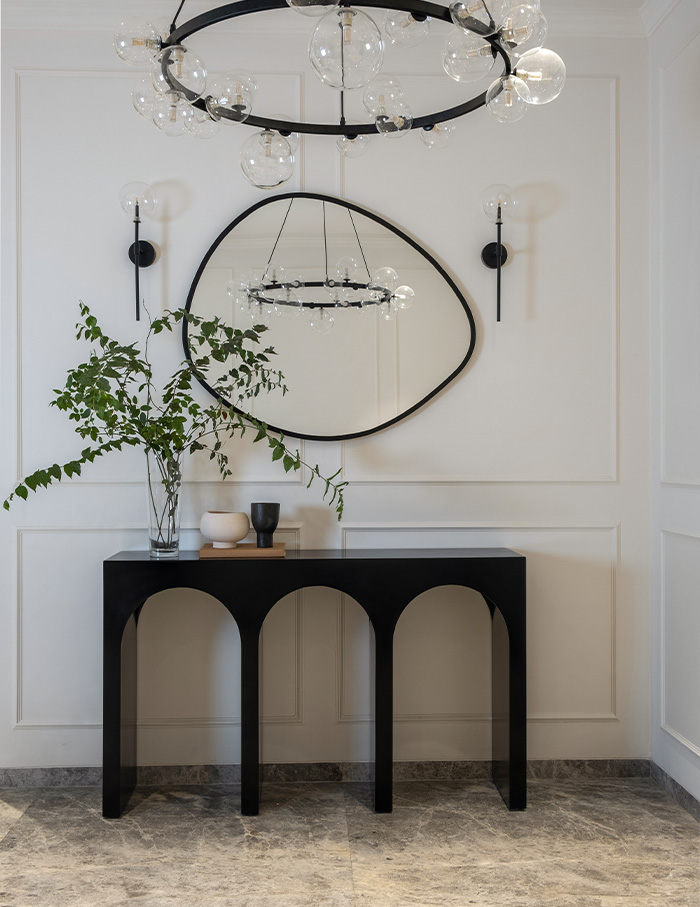 Treading further, the dining area on the right leads into the living room. A round wooden table with a sturdy, conical base serves as the centrepiece for the white cushioned chairs with black metal legs. Its futuristic appeal comes from the composition's focal point.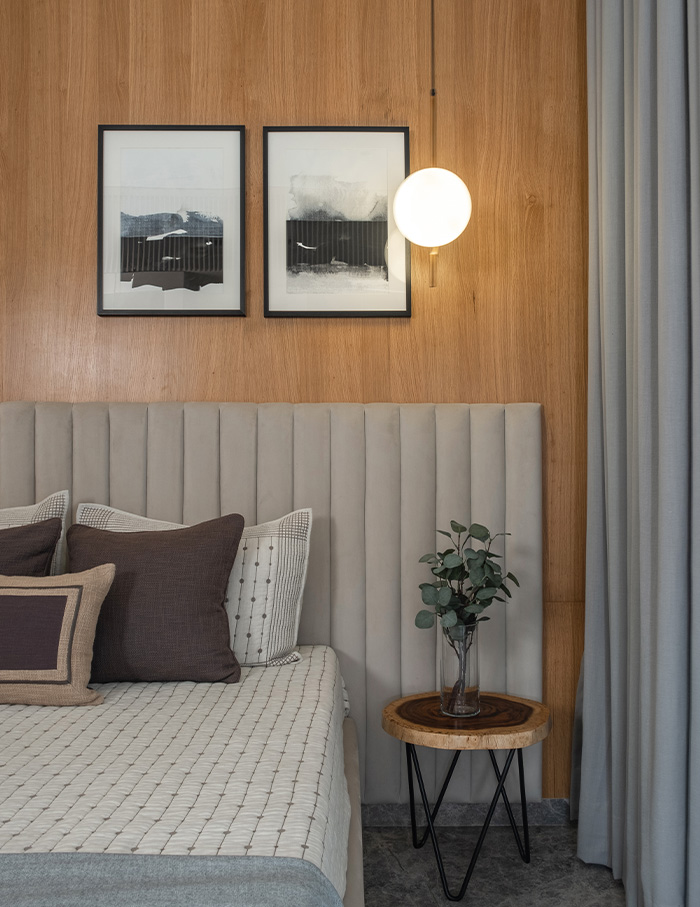 Against the white-panelled walls, the jet black desk on soaring legs stands out like a palace guard, holding a mirror with a stunning black frame and two obsidian wall sconces. On a side wall, three black-framed abstract paintings that fit in with the rest of the home's artwork hung.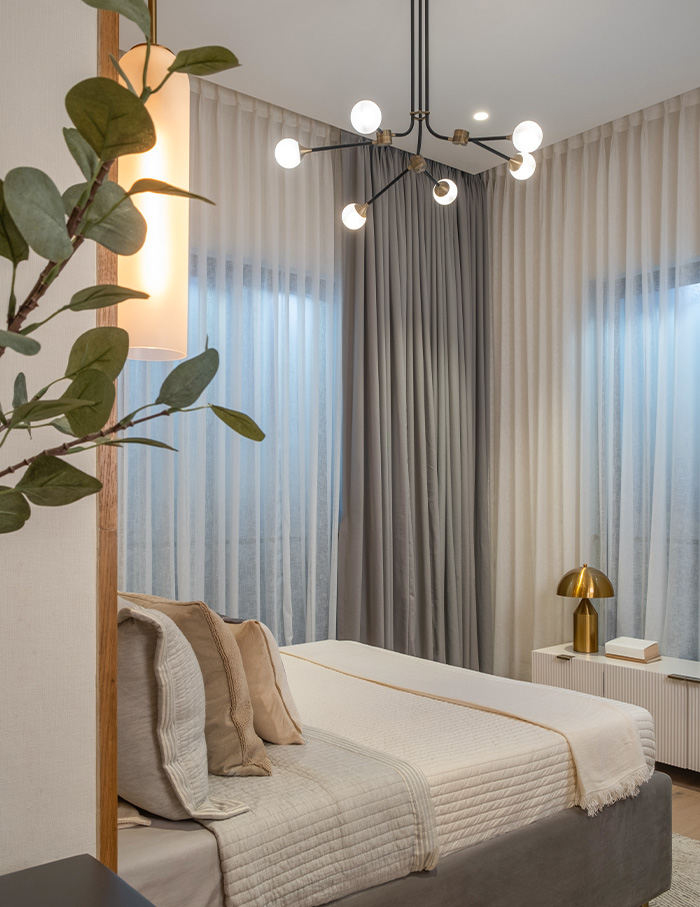 The open layout of the living and dining areas makes the space perfect for socialising and eating. In front of a wall-to-wall window that enhances the room's aesthetic, a pair of suede grey sofas on black metal legs, an onyx-coloured classic Chandigarh chair, and two coffee tables, one black and the other oak-toned, sit on the floor. Aside from the black and white colour scheme of the cushions, the room is held together by the contrasting textures introduced by the many upholstered pieces, such as the ashen-coloured rug and the grey-toned curtains. A stunning blue sky takes centre stage and becomes an integral feature of an otherwise well-balanced artwork.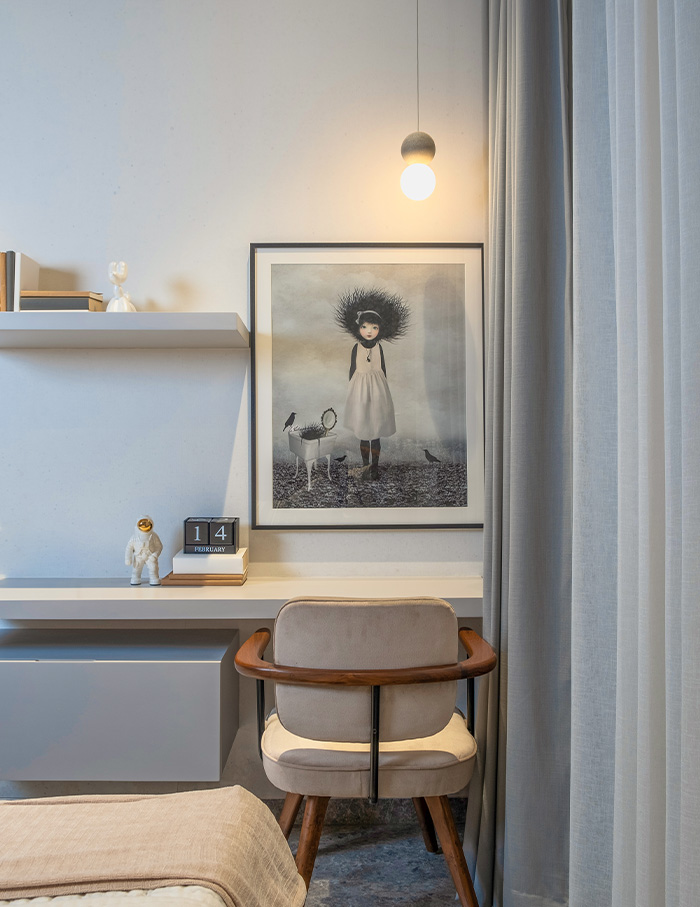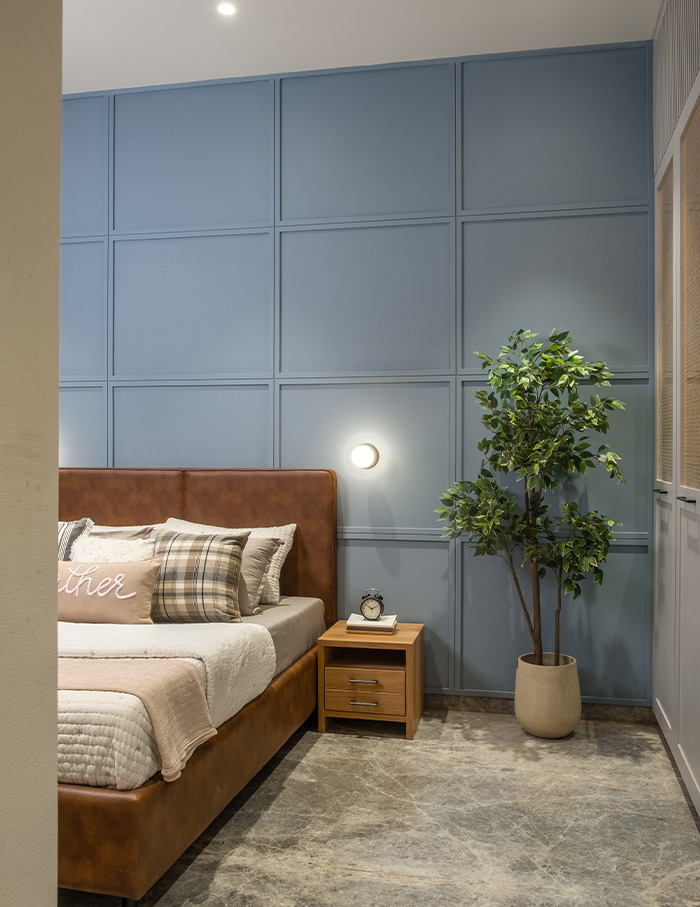 By affixing monochromatic photo frames to the wall panels, the passageway between the living room and the dining room is transformed into a gallery. The fireplace on the left side of the room serves multiple purposes and has a neutral colour scheme of taupe with some black accents.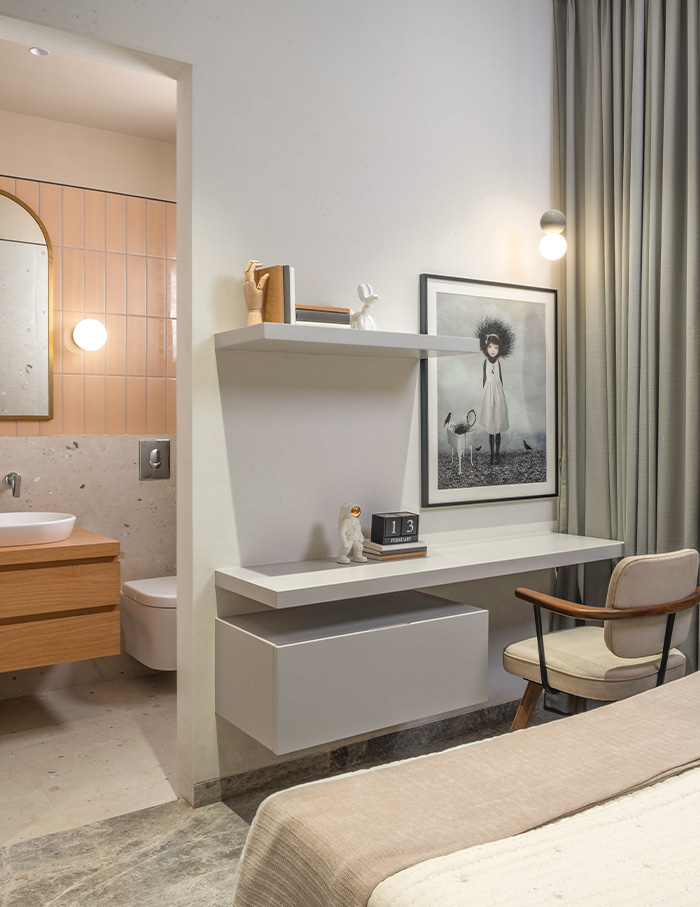 The children's bedroom is characterised by its leather-finished bed and mahogany nightstands set against a stunning powder blue wall detailed with exquisite mouldings in grids. A closet with partially moulded shutters and sleek black handles houses a plant and rattan that bring some much-needed vibrancy to the otherwise dead room. This modern take on the timeless Blanc has a sleek bookshelf perched on a sleek study table and a sophisticated chair with wood and black metal elements. While the room's story is completed by artworks, which hang as a focal point from a bulbed lamp strung along the top of the grey drapes, on the contrary, the guest room exudes quiet sophistication thanks to a fluted suede bed-back, draperies, and rug, all in varied tones.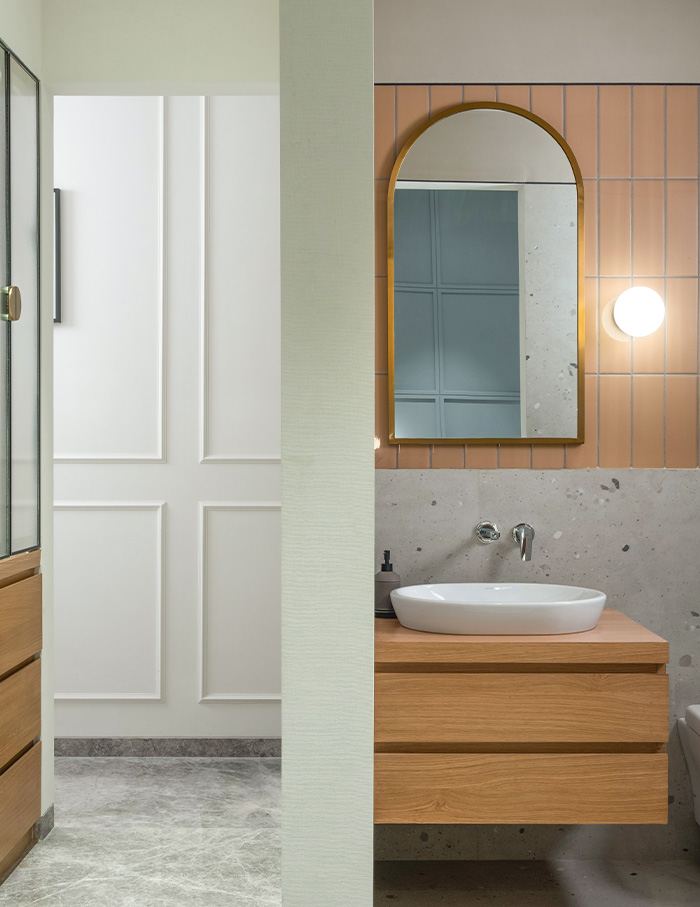 The master suite lies at the very end of the corridor, and it is a spare room with hints of understated beauty here and there. Over a hardwood base, a contemporary bed with a grey headboard is framed by a bed back panel that features fluted detailing and a veneer finish. A pair of white, contemporary end tables with brass legs and knobs complement the magnificent modern chandelier.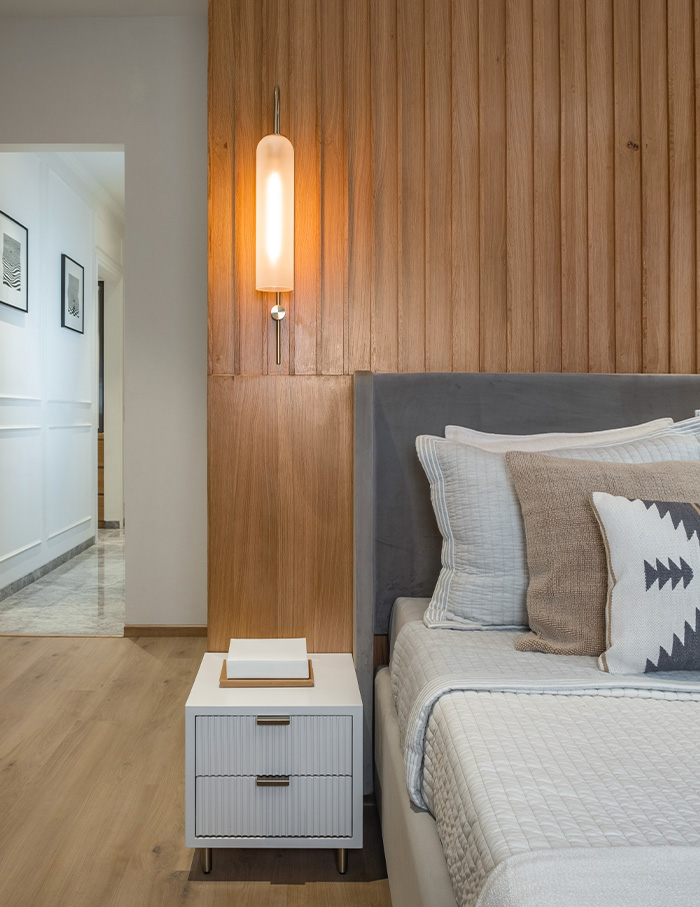 Ideas to bookmark – colours, materials, and inspiration!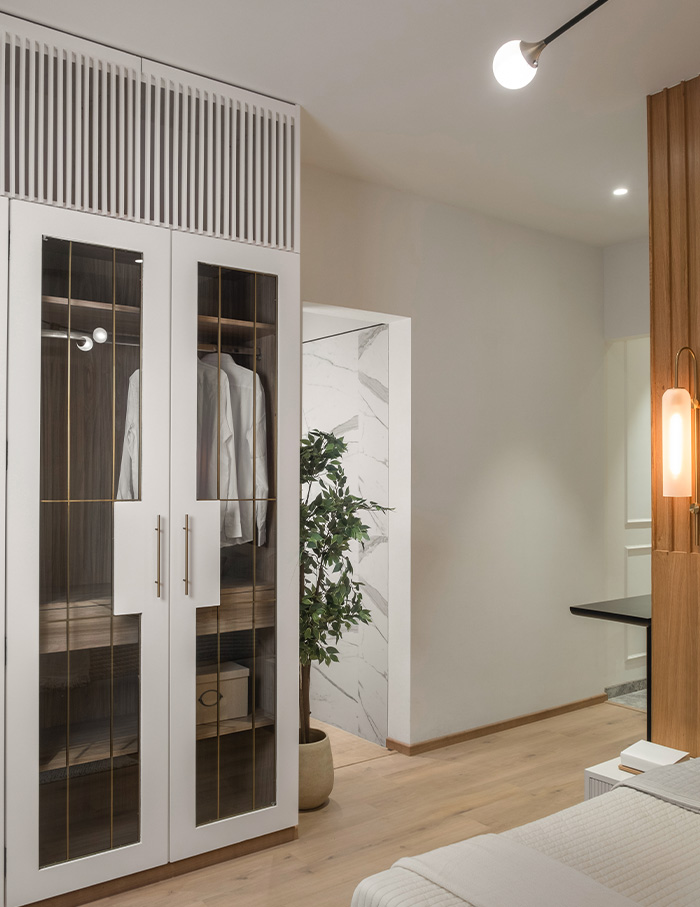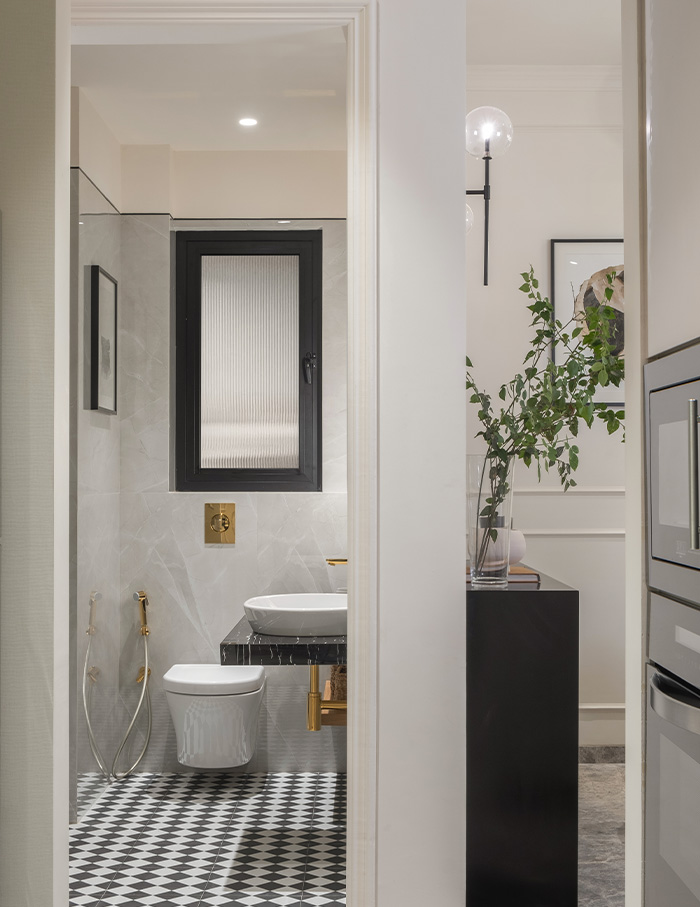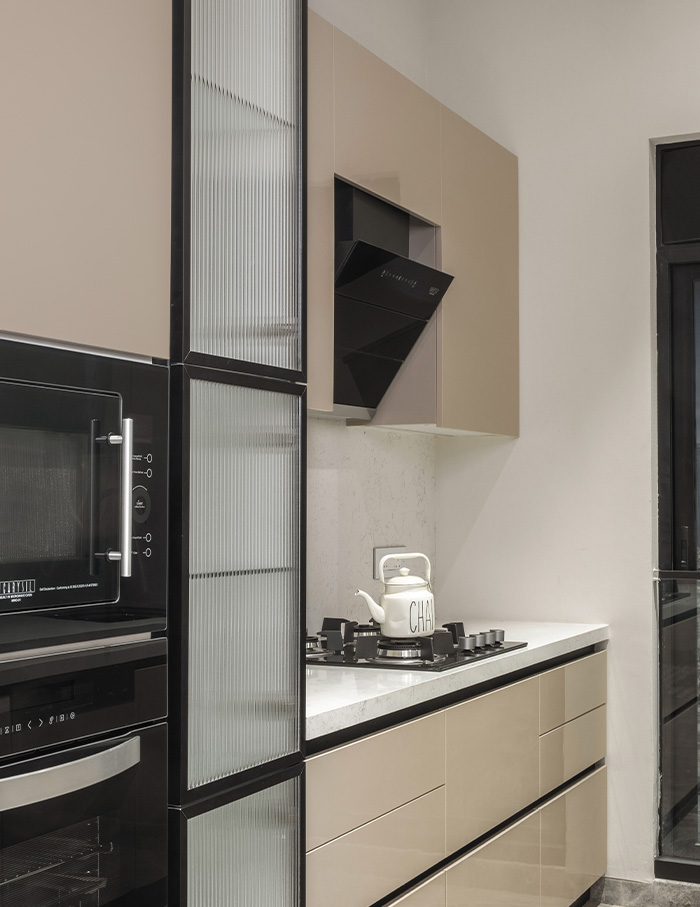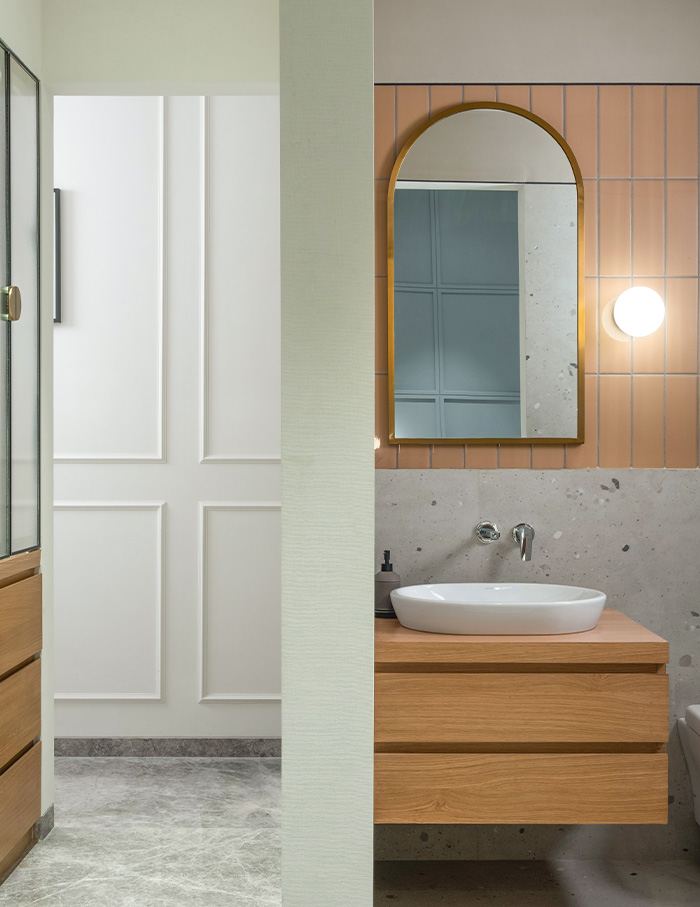 Each space has its own distinct character and ambience while still functioning as an integral part of the whole. Cane, metal, suede, and linen are all explored, as are various shades of white, with black and grey standing out in a variety of textures to create a modern, fresh atmosphere. Chestnut-hued woods in varying shades lend cosiness to this New York loft-inspired residence.