Homes
Royal to the T— This holiday home by Beyond Designs encompasses generations of architecture in a resplendent manner
MAR 20, 2023
| By Suhaani Rai
A preservation of the past in a holiday home is one of its kind and Sachin Gupta and Neha Gupta, Principal Designers of Beyond Designs cocoon generational art and architecture into this majestic sanctuary.
Nestled amidst six acres of lush green land, a massive 22,000 sq. ft. area in Jaipur has seven en suite bedrooms and a swimming pool. "It's a 30 year old property that was recently expanded and more quarters were added by noted architect Pradeep Sachdeva. This was his last project before passing away in 2020. We collaborated with him for the project," says Sachin and Neha.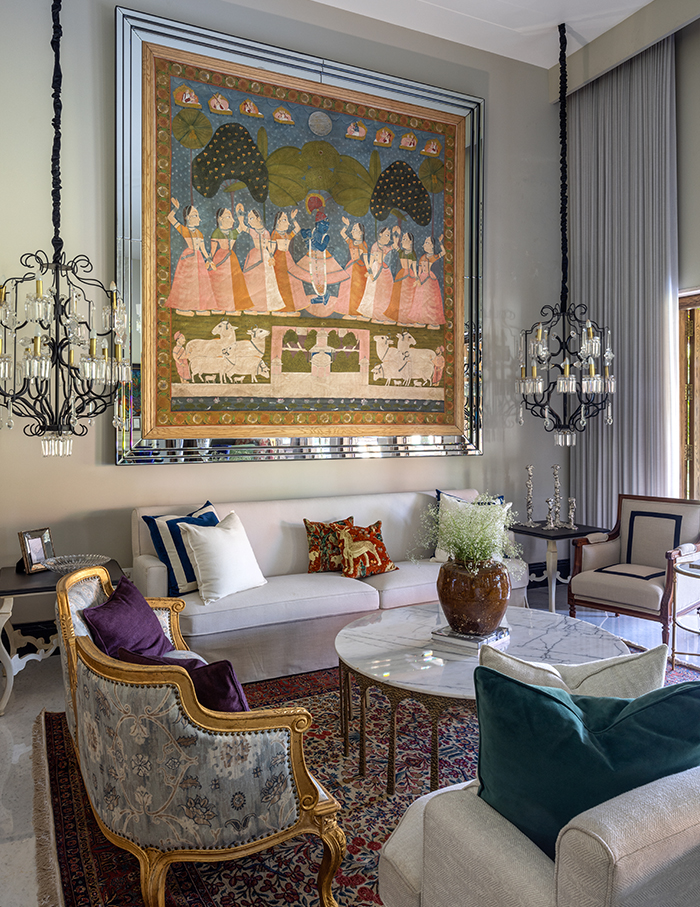 The curious brief
The entire house has been adorned with furniture that has been passed from three generations— some refurbished, some as they were. There are paintings by renowned masters which belong to the homeowner's collections. The design influences are from across the globe with art, textures and other details that evoke magnificent visuals.
The Geoffrey Bawa-inspired architecture has been retained to provide a charming, relaxed yet regal look to the holiday home. This art galore has a laid back, understated luxury embracing a neutral palette with pops of colour and delightful accents.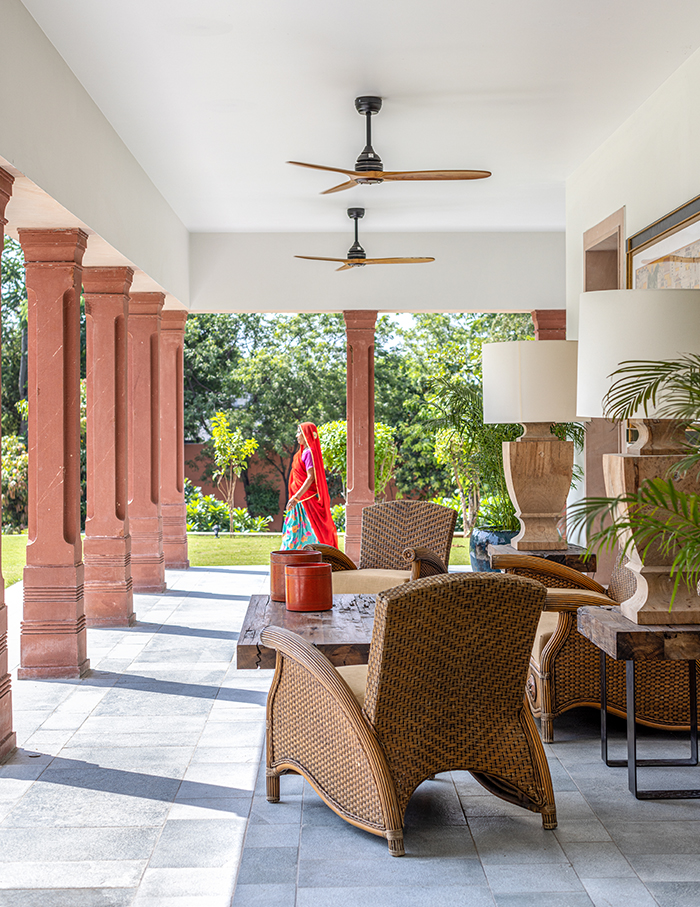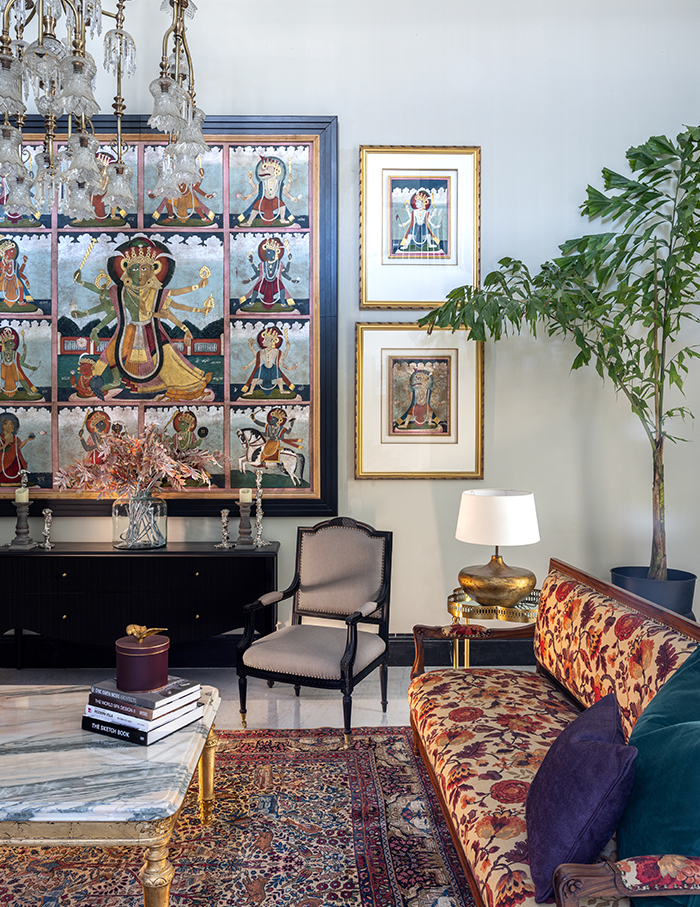 Tour every corner of this home
From the main entrance, there's a small passage that leads you to a formal living room, a double height informal living room and a powder room. The lower level also constitutes a mandir, kitchen and a luxuriant dining room that features bespoke brass and crystal chandeliers, vintage style chairs and gothic wall panelling. It opens out to the swimming pool.  Adjacent to the passage on the ground floor are the father's, mother's and kids bedrooms.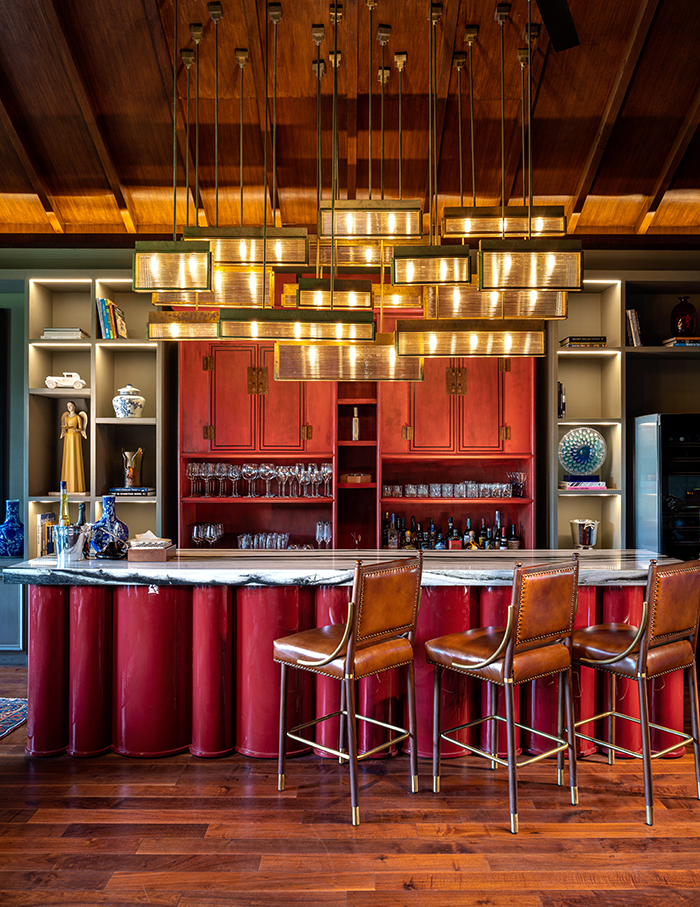 A stairway and a brass finished lift leads you to the first floor with two passages on both sides. The first passage leads to two guest bedrooms— one in green and other in mustard yellow. The second passage leads to the master bedroom and one more kid's bedroom. The master bedroom showcases a four-poster brass bed and modern furniture to complete the opulent theme of the room. The other side of the passage leads to a large terrace.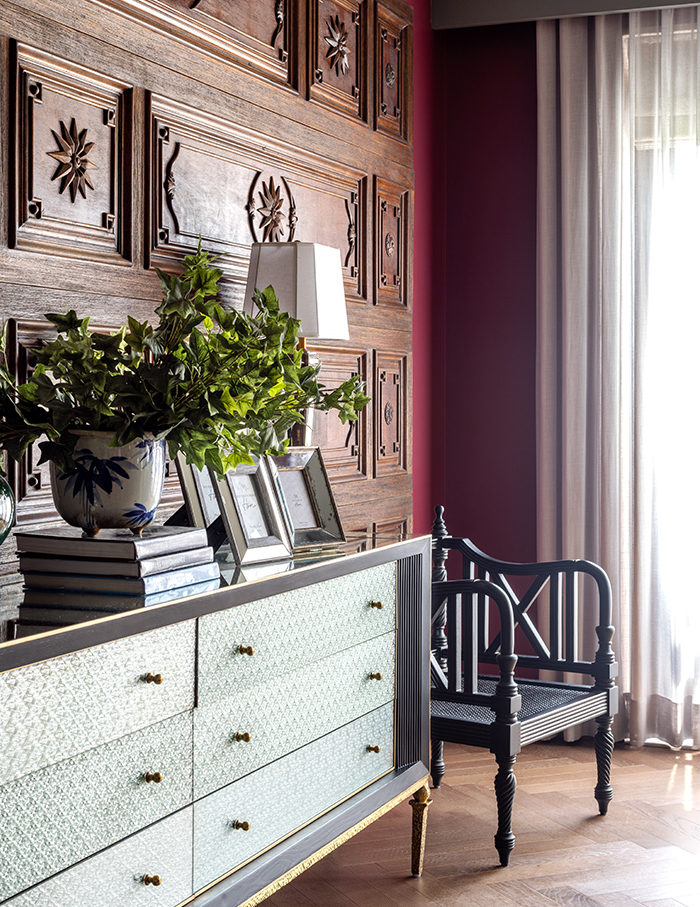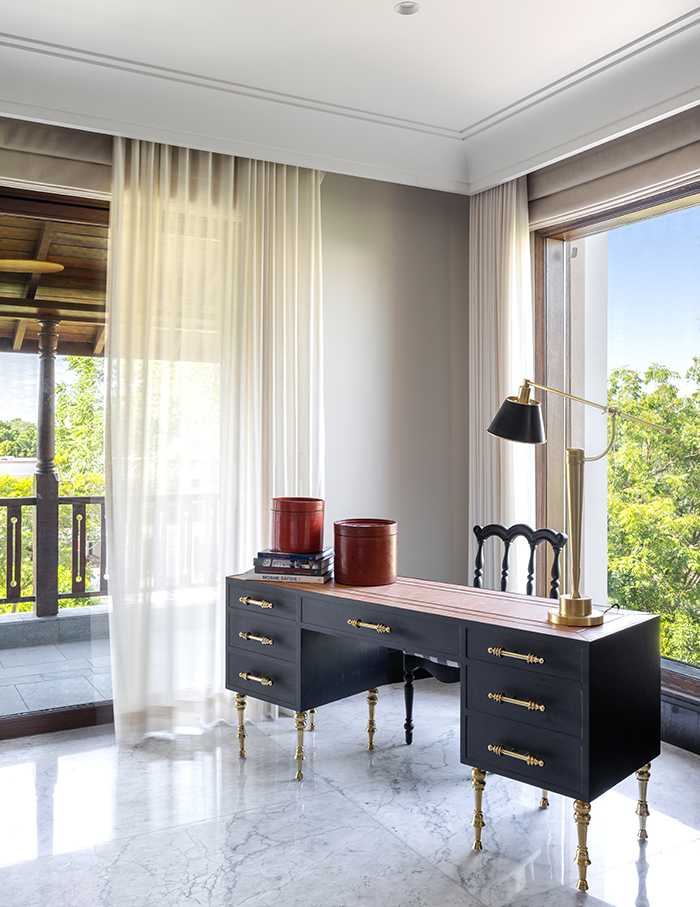 Ideas to bookmark
"We have previously worked with the homeowners. Hence, they are familiar with our design philosophy and style of working. Their sensibilities veer towards understated luxury. Thus, the interior design style adheres to their requirements and follows a restrained play of flamboyance as compared to our signature style," avers Sachin and Neha.
White backdrops in common areas work as a muted canvas for the vast collection of artworks, furniture pieces, lights and decor accessories to stand out. This home is an archetypal for how to preserve valuables from the past in a maximalist style. 
Scroll down to see more glimpses of this beautiful haven!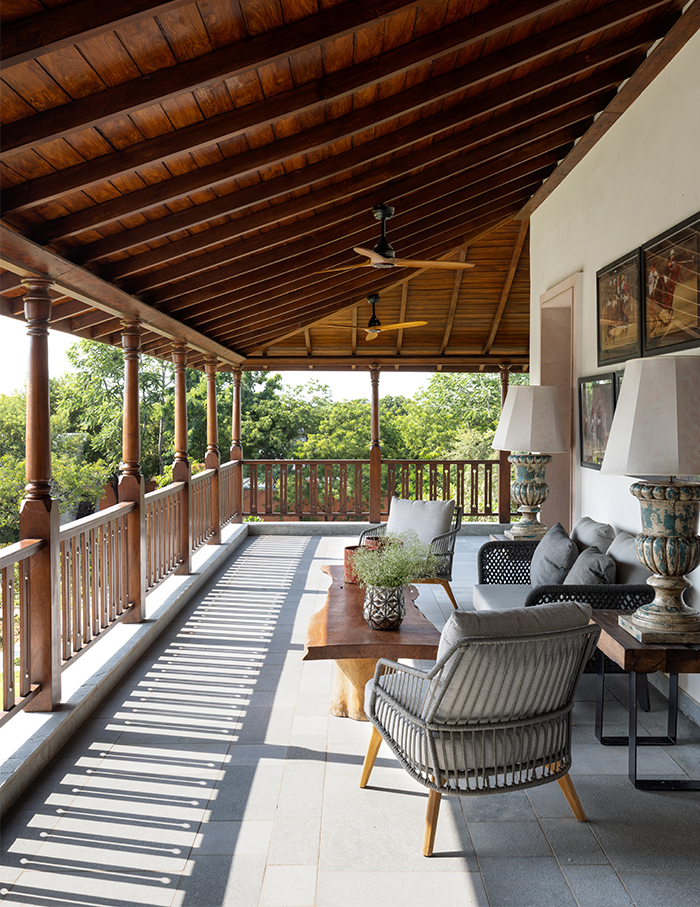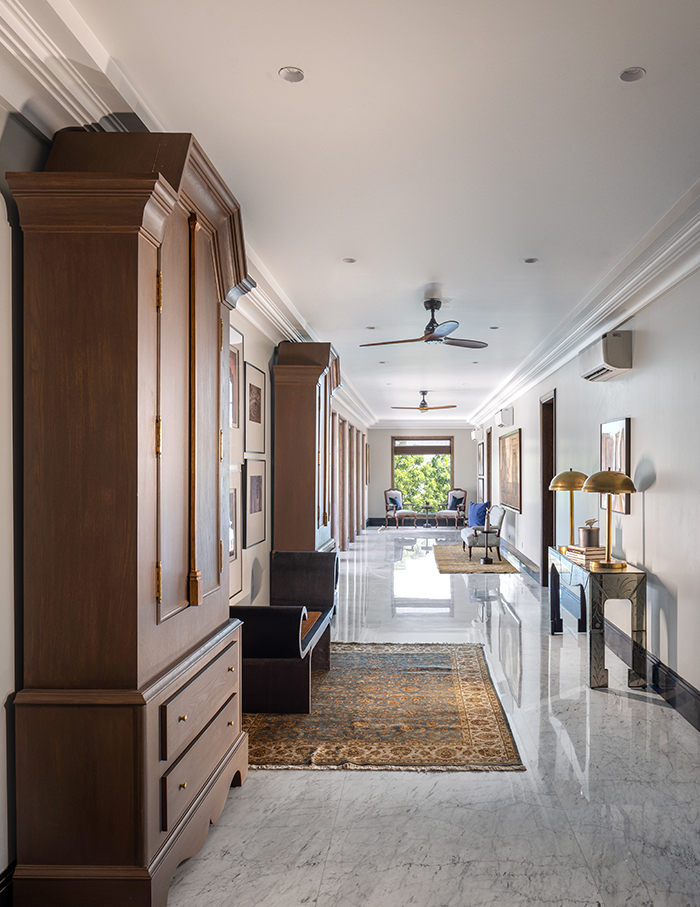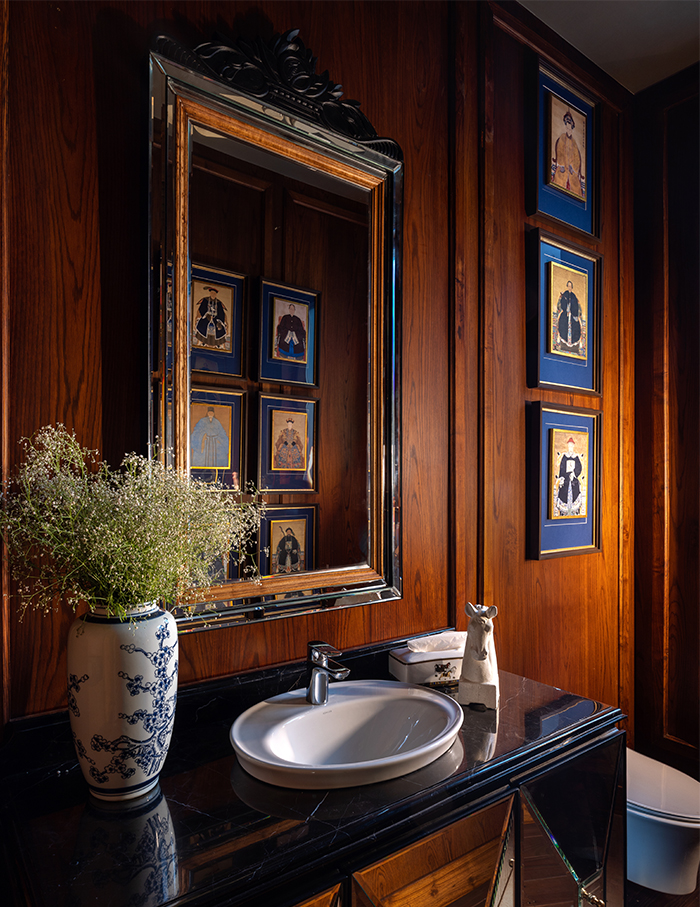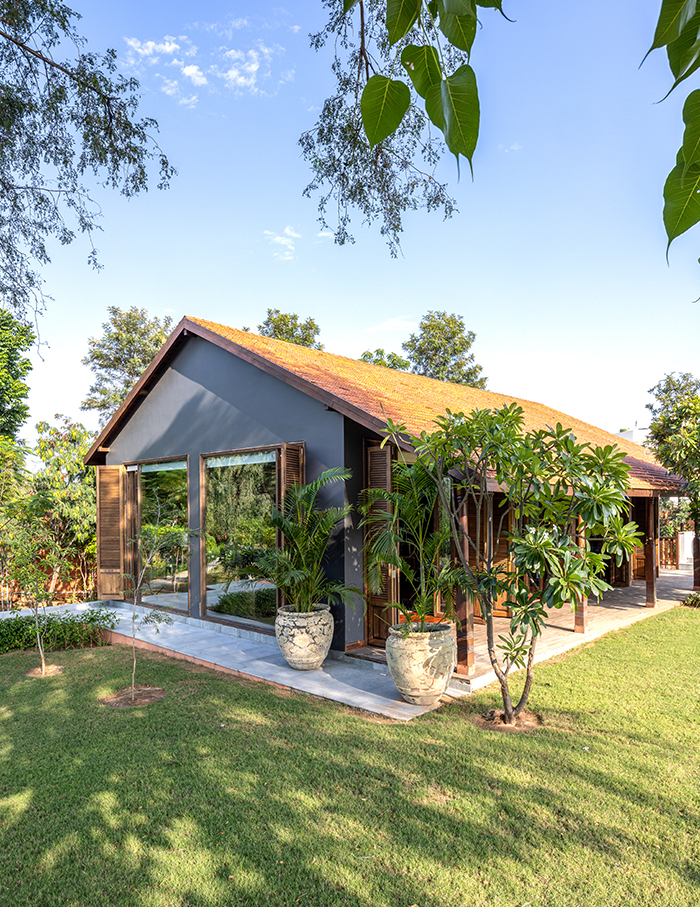 You may also like: Cradled up in the hills—This holiday home in Mussoorie by Aditi Sharma offers design lessons in modern-minimalism