Homes
Bengaluru home that poses as a riveting pastel painting crafted by Tap Design Inc
SEP 20, 2022
| By Maheshwari Vickyraj
A melange of contemporary and classical ornamentation is envisaged in this home in Whitefield, Bengaluru. Crafted by co-founder Sneha Talati and principal designer Iesha Parekh Shellugar, alongside project leader Siddiqua Khannum from Tap Design Inc., with execution partner Making Concept. 
Spanning 1933 sq ft, this home has an interim that confluences rich wooden tones, modern furniture, and contemporary flute detailings.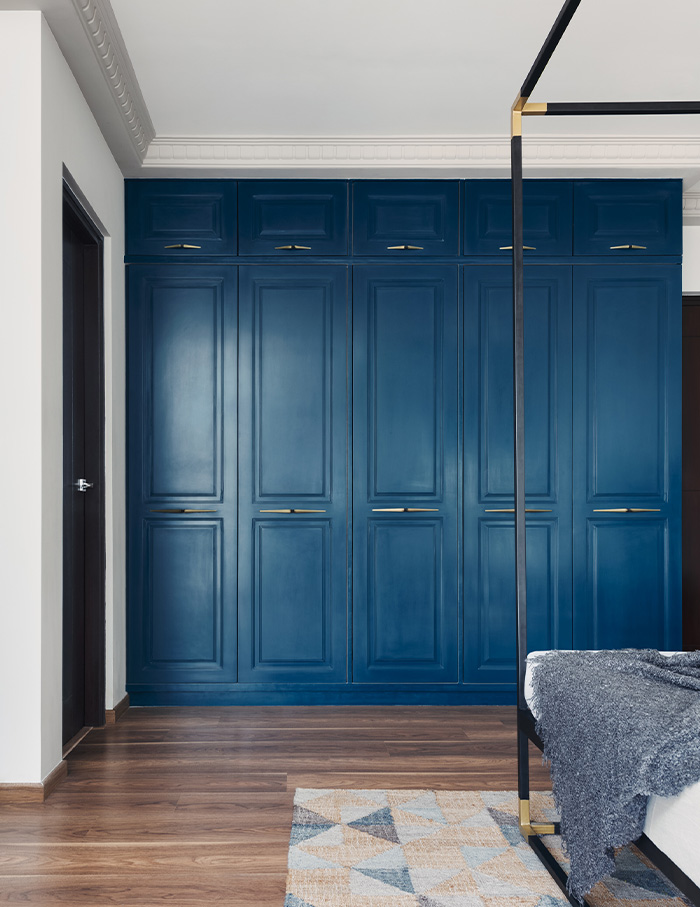 Curious brief
 A coveted epoch that would successfully blend nouvelle with a spell of traditional elements while being refulgent and colourful was a presentiment envisioned by the couple (homeowners) and the designers.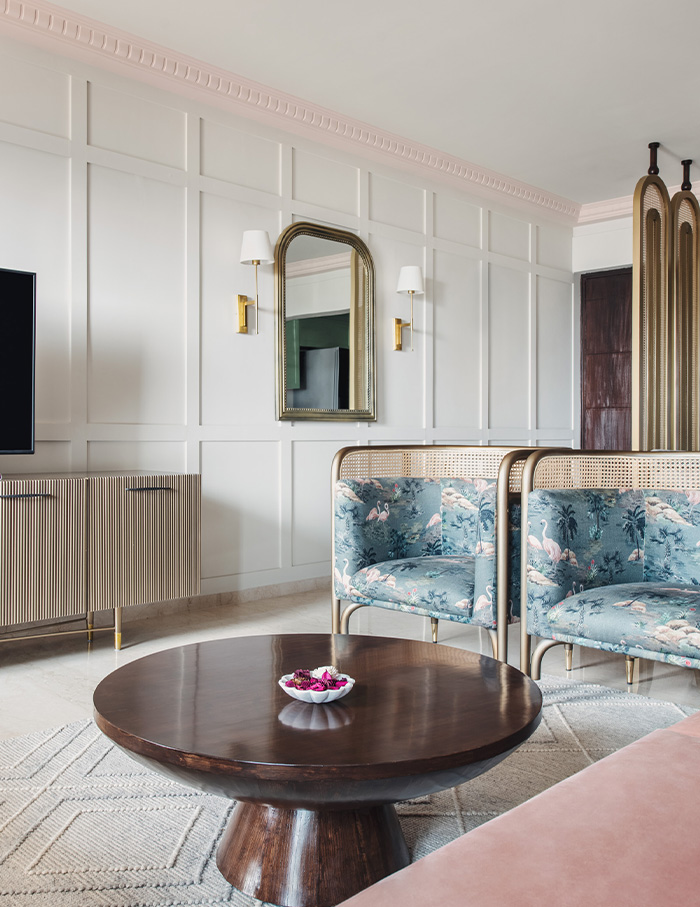 Taking inspiration from tactile materials, organic textures, statement features, and elaborate motifs, the home is dubbed "Morning Glory."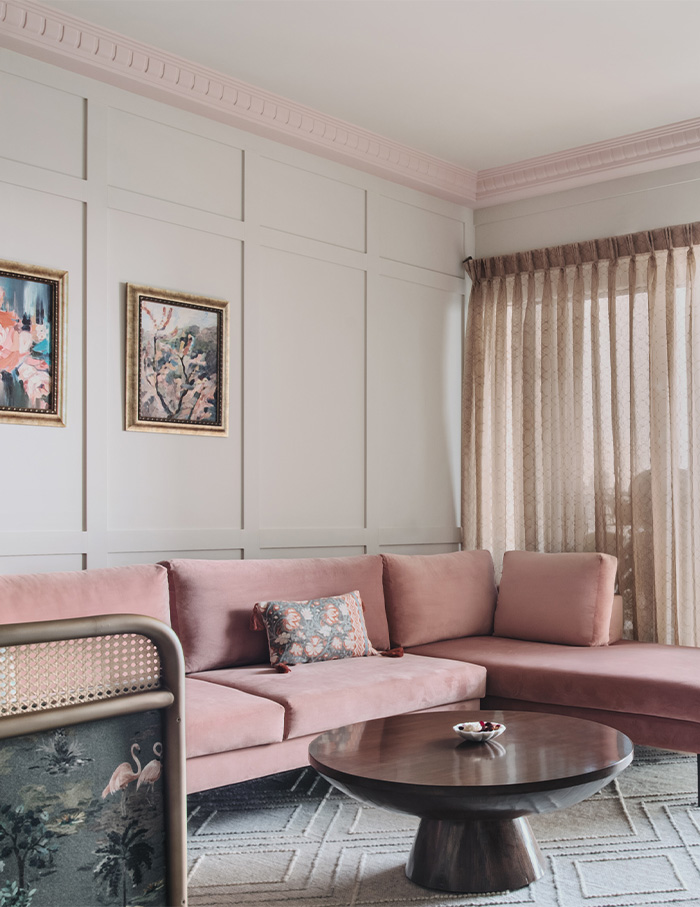 Tour every turn of the home…
Promenading through the foyer is a cane partition wall that camouflages the dining space and behaves as an invitation to the living room, which features a plush pink L-shaped custom-made sofa that curves the walls. A round wooden table serves as a focal point in the otherwise square room. Through the balcony, natural light floods the room, making it feel light and airy.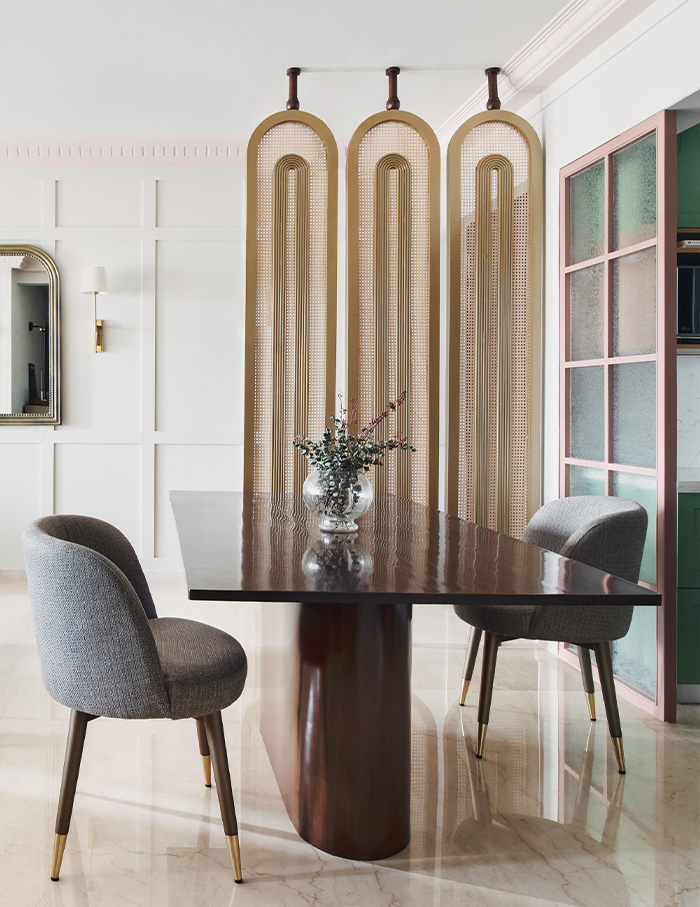 Navigating further into the dining space, a wooden dining table with a marble top accentuates the space. The coloured glass panelled wall leads to the semi-open kitchen. Beyond the dining area are the powder room and a hallway that steers to the two bedrooms and the home office.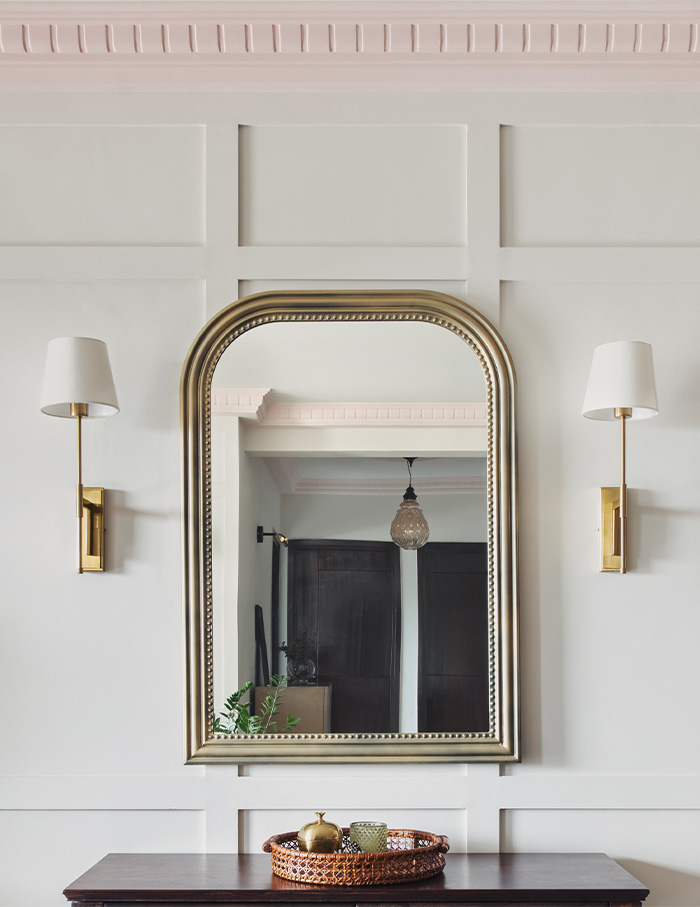 The master bedroom which has a balcony running around the entire room features a contemporary spin on the classic four-poster bed and a teal blue wardrobe that adds a splash of colour.
The home office is embraced by an abundance of natural light filtering through the window and a wooden desk that is paired with a teal-coloured chair creating a classic composition for a space to work effortlessly.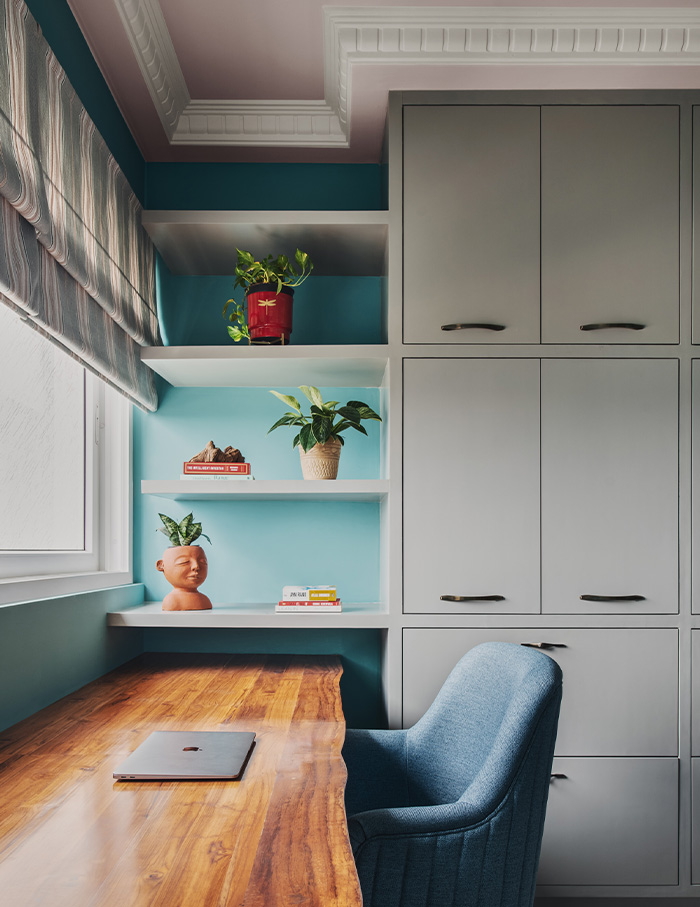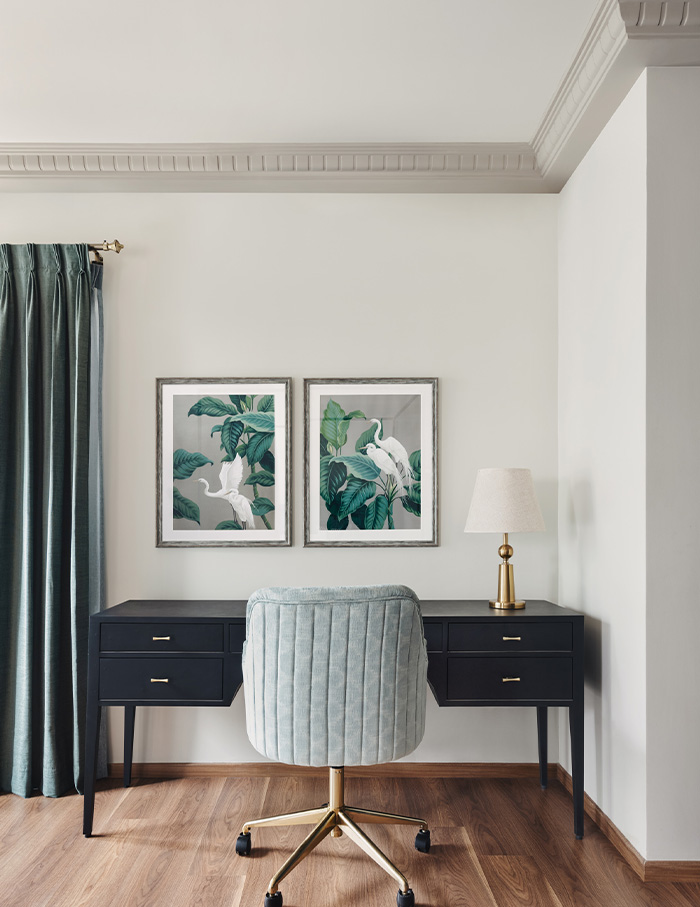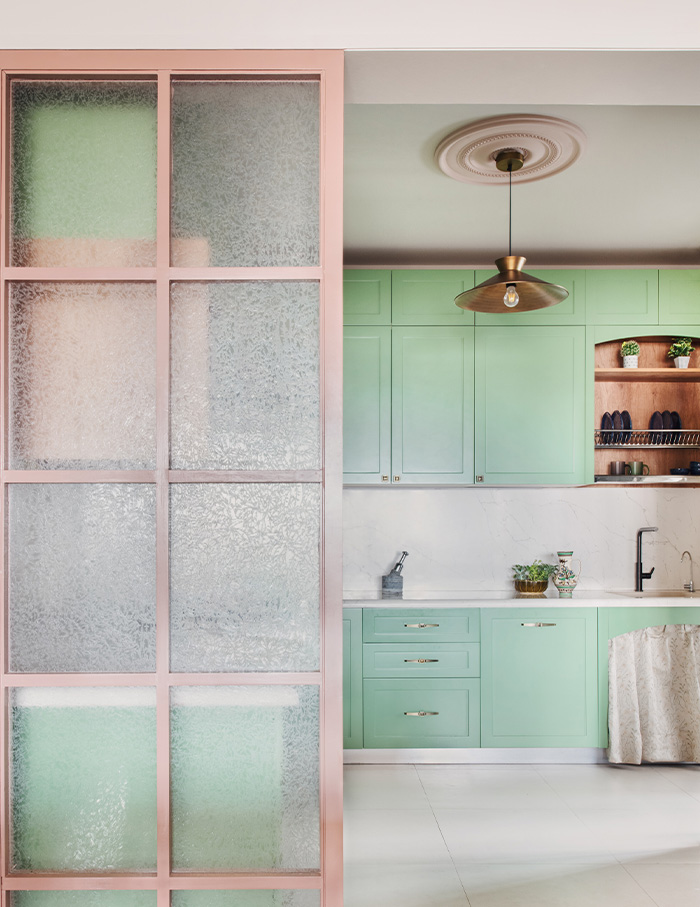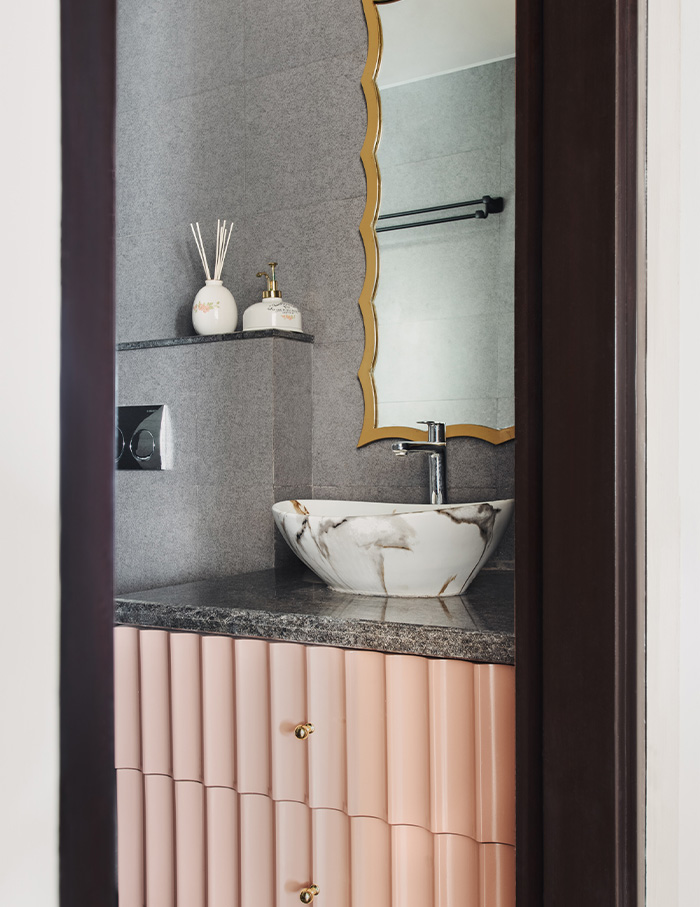 Ideas to bookmark – colours and materials
Pastels commingle the colour scheme of the home, also keeping in mind that there is an amalgamation of metallic highlights with bright accents that creates a  multiplicity. Natural materials such as wood, cane, and organic fabrics are heavily featured in the House "Morning Glory"