Homes
Collage Architecture Studio crafts a home with three courtyards
JUN 23, 2020
| By Sakshi Rai
Lodged in a prime, upcoming residential neighbourhood, this sprawling 8,500 sq ft abode in the Garden City sees the seamless intertwining of nature with built space. It lies abutted by roads towards its north and east sides, in accordance to Bengaluru's systematic layout, but still manages to provide a serene escape from the city's bustle.
Under a clear expanse of blue skies and filled with verdant greens, the essential natural elements frame this mesmeric property. The creatives at the helm of its design—Swapnil Valvatkar, Arunkumar TD and Adwitha Suvarna of Collage Architecture Studio—named it for its three defining courts, which act as focal points to the entire construction of the house. 
The Vastu compliant homes is lived in by a family of four. As desired by them, it is simple and streamlined yet enriched with intricate details, thoughts and specifications in a contemporary context. Its split level planning, cuboidal facades and balconies, double heighted spaces and courtyards with delicate landscaping allow glimpses of the home's visually connected, interactive design.
Harbouring a mix of spatial experiences across solid and void, light and dark, the three inbuilt courtyards act as the lungs of this confined structure, unfolding individual themes and experiences for the homeowners.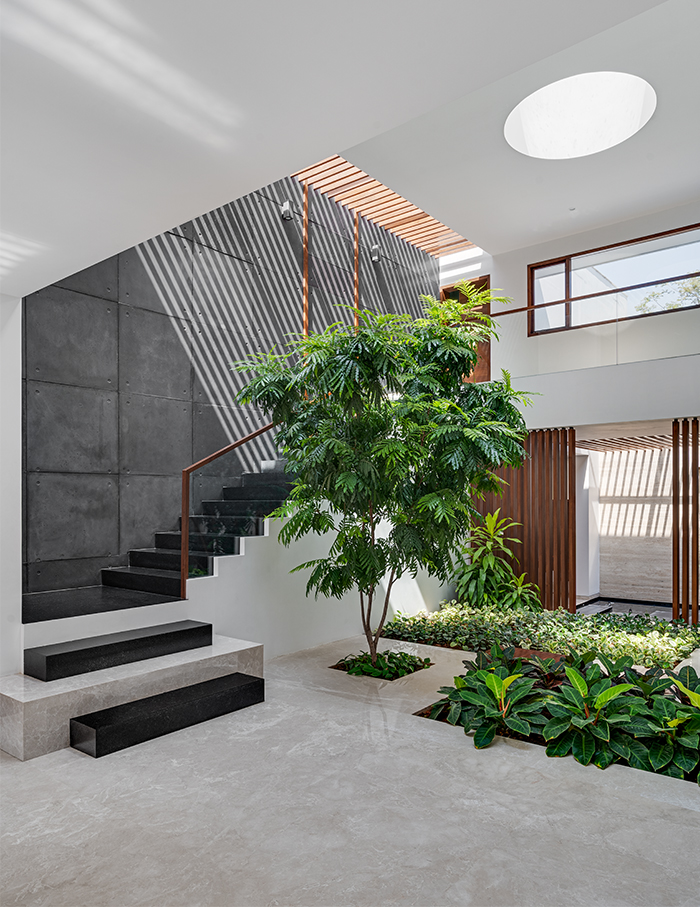 Sticking to a classic pristine palette with pops of colour for vibrancy, the home is as bold as it is beautiful. The material palette is kept minimal and rustic. It includes marble flooring, concrete panels and the use of wood in the interiors and exteriors.
The towering abode keeps individual spaces at bay and instead focuses on voluminous public enclosures with strategic openings and inlets that naturally illuminate and ventilate. Other green features of the construction include solar panels and a rainwater harvesting system—attributes that add to its organic allure.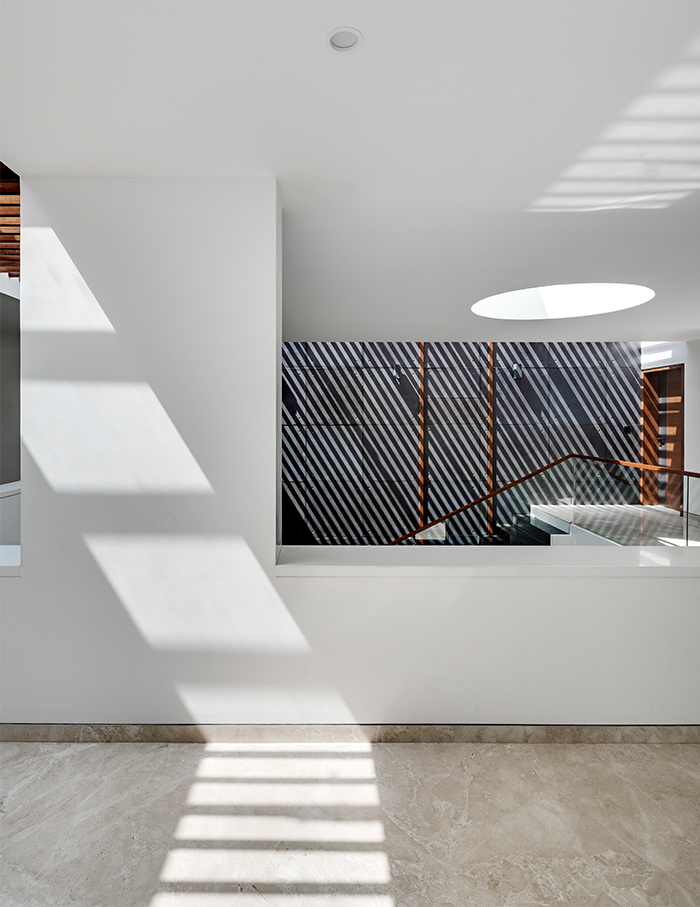 A tranquil water installation underneath a wooden pergola casts gleaming, rippled patterns over the polished granite that marks the entrance. It is here that one can see the best, uninterrupted view of the home and its numerous green pockets.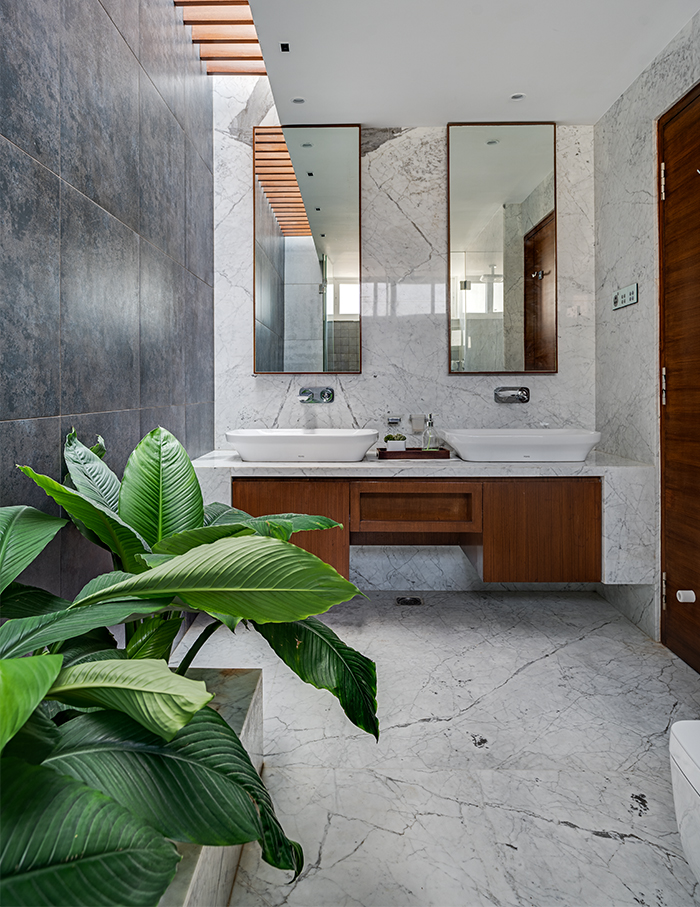 Almost all the sections in this house—the double heighted family room, dining zone and kitchens on the lower level—are surrounded by or open onto one of three courtyards. Upstairs, one end houses a bedroom and a space dedicated for a home theatre, while the other occupied by the master and a kid's room. The central vestibule between the two is where the entire family unites.