People
Bath and bling—5 questions with Sudhanshu Pokhriyal on the launch of Queo and influx of luxury bath spaces
OCT 20, 2022
| By Kashish Kaushal
Welcome to the place where shit happens…and hot (or cold) baths and a whole lot of brazen singing, ideating and thinking! Times have changed and how—back in the days, bathrooms were only seen as functional spaces and focus was just given to hygiene. Fast forward to present day, the need for bath spaces that elevate one's lifestyle has become mandatory. Designs that impart a luxurious demeanour inside bath spaces with a dash of technology is in demand like never before. And who better than Sudhanshu Pokhriyal, Chief Executive Officer, Bath & Tiles division, Hindware Limited, to throw light on how bathrooms have embraced the lap of luxury so effortlessly. Heading Hindware, India's leading building products company, they have a versatile range of best-in-class bathware products with a strong portfolio of leading innovative brands across the value chain. On 17th August, he relaunched the luxury brand QUEO with a brand new range of European Bath Lounges.
In an exclusive conversation with ELLE DECOR India, Sudhanshu Pokhriyal lays out what all Queo has in store for connoisseurs of good design and how to teleport yourself to another world from the comfort of your bath spaces.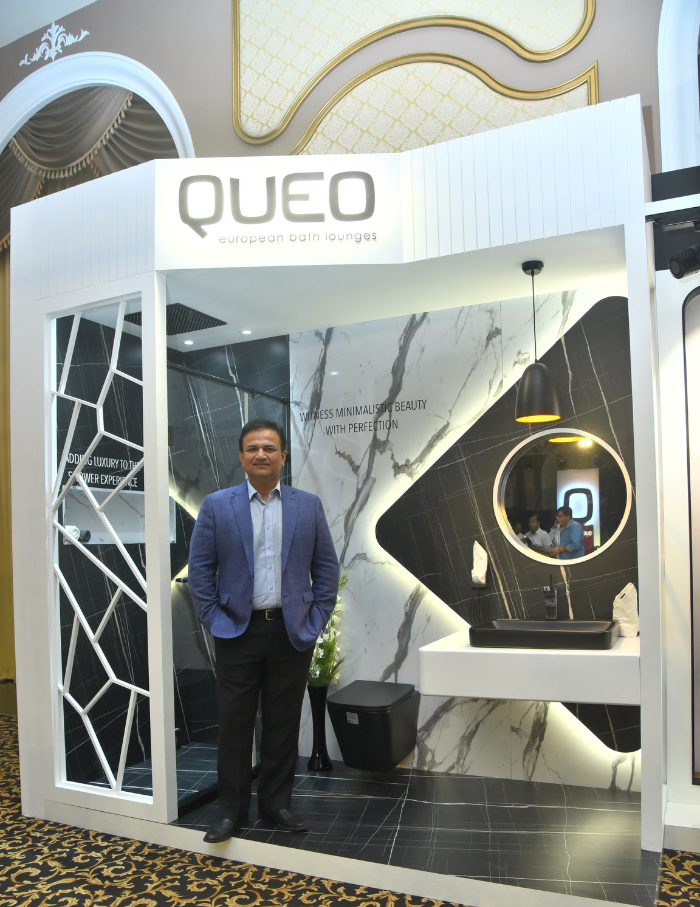 What are the ways in which you can turn your bath spaces into a bath lounge?
What a functional bathroom was and what a bath lounge is…you can clearly tell the difference! It becomes more apparent when you visit a five star hotel or a resort, instead of having a simple bathroom where you have a shower area, a water closet and wash basin, there are umpteen changes that you can make to your bath spaces and turn them into places you lounge at. For instance, technology takes precedence with tankless products as you neither see the tank, nor you have to touch it. Not only are they minimalistic in design, they are fixed inside the walls with sensors and with just a wave, the flushing happens. Then shower areas also come with bluetooth connectivity and can massively alter your bathing experience. Experiences can be many and options for the same are a lot. With QUEO, consumers can create their own private sanctuary by crafting a bath space with designer sanitaryware and faucet products that transform the bath space into a bath lounge. 
How can the wellness quotient be infused inside artistic bathrooms? 
For starters, let's get the bath areas right—a tub, jacuzzi or massage tubs, shower enclosures with a wet and dry area. Then there are showers which can give you the experience of natural waterfalls, exciting right? Cascades, mist, foam, with lighting in different colours and it can actually emulate or simulate any natural experience that you may have had under a waterfall. To top it up there are now portable steam generators which you can actually keep in a home bathroom space so you don't have to go to a steam room in an expensive hotel, you can just keep it in one corner of your bathroom and your whole bathroom can become a steam room—this is as close as it can get to a spa. From premium faucets that are made to suit the consumers style, personalised to their home's decor to wall-mounted closets that don't just offer matchless functionality, but provide exquisite joy to the senses, our new product series brings out the best of European craftsmanship that transforms private space into a work of art.
Can form follow function even inside bathrooms? Wash basins in particular have come a long way where it's not just about the function anymore. The entire paraphernalia has changed. What are your thoughts about its evolution?
Did you know that some interior designers have started using metallic bowls as basins? We're yet to explore this materiality, (and also these are not mass produced, instead they are tailor made) but the evolution of wash basins has been crazy. We believe that when a consumer walks into a bathroom, the first thing he sees is what we call 'a basin mixer'. Suppose you go to somebody's powder room, while visiting as a guest, the first thing you see is the basin. And the basin's role as the most aesthetic part of the bathroom is much higher than anything else right now. So you are absolutely right that basins have come a long way. As far as the following function is concerned, we are certain that our latest offering will be appreciated by consumers who seek delightful and aesthetic designs in their bath space. These masterpieces are seen as an extension of one's grand personality, making everyday living a style statement for others to follow. 
What are the top five modern luxury bathroom accessories? Your top five picks.
One definitely would be a nice towel rack. Could be in the shape of a ladder, not something which is very traditional. That's in trend. There could be some natural green plants. I mean in my bath space I have natural green plants and I love it, obviously with sunshine coming in. Next would be LED mirrors, followed by pendant lights! Pendant lights with LED mirrors make a great combination. Also, especially in the northern part of the country, where it is very cold you have towel warmers. These are some of the future products that we are actually talking about and working on. 
Whenever you use the word 'luxury bathroom', it is always Italian-inspired. When will that narrative change towards an Indian context? Do you see a change coming or you would want to endorse it?
See the point is today the consumers are well travelled and well read. He draws inspiration from around the globe. So when he travels outside, he wants a similar kind of thing in his bathroom. But today, the Indian interior designers, architects and product designers are also doing a marvellous job. There are certain areas where these Indian designers have played a very prominent role. I think it's just a matter of time before a bathroom player tries to experiment with say a Sabyasachi and launches a royal collection. It might as well just work!
But I get what you are saying and considering we are in our 75th independence year, I think India is doing fantastically well. We are also exporting to more than 50 countries. And there are so many Indian brands including QUEO which are available in European cities, so I think there is no end to what we can do with our Indian designs and products. It's just that the Italian legacy and history is so strong that for it to go away it would take centuries maybe.