Design
Ayush Choudhary and architect Rajiv Khushalani curate Project Asymmetry, an avant garde exhibition to mark the launch of Cocoon Fine Rugs' YKnot collection
OCT 22, 2020
| By Aneesha Bhadri
For an eye-catching and exclusive range of playful and edgy rugs, nothing short of a bold and bespoke exhibit would do. Cocoon Fine Rugs' new collection called YKnot consists of handmade rugs inspired by different objects and silhouettes from everyday life, as interpreted by the design team. As part of the launch of this limited-edition rug series, Cocoon Fine Rugs and architect Rajiv Khushalani collaborated for the Project Asymmetry exhibit.
The exhibit comprises a series of installations at the Cocoon Fine Rugs store in Mumbai from October 19-26, 2020. A celebration of asymmetry in art and design, it showcases the works of four young and edgy designers. Ali Baldiwala, Jannat Vasi, Sahil Jain, and Shilpa and Sameer Balvally have creatively used different decoratives and objets to craft installations imbued with their signature aesthetic.
"It's fun collection of limited-edition handmade rugs. And the happy, positive vibes are only taken to the next level by the masterful installations created by the brilliant designers for the launch," says Ayush Choudhary of Cocoon Fine Rugs.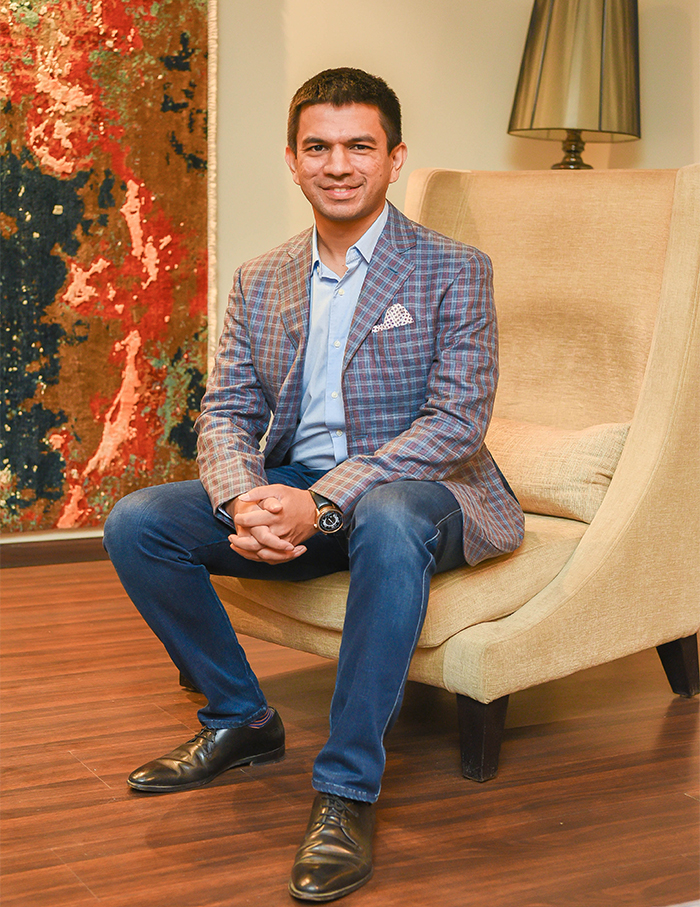 "These designer interpretations were born out of an informal chat of wanting to collaborate with the design community in a fun and refreshing way. The new collection expresses asymmetry through unique concepts in design such as repetition, illusion, continuity and iteration, giving each piece a very distinct identity. When Ayush shared the designs of the first four rugs, I immediately thought of these designers. The collaboration has surpassed our expectations!" exclaims architect and urban designer Rajiv Khushalani, founder, Khushalani Associates.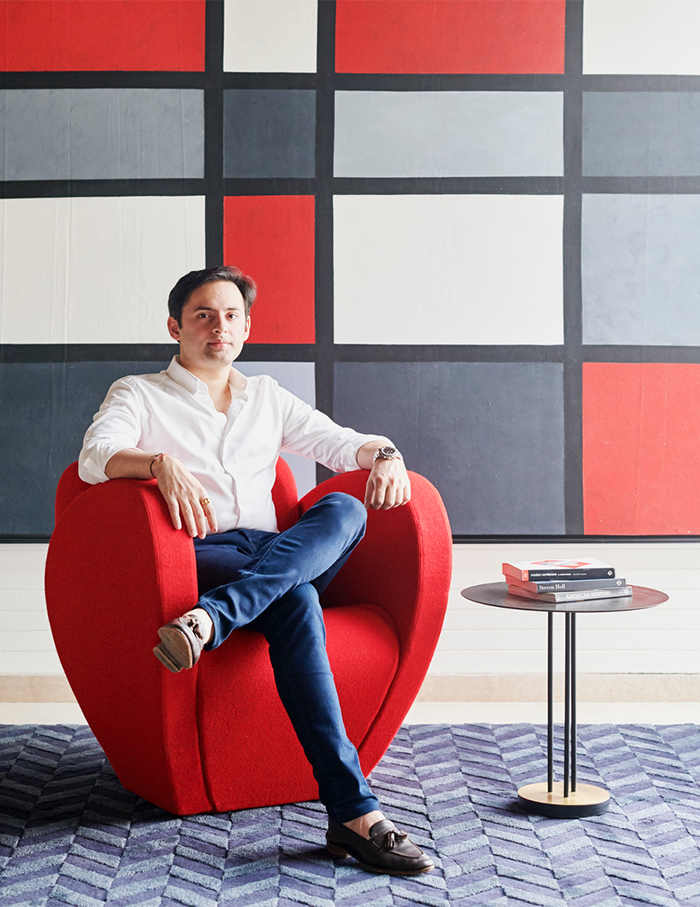 The collection is a whimsical and playful range of rugs inspired from different shapes, objects and silhouettes and are handmade using fine materials and textures. Scroll below to catch a glimpse of the four arresting installations and the brilliant creatives who put them together…
Ali Baldiwala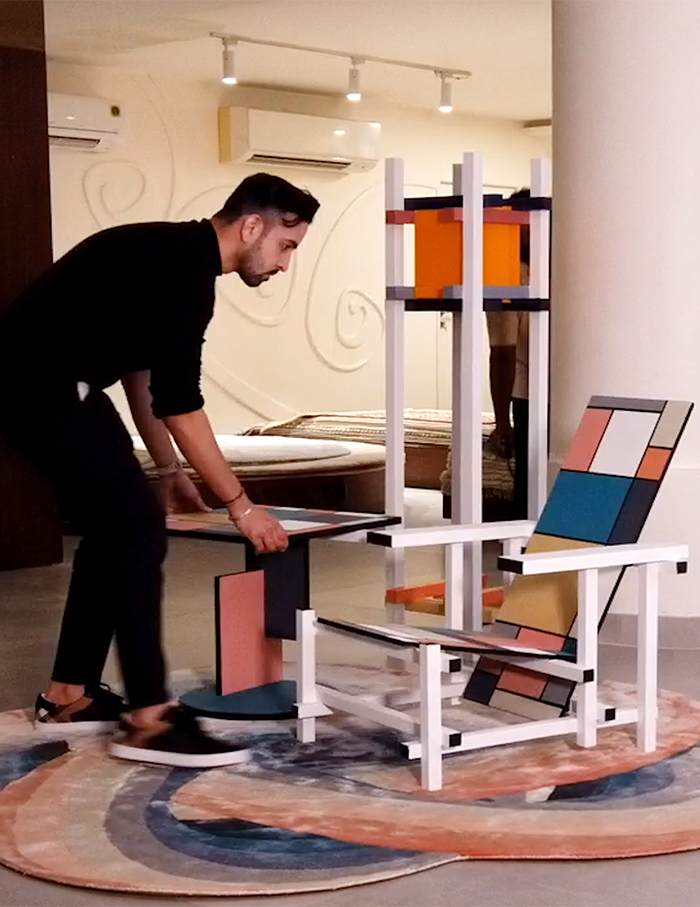 "Rajiv and Ayush just said we are planning to do a fun collaboration and before they could complete the sentence I said 'I'm on'. It is because of my love for the new collection and Rajiv's way of working that I was immediately on board. There was a little game we played via a virtual chat, where Rajiv picked chits and the rugs were assigned. To be honest I was hoping to get the YKnot rug and that's exactly what happened," says Ali Baldiwala.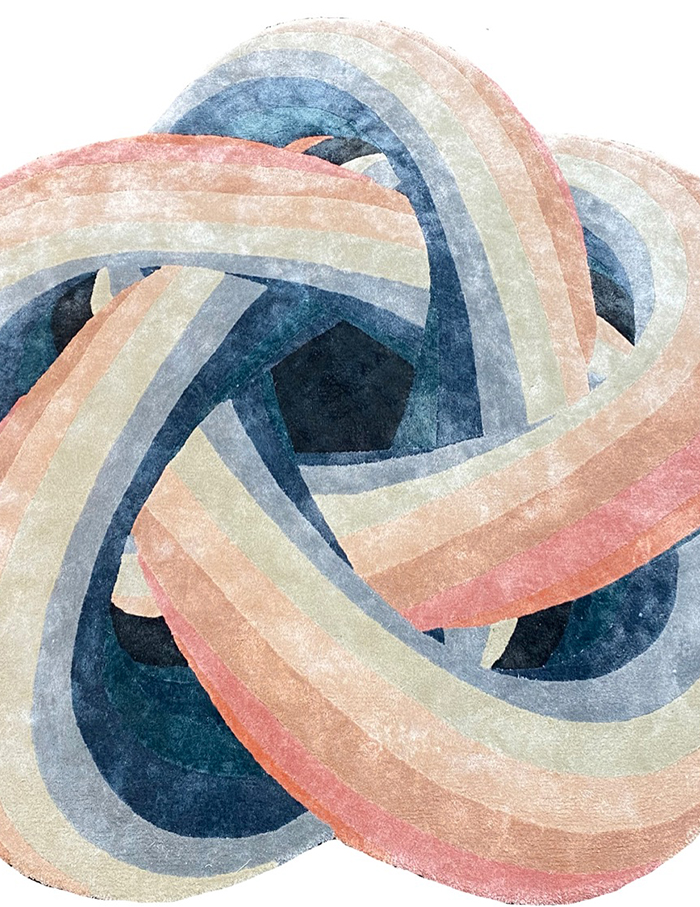 This fanciful floor covering is a composition of colours that proves that art need not be restricted to walls alone and can be a muse for curated furniture pieces. Making their way onto the punchy rug are matching, colour-blocked furniture pieces that have been crafted by Vincent Roy of wood'n design in reclaimed wood. "An oddly beautiful melange of colourful shapes, the pieces are inspired by Piet Mondrian's paintings, which have been curated and executed by Za Works. Colours elevate a classic but edgy Gerrit Rietveld design to craft a tone-on-tone interior palette," explains Baldiwala.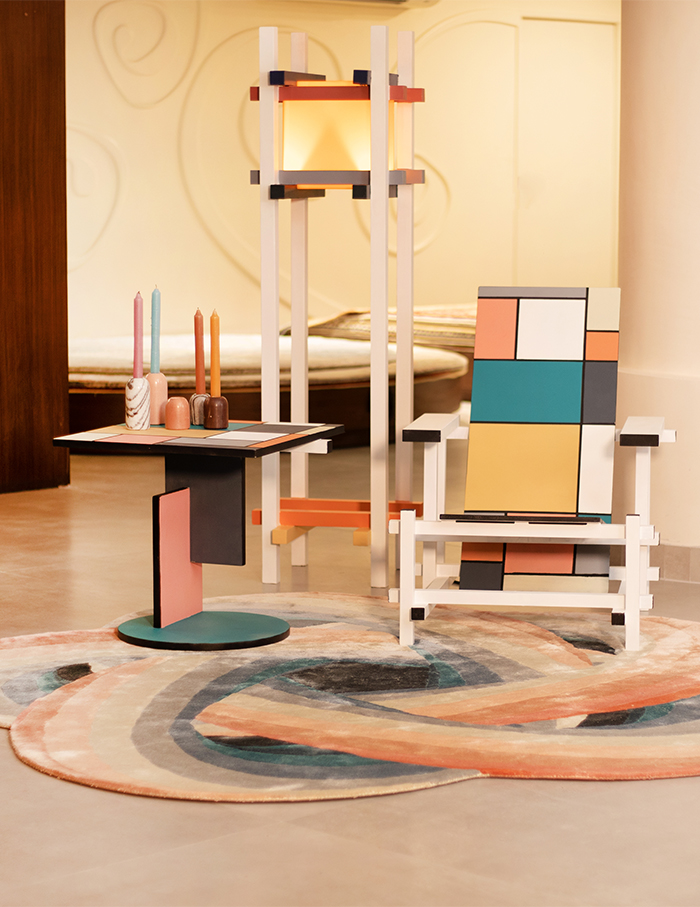 The vibrant pieces, punctuated with an inspired sculptural light from Arjun Rathi that celebrates Rietveld, convey a natural synergy that captures the mind. Marble candles stands and a tortoise from Koy lend a touch of drama, while colourful candles from Cottons and Satins act as visual cues for the eyes.
Jannat Vasi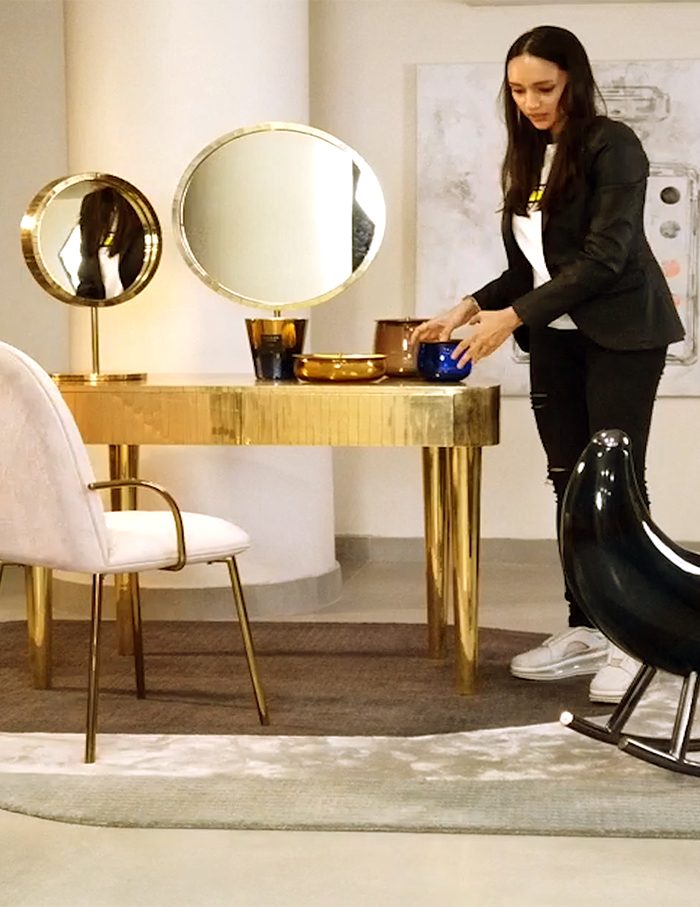 "It was our great camaraderie and mutual fondness for each other's work that led Rajiv to approach me for Project Asymmetry. Plus, the brand's forward-thinking approach was a perfect fit, which was reinforced when I saw the rug from the new YKnot collection," says Jannat Vasi of Jannat Vasi Design.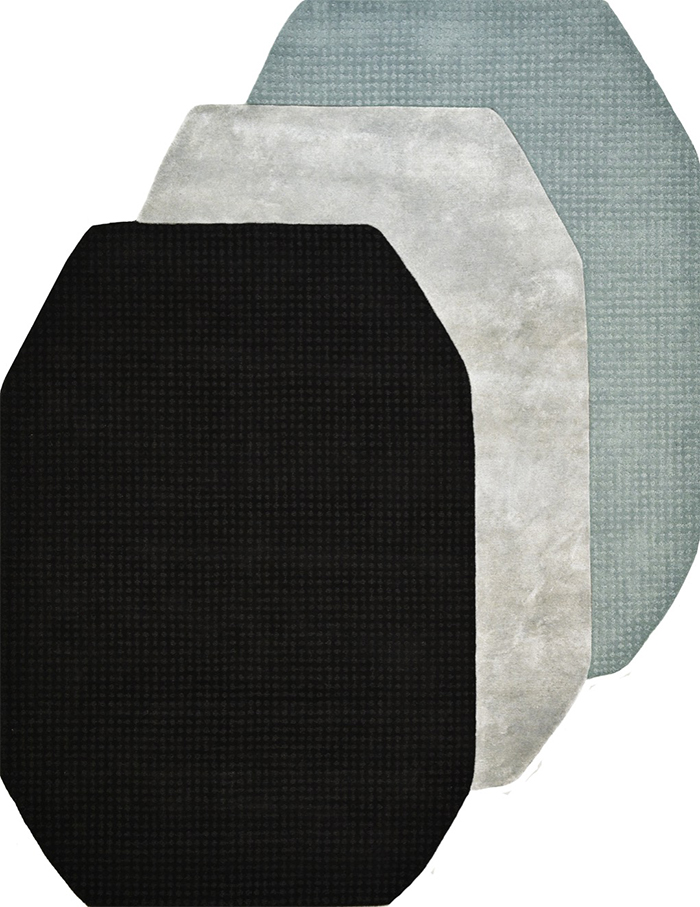 This versatile rug's strength is its neutral colour scheme against which Vasi paired the opulent Woman in Paris vanity by Scarlet Splendour. Close observation reveals a loose commonality between the angled mirrors and the three stacks of the rug. The space is completed with the help of Nanook, the sculptural rocking stool, a black monolithic candle holder from Sources Unlimited and the classy yet playful Chanel art.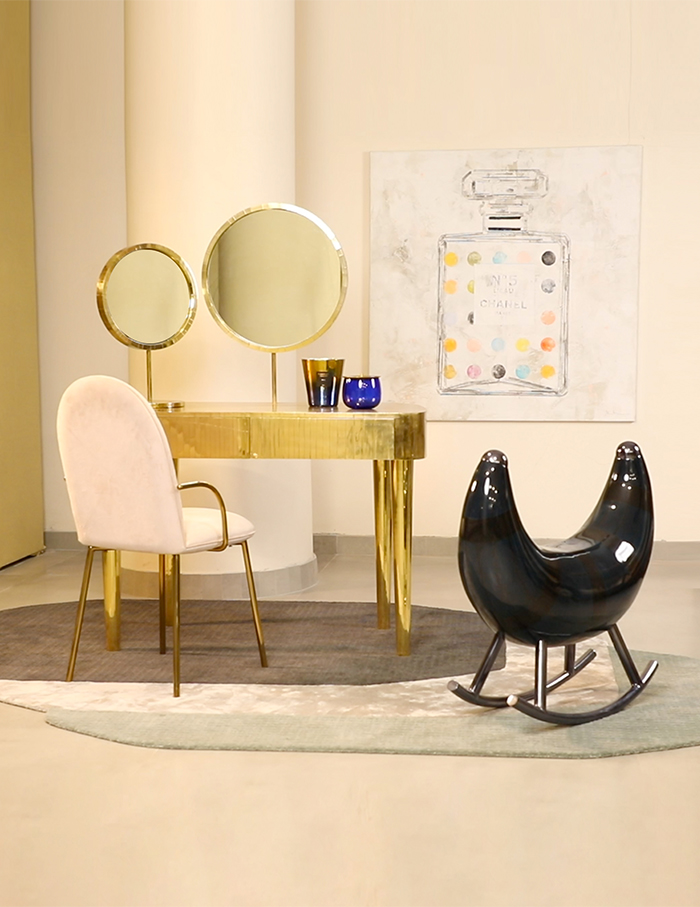 "The beauty of the Stacked rug is its gemstone-like shape and layers that lend a dynamic 3D appearance. The neutral colour palette makes this rug versatile and suitable for any space," explains Vasi. "This dressing area or boudoir is a reflection of my personality and it's a striking yet cosy corner that I would love to create in my home," she concludes.
Sahil Jain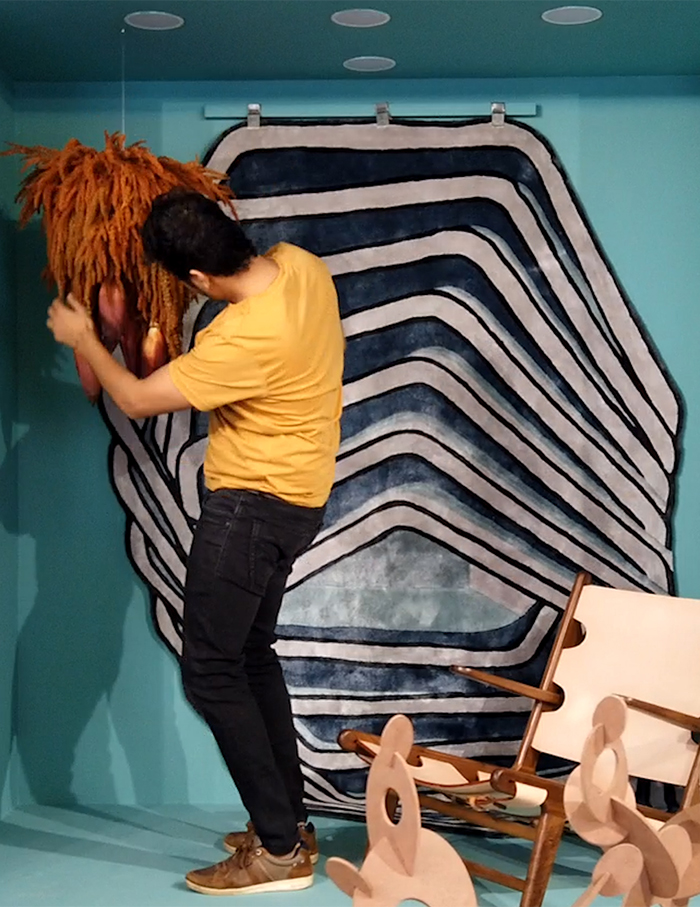 "My translation of the rug includes taking inconspicuous yet essential ideas of nature and inculcating them into our idea palette," says Sahil Jain of Morphlab. The geometrically asymmetric pattern of this rug renders an illusion of a third dimension with its zesty hues and strong presence. The element of asymmetry, which often presents itself in natural aesthetics, inspires this installation and is complemented by Jain's palette of organic objects.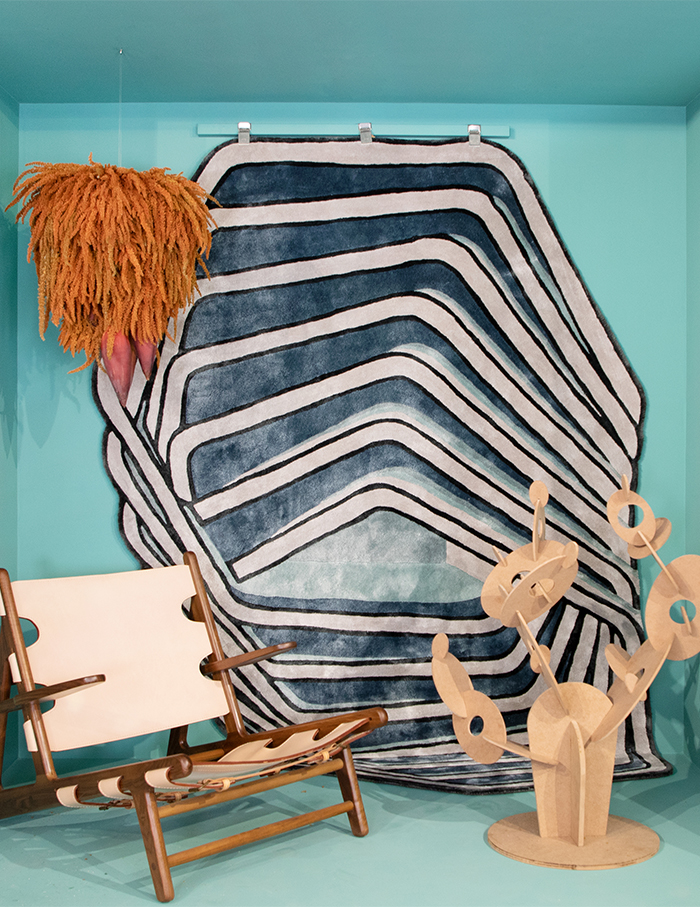 "We've made a cactus from interlocking, differently shaped ovals and placed it alongside a trendy, wood and fabric chair. An art piece inspired by organic growth is suspended upside down from the ceiling, resonating the additional dimensionality that the rug creates," he explains.
Shilpa and Sameer Balvally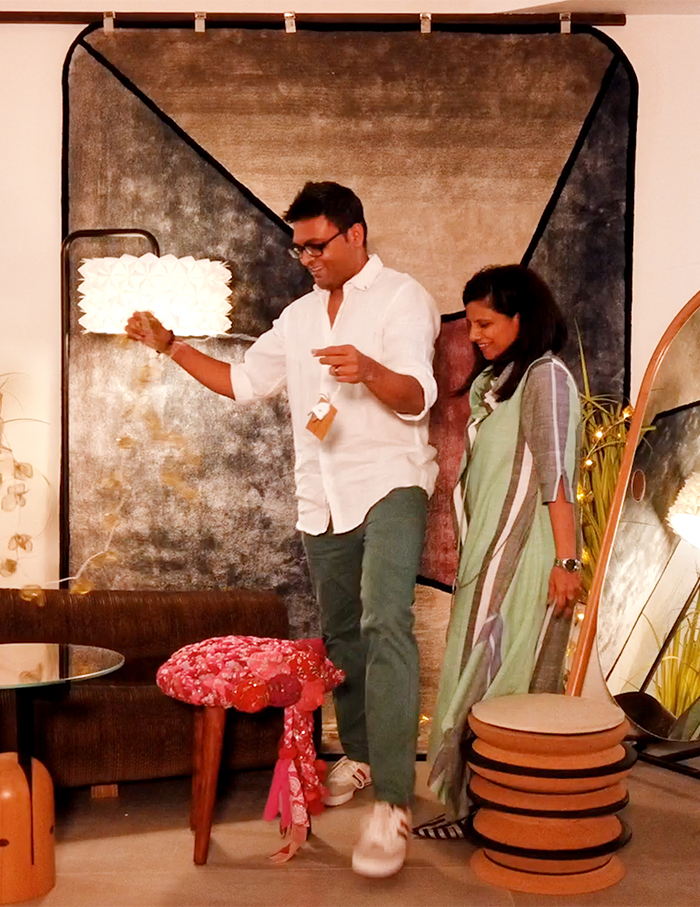 "The design fraternity especially in Mumbai is more connected now. Considering Ayush, Rajiv and our design sensibilities are in sync, it was all the more exciting—from the 'reel' meeting to the much needed 'real' one, especially in this unpredictable year. What better way to start the Unlock with Friends in Design and the exchange of ideas," says Shilpa Balvally of Studio Osmosis.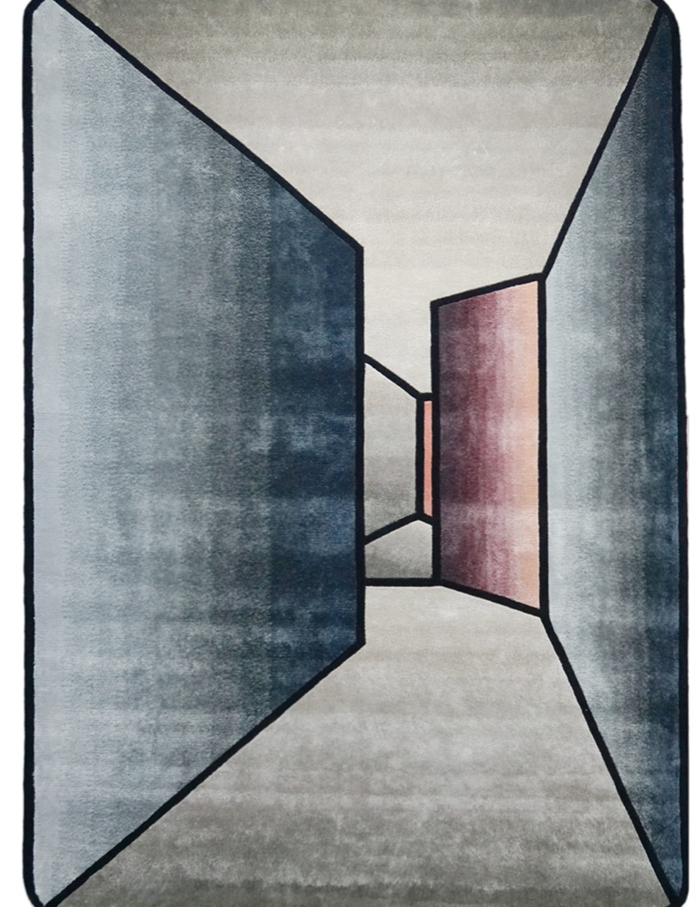 "Like we Potter fans say, 'You don't choose the wand. The wand chooses you!' So, it was interesting to note that we got the YKnot rug we secretly wished for—Perspective—for its depth, mystery and a path to the future. This year, we've learned that each person needs to find their own reason to be, their own journey, and their Ikigai. Therefore, our space is titled 'Find your Ikigai', a happy space where you can reflect, find yourself and design your dreams. For us, it's about being one with nature, finding joy in small yet deep moments, materials in their natural surroundings and bringing the outdoors into your space, mind and heart," says Sameer Balvally of Studio Osmosis.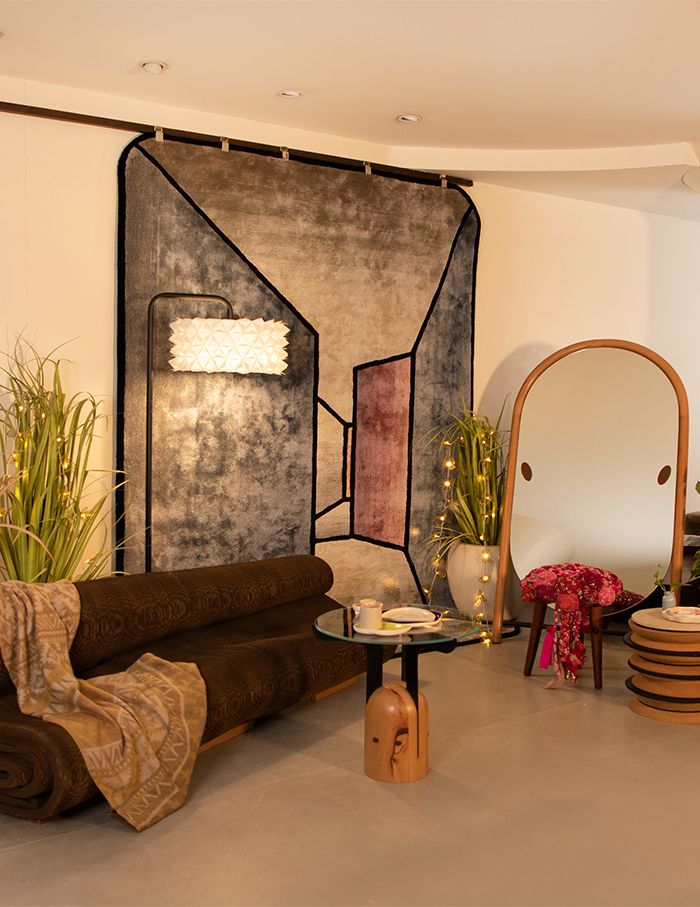 Centred around the Japanese concept of Ikigai, of finding purpose in life, the installation takes cues from the carpet which serves as the centre piece. "Nothing seems more important and relevant than finding purpose and happiness in a time like this. Our idea was to create a setting that brings the outdoors in and evokes a sense of self reflection," the Balvallys explain. Additionally, the mirror acts as a symbol of self-realisation and a deeper reflection of the surrounding—inducing serenity and coaxing viewers to embrace the bigger picture.
Project Asymmetry is an ongoing physical as well as digital exhibit at the Cocoon Fine Rugs gallery in Mumbai till October 26.