Design
Knitting the tales of textiles, The House of Angadi reimagines heritage with a contemporary lens
AUG 8, 2023
| By Bhipasha Hinduja
The House of Angadi's store Angadi Heritage helmed by visionary K.H. Radharaman (Founder, CEO and Principal Designer), stands proud and is the epitome of Indian luxury reimagined modernly. Nestled in the hearts of South Bangalore with a footprint of 18,000 sq ft,  the store is an ultimate destination for luxury retail. With an inspiring journey that began with the vision to create India's most distinctive retail destination, the store merges modern design and Indian heritage. Inspired by New York's Art Deco architecture, the boutique features majestic chandeliers and art sculptures. A double-height courtyard welcomes one, while the white marbles guides you to the clothes kept within. Each floor reveals creative and distinctive Indian craftsmanship, from Kanjeevaram sarees to rich textiles from all over the country.
Jump into this portal, where decor and fashion reigns supreme as we converse with K.H. Radharaman.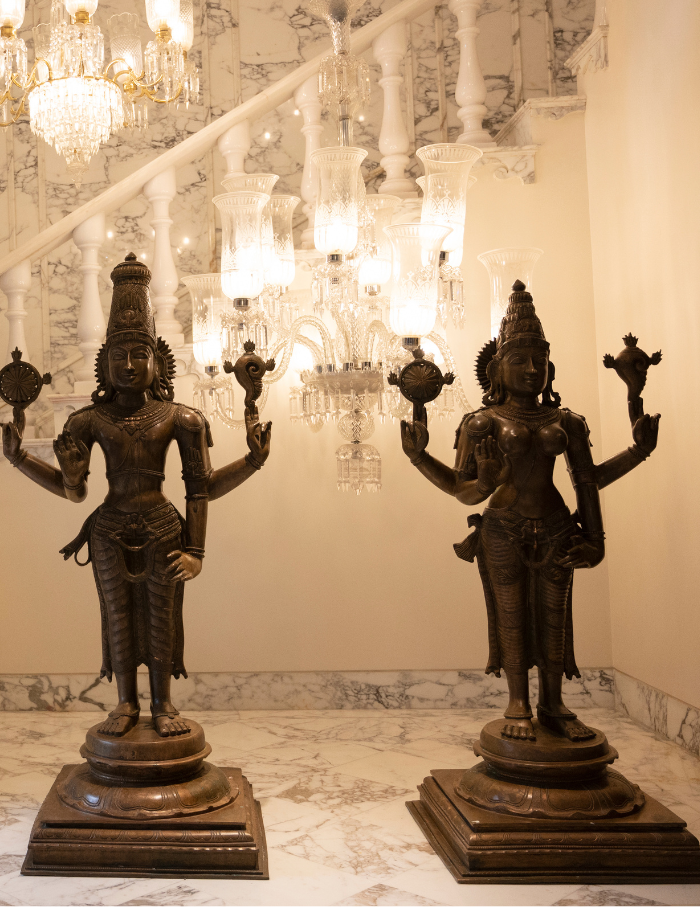 What is the story behind Angadi Heritage, give an insight?  
Angadi Heritage is the coming to life of a long-cherished dream — a luxury retail destination for Indian luxury at par with international luxury stores. As a child, I grew up with stories of the magnificence of the retail stores in Paris and New York, to whom my father had been a long-standing supplier. When I travelled across the world as a student, I would spend many hours wandering the aisles of the finest department stores like Printemps, Harrods, and Saks Fifth Avenue. After my return to India in 2001, when I started my own business venture, I dreamt of one day creating a similar space to house Indian luxury and Angadi Heritage was a fruition of this dream. When I commissioned the architects for the space – I was very clear on my vision to create India's finest luxury retail destination – a concept store nurturing homegrown luxury brands across all lifestyle categories. I was personally involved in every aspect of the design. The design of the facade was inspired by the Art Deco buildings of one of my favourite cities – New York. Inspiration was taken from Parisian architecture and we sampled stones from several quarries across India to find one that would match the finish of the Seine stone that is used in most Parisian buildings of the Napoleonic period. For the interiors of the ground and first floors, we continued with our earlier leitmotif of repurposing antique furniture. We experimented with many ideas, such as using an old antique door frame as a storage unit and the carved wooden carving of the canopy as a panel.The upper floors progressively become lighter and more contemporary showing how we can blend different aesthetics seamlessly. During the construction phase, I invested several nights and days on-site with our team of extremely dedicated and patient architects and contractors to perfect every inch of the space. A moment of great pride for us was to be awarded the UNESCO Prix Versailles for the finest retail store in the Asia Pacific for 2020 by a world-class jury in a category with other candidates being large-scale global brands.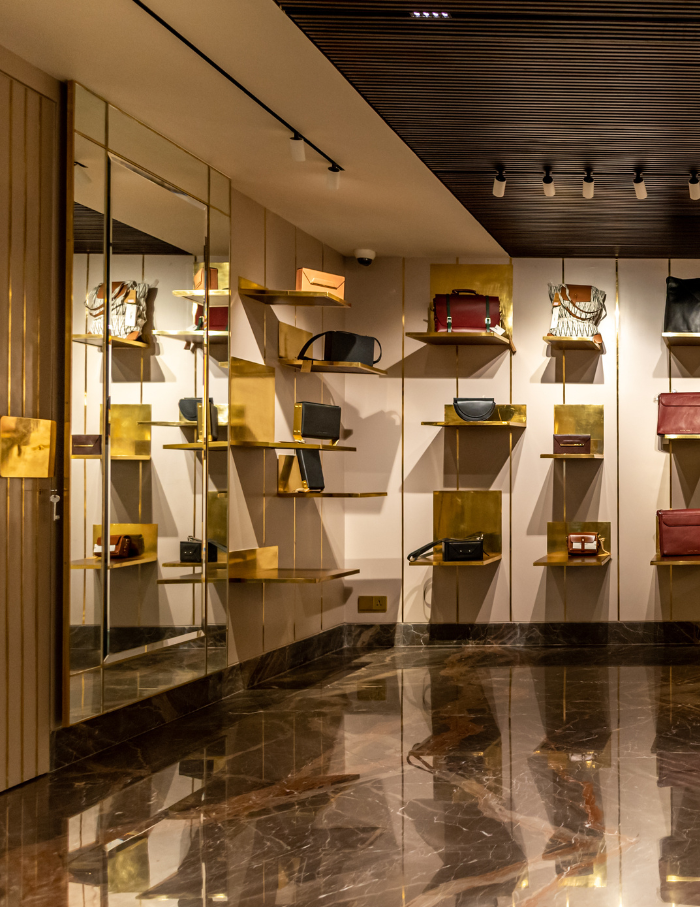 How big is it in terms of space and where? How did you incorporate the heritage angle in the aesthetics? What aspects remain modern, a marriage of contemporary and heritage?
The total retail space is 18,000 sq ft plus dedicated parking and a terrace garden. The building is nestled on the iconic Ashoka Pillar Road which marks the entry to South Bangalore. Ihave always believed in contemporary tradition, and the space is a reflection of this vision.Most Indian architects tend to adopt international aesthetics in retail spaces without realisingthe fact that in certain categories, like sarees, this can create a disconnect. I feel that Indian retail lacks enough reference points when it comes to using "heritage elements". I, therefore, insisted on using Indian elements sourced from antique furniture stores and furniture dealers across South India and repurposing them or combining them as part of visual merchandising and storage units.To give you an example, we featured carved Burma panel wooden shelves at one level while we use repurposed teak wardrobes and Chettinad columns to support shelving.But all of this is juxtaposed within an extremely contemporary setting with Italian marble flooring and Art Deco architraves and 40 feet long chandeliers.All my spaces need a work of art from my roots in Tanjore and from the Chola period. Hence, I usually use either Tanjore paintings or Chola bronzes in all my spaces.This is why you will find a pair of iconic Chola bronzes modelled on an antique, taking centre stage in what is otherwise a neo-classical space.
Walk us through the resort boutique right from the entrance, in order of someone to explore it on foot.
When viewed from the outside, Angadi Heritage stands tall with majestic windows framed in brass, modelled on my favourite building — the iconic Vidhana Soudha in Bangalore. You enter a double-height courtyard decorated with magnificent chandeliersTo your left is a welcoming staircase that takes you to the upper floors. I love the sequence of chandeliers suspended in the staircase well descending from the ceiling of the uppermost floor. The ground floor houses our iconic Kanjeevaram sarees in beautifully repurposed furniture and period pieces. The marble-clad walls and floor have beautiful brass inlays and the skirting and air conditioning vents are designed based on a motif found at the Travancore palace. The wedding lounge houses beautiful antique almirahs and gold foiled details on the ceiling, the armrests of the chairs and on the mirror frames.We hand-drew motifs for the brass inlays in the floor and have liberally used textile motifs from my library such as the 'Gandaberunda' and the 'Yaali' motifs in different ways throughout the space. The entire space is richly populated with genuine antiques from all over the country. The first floor houses textiles from across the country – such as Benarasi, Phulia, Ikkats and Chikankari. Each genre has been housed in purpose-built furniture units, each of which has a story of its own. The second floor is an eclectic mix of contemporary furniture units to house womens andchildren's ready-to-wear as well as personal care products.The most iconic features here are the backlit onyx displays for perfumes and elaborate gandaberunda cutout brass racks to hang women's wear.The final level houses menswear and is inspired by the Art Deco aesthetic with sleek brass furniture and epoxy-filled travertine floors. The palette of golden beige and brass creates a heightened sense of luxury on this floor.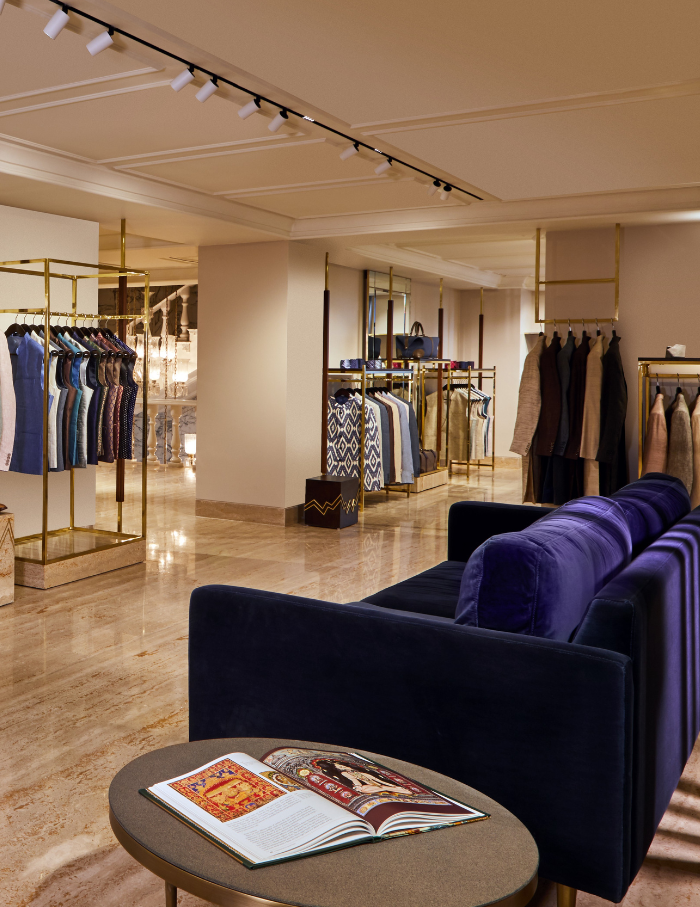 Highlight an architectural and/or luxury design trend that the space stays true to or breaks away from – maybe elaborate upon how the designs of sarees, of the heritage  behind it has been incorporated
It breaks away from maybe elaborating upon how the designs of sarees, the heritage behind it has been incorporated. We have incorporated textile motifs from the 'yaali' and 'gandaberunda' in floor inlays and door handles, to Victorian-inspired creeper jaals in the wallpaper. I believe that we have created a new trend in Indian luxury and retail design by juxtaposing contemporary design with authentic Indian furniture elements. The seamless blend of styles in a melange of materials is something that is most unique to our concept.
What is the theme of the space?
The overall theme is one of Indian luxury and one of contemporary tradition.
Tell us about the colour and material palette. Why have you chosen it and how haveyou balanced it vis a vis the variety of garment collections that the brand has?
The materials used on the floor range from classic Italian marble to epoxy-filled travertine and wood. The colour palette is slightly different on each of the floors, with a lot of neutral colours to provide a balanced backdrop to our very colourful products. On the terrace floor, we have used terrazzo flooring and a very cool '60s treatment for the roof garden and seating area.
Give us a quote on which part of the space did you enjoy designing the most? And Which did you find most challenging?
The most enjoyable spaces to work on were the ground and first floors, which required sourcing old wooden furniture from across South India and repurposing the same in unique and interesting ways. For example, we used an inverted handrail to suspend sarees and a Burmese panel to decorate a row of shelves.Where we needed to repeat a design for symmetry, we employed skilled artisans to replicate the original. The replication was so perfect that you can hardly tell the difference today between the original and the restored versions. There was a lot of experimentation in this phase and there were several mock-ups made – the most challenging was the facade – where we literally traversed every quarry in the country to find the right colour and finish for the natural stone.I credit both our award-winning architects, Somaya & Kalappa Consultants and Abha Narain Lambah Associates for the wonderful job of patiently taking our brief and working collaboratively to produce a stunning space.
What is your design philosophy? Which aspect of this space showcases your signature style and how does the space help highlight separate labels under the brand?
My design philosophy varies depending on which brand I am working on — considering the many brands that are a part of The House of Angadi. Overall, the common thread would be of modern classicism and reinterpreting tradition in a contemporary fashion (without being quirky). The spaces I create for my product are usually opulent without being extravagant. I love using Dravidian elements and staying true to my roots as much as I can. In my personal capacity, I prefer much more understated spaces and I think the difference in personal and professional sensibility is a reflection of the dichotomy in my personality.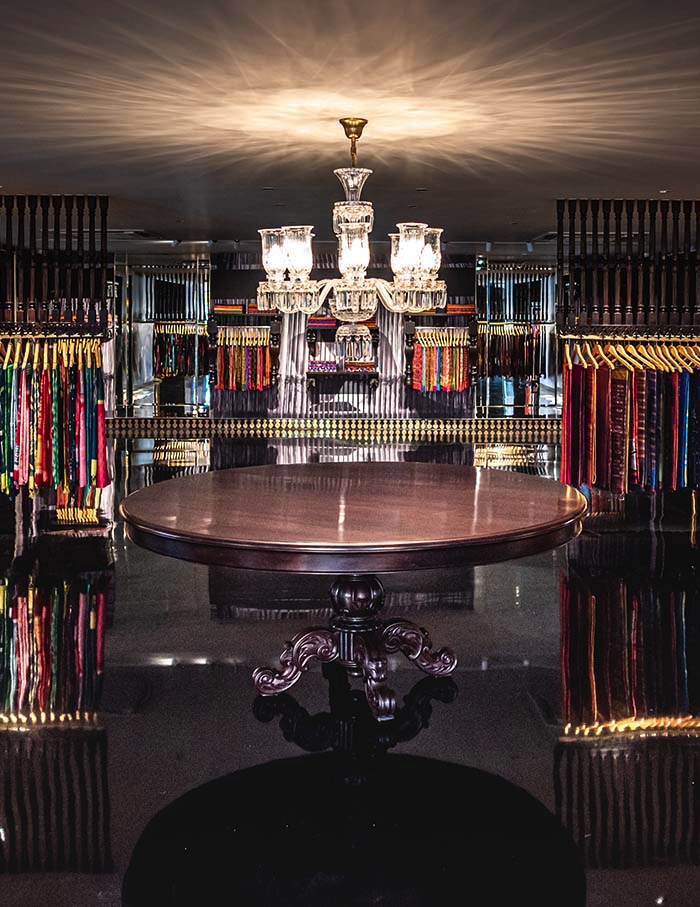 Have you stuck to one theme throughout or have you experimented with design and decor ideas?
There is so much experimentation in the space, where each floor level is a complete world on its own. The sheer contrast of materials and aesthetics is a tribute to the cultural diversity of our country. The way a Kashmiri carpet can co-exist with a Dravidian door frame sourced from a 100-year-old house is a study in contrast.
Tell us about any sustainable features in this boutique. 
The sheer fact that we recycle all the effluent that is generated in the building and the use of repurposed old furniture is a nod to the credo of sustainability. Every month we save thousands of litres of water and are happy to contribute to the sustainable development goals of the country.
You may also like: 7 design – forward fashion stores in India that fulfill all your retail therapy needs