Homes
This sun soaked, airy residence in Ahmedabad by Hiren Patel of Studio HPA is a treat for all nature lovers
NOV 30, 2020
| By Aashna Vira
This Ahmedabad home by Hiren Patel, principal architect at HPA, is similar to a serene and soothing retreat. The clients, a family of five, were looking forward to a simple, tastefully designed home, which offered a connect to nature.
"We thought of creating a green oasis for them, where you trace the sun's movement from dawn to dusk. Just like other projects envisioned in HPA's signature style, this 10,000 sq ft home was crafted as a timeless blend of architecture and nature," says Patel.
The material palette is kept organic with the facade clad in natural granite, teak doors and windows and sloping roofs which are covered with shingles. To inculcate the ambience of a retreat, sloping roofs along with large voluminous spaces and clear glass are used to impart a feeling of openness.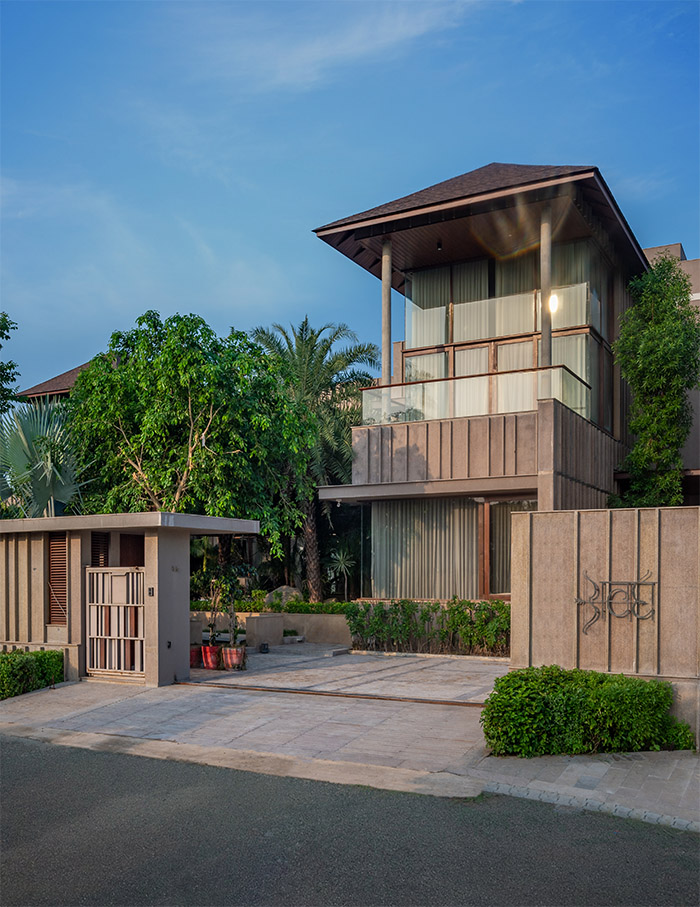 One of the main highlights of the structure is the ample, surrounding landscaping and sit out areas that shape the property into a tranquil haven. A granite pathway lined with trees and planters leads to the the entrance on the northern front, which is marked by a gold embellished, wooden door. A magnificent, metallic sculpture of the 'airavat' elephant adds grandeur to this welcoming setting.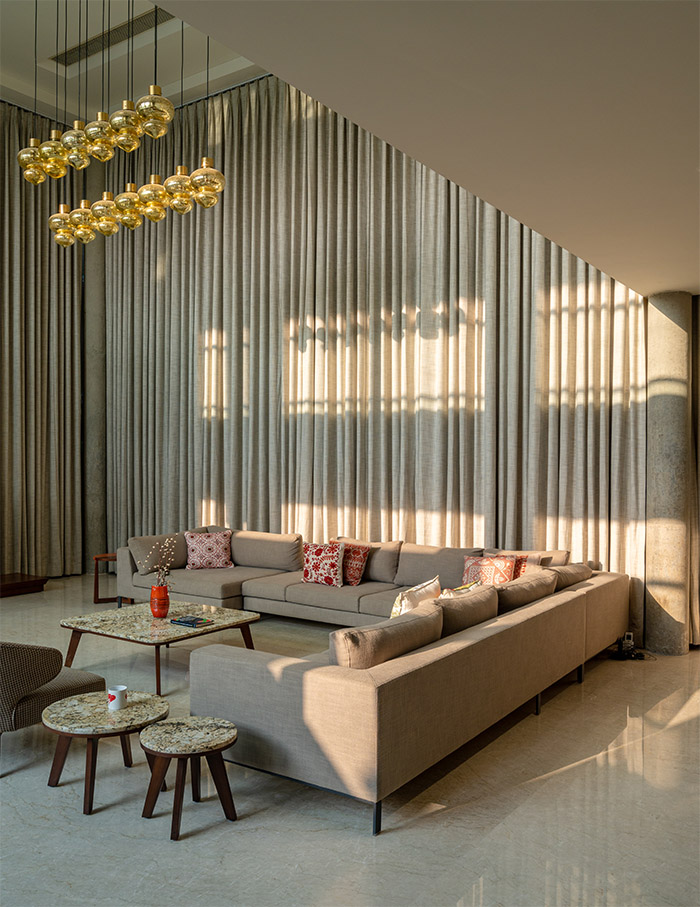 Inside, the foyer leads to a formal drawing room, where glass window offer refreshing and panoramic sights of the garden beyond. "The frame acts as a live painting which keeps changing throughout the day," adds Patel. These transparent panes also let daylight naturally illuminate the space. Most of the furniture is locally made, while the coffee table and consoles are sourced by Waylin, a native furniture brand.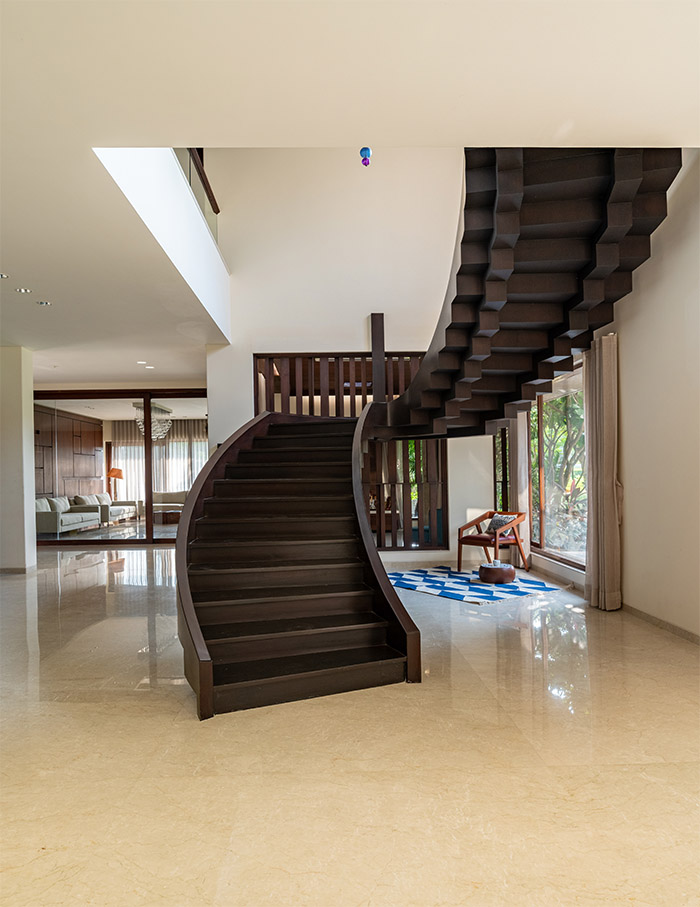 On the other side is the family room, dining area and open kitchen. The former, a double-heighted space basks in natural light since it is bound by east and west facing glass windows. Dainty hanging lights overhead make one further appreciate the large volume.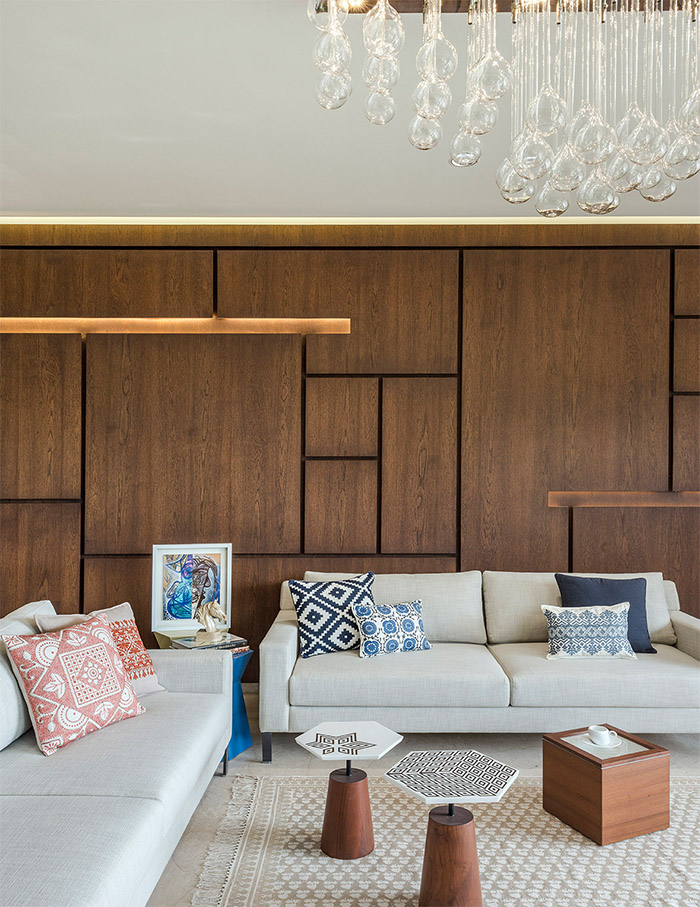 The ground floor also consists of the client's grandmother's bedroom which soaks in a generous amount of sunlight and a powder room that is furnished with black marble to create a striking contrast to the rest of the space. A thicket of date palms planted just outside the west side subdues the glare of the sun and offers a picturesque view.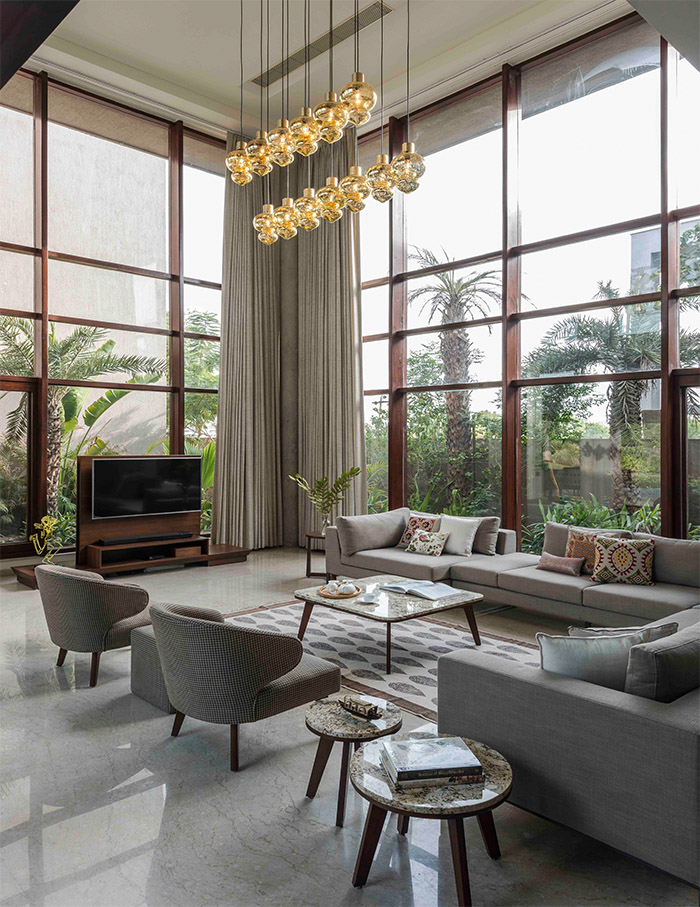 Upstairs, a glass passage connects the bedrooms and overlooks the family room below. This level comprises two master suites, one guest bedroom and a capacious home theatre. The first of the two master bedrooms features high-sloping wooden ceilings, large east-facing windows and attached balconies overlooking the garden. The bathrooms adjoining the dressing areas complete this sprawling private space. A small open study and library is located near the second master bedroom.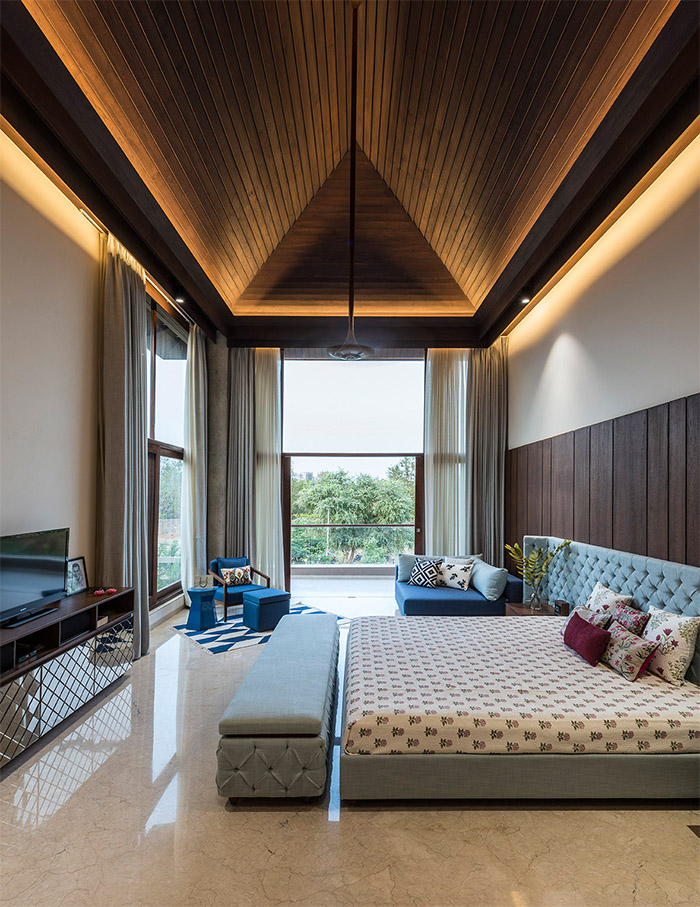 "The outdoor verandah, which is like a gazebo, is the heart of the house and the family loves spending time here. It is a place where one enjoys nature while remaining connected to the main house," shares Patel.