Homes
Asian Paints 'Where The Heart Is' makes a much-awaited comeback with its 6th season to enchant and inspire us with 7 beautiful celebrity homes
NOV 24, 2022
| By Ishika Paruthi
Yes, you heard (read) it right! Your beloved original decor web series 'Asian Paints Where The Heart Is' is now streaming live on Asian Paints' digital platforms. The 6th season pays homage to seven celebrity homes and the journeys behind each of them. A constellation of rich decor stories and meaningful insights shared by the celebrities about their homes makes up the true essence of this series. What's more, for the first time, it is also available on the OTT platform Voot.
After the season went live on 14th November 22', Amit Syngle, MD and CEO, Asian Paints Limited, shared "I am pleased to announce the launch of Season 6 of the much-loved home series, Asian Paints Where The Heart Is. The season returns with inspiring stories of self-made personalities who have been ruling the hearts of millions around the world. While this continues being a digital first content piece pivoted on YouTube, we have also partnered with Voot, in order to strengthen our digital footprint and reach out to more consumers through the OTT medium. Viewers not only get the opportunity to see the homes of the personalities that they've built with passion, but also hear them share their stories, their lives and what their homes mean to them."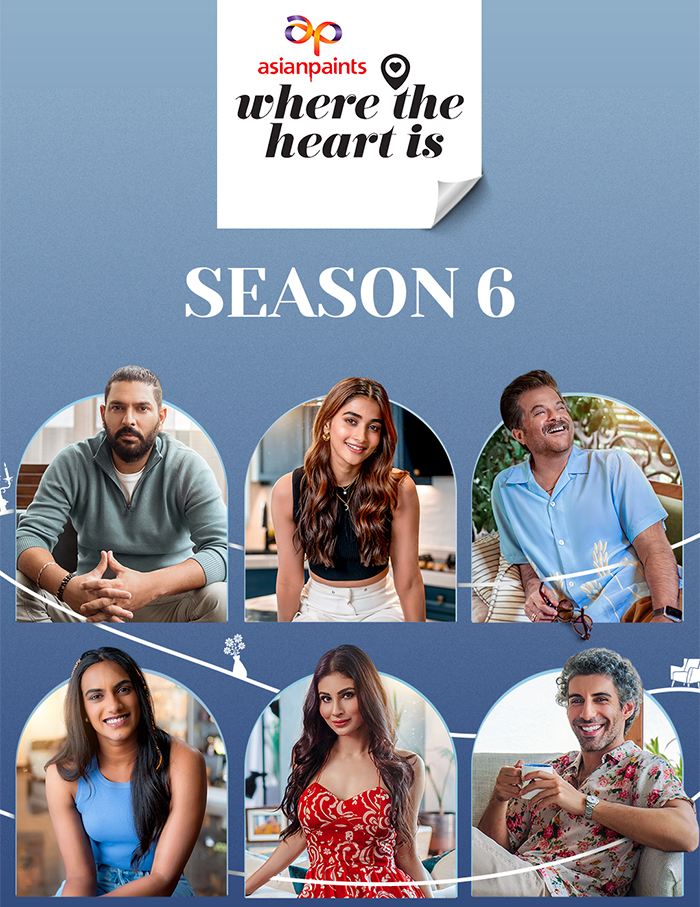 Click here to watch the trailer for Asian Paints Where The Heart Is Season 6!
There will be new elements in this season for viewers to enjoy and take inspiration from. The episodes will incorporate a special 'Build Book' segment showing celebrities browsing through a design guide with decor elements in their homes. It will lead consumers to BeautifulHomes.com, the Asian Paints website, a veritable decor guide for consumers. The website also offers a vast and varied selection of products from Asian Paints and a catalogue of decor, lighting, furniture and more. Viewers can derive inspiration from what they see on the show and recreate a similar look for their own spaces with the help and range of products on BeautifulHomes.com.
This year, the elite celebrities list includes Pooja Hegde, Jim Sarbh, Yuvraj Singh, PV Sindhu, Anil and Harsh Varrdhan Kapoor, and Mouni Roy. They all give us a glimpse of their sanctuaries—each of which is an extension of who they are !
Where The Heart Is: Episode 1—Pooja Hegde
A tough taskmaster, Pooja put in a lot of effort to ensure that the home looks just right and is very appreciative of every person who poured their heart out and helped make her dream home a reality. Offering a bird's eye view, this plush apartment opens with a green door which Pooja considers a "trailer" to her home. She believes that everything tells a story and this door is a trailer to the story her home is going to tell its visitors. A collection of stories, each element of this home tells a story of its own!
A fan of muted and subtle themes, Pooja's home is washed in shades of white and wood but there are a few hints of colour here and there, the most evident one being her couch. A pink couch to the otherwise minimalistic home allows her to imbibe a 'feminine energy' that she absolutely loves.
The living room expands into the open kitchen which has an island in a marble finish as its centrepiece. Made up of hues of white and blue and a lot of metals, this is her favourite space because this is where the food is! She loves the filament bulbs here for they add a sense of warmth to the space and if something smoky is being cooked, there are hidden slider doors as well.
What we love—The 'hall of fame' which is her corridor adorned with posters of movies that have inspired her in some way or the other.
Click here to watch episode 1 of Asian Paints Where The Heart Is Season 6!
Where The Heart Is: Episode 2—Jim Sarbh
This sea facing, Parsi style bungalow has always held a special place in his heart. This bungalow belonged to a family friend who used to invite the Sarbh's over for Diwali each year and when they moved abroad, Jim's father purchased the home from them to keep the Diwali tradition alive.
A colonial styled space, the home has been preserved in the 90s style complete with the furniture and appliances to ensure that the nostalgia of the home remains the same. In today's time, when everyone preaches minimalism, Jim feels that it has taken away the charm and "eye for design" hence most of the things in this home haven't been changed including the flanked pillars, and intricately carved cabinets amongst other elaborate ornaments.
His favourite space is the verandah which gives him a feeling of being inside and outside at the same time, this is a place he comes to relax often. He visits the home with his pet cat Mimi who loves exploring the nooks and crannies of the family home. There is also an enormous pool in the house and Jim has to dive into it within 30 minutes of arriving at the property.
What we love — The bungalow overlooks a mudflat where receding water has left little pools of water all around which when reflecting in the sky give off a slick oil effect.
Click here to watch episode 2 of Asian Paints Where The Heart Is Season 6 here!
Where The Heart Is: Episode 3—Yuvraj Singh
Yuvraj has always dreamed of having a home in his hometown, Chandigarh and this home took about a decade to finish. After a large chunk of construction was done, he demolished the structure and started again from scratch since he wasn't satisfied with how it was turning out. He said he wants his home to be a space which leaves people with positive energy.
As a child, table tennis and snooker were his staples hence the home is equipped with a table for each. Ahead of these tables is the main living room with double height ceilings which lets plenty of sunlight in. The home also includes a state of the art home theatre where he and Hazel (Keech), his wife fight over their favourite seat and she always wins and his gym where he trains about two to three times a week.
The former cricketer's mother also drops by and mentions how she told Hazel, his wife, to get an architect on board, get his opinion, take everyone's feedback and then take it from there. The home is surrounded by plenty of open spaces where Yuvraj practises his golf skills and which also act as a play area for his dogs.
What we love—There is a wall of fame which is a literal shrine to his best moments as a cricketer and includes memories like his six sixes and his first match post overcoming Cancer.
Click here to watch episode 3 of Asian Paints Where The Heart Is Season 6 here!
Where The Heart Is: Episode 4—PV Sindhu
Dipped in subtle hues, her three story home sits atop a hill and one can see the whole city from there. Two of the three floors are where the family lives while the third one houses a garden and a home theatre.
Sindhu's mother and sister have conceptualised the interiors of the home and they are kept very minimalistic and neutral, exactly how Sindhu likes it. As one enters the home, one sees the living room on one side where people sit, relax and chat and opposite that is the trophy shelf. Adorned with Sindhu's many trophies and medals, one thing stands out: two Arjuna award trophies which she and her father received for badminton and volleyball respectively.
The home has a lot of wooden themes and gold accents. Sindhu jokes that the home has a lot of gold accents because she wants a lot of gold in her future. Moreover, the overall colours and fabrics chosen for the home are also very subtle and calming. The home is an all-encompassing space for the family where they spend time with their dog, Rio and play with Sindhu's nephew, Aryan. This home washed in muted tones becomes lively due to its many colourful gardens and makes Sindhu feel refreshed after a hectic day!
What we love —There are many stuffed toys of whimsical mascot figures from multiple tournaments she has been a part of which add a sense of personalisation to the space.
Click here to watch episode 4 of Asian Paints Where The Heart Is Season 6 here!
Where The Heart Is: Episode 5—Anil and Harsh Varrdhan Kapoor
Anil Kapoor lives in a four story Juhu bungalow with his wife Sunita. An interior designer in her own right, Sunita Kapoor has designed this wonderful abode for the couple which makes one go 'jhakaas'. Anil mentions that he has been living in this home for about 38 years now and that it is made with his hard work – blood, sweat and tears. The family moved here when daughter Sonam Kapoor was born and initially Anil owned only one area of the bungalow. He slowly and steadily took over each floor soon after.
We start off with a tour of AK's den, with wooden ceilings, wooden furniture, ornate mirrors and a wooden pulpit from church, this space is what AK bought last and refurbished to his taste. A high back chair, a centre table filled with books and other artefacts adorn this space where he likes to get his script readings done. Next up he shows us the gym where he spent quite a lot of time during the Covid 19 pandemic.
AK then takes us to son Harsh Varrdhan's sea view pad in Bandra. This is a cosy space and very different from the one AK lives in. His home feels "lived" and warm. The living room is stacked with Harsh's DVD collection and state of the art sound systems. One of the bedrooms has been converted into a sneaker room with dark shelves to ensure that the hues of the sneakers pop out.
What we love—The magnificent terrace garden in AK's flamboyant home. Sunita Kapoor and her mother are very fond of green spaces and this space was curated because of their love for the same.
Click here to watch episode 5 of Asian Paints Where The Heart Is Season 6 here!
Where The Heart Is: Episode 6—Mouni Roy
Mouni Roy gives a peek into her contemporary and palatial home which features a massive television set, an expansive living room, breathtaking views and she, herself cooking up a storm. The first thing that catches the eye of visitors is the blue golden wall where the television sits. The home is washed in subtle homes apart from this wall which becomes the focal point of the space and adds a sense of vibrance. The sofa becomes a space for the couple to lounge and the blue table with sputnik style chandelier behind the sofa acts as the perfect place for a hearty meal.
Her businessman husband Suraj joined Mouni and talked about how he asked her to come to look at a house with him when they were dating. As soon as she entered the house, she was hit with tons of positive energy and knew this was it! For Mouni, the home has never really been a space, it has been the people. She now has a materialistic sense of belonging through this home where she can come back and relax with her husband.
Whites and creams are the main colours chosen for her holiday home but it has a hint of blue hues to complement and complete the aesthetics of the space. There is also a golden shelf next to the television which stacks memories and trinkets in the form of photographs and decor pieces.
What we love—The outdoor balcony is the best part about this nook which is full of greenery and preserves the couple's privacy. 
Click here to watch episode 6 of Asian Paints Where The Heart Is Season 6 here!
The focal point of this season is a 'spaces first' approach which allows viewers to get a true sense of style for each celebrity home crafted with love. What's more, viewers can now take decor inspirations from the celebrity homes and renovate their spaces with the 'Style Guide'! Take cues from the decor offerings by Asian Paints, available and hosted on www.beautifulhomes.com    
Link to all style guides—Celeb Homes | Beautiful Homes