Design
Asian Paints unveils the Asian Paints Colour of the Year 2023—Silver Escapade that sets the tone for the year to come
JAN 13, 2023
| By Tamanna Doctor
The year is about to be silver-lickin' good! Because all you need is a sliver of silver to make the year brighter than ever.
On 13th January 2023, Asian Paints, in collaboration with St+art India Foundation unveils their latest project 'Asian Paints Art house' at the Mumbai Urban Art Festival (MUAF), providing an exclusive preview of 'Illusions', a part of the Sassoon Dock Art Project and announces the Asian Paints Colour of the Year 2023— 'Silver Escapade'.
The project 'Illusions' on the other hand reflects reality and is advocated by fluid and expansive views. The project commences from 13th January and is present till 22nd February. 
The Asian Paints Art House project is an ode to the ocean. With an association to it, Sassoon Docks seemed like the prime location to host the project. With ample culture, art and people, the place was designed to entice and intrigue the attendees. It was created using waste material, debris, upcycled fabrics and other bits and pieces found around the dock. Considered to be a 'home', the art house inculcates the Asian Paints Colour of the Year— 'Silver Escapade' in a clever manner.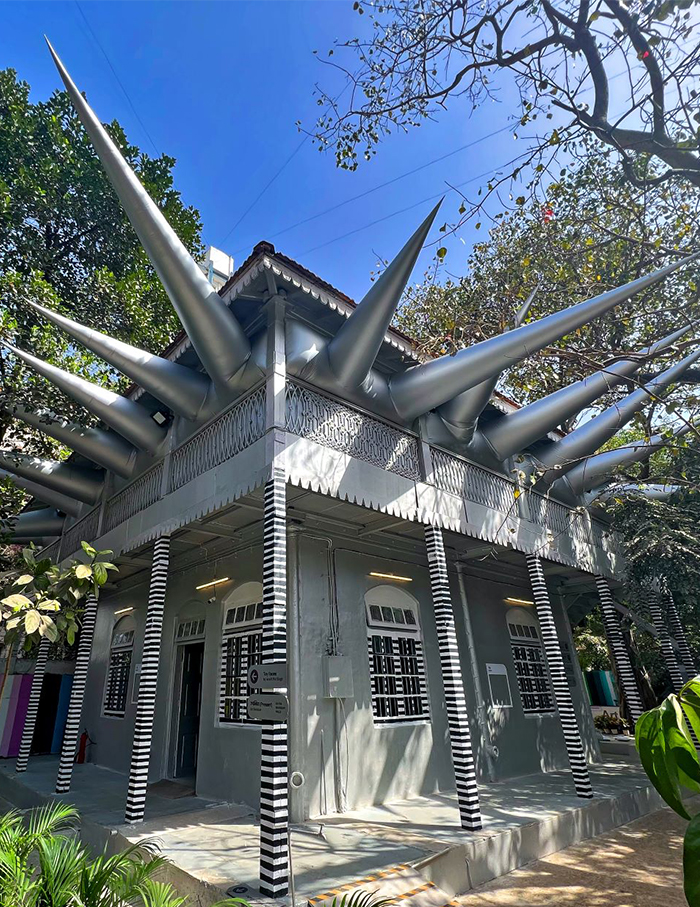 Unveiling the Asian Paints Colour of the Year 2023— 'Silver Escapade', the shade is characterised by time travel and technology, child craft, wellness, it also represents the shade of auspicious beginnings in our country. UK artist Steve Messam clutched onto the colour and created an installation that encapsulates it. 
The Asian Paints Art house with St+art India Foundation also dropped 5 NFT's created by visual artist Amrit Pal Singh. The series labelled 'Toy Faces' is reminiscent of childhood experiences. Toys represent the part of our life which was devoid of cynicism. Symbolising fictional stories and characters predominant in that particular chuck of our life, Toy Faces aims to revisit the feeling of euphoria attached to them. For the MUAF, he extended his hand to five individual artists to celebrate various styles and mediums. 
Mr. Amit Syngle, Managing Director and CEO of Asian Paints Ltd. stated-  "We are proud to unveil the 'Asian Paints Art House' and the 2023 Colour of the Year at the Mumbai Urban Art Festival. We are thrilled for the public to see what has been created at Sassoon Dock, representing Mumbai city, its art and culture, in a way that Mumbai may have never witnessed or experienced before. Illusions, is another landmark project we've launched at Sassoon Dock, adding to our collective vision of celebrating Mumbai city and its people. I am also very excited for the NFTs that have been curated for the festival with a tinge of Colour of the Year – Silver Escapade. A call out to the St+Art India Foundation for co-curating the Mumbai Urban Art Festival and building onto our long-time partnership. A special mention to the Mumbai Port Authority for their support in making MUAF a possibility"