Homes
Artist Manisha Gera Baswani opens the doors to her eclectic abode
MAR 2, 2020
| By Sonia Dutt and Aneesha Bhadri
As a practising artist who works from home, I am unsure where my studio begins and home ends," says artist Manisha Gera Baswani, when giving us the first glimpse into her Gurugram home, which she shares with husband Rahul Baswani.
"Contemporary Indian art has been lovingly collected by Rahul and juxtaposed against indigenous crafts and nature's bounty. Chunks of wasps and bees hives, plant seeds gathered during morning walks, feathers from the floor of the aviary, and shimmering dark rocks picked on an arduous trek—all form the extended Baswani family, which appears to be in a constant state of flux to the music of the many budgies in our aviary," she explains.
The Delhi based creative paints a mesmerising picture of her home. Her 5,000 sq ft abode unfolds like a patchwork narrative held together with the melodious strains of her artistic sensibilities. The entryway opens into a spacious lobby that sets the tone for the rest of the house—portions of wasp hives and seeds lie in two rustic baskets on one side, while a large painting by Manisha, hangs on another wall. A breathtaking assortment of artworks, both old and contemporary—as well as curios such as maquettes from the Indus Valley Civilisation—abound the apartment, lending colour and character to the setting.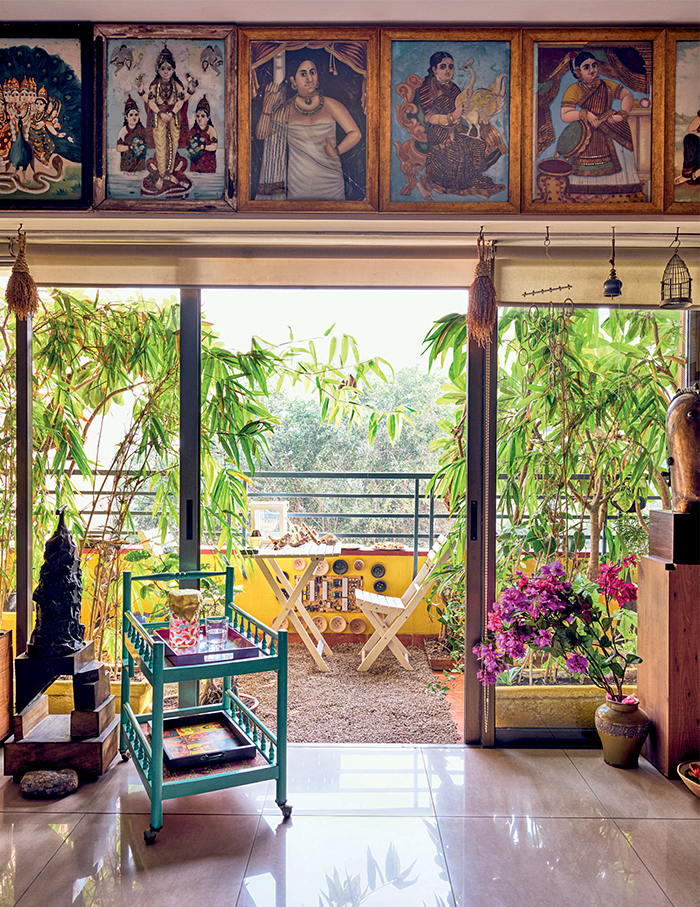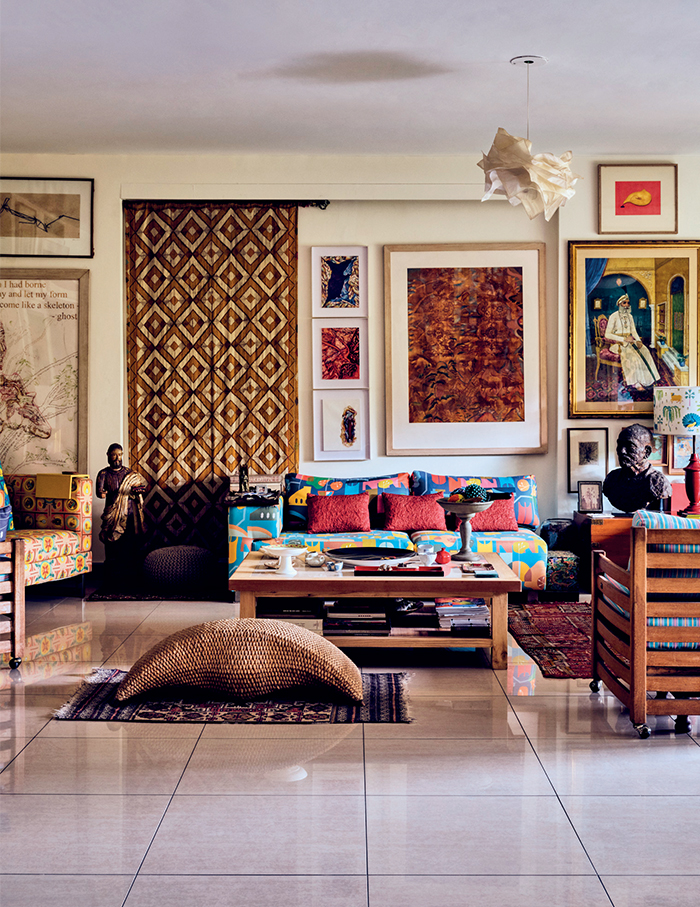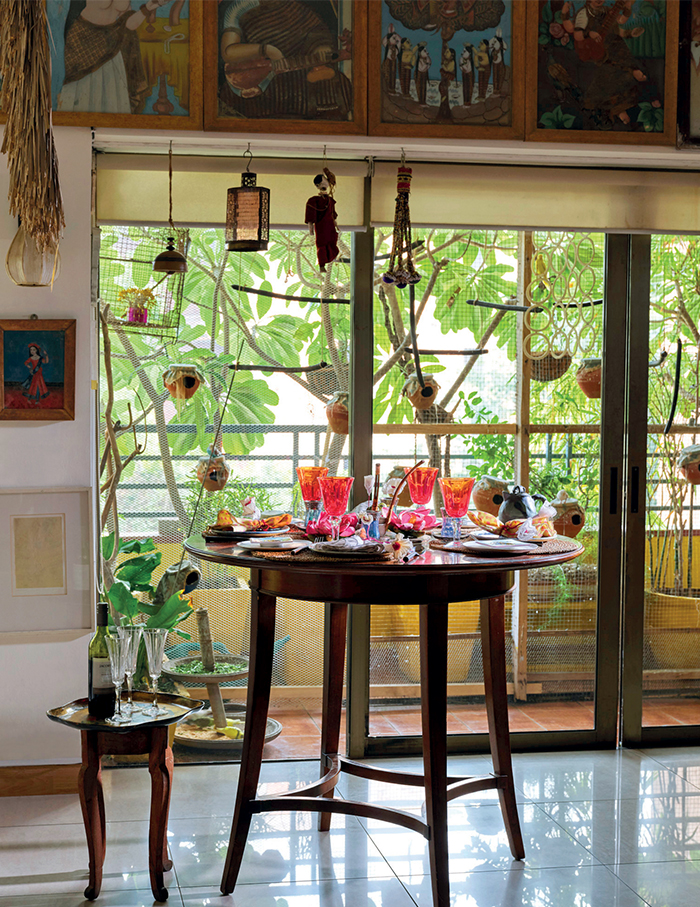 Two bedrooms, a drawing room, studio and kitchen complete the space. Plus, all rooms have an attached balcony, decorated with bamboo, bougainvillea and champa. "I see my house as one big canvas, where I put various objects and weave stories around them," says Manisha.
Wall mounted miniature paintings mark the transition from the lobby to the drawing room, which is a cornucopia of arts and crafts. A comfy sofa and armchairs, upholstered in vibrant textiles from Toile Indienne, occupy one side, surrounded by artefacts and works such as a wooden statue of Christ, ceramic objets and flowers made of shells collected in Goa.
On the other side of the room, a Kerala table painted red by the homeowner holds curios found at Bangkok's Chatuchak Market, along with glimmering mountain rocks. An otherworldy piece suspended from the ceiling, made by the artist herself using a part of the sh palm tree, casts yellow light. Sunlight streams in through a balcony that houses thriving bamboo stalks and an aviary. A table is placed next to it and the wall above is lined with antique glass paintings. "Second to my studio, this is my favourite spot. The sight of birds going about their daily routine is very therapeutic," says the artist.