Homes
Art meets fiction at ONLY Design's spellbinding Moscow crib
JUL 22, 2020
| By Vedika Nair
Designer Charlotte Moss's words: "There are two things that make a room timeless—a sense of history and a piece of the future" stick with us as we tour Olga Sedova and Prohor Mashukov's 860 sq ft abode. It is nothing short of an artsy canvas and an enchanting story, bound together by Natalia Onufreichuk's quirky styling.
The couple, founders of Studio Only Design, fashioned their own condo in Moscow for themselves and their two sons with a compelling narrative. "We designed our own apartment based on the legend of a Russian émigré (immigrant) who moved to Paris at the beginning of the 20th century," says Mashukov.
When asked if this is how they approach all their projects, the creative duo say, "We always come up with an inspiring legend: who could live in this house, what would they do. Making up stories helps us create a future image of the interior. When you have a character, fictional or real, the interiors becomes interesting and believable."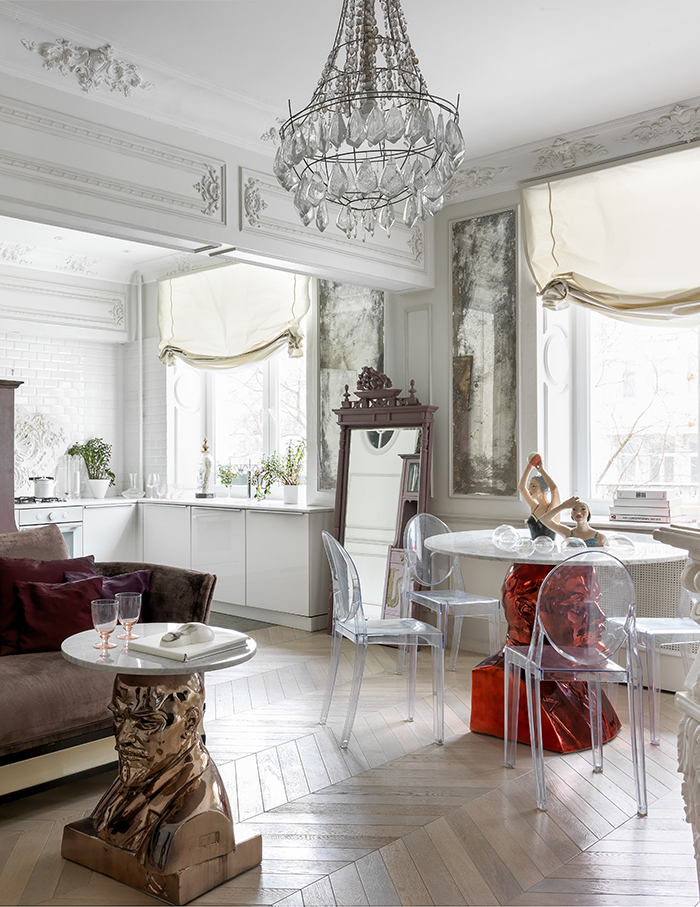 The resulting interiors of this apartment is dreamy. And it took a lot for the designers to tailor this home to suit their needs. The shell was given a major overhaul. This included redecoration of the walls, floors and ceilings, while the historical stucco of the abode was restored. It all seems worth it, as the finished space features natural materials and vintage decoration. A huge chunk of the furniture has been custom made, while the interiors are decked with contemporary art.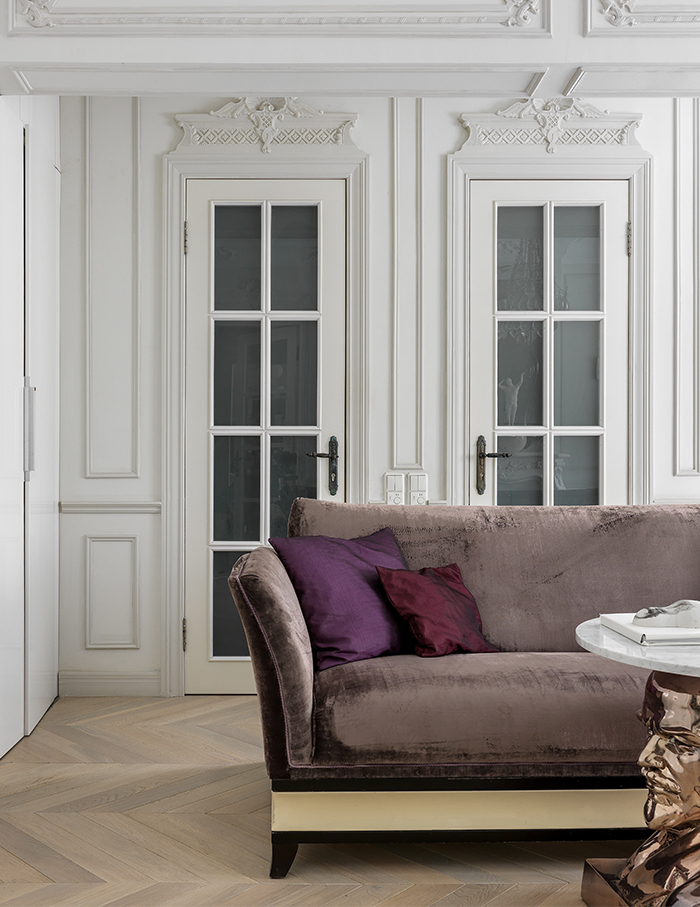 Despite its fictional French location, the apartment is cloaked in Russian influences that narrate the tale of a third-generation immigrant, who moved to Paris and settled in a classic French home with high ceilings, stucco moulding, a fireplace and a herringbone oak parquet. He brought with him a portrait of Nicholas II, family icons, an old mirror, a bookcase and a bed.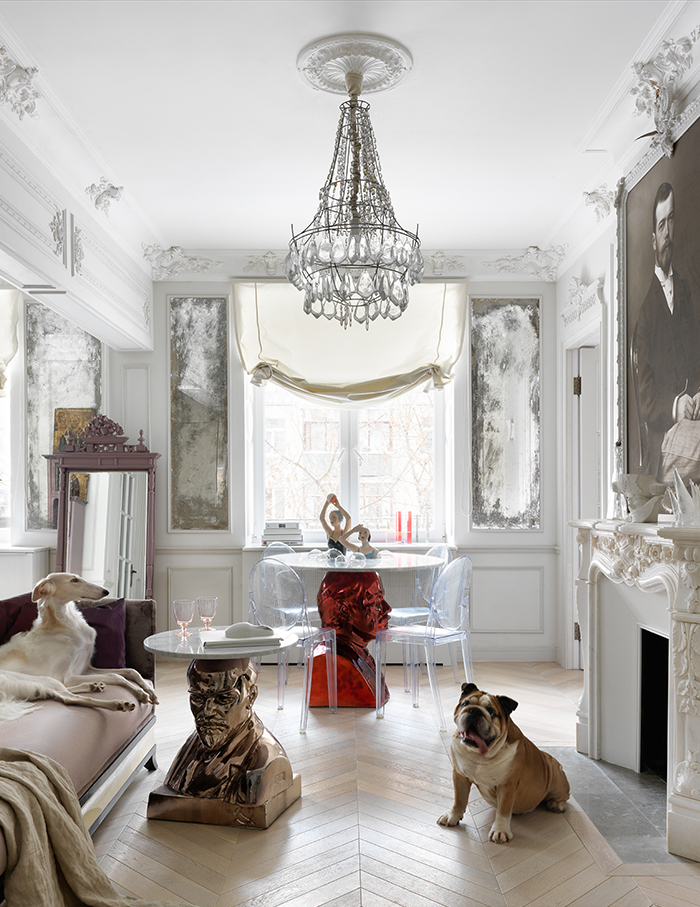 Right from the entrance, we're bewitched by the tables that use Vladamir Lenin's bust as bases—something that Mashukov made with his own hands. "When the workshop of Marat Gelman closed, Prohor picked up these two busts—one made in the 1930s, the other in 1972," adds Sedova, "The difference in the age of the busts is visible; even the facial details are dissimilar. The 'elder' had his ear and nose chipped, Prohor just finished them. Then we covered them with chrome, coloured lacquer and screwed to the tops of the tabletop."
The living room is characterised by a touch of Russian history and complemented by the owners' favourite Greyhound Rusya. The table hosts a bather sculpture by Tania Antoshina and glass decor by BoConcept. A magnificent portrait of Nicholas II hangs above the fireplace that is adorned with sculptures like 'Napoleon' by Yuri Horovsky and Yuri Shabelnikov and 'The young man on the ball' by Tania Antoshina.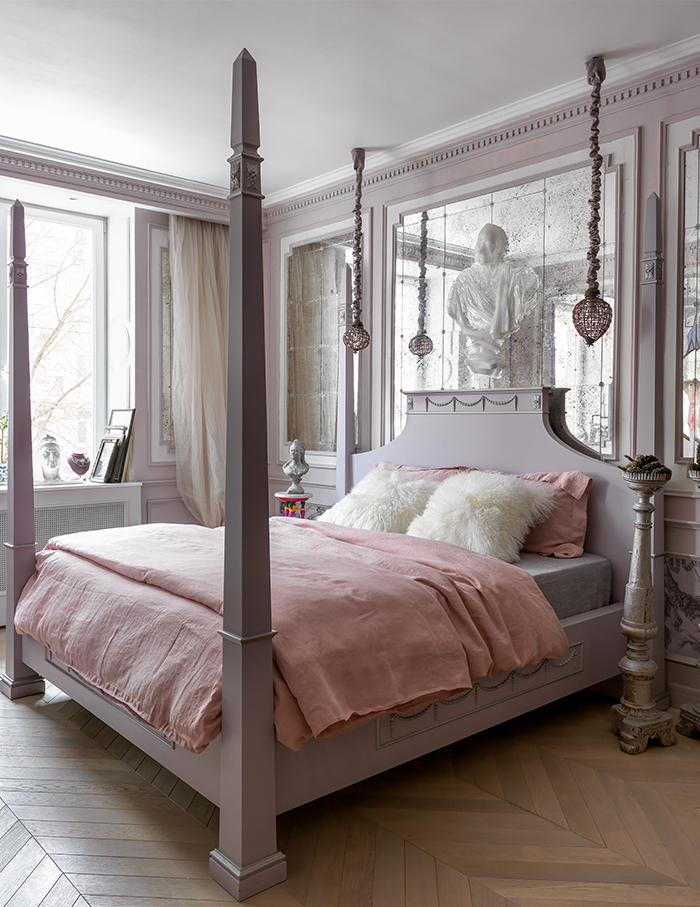 The lilac hued master suite houses a bespoke bed by Vladimir Stolyarov and is decked with myriad elements such as sculptures and traditional chest drawers. In the niche is a custom made wallpaper that we're crushing on! It is based on the works of Flemish painter Hans Memling and is the perfect backdrop for a special bed, chandelier and a custom made table with coloured plaster balls for a base. On the wall of aged mirrors, we see 'The Ghost of Voltaire' by sculptor Tania Antoshina.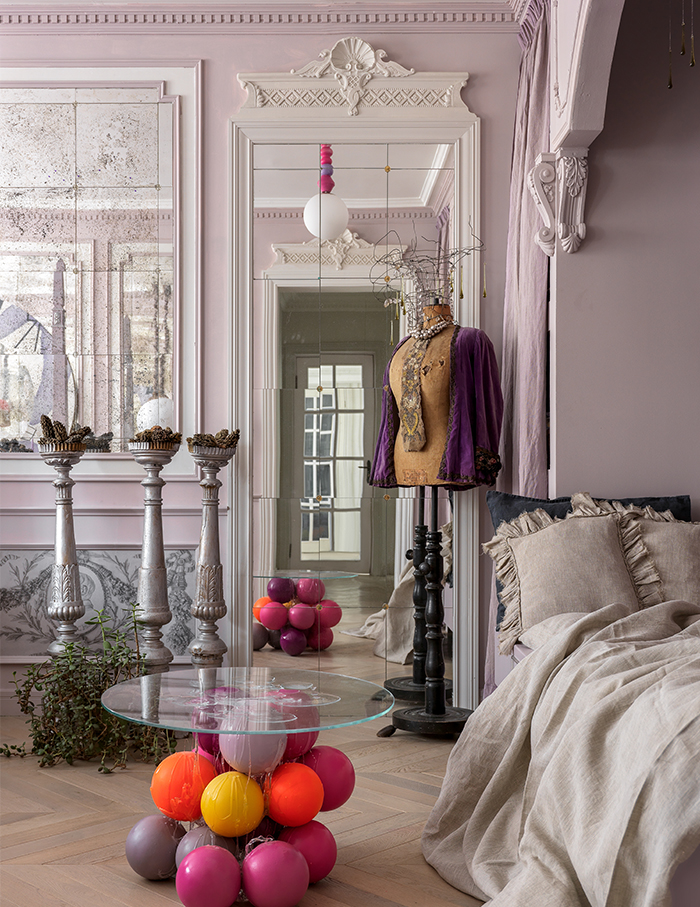 We retreat to the children's haven that is bathed in pearl white shades and features a painting by Sedova and Maria Bersan-Mashuk based on drawings by popular Russian artists Anna Vinogradova and Alexander Benois. The room also displays custom furniture with a sculptural piece by Tania Antoshina and pops of colourful decor.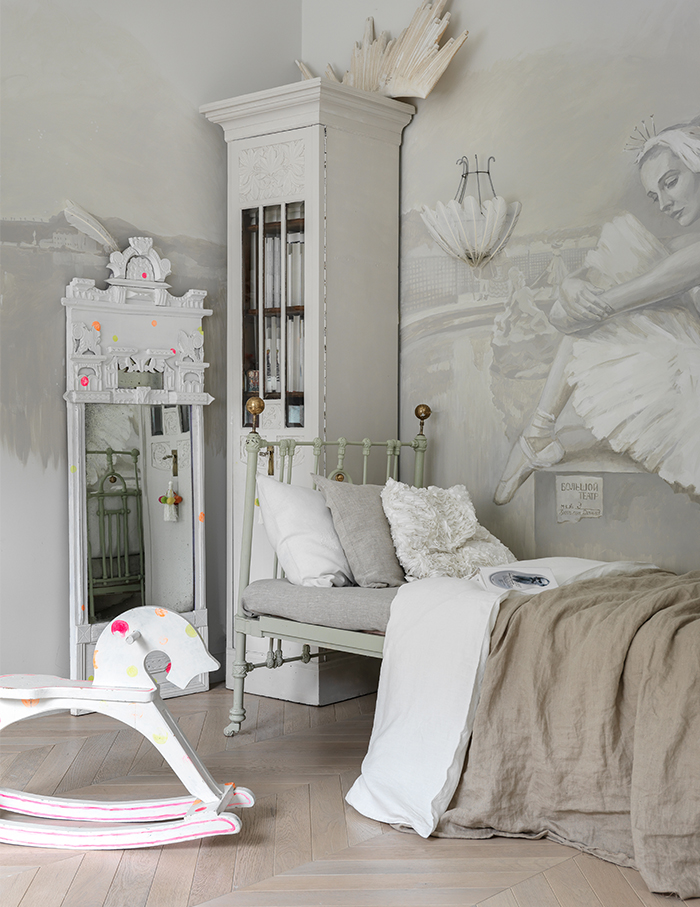 The abundance of details makes the apartment look like a fairytale that is perfect for both adults and children. "When we work on interiors, it is not just about selecting textures, materials, colours or working on spatial volumes. These are tools that create an architectural box. Instead, we try to breathe life into it with the help of stories, tales and art. For us, interiors is where our project meets art and gives birth to stories, impressions and emotions," adds Mashukov.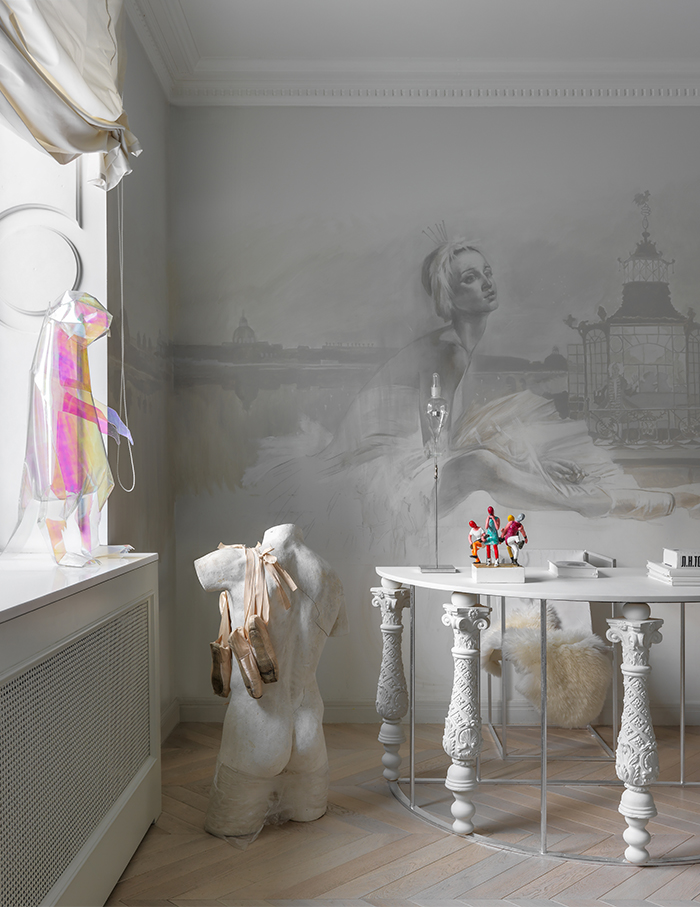 About the design philosophy followed by the couple's 2007-established Only Design studio, Sedova says, "We started to love adding uncompromising elements to our projects. There are always a lot of historical allusions in our works, we like to beat out images from pop culture and classics and remake Soviet artefacts (for example, the statue of Lenin) into furniture."
Scroll below for more images of this fascinating abode…