Design
Architecture BRIO's headquarters is a refreshing antidote to its bustling Mumbai locality
MAR 7, 2019
| By Nitija Shastri
Located in the heart of a busy street in the financial capital of the country, Shefali Balwani and Robert Verrijit's architecture BRIO is a refreshing antidote to its crowded locality. Open spaces that let natural light in, form a striking backdrop to the cactus artwork that dresses the entrance, including an unconventional bench made of solid wood and artful ceramic planters.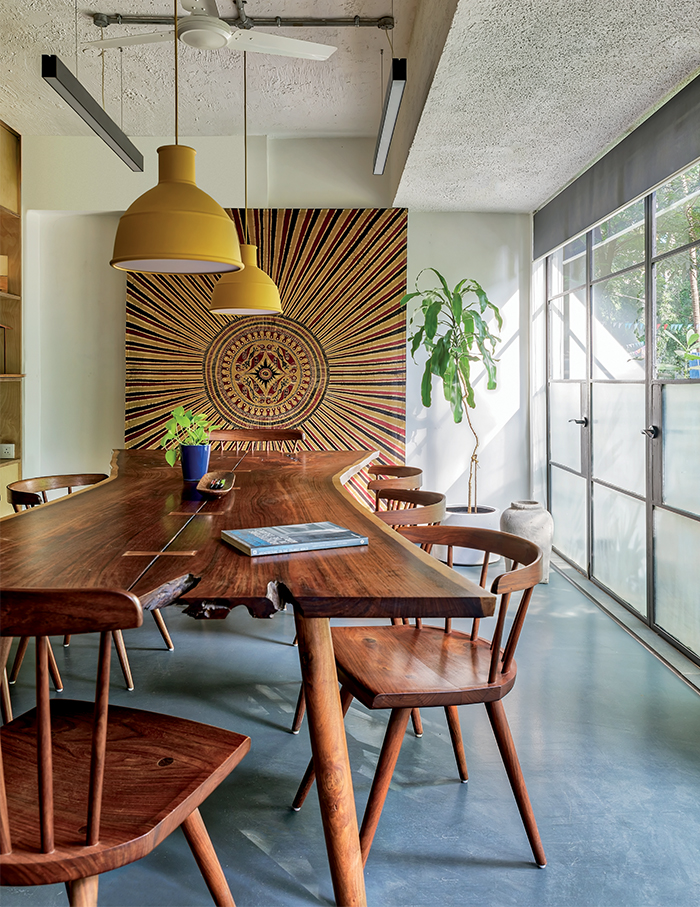 We climb into their creative cave….Studio Revival with a view of the bustling city on one side and a lush garden on the other, the studio acts as a buffer between the two, much to the architects' joy. "it was a stroke of good luck that we stumbled upon this place," says Shefali.
The studio is built in an efficient manner – formal workspace on top and a swirling staircase, which opens up to the lower level with the workshop, mock-ups and a meeting room that flips into a lunch arena at noon. "The whole office is set in an informal tone, with cushions planted in a disorderly manner for a lived-in effect. There is a comfort within the entire space," asserts Robert. Earthy Escape "The central design theme was primarily minimalistic — clean, built-in with not too much clutter," says Shefali.
The mood board remains simple — hues of green with the earthy warmth of wood — bringing the outdoors in. Ply is used as a primary material in almost every area and the pre-existing flooring made of epoxy gives the basement an underground cocoon feel. "We wanted the studio to be an extension of our personalities…the brand's aesthetic had to come through," she concludes.
Scroll down for images of this workspace!