Homes
Architects Collaborative designs a modern brick house using a vernacular palette and architectural style
NOV 20, 2020
| By Aneesha Bhadri
The House in 1970, as it's called, peeks out at the world through a quaint brick jaali…like a calm oasis in a crowded urban locality, sheltered as well as transformed by its rustic shield. Light streams in through the chequered facade, brightening the interiors with a diffused glow.
The gradient weave establishes a raw palette with its fly-ash brick, while functioning as a natural climate control. Envisioned by Madhav Maini and Abhishek Saxena of Architects Collaborative, the Delhi home covers 5,800 sq ft and four floors divided into twin duplexes with identical layouts.
Flora is interwoven into the property with a tall fiddle leaf fig tree on a gravel bed near the entrance. Potted greens intersperse the neutral-toned space, lending vibrancy and verdure. Both duplexes have open-plan layouts with three bedrooms and similar interiors, including an adjoining terrace and stilt. They converge into an internal, double-heighted courtyard that acts as a communal area for the homeowners to spend time in, together.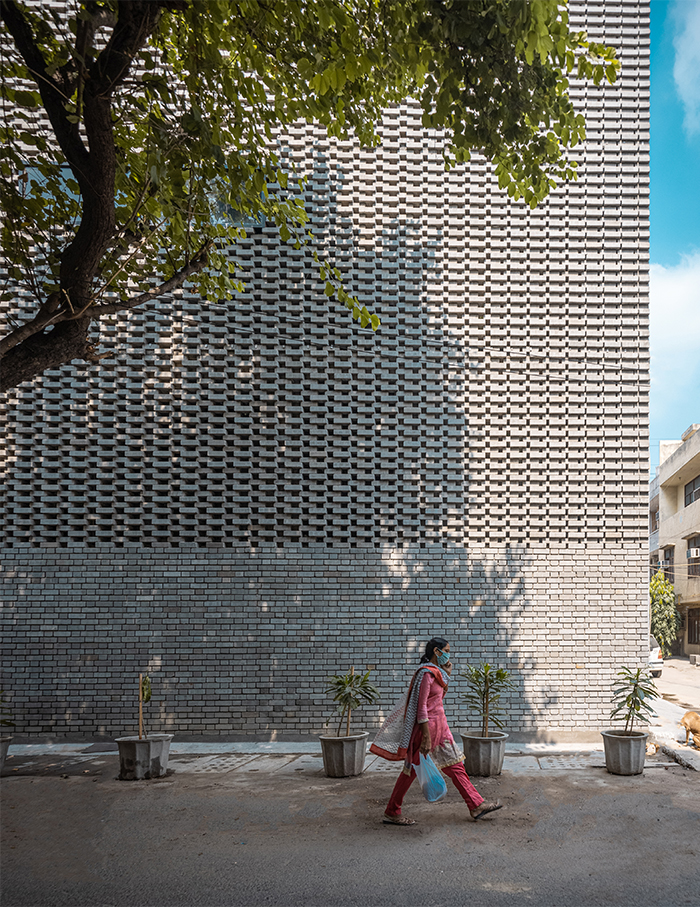 "Somewhere along the design process, we began to realise the character of the space—the brick weave and open layout are vaguely reminiscent of Indian construction back in the 1960s and 70s. So we decided to let the recollections guide the process, which eventually culminated in a theme that is solely defined by its materiality," says Maini.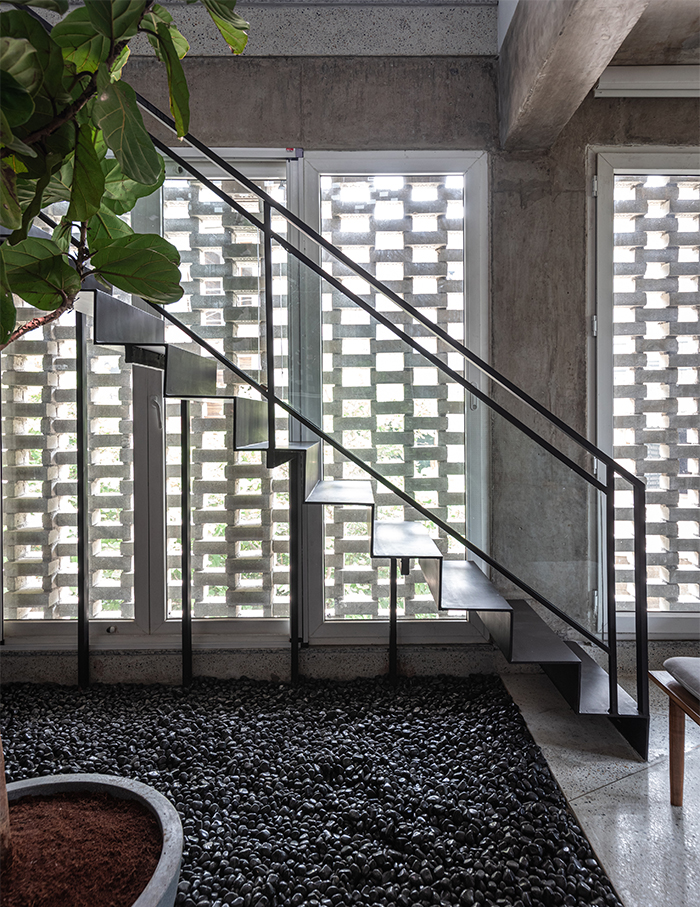 The house opens up at the courtyard level. It accommodates the living room, dining zone (demarcated by a light wicker screen), open yet snug kitchen, and a bedroom. A minimal steel stairway leads upstairs to the other bedrooms of this duplex, where one of them is fitted with pivot glass screens that open out to an intimate sit-out that resembles a verdant balcony.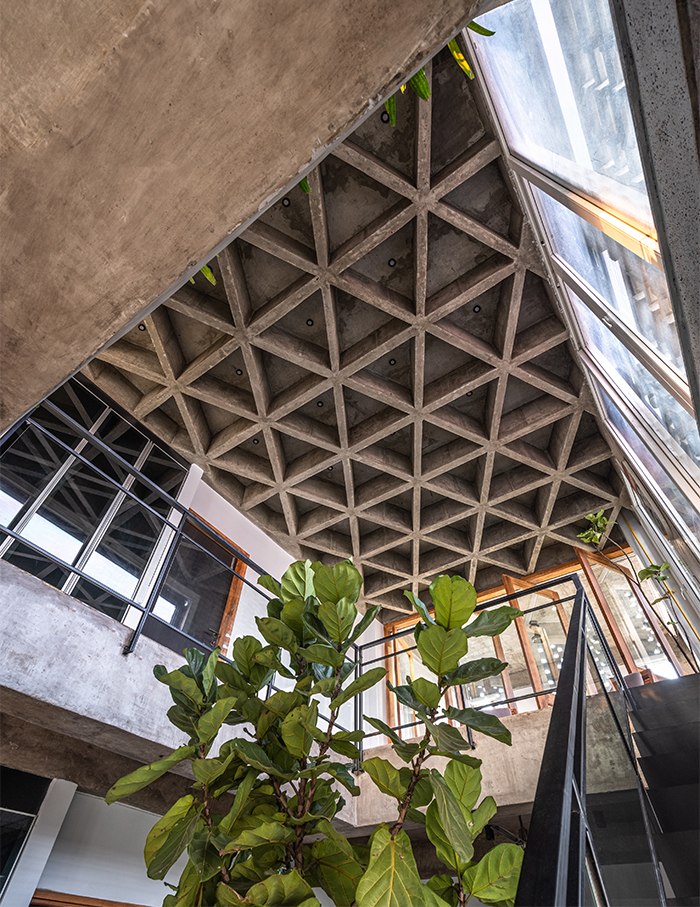 A corridor on the upper level leads to the master bedroom, where a freestanding wall hides the dressing room, a small study and bath. Glass screens shielded by the latticed brickwork characterise the master suite, which overlooks the courtyard, kitchen, living room and outdoors. Greenery borders the screens for privacy.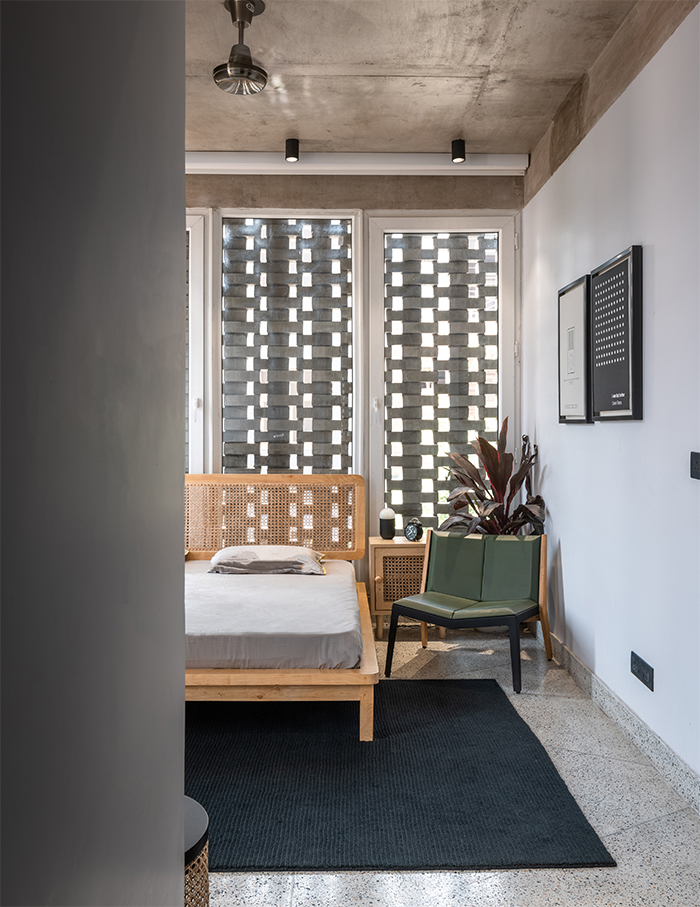 Being the first spaces to be conceptualised, these three green zones—the courtyard, sit-out on the upper level and the greens enveloping the glass screens of the master suite—altogether delineate the interactive fabric of the house's design.
The rustic materiality of the house juxtaposed with glass accents lend texture and depth, rendered in a timeless design, against a primarily muted canvas of greys, blacks and whites. Wood lends warmth and intimacy, while the flora offsets the monochromatic palette with its zesty appeal.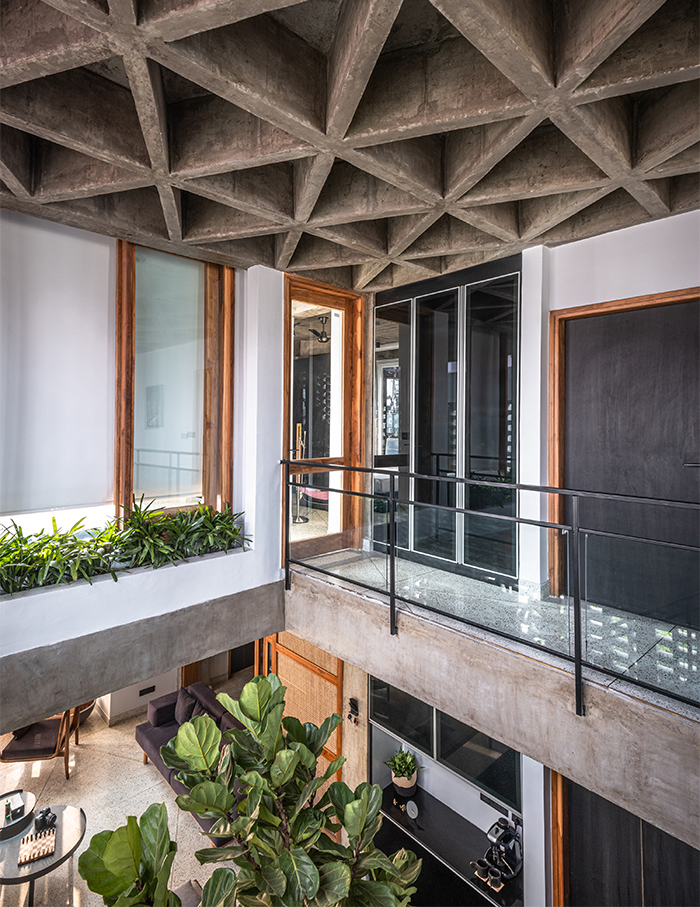 "The abundance of concrete, culminating at the coffered ceiling of the central double-heighted courtyard, complements the prevalent natural wood grains and terrazzo. The concrete structure combined with hints of wicker and clear glass against a backdrop of a brick jaali, helps christen the home 'The House in 1970'. It is an ode to this age-old, simplistic palette and design, endearing in its innate Indian-ness," says Saxena. 
Scroll below to see more images of The House in 1970 by Madhav Maini and Abhishek Saxena of Architects Collaborative…