Homes
Sona Reddy designs The Hive villa using natural textures and artisanal decoratives
JUN 12, 2020
| By Aneesha Bhadri
Tucked away in a gated community in Gachibowli, Hyderabad, is a 10,360 sq ft getaway home that overlooks a lake. Belonging to a young couple, it has been designed by architect Sona Reddy as a versatile and modern space with tropical notes and a plethora of antique curios sourced from different parts of the country.
The entrance of the house is double heighted, adorned with ethereal cloud lights from Klove Studio and a custom brass bees installation that leads you through the house. Solid wood furnishings, plush marble flooring and vibrant upholstery elevate the tone of the expansive living room. An autumnal palette of red, rust and yellow hues presides over the dining area, which opens out to a large kitchen. The monotone kitchen is cladded with dramatic green marble juxtaposed with warm wood cabinetry.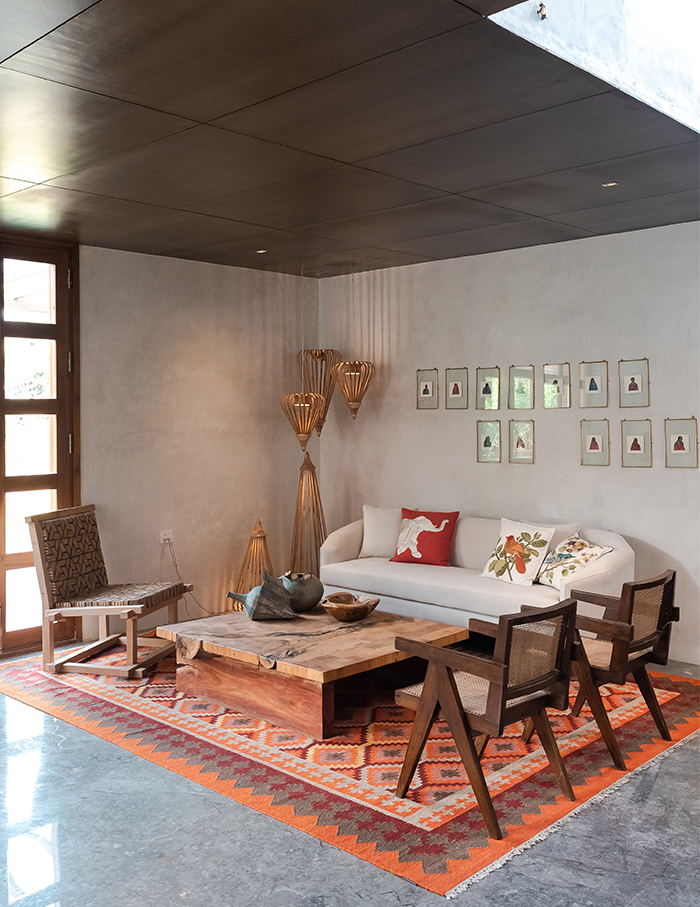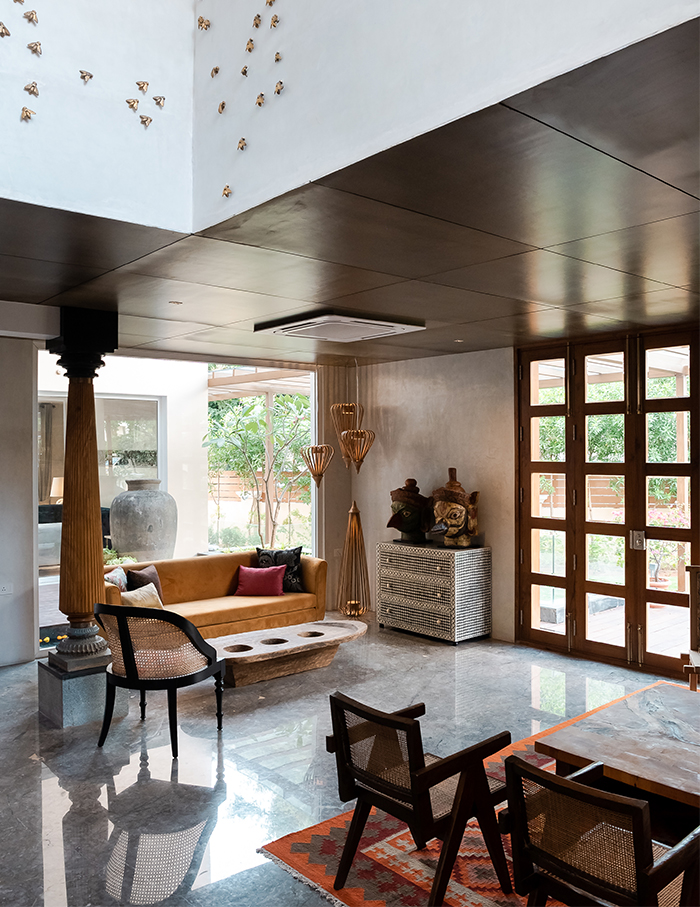 The palette at The Hive is a fluent narrative of monotones and neutral shades interspersed with pops of colours, while the furniture is a winning mix of bespoke and curated. Reddy encourages her clients to collect pieces over time. "We have moved away from the trend of furnishing the house using products from China or Italy. Instead, every single piece in this house was brought in exclusively from Indian cities. We worked with multiple artists and furniture designers in Kochi, Mumbai and Bengaluru, to name a few of the places," says the architect.
Reddy has structured the villa's first floor to house the private quarters and a prayer room. Her creativity shines through in the blue hued master bedroom, the adjoining bathroom furnished with a custom sink and patterned tiles, as well as the jungle themed space in the children's hand painted bedroom. On the floor above is a tranquil lounge with a foot pool overlooking the lake and a minimal bar with eclectic lighting. Lastly, the basement is converted into a home theatre and sit out.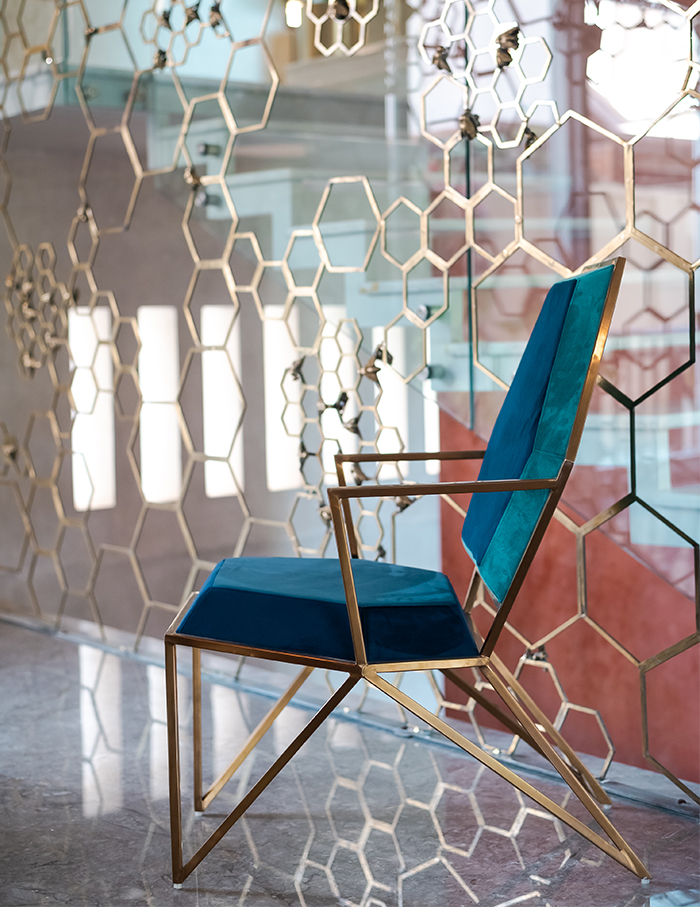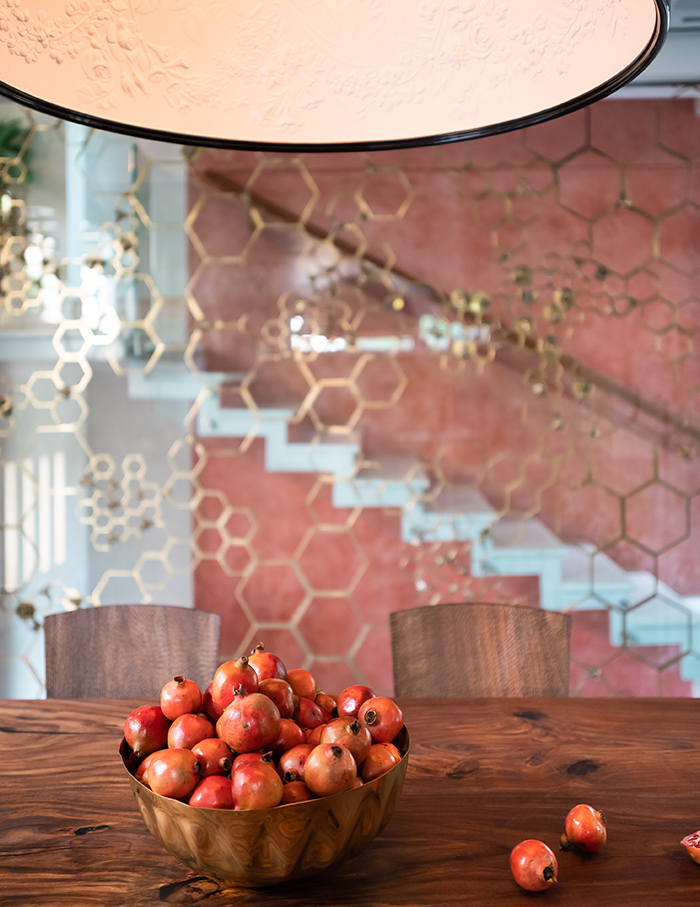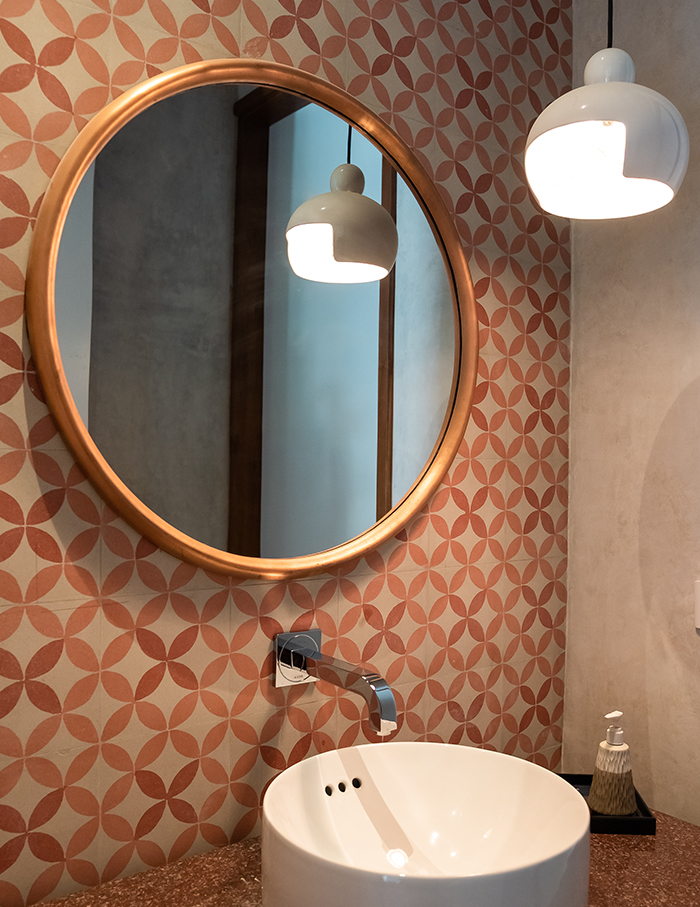 Reddy teamed up with designer Sandeep Sangaru for select furniture pieces. She designed a screen along with sculptor Ranganath, which serves a dual purpose. It erects a protective barrier along the stairs (for the children), while its hexagonal brass honeycomb form studded with bees casts shadows in mesmerising patterns in the evening.
Natural textures such as local stone, bison board ceilings, bamboo and paper lights, along with brass and oxide finish dominate the material palette of the villa. Meanwhile, cement finished walls, with gold and copper tones add understated glamour.
"Our design philosophy is to use natural materials, work with local artists and use pieces that are made in India. We enjoyed using biophilic design in the interiors to block the heat in the west and south, while making the most of the natural light and ventilation on the north and south side," explains Reddy.