Design
Architect Ruchir Sheth's Vadodara studio is a voluminous space underlined by an industrial palette and contemporary flair
NOV 14, 2020
| By Aneesha Bhadri
Dramatic, industrial and eclectic are the three words that best describe Design Studio—architect Ruchir Sheth's simply named office in Vadodara. It experiments with spatial volumes and an indoor-outdoor layout that creates a light and airy look despite the black monochrome interiors.
The 7,000 sq ft studio is spread over four floors and offers city views through its glass facade. Accessed from the double-heighted reception area are the conference room, work stations and storage.
Meanwhile, the second floor accommodates Sheth's cabin, waiting area and library. A statement mural on the wall behind his desk and ergonomic furniture make up the cabin.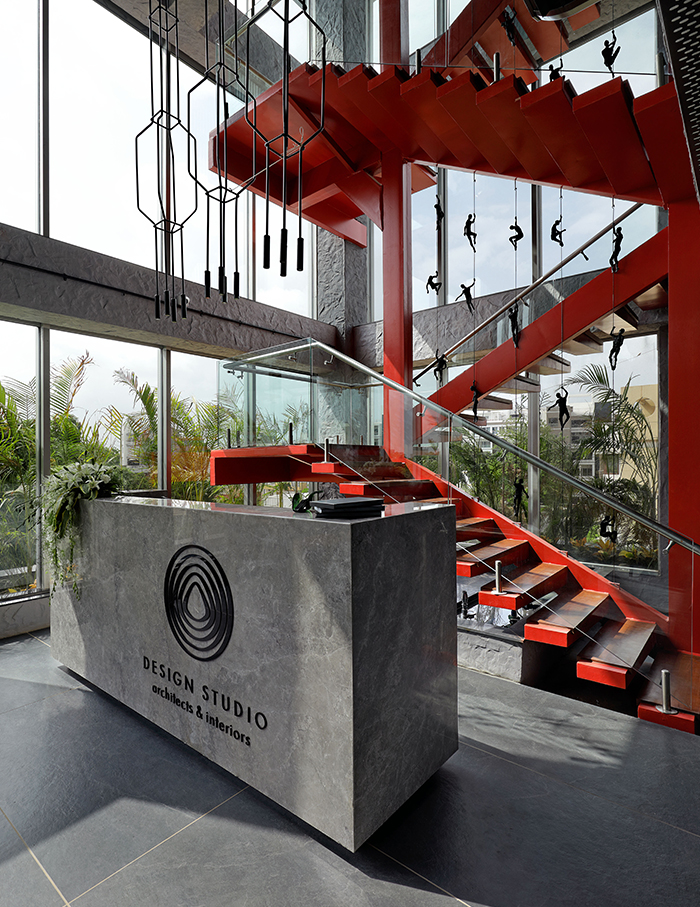 An open-plan workspace characterises the third level. On the top floor, a freeflowing narrative between indoor and outdoor spaces emerges, enabling Sheth's team to unwind and socialise. Here, the pantry-cum-cafeteria opens onto the landscaped terrace garden with paved stone pathways, mood lighting and alfresco seating on the wooden deck.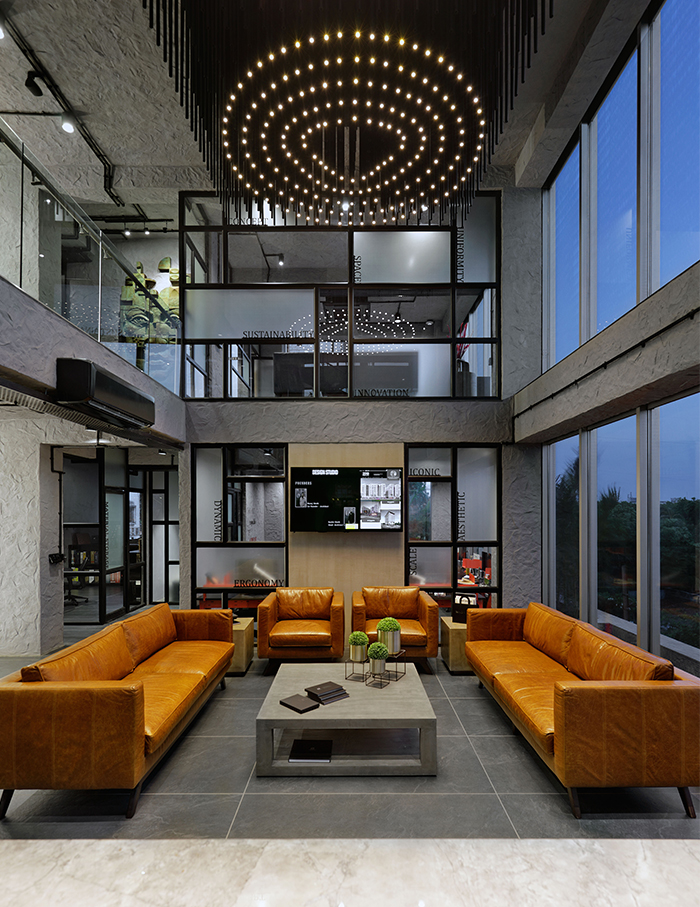 The office's material palette of ash brick art, exposed ductwork, leather, concrete, wood, glass and metal is influenced by a modern industrial outlook. "It resonates with our ethos—the warmth of wood, brutalist finish of concrete and sophistication of Italian stone come together in a neoteric design language that captures our approach," says Sheth. We love how the grey matte textured flooring unifies the monotonal space that's punctuated with a custom crimson staircase, vibrant furnishings and glimpses of greenery.