Design
Architect and designer Nina Edwards Anker of nea studio fashions bespoke, contemporary lights out of marine algae
OCT 21, 2020
| By Aneesha Bhadri
Seaweed is known to be a very versatile material, whether as sushi wrappers, antioxidant rich night creams, and now thanks to New York based Nina Edwards Anker, even lamps!
The designer has perfected the formula to treat green marine algae or chlorophyta for this innovation, while still retaining its natural look.
"In an increasingly high-tech global world, I'm inspired by local organic materials whose origin feels nearby, familiar and connects to the natural world. The idea originated in a more complex PhD research project about solar design and material research. I had been searching for biomaterials that were translucent and locally sourced to counterpoint the glossy, techno-photovoltaic material in my solar lighting designs," says Edwards Anker, founder of nea studio, whose interests revolve around sustainable design.
By wrapping wet algae sheets around water glasses, drying them overnight and coating them with various sprays, she transforms them into firm yet flexible shades. Retaining its original organic nature, translucency and colour, each handcrafted piece becomes a unique sculpture. The customisable algae lights are available in varied shapes and finishes, including brass, and can be grouped to form a chandelier.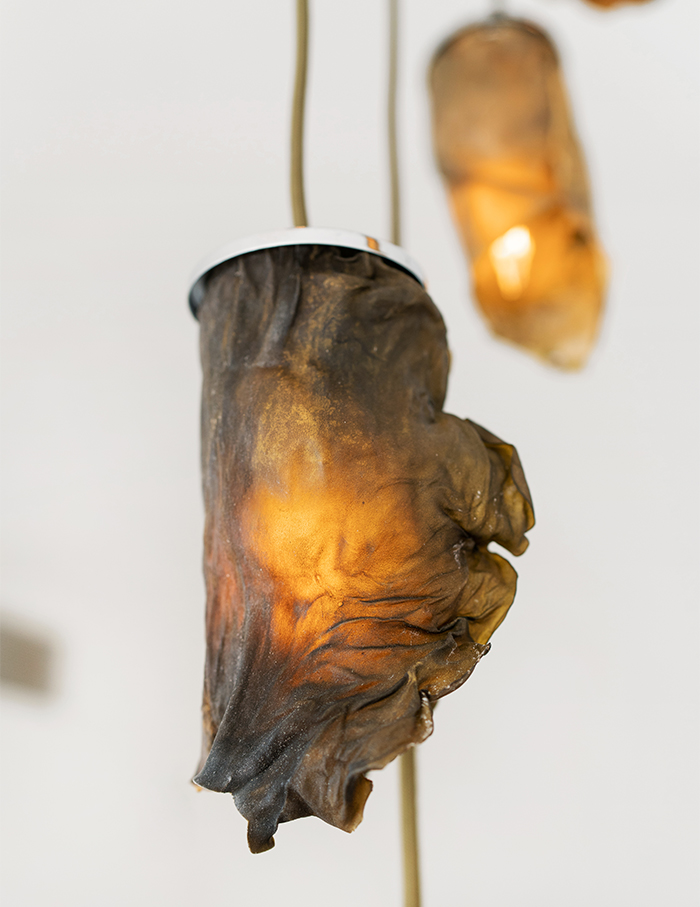 "Algae is translucent and sculptural; its colours are dynamic and rich. In our research, we have found that an LED light can be made warmer by filtering it through warm shades. Also, the unpredictable form of each shade, with its tactile texture, helps dissipate the light in a mesmeric, soft glow," says the designer.
Scroll below for more images of the lamps…