Homes
An earthy palette and midcentury influences make up The Brown House by The Drawing Studio
JUL 23, 2020
| By Krisha Godani
The 1,700 sq ft Brown House in Mumbai is a pleasing amalgamation of old Burma teak and a rich, natural colour palette that led to its moniker. Deepshikha Jaiswal Raut, principal designer of The Drawing Studio, collaborated with multidisciplinary creative Samir Raut for this project and chose reclaimed wood as the central material such that it tactfully navigates the homeowners and visitors through the house. 
Belonging to a family of four, the layout is designed to be free flowing and seamless to create a sense of openness. It is evident in the open plan that comprises the home office, living, dining, media rooms. All of these are connected to the master bedroom using a custom built central sliding door on one end, and the children's bedrooms on the other. When they're open, the segregated parts combine and create a dynamic whole.
For the design process, Jaiswal Raut says, "We discussed architects such as Alvar Aalto, Carlos Scarpa, Bijoy Jain, Joseph Dirand and Lina Bo Bardi. The forms are inspired by the works of artists László Moholy-Nagy, El Lissitzky and Senaka Senanayake, in terms of colours and textures."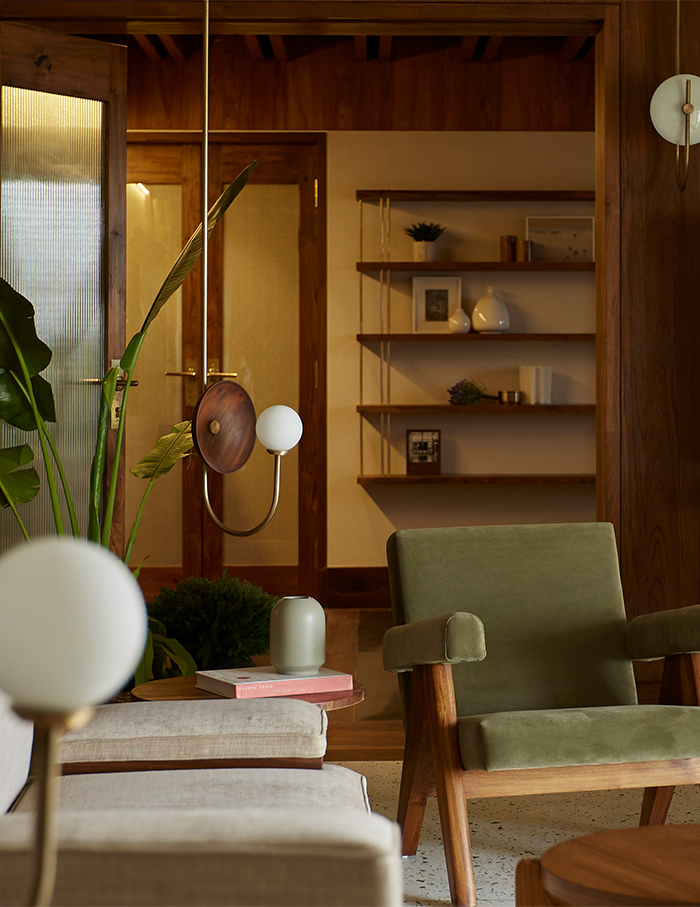 A straightforward material palette is seen throughout the residence. One that's rich with pops of green and maroon to complement the abundantly used reclaimed Burma teak. The timber is generously employed in every aspect of the design to frame spaces, act as a backdrop, to create sculptural objects and even as skirting around the polished terrazzo and concrete floor. This minimal design combined with natural material and colour palettes results in a peaceful cocoon for the family.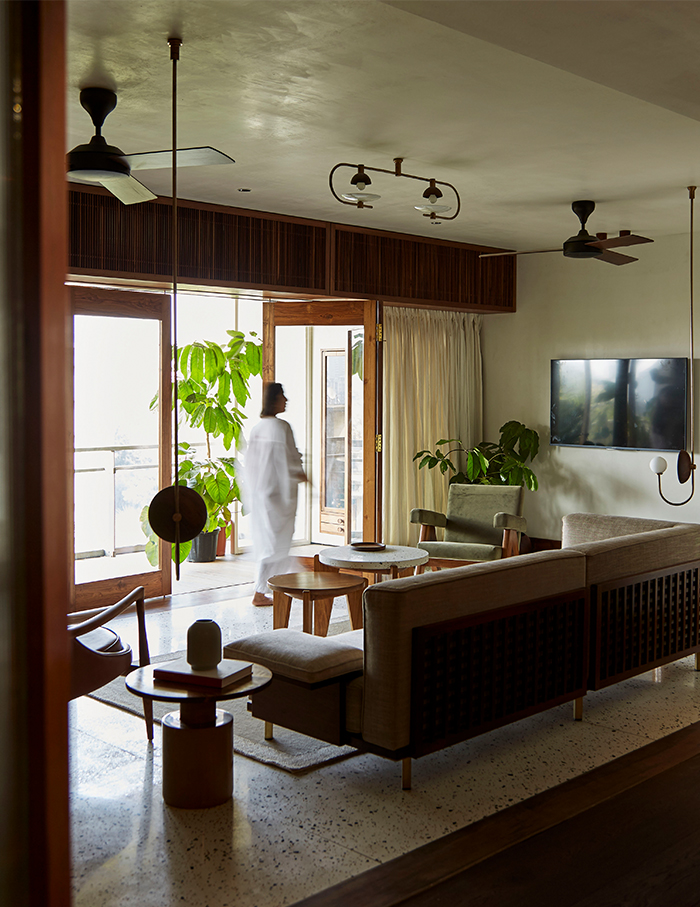 The furniture, Jaiswal Raut says, pays an ode to "American and Danish midcentury icons such as Florence Knoll, Le Corbusier, Mies van der Rohe, Arne Jacobsen and Alvar Aalto. Indeed, each and every piece of lighting has been created in collaboration with Samir Raut". And these influences, when blended with the richness of the wood, create a cosy and intimate setting for the homeowners. Details in brass and marble seen in the home effectively elevate the ambience of the living spaces.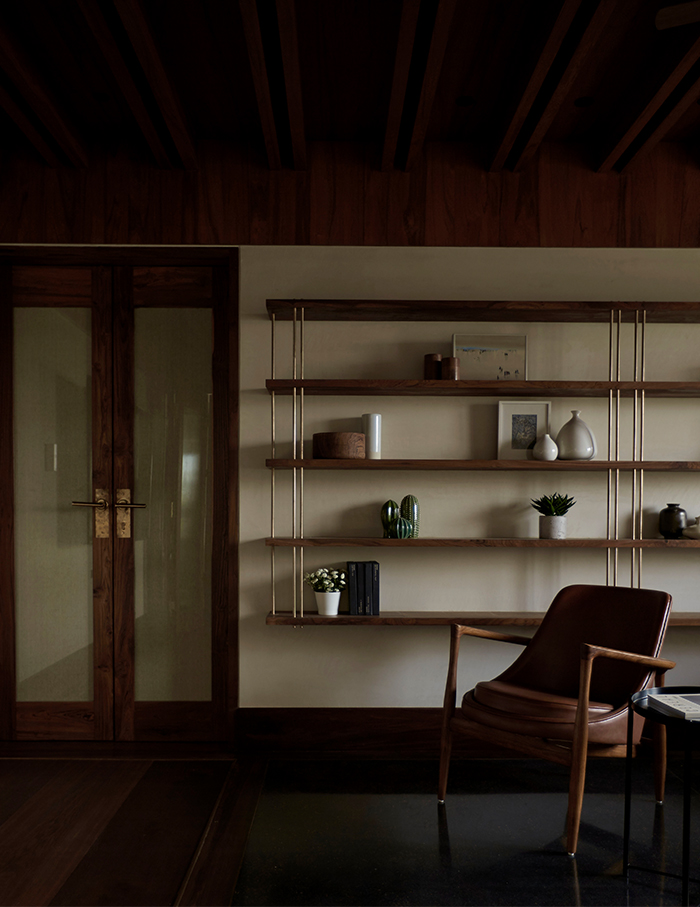 Jaiswal Raut has also specially designed the windows to take advantage of the natural light that streams into the house and crafted each room to maximise its effect. Plus, the homeowner's love for plants ensured that greens add freshness to the warm palette. "I believe in the 'less is more' philosophy," says the designer, as she showcases the abode's minimal yet honest design.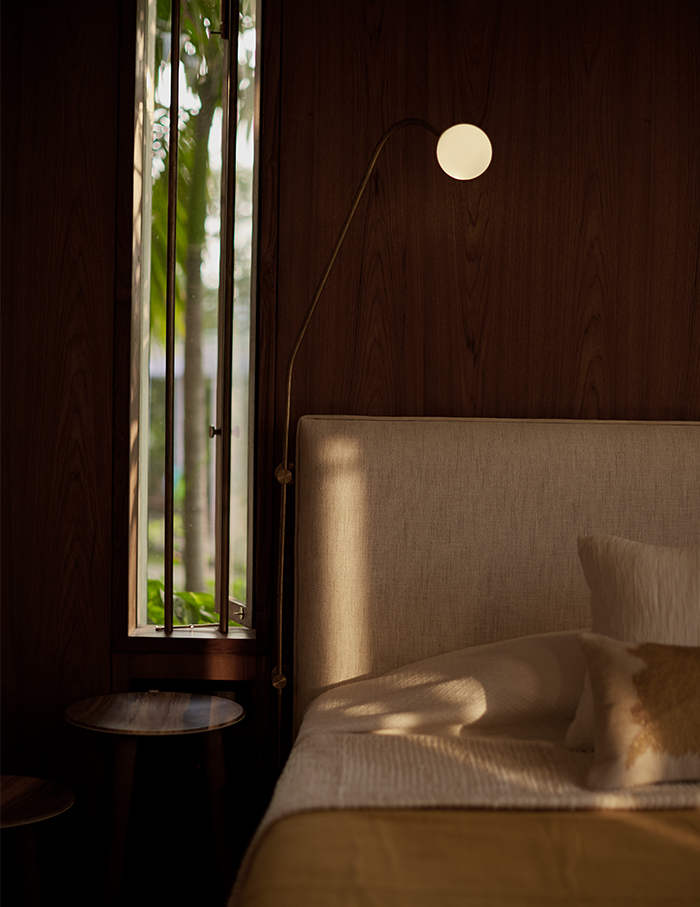 The home also includes custom made, handcrafted and carefully curated objects as well as artworks made by Jaiswal Raut that reflect the personalities of the homeowners. We love how the inlaid terrazzo floors, mix of Jaisalmer marble, green Baroda and Indian makrana marble on the walls and brass accents tie all the spaces together into one seamless and harmonious abode.