Homes
Amirah Ahamed opens the doors to her green residence in Bengaluru
SEP 2, 2020
| By Sakshi Rai
Part of the talented few, who have the luxury of waking up to their own creation every day, is the founder and principal architect of Bodhi Design Studio, Amirah Ahamed. The creative's capacious 3,400 sq ft house, which she shares with her husband and their two young girls on the outskirts of Bengaluru, sits cosy in the lap of nature, cocooned among vegetable farms, orchids and a lake.
Not only is this two storeyed residence created amid greens, its sustainable construction ensures that the environment thrives as well. Ahamed lists some elements of its evident eco architecture, "The plot is filled with numerous gardens, courts and slit windows that look out to them."
A patterned terracotta jaali that constitutes the southern facade creates playful patterns and ensures the interiors remain naturally lit and ventilated, while the use of Porotherm blocks with cavities help maintain the thermal balance. But the real game changers are the solar cells on the roof that power the entire property.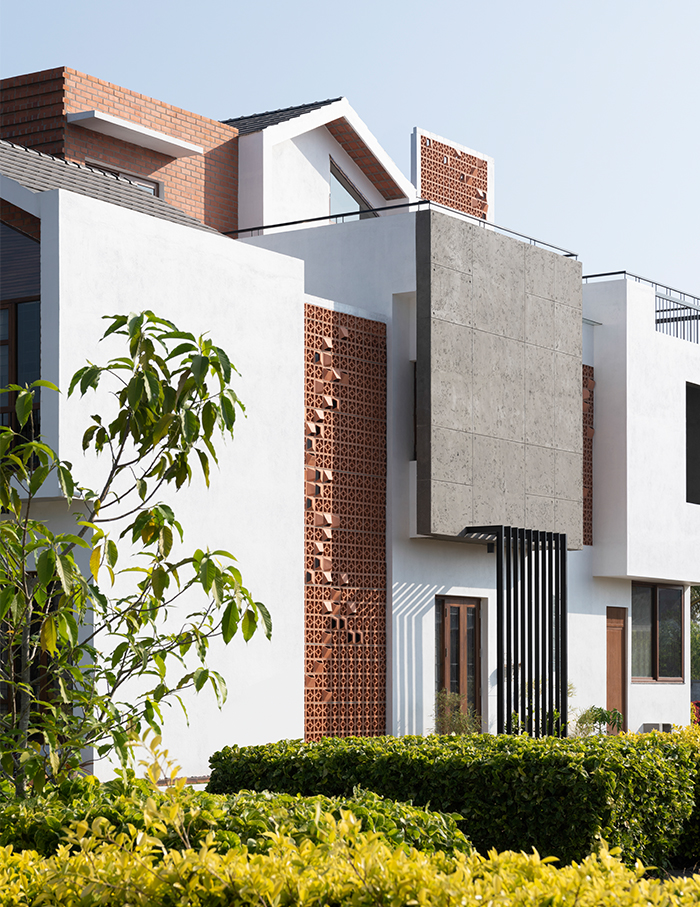 It's picturesque setting is reason enough for it to be the ideal gathering ground for friends and family. This was kept in mind and realised in the architecture of the abode with many interactive spaces and vertically connected interiors.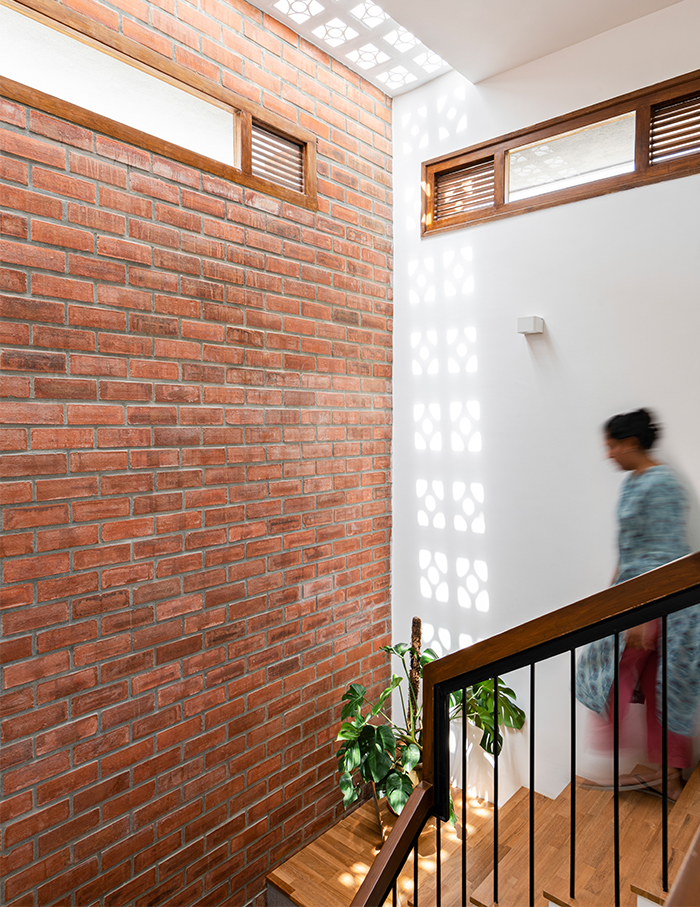 A pebbled walkway between two gardens leads the way inside, opening out to a family living room with a dining area on one side, and a patio and kitchen on the other. The one unifying aspect is that each space is bound by patches of green. An additional guest living area with a front garden and bedroom are also present on this floor.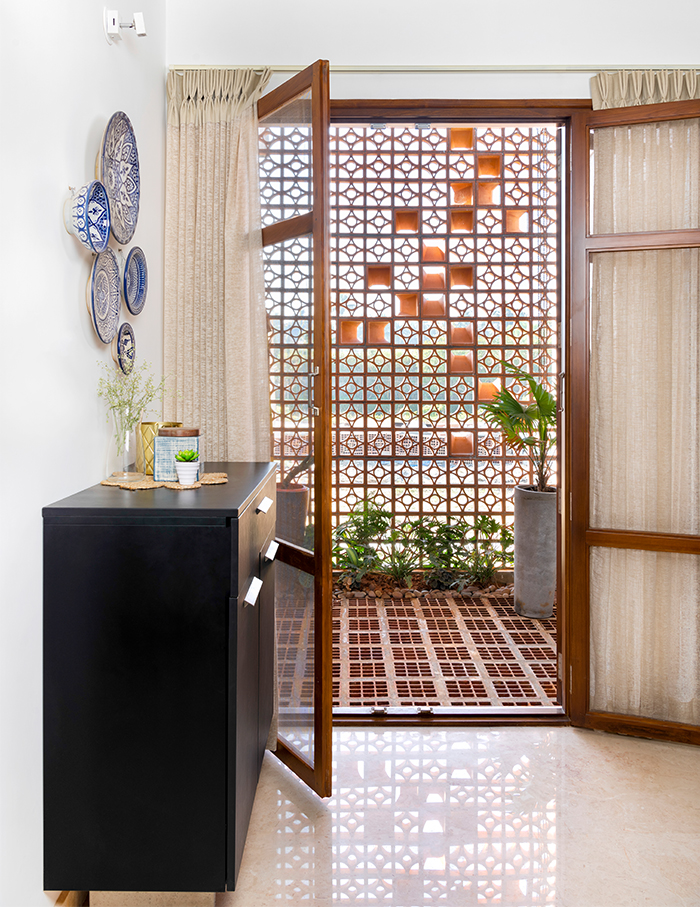 On the first floor, a corridor cemented with mustard yellow tiles connects the children's room and the master bedroom, while overlooking the double heighted living room below. The other spaces on the upper level are a large terrace and a multipurpose hall with distinct yellow oxide flooring.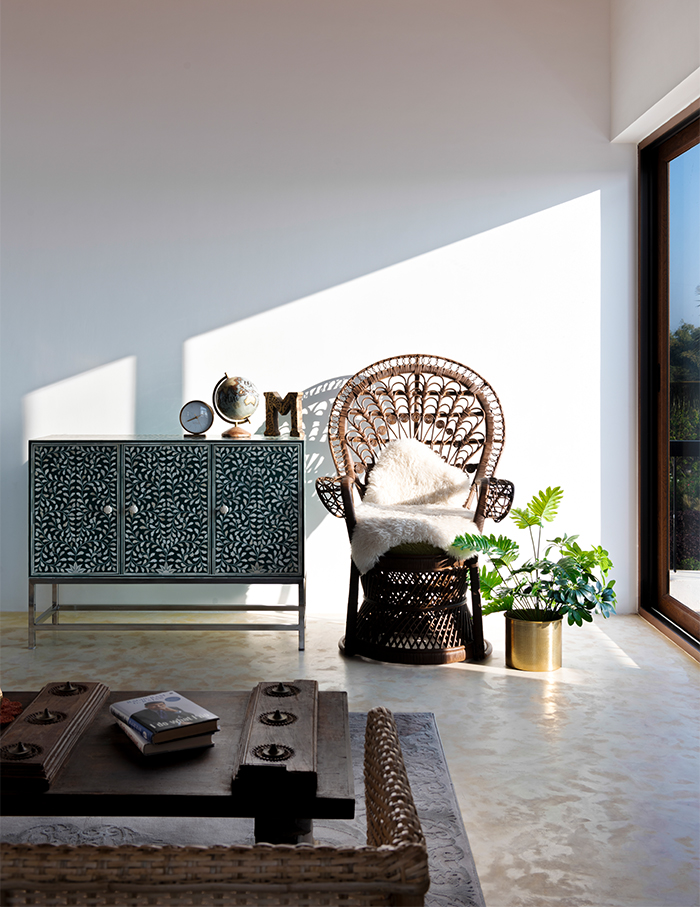 "Being the designer and the client can be challenging but it also offers the freedom to improvise and experiment with new techniques, structures and materials such as jack arch, glass deck or filler slab roof," says Ahamed. The main facade employs a combination of brick patterns and concrete finishes in grey balanced by white walls.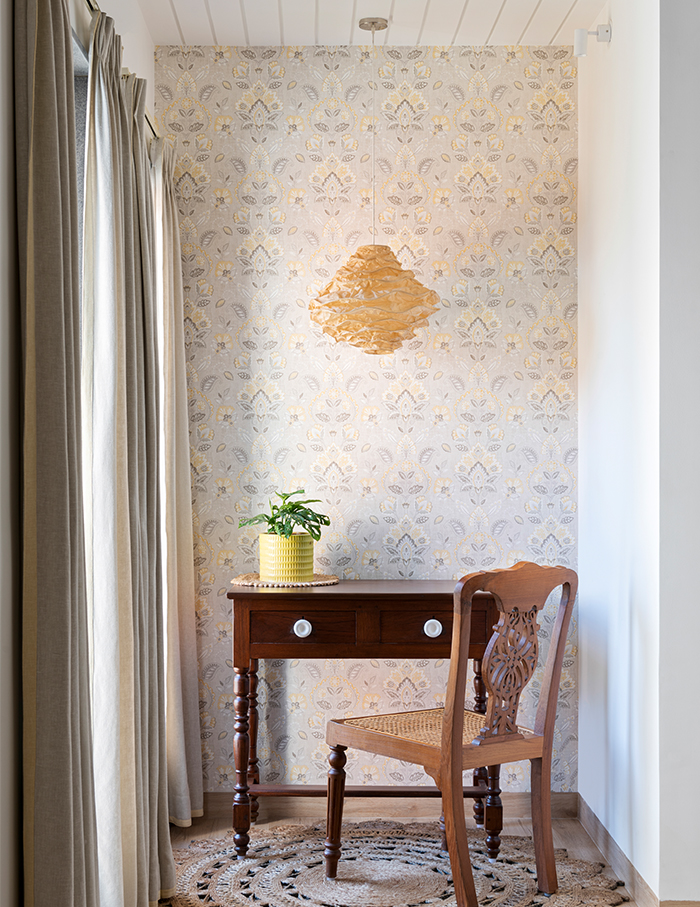 Italian marble flooring was chosen for all the public areas, terracotta for balconies and terraces, whereas more private areas such as the bedrooms, bathrooms and kitchen feature vitrified tile, customised to reflect the unique character of each section. The furniture also followed an organic process, resulting in an eclectic mix including remodeled and repurposed pieces sourced from Karaikudi in Tamil Nadu, a leather sofa clubbed with midcentury modern chairs, a bone inlay centre table and an antique display cabinet.