Homes
Alexandrine Lukach of Intemporary Design Studio wins us over with her stellar design transformation of this classic Ukranian apartment
NOV 4, 2020
| By Krisha Godani
For some fortunate creatives, opportunity knocks on the same door twice. Such a situation presented itself to Alexandrine Lukach, principal designer of Intemporary Design Studio, when she was asked to revamp a 3,100 sq ft apartment in central Kyiv, Ukraine—one that she herself had fashioned three years ago.
The home is located in a historical building built circa 1936. And the age-old sophistication of the edifice works its way seamlessly into the apartment, which opens into an intimate living room, kitchen and dining area attached with a sun lounge and a sauna. It further leads to three ensuite bedrooms and an outdoor patio with a garden. 
This time around, Lukach completely transformed the space with modern aesthetics and a fresh perspective. "The client, an art collector, wished to refresh the atmosphere and dramatically change its mood, make it younger and rethink the original classic interior but without any radical intrusion," says Lukach.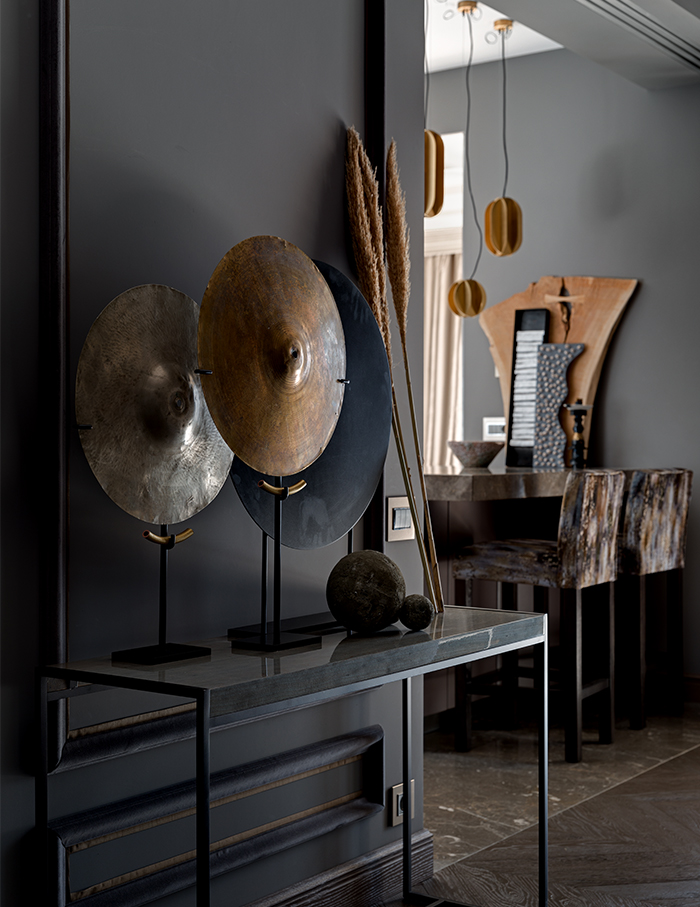 Lukach chose a rather contrasting aesthetic choice to transfigure the abode, which was formerly bright and warm hued. She replaced old pieces, added new details and encompassed a more mature level of expressions and aesthetics. This was achieved by scouring and sourcing unique collectibles in darker tones and textures from all over Kyiv.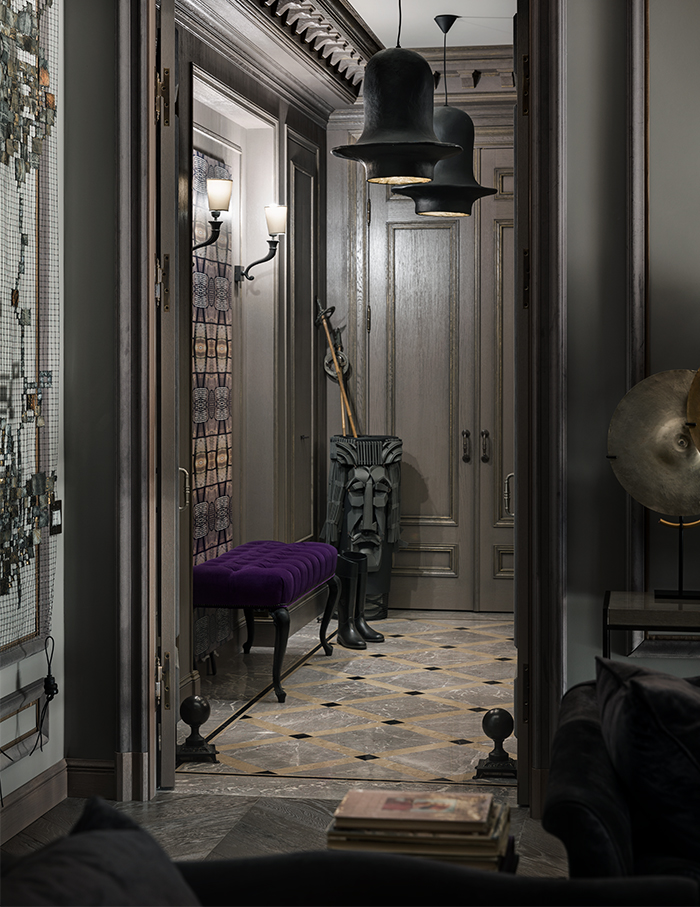 The principal designer stayed true to her roots and her design philosophy. She drew inspiration from true Ukrainian collectibles that pay homage to the country's rich culture and featured such rare pieces throughout the house. A balance is seen in the design with subtle hints and peeks of the past seamlessly coming together in its modern takeover.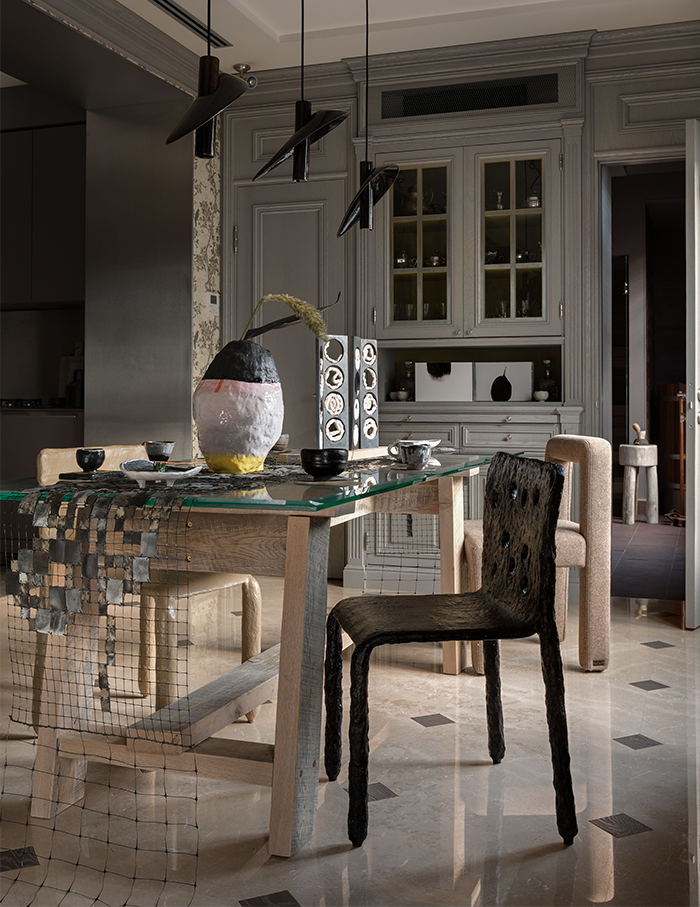 Sombre and rich interiors predominate most rooms, except the gym and children's bedroom, which are clad in lighter shades. Each wall in the residence has a narrative of its own as it features diverse surface treatments. Some are upholstered, some painted, while others are covered with wood, wallpapers or even mirrors (for example, in the lobby).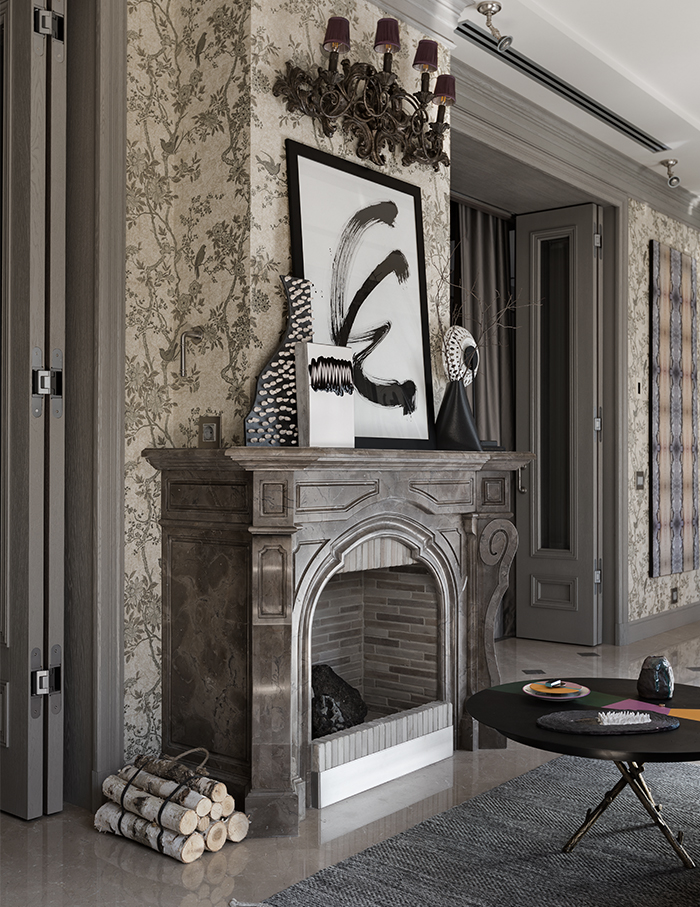 A variety of carpets and paintings were brought in to complement the eclectic wallpapers used in the house as well as to offer a tactile experience. Colours such as deep green, dark violet and blush pink are seen on accents and upholstery, adding an artistic flair.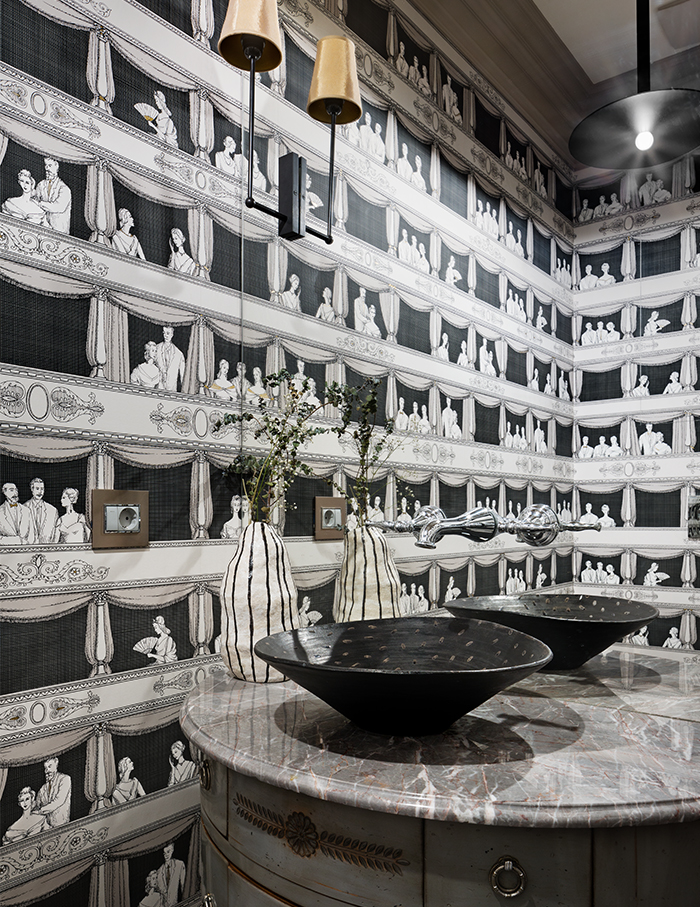 Each collectible, accessory and furniture has been carefully selected followed by a meticulous search. The aim? To ensure every piece complements the other and provides a sense of harmony. Taking a precise and careful approach towards the design in every room of this sprawling apartment helped create a continuity in the overall aesthetic.
Scroll below for more images from this Alexandrine Lukach project in Kyiv…