Design
ALARA Studio recites the legacy of Pichwai artworks created by skilled artisans of Rajasthan
MAR 1, 2022
| By Pratishtha Rana
The vast and vibrant land of India embraces cultures that stun you every time you experience or come close to it. Birthed in the rich lands of Rajasthan is one such facet that combines history with modernity, culture with colours and art with design—called Pichwai. And ALARA Studio has made it a point to bring the best of Pichwai to the homes of today. 
ALARA Studio is a luxury furniture design firm that brings with it a treasure trove of Pichwai paintings that are awash with the beautiful whiff of Nathdwara, a city in proximity to Udaipur that is known as the origin of this art of painting. 
Pichwai is a technique of painting that came to existence over four centuries ago. For the uninitiated, Nathdwara translates to 'gateway to shrinathji', the latter word that refers to one of the swarups of lord Krishna.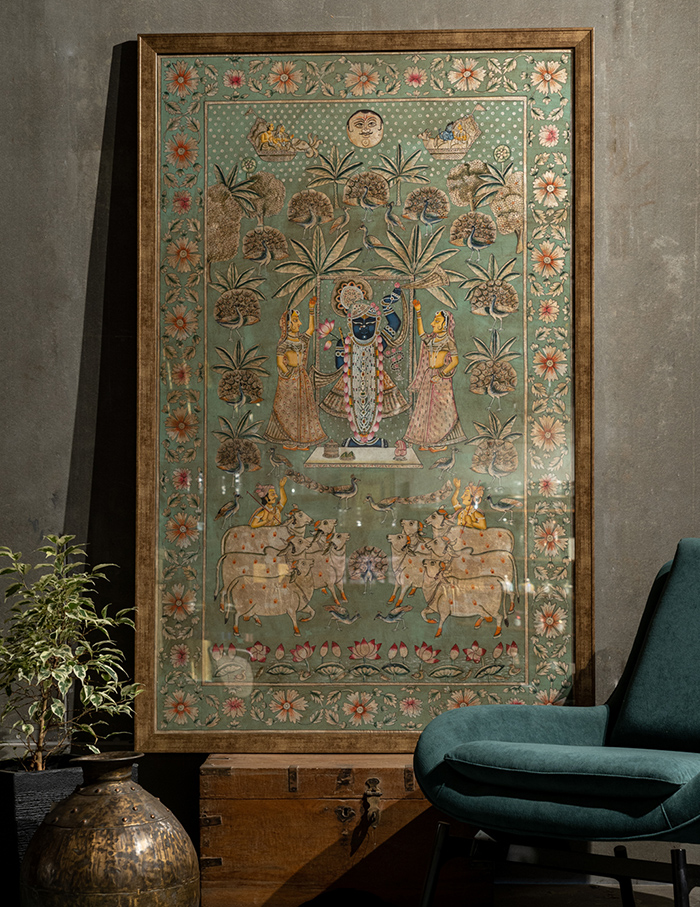 Retelling the timeless beauty of Pichwai artworks, ALARA Studio's assortment of Pichwai works are intricate but alluring. Every painting is dedicated to Shrinathji and celebrates the many expressions and moods of Krishna. 
One of the Pichwai paintings titled Mor Kuti Sawan Utsav Shri Rajbhog Swaroop brings forth subtle tones of sage green and pure silver leaf on organic cotton, depicting a Shrinathji's story on winning Radha's affection by taking a majestic form of a peacock in the gardens of Mor Kuti.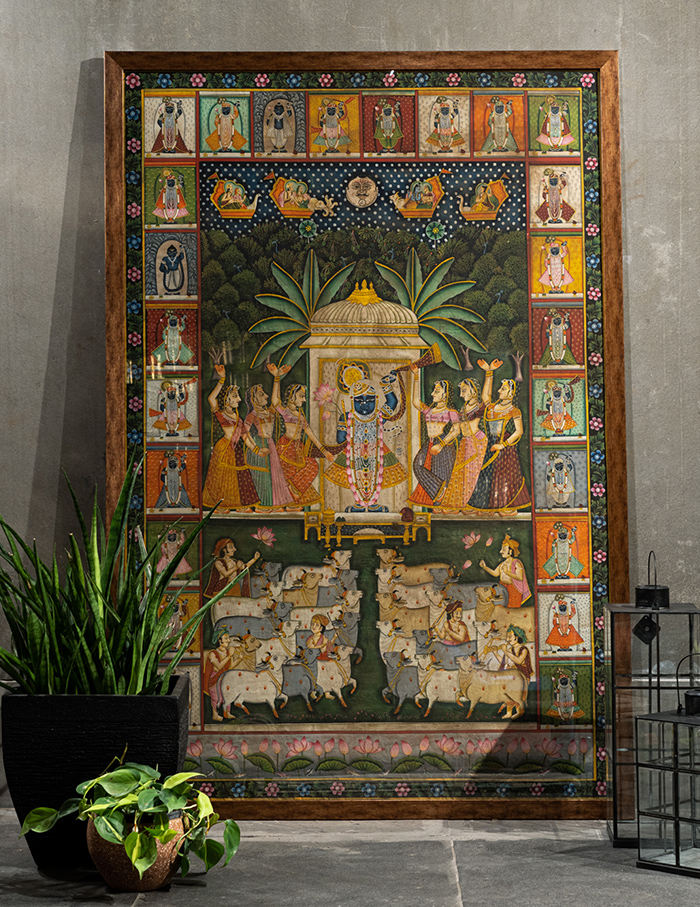 Another deep jewel toned painting, Sri Sharad Purnima, portrays Sharad Purnima and a bejewelled Shrinathji illustrated in the centre, surrounded by Gopikas. The borders of this frame showcase 24 swarups of the lord.  
The beauty of Pichwai takes centre stage on Shri Gopastmi Swaroop Leela artwork, too, depicting young Krishna's veneration into a seasoned cowherd.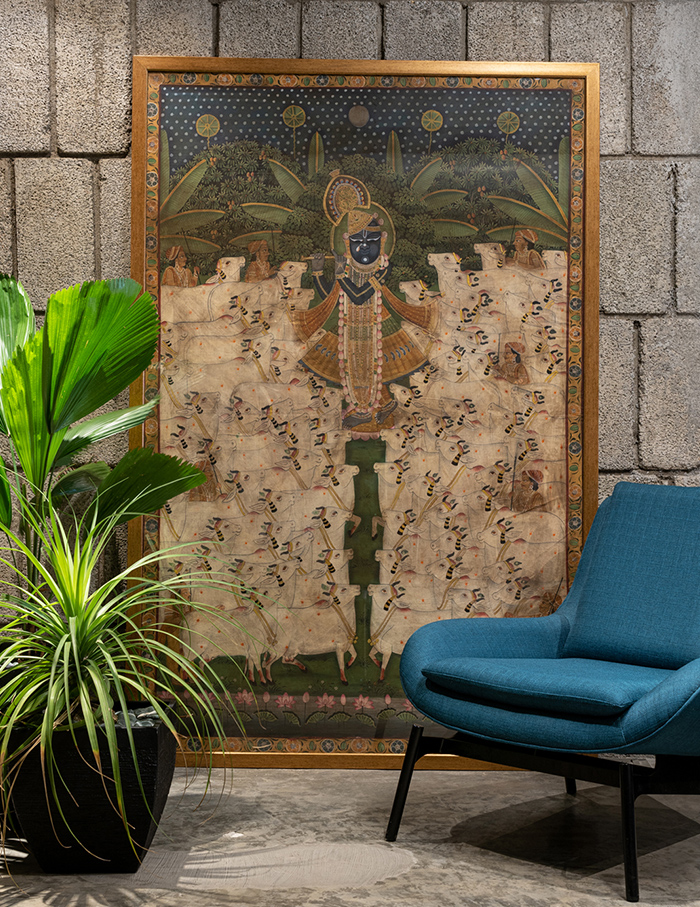 The seamless work of Kamadhenu called Shri Gopashtami Rajbhog Swaroop with cows embossed in 24 carat gold leaf and encircling Shrinathji resting in Nandalay post his meal. All of ALARA Studio's entrancing collection of Pichwai paintings are hand painted with natural paints and special techniques by local, master artisans from Rajasthan.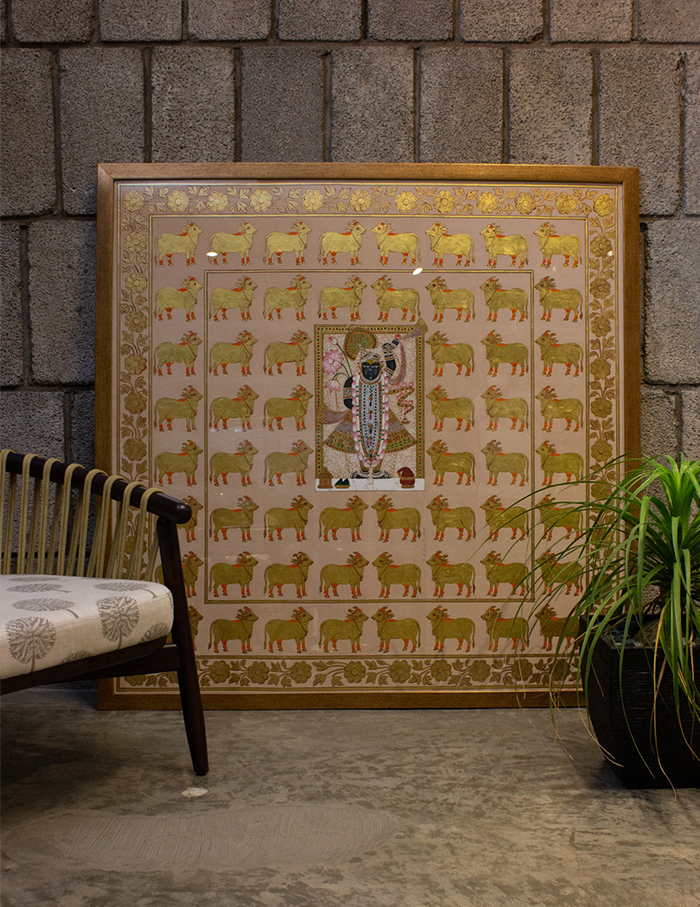 Going beyond the online platform, the Pichwai artworks can also be viewed and purchased at the physical decor retail destinations of Magari, The Purple Turtles and Room Therapy. 
Explore more about ALARA Studio and its Pichwai paintings here