Homes
Aishwarya Jain of The Nascent fuses French and Scandinavian design for this city apartment
JUN 24, 2020
| By Vedika Nair
Located on the 52nd level of a city skyscraper is this 1,500 sq ft home fashioned by Aishwarya Jain of The Nascent. This home by the sea plays with natural textures while maintaining a chic aesthetic throughout. "Our ideology is to design with passion, provoked by uniqueness, reference and inspiration. For us, the two factors that define a home are that it must reflect the personality of the homeowner as well as evoke a specific mood or positively impact one's senses," says Jain.
The emerald green hued, French panelled door with dull gold details opens up to a foyer, which features wooden panels on both sides and bespoke illuminators. A clear glass door with a metal frame separates the foyer from the living room and the semi-open kitchen.
On entering, the first setting you see is that of the dining table with mix-and-match chairs—solid emerald green (like the main door) and houndstooth printed. Over it is a bespoke chandelier. The rest of the living is bathed in contrasting tones and features an inbuilt bar and TV unit.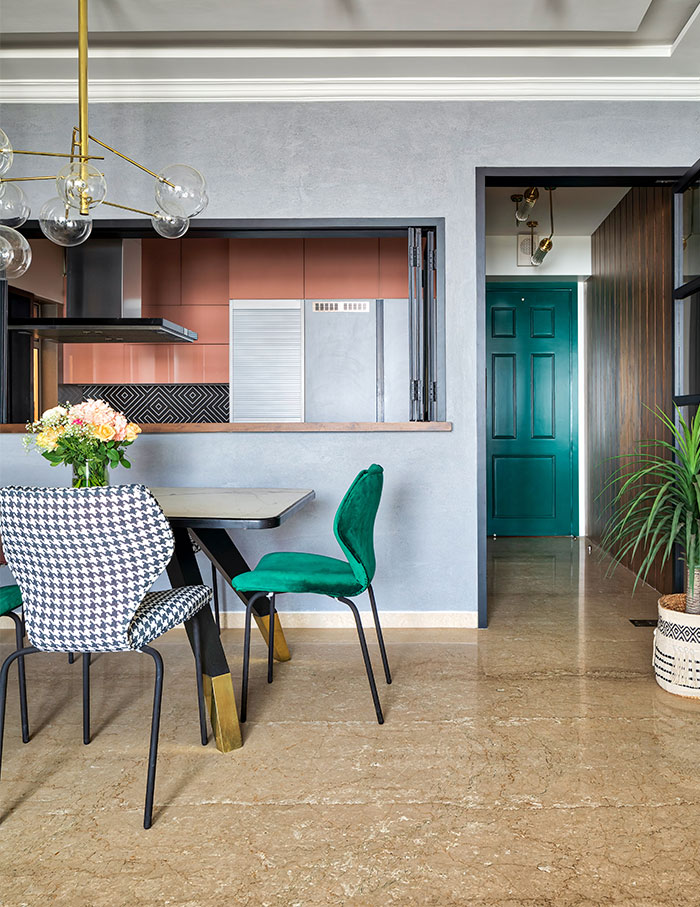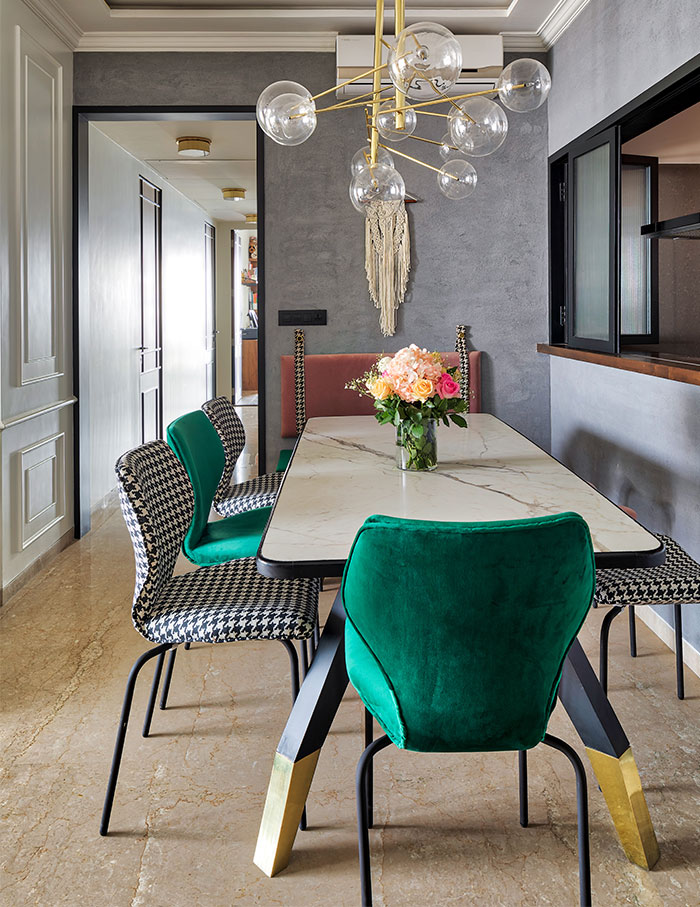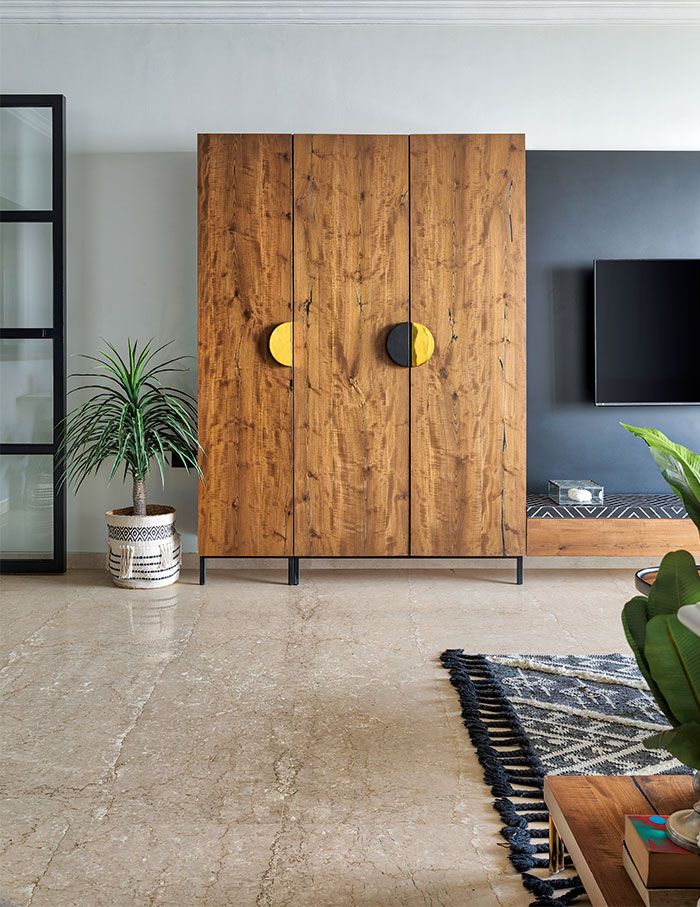 On the other end of the main room are a chevron textured couch, custom made centre table and houndstooth lectured armchair. Emerald green and pink tones in this space balance the otherwise neutral palette. Jain says, "We enjoyed designing this room the most as that's the place where family comes together. We have used textures, patterns and colours to make it an inviting and cosy zone." 
The living space opens up to a spacious balcony with eco friendly cane furniture, mini bar table, plants and stunning views. Jain blends traditional French and millennial design elements to create a cool outdoor atmosphere.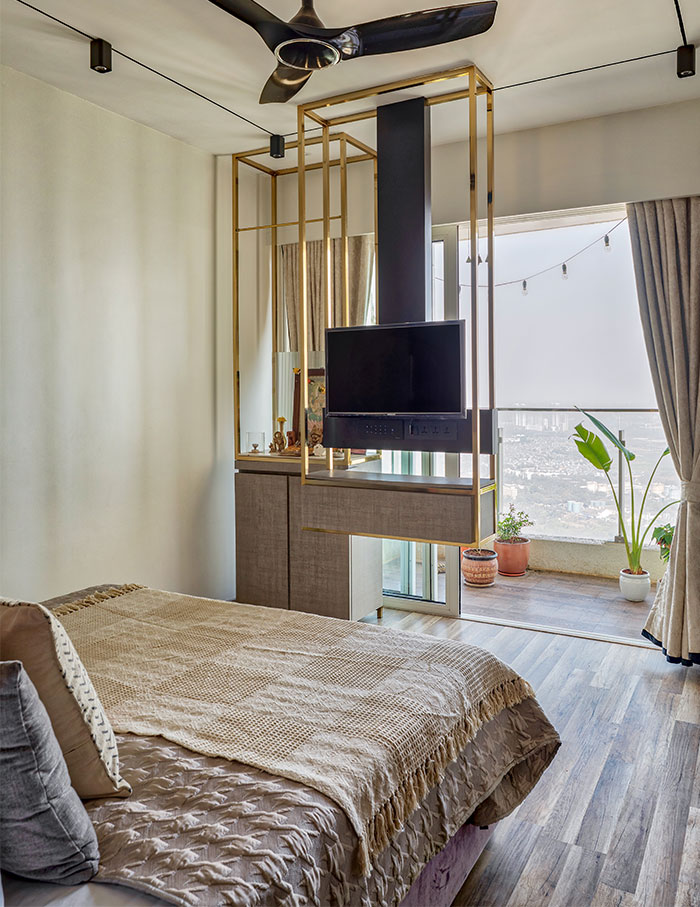 A few steps into the home leads to the grandparents' room that is done up in a combination of ivory, beige and lavender. Beyond this is the master bedroom, complete with vertical surfaces made with wooden rafters and statuario. It opens to the home's biggest balcony, where a swing, chic cane seaters, timber seaters and planters offers some quality downtime.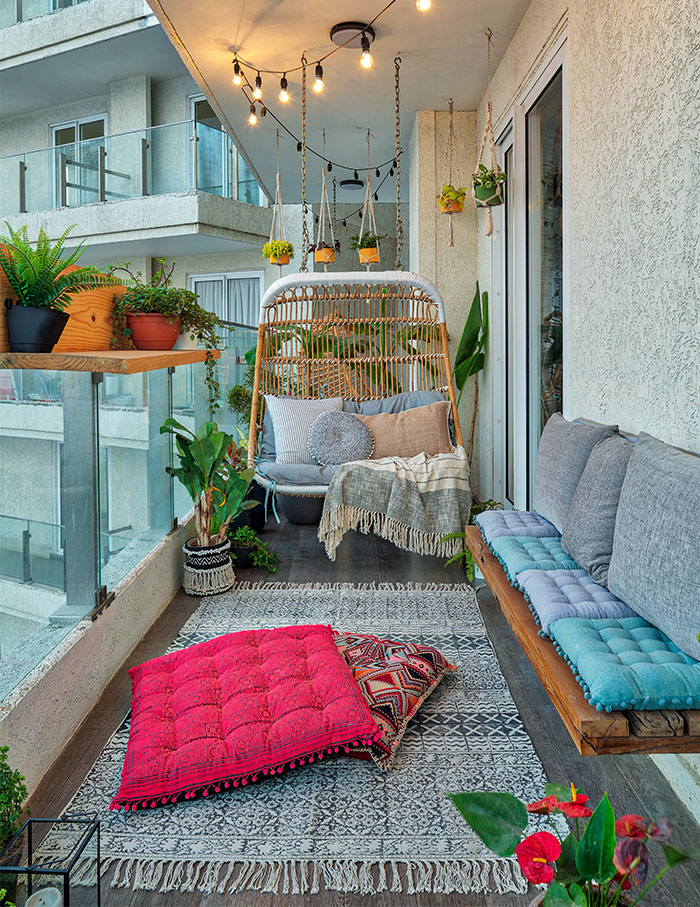 Crescent Bay is infused with bespoke rugs, cushions, shaggy planter baskets and cane furniture from The Nascent Decor, while Tierra Trading's illuminators light up the home. A macrame from Copper Fringe hangs in the dining area, while the Houndstooth fabric from Baro. With everything else custom made, Jain says, "With our busy schedule, we hardly get time outdoors, so we've approached this home as a bridge to bring the homeowners closer to nature."