Homes
This Ahmedabad home designed by Anarr Gunjaria reimagines the traditional bachelor pad with a contemporary twist
MAY 16, 2022
| By Sneha Gandhi
A bachelor pad is synonymous with elaborate entertainment gadgets, fully stocked bars, sleek furniture and an array of modern artwork. Interior Designer Anarr Gunjaria of her practice Anarr Gunjaria Interiors takes it a notch higher by blending contemporary comfort with plush interiors for this Ahmedabad home. 
Elaborating on the vision for the space, Anarr says, "This space was envisioned for a young entrepreneur Yash Shah, as a space to relax and unwind after long days of his active and busy life."
Modelling 5,750 sq ft, the N1 bachelor pad also serves as a haven to enjoy the luxuries of life.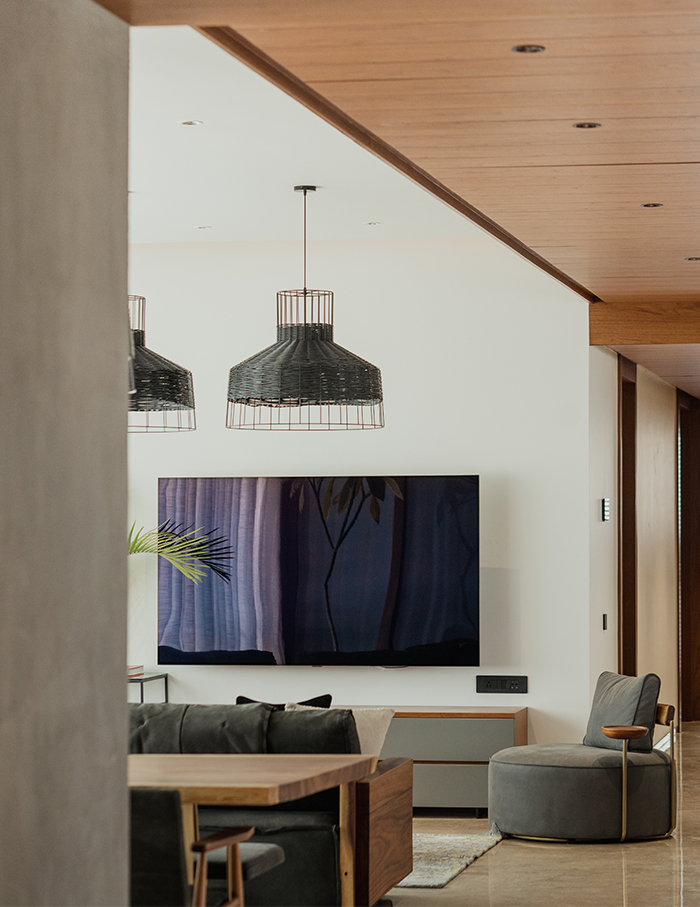 The design palette of the space comprises deep natural hues complemented with unadorned materials like natural wood, concrete and glass. 
The designer emphasises the effective use of space with strategically placed furniture pieces in an open plan layout.
A custom-made green curved sofa at the entrance foyer, coupled with concealed mood lighting, sets the overall tone of the house. A curated cluster of black and white art paintings balances the striking sofa. 
The foyer leads to the modern living room, housing a comfortably fashioned white sofa set with a contrasting black centre table. The wool and silk rug from Jaipur Rugs and sheer curtains backdrop accentuate the well-lit space.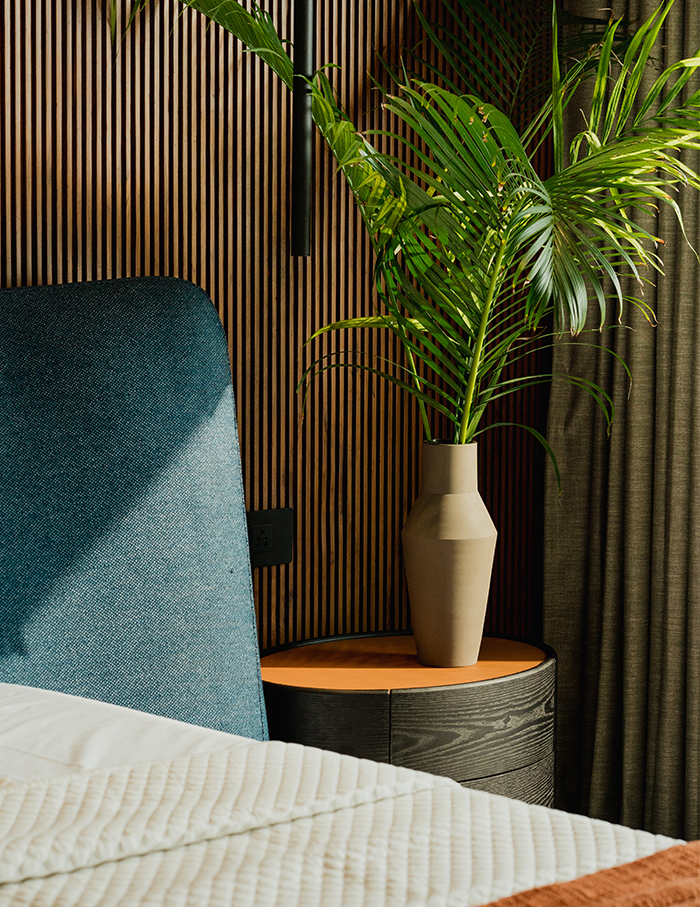 Adjacent to the cosy living room is the intimate family zone which opens up to a simple dining area with a sleek kitchen. The family room flaunts a distinct combination of soothing greys highlighted by a custom L-shaped sofa set and rug. 
The aesthetic spills further into a covered balcony with matching grey sofas and stylish wood and metal furniture. 
Any bachelor pad is incomplete without a den. Interior Designer Anarr Gunjaria adds extra comfort while designing a dedicated entertainment room for the client with Arianne Plus sofas from Fama Living.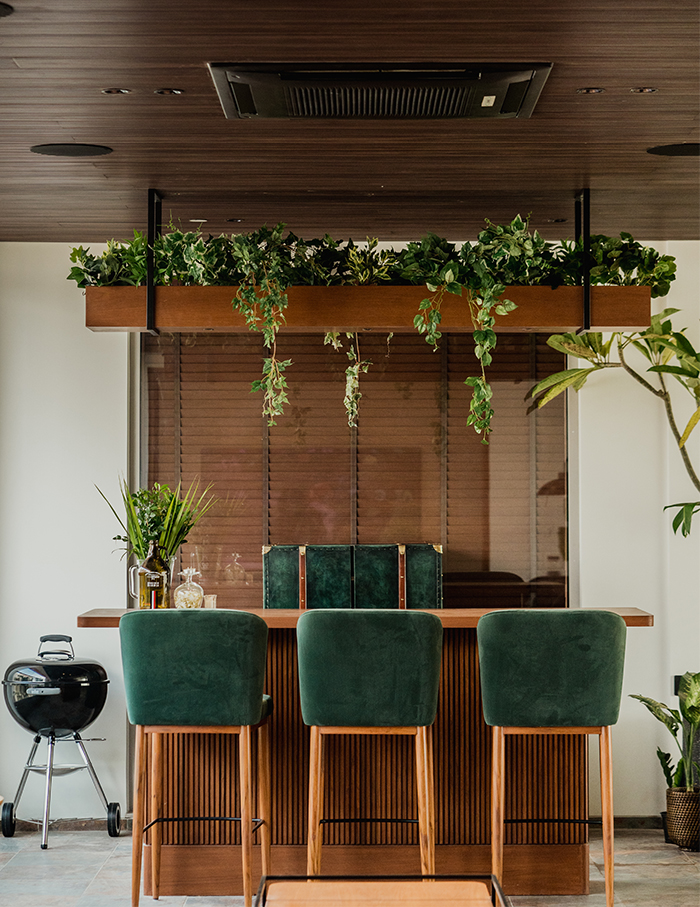 Complete with a magnificent TV set and music system, the entertainment room packs an exciting evening of gaming or a relaxed movie night. The adjoining balcony area houses a bar from Trunks Company customised with wood and brass inlay.  
The guest room introduces soft tones of pink in the already established grey undertone, complete with clean lines and subtle aesthetics. 
The master bedroom exhibits a playful twist with colourful tones of blue with wooden wall panelling.
Designed as sumptuously as the house itself, the room houses a majestic bed, walk-in closet, extensive library, a private study area and an en suite bathroom. The minimal wooden decor elements of the master bedroom highlight the magnificent expanse of the space.
The house follows an aesthetic combination of comfortable grey fabrics and carved wooden furniture. The N1 bachelor pad features a contemporary twist on the traditional masculine den that is stylish and sleek but also warm and snug.