Homes
Ahmedabad based studio Aakruti blends traditional and modern styles in this courtyard home
JUN 26, 2020
| By Krisha Godani
What initially seemed like a simple brief for a family home for four turned into a fusion of unique requirements and aesthetics. Ahmedabad based studio Aakruti's principal designers Dilip Patel, Toyam Patel and Tulna Patel took up the interesting and complex design challenge of creating a sequence of private and social spaces that addressed the family's collective and individual aspirations.
The trio achieved a sophisticated and modern look by employing traditional elements such as exposed brick cladding, Jaipur sandstone, patterned terrazzo, Kota stone flooring, and handcrafted teak and cane furniture.
The notion of living around a courtyard became the focal point of the layout, making its design modern with a curved roof that brings in ample light. Large windows on the northern side bring in a flood of natural light, whereas the ribbon windows in the south flush out warm air.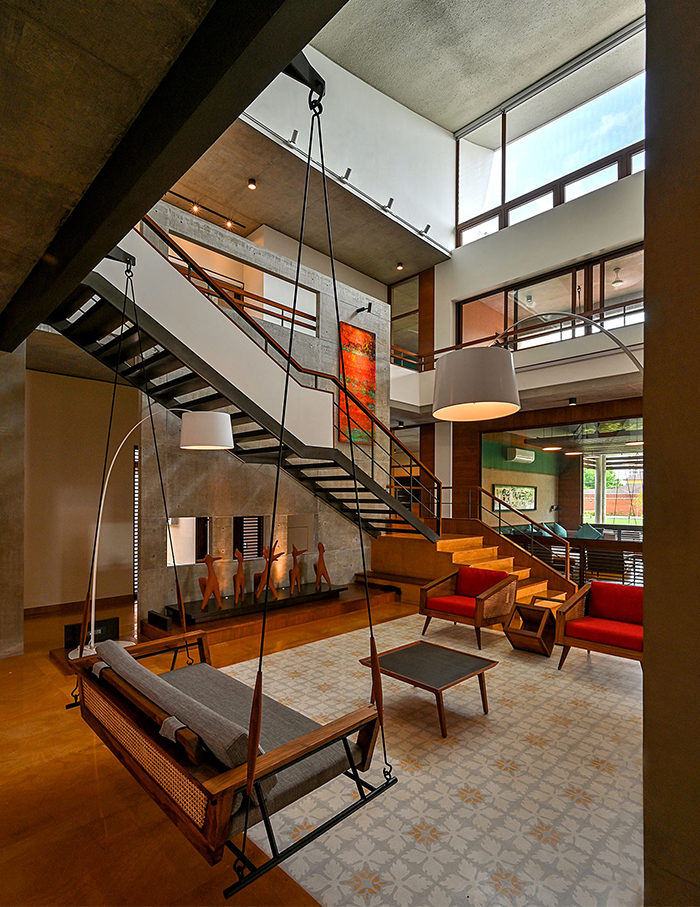 A promenade with a shallow bird pond and greenery all around guides visitors to the grand, teak main door. It opens into a central courtyard, which connects the dining area, TV lounge, drawing room and bedrooms on the ground floor. While the TV lounge is done up with grey stucco and teak panelling on the walls, the drawing room is a continuation of the courtyard. It is furnished elegantly with Jaisalmer flooring and patterned terrazzo tiles. Here, the asymmetrical sloping ceiling adds a captivating touch.
The design studio's plan for the dining area is a serene palette of grey, white and yellow for the walls. A bespoke teak table with a granite turntable elevates the space. But that's not all. This zone extends to an alfresco space, complete with a barbecue setup, a pizza kiln, high counter and a pantry platform with exposed brickwork. The seating here includes a teak swing, making it an ideal spot for an evening in. 
Among the more private zones on this level is the master bedroom is tastefully designed using dark hues, Kota flooring and black granite panelling. Nearby, a teak open riser staircase—accented by Nanda Khiara's abstract artwork—leads to the upper level. The first floor comprises the recreational room, which doubles up as a home theatre, terrace lounge and both the children's bedrooms, each with an adjoining terrace. 
The son's room is distinctive with a cosy bed, rough Kota and timber floor as well as splashes of blue. On the other hand, the daughter's bedroom is done up using a dynamic terrazzo floor, green stucco walls, grid ceiling and birch furniture. The patterned terrazzo flooring flows into her dressing room and shower area, designed using traditional Tadelakt lime plaster and a skylight on the east.
"Aakruti believes in making culturally rooted homes which are timeless. That is exactly what we have created in this home, with traditional material palette, pops of saturated solid colours and textures, complemented by abstract artwork and sculptures," the design team says.