Trends
Against the current backdrop of Indian minimalism, we see the emergence of daring and romantic arrangements
SEP 25, 2020
| By Christele Ageorges, Barbara Bourgois, Emanuelle Javelle, Ryan Dsouza
A Spring Recipe
Poppy fabric in cotton and polyamide, BORDERUNE at Jules & Jim. Enamelled plate, John Derian for ASTIER DE VILLATTE. Nap Star table napkins, SOCIETY LIMONTA. Couteaux butter and cheese on silver metal XIX, MAISON DU BAC. Glass foot, glass press, MERCI. Earthenware decorative flower, COPENHAGEN BRAND. Anatolia fabric in silk enamel, FABRIC D HELENE at Jules & Jim. Earthenware mug, URBAN NATURE CULTURE. A plate of flat red sandstone, PHILLIPPE MODEL. Earthenware plates "Anemone" and "Agapanthe", by the contemporary painter Gael Dravrinche, Jars for DEMODE. Green steel rifle barrel, ERCUIS at Maison du Bac.
Like a Cloud 
Rhodora wallpaper, OSBORNE AND LITTLE. Ephemeral cloud of fresh flowers, sculpted by the florist Cécile for OZ GARDEN complete the look. The lightness of the floral Satin black metal chair, upholstered with vintage floral fabric, HERITAGE STUDIO. Painting "Délicatesse 2" by Florence Nérisson, GALERIE arrangement on Lena Pedersen's Vase fuses ZEUXIS. Table with red marble and metal legs, designed by Piero Lissoni for Knoll, RBC PARIS. Ceramics made from paper pulp; each piece the setting to create a relaxed and immersive is unique, PAOLA PARONETTO. Delft carpet, digital flower print on polyamide, DESIGNERS GUILD.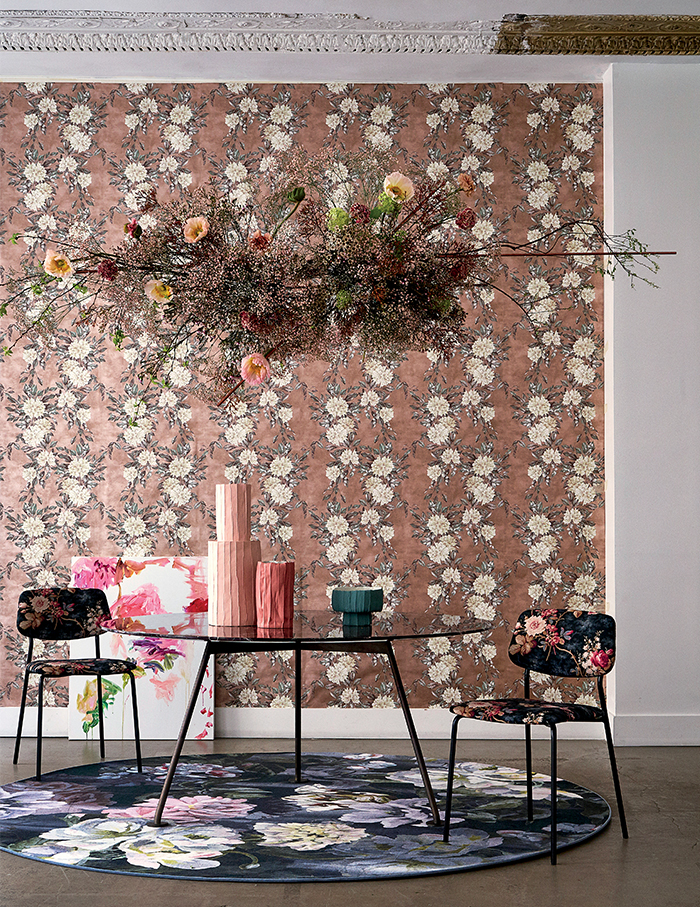 House Of Jade
On the wall, Edo Mint wallpaper, COORDONNE. Armchair covered with Kandyli fabric, CAROLINA IRVING TEXTILES at CASA LOPEZ. Gräshoppa floor lamp design Greta Magnusson reissued by GuBI, THE CONAN SHOP. The woollen, hand-woven contemporary Kilim Rug in Pakistan, GALERIE TRIFF.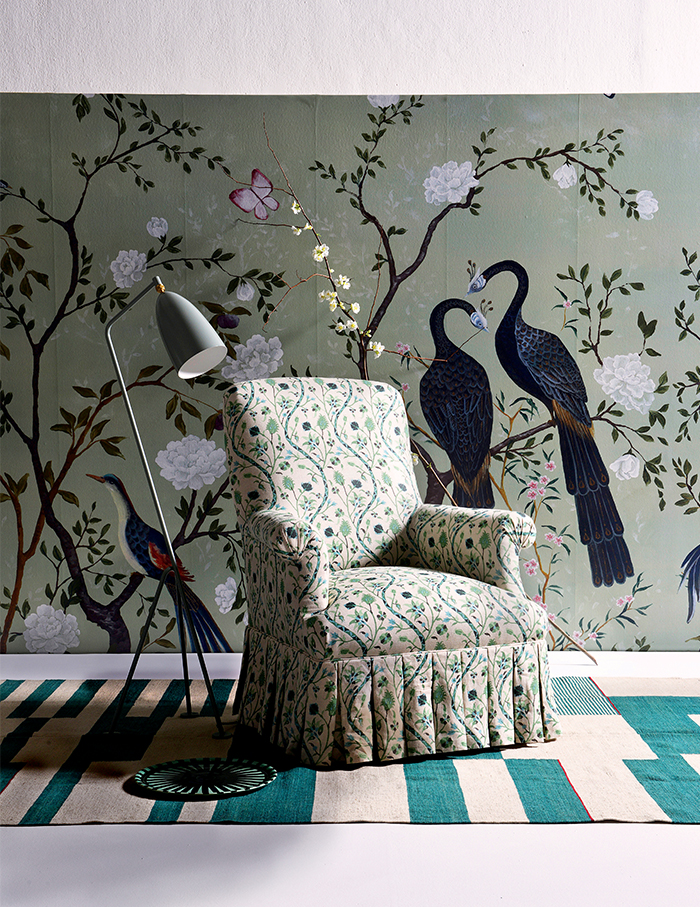 Hymn in Spring
Hand-painted wallpaper on silk cloth (custom made, here composed of three panels), DE GOURNAY. Floor lamp in brass and glass, MAGIC CIRCUS (Asteri). Ceramics made from paper pulp, each piece is unique, PAOLA PARONETTO. Modern Line sofa, GUBI, covered with tapestry "Maquis Agave", LELIEVRE. Warren Platner coffee table in gold-plated metal and clear glass, KNOLL. Garden carpet composed of flowers in relief, design Carlota Verde, FERREIRA DE SA. (Flowers, OZ GARDEN.)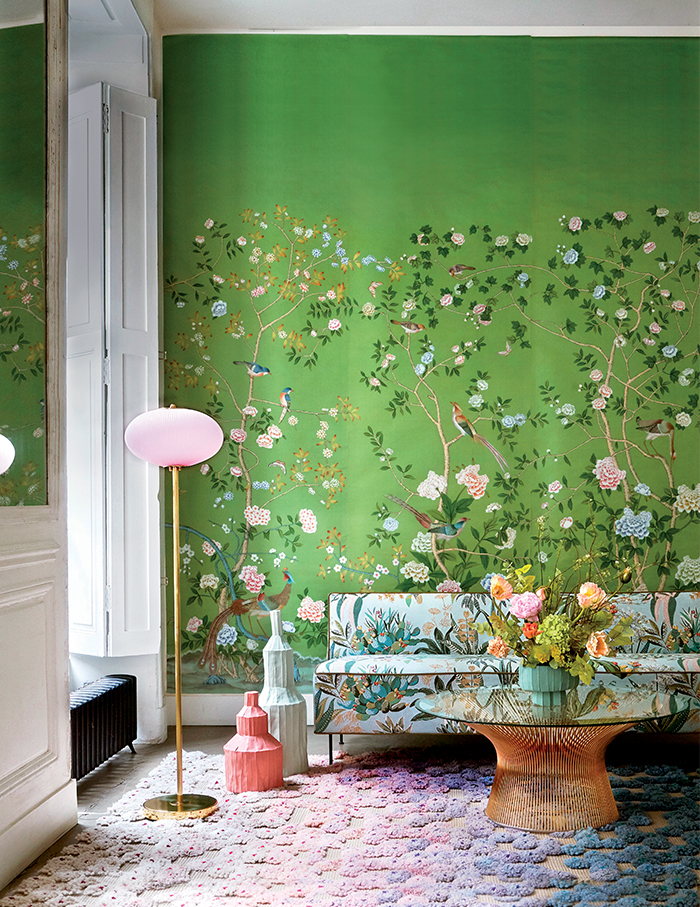 At the Flemish
Pellestrina fabric in velvet, viscose, cotton and polyester, OSBORNE & LITTLE. Porcelain vase, John Derian for ASTIER DE VILLATTE. Wandle fabric, in linen, MORRIS & CO at Sanderson. Marchioness fabric, in linen, BORDERLINE FABRICS at Jules & Jim. Nagel de Stoff candlestick in matte black metal, MAISON M PARIS. Olive-coloured water glass, BITOSSI HOME, Merci. Plate in black sandstone, semi-matte finish, LA TRESORERIE. Berlin table, in black stained pine, LA TRESORERIE. Wabi-Sabi The Roses fabric, in linen, chaise chair, HOME HOLIDAYS. Bouquet of flowers, MAISON VERTUMNE.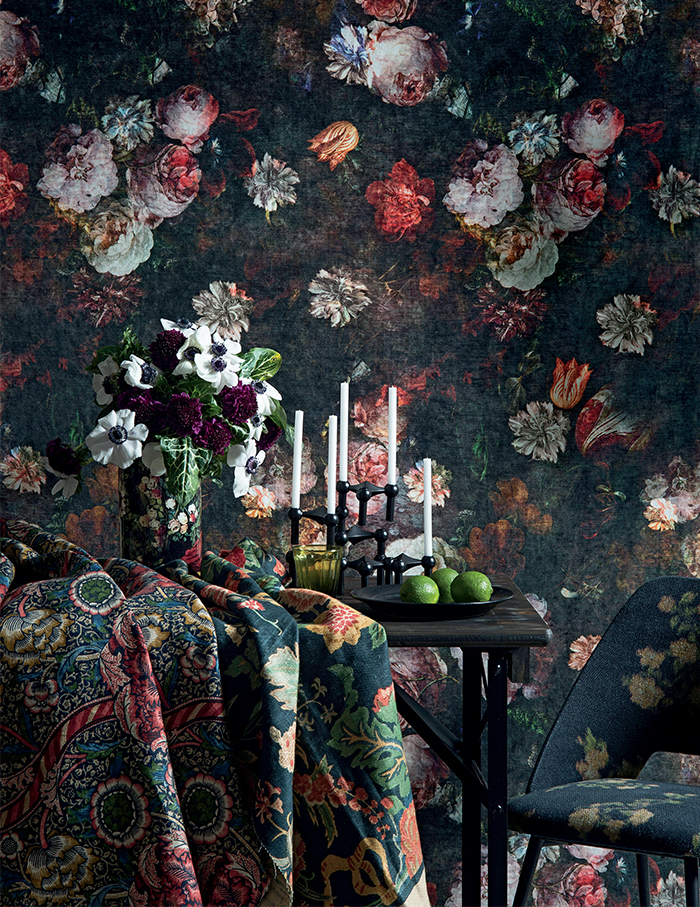 Night Flowers
Wild Garden wallpaper, flower print painted by Elena Carozzi, LIZZO. Bench in satin metal, upholstered with floral velvet, CAUSES. Sculpture of fresh flowers, by Cécile for OZ GARDEN. Canvas painted with flowers, LAURENCE AMELIE. Old porcelain coffee cups, THE HOUSE OF THE BAC. Ming stool, with round top in pink lacquer, CFOC. Highback chair in natural wicker, FEELGOOD DESIGN. Delft cushion in cotton velvet digital print, DESIGNERS GUILD. Buttercup cushion in cotton velvet printed according to a drawing by Gael Davrinche, DEMODE. Garden rug in wool, composed of flowers in relief, gradient colours, design Carlota Verde, FERREIRA DE SA.