Design
Abhinav Mishra's new flagship store in New Delhi draws parallels between fashion, form and function
MAY 20, 2023
| By Diya Shah
Lucknow and Jaipur — the lands of aristocracy, culture and crafts. With a rich living heritage that has gradually embedded itself into public consciousness, the cities occupy space beyond its boundaries and reverberates in architecture even today. While Lucknow is renowned for its finesse and refinement, Jaipur has its own mettle with its crafts and artistry. And somewhere right in between is New Delhi, a city with a glorious history of its own right, where Abhinav Mishra's flagship store draws from Lucknow and Jaipur but is realised with the flair and panache of the capital city. 
Envisioned by the designer himself, the sprawling 1,770 sq ft, two-storey space focuses on bridal, festive and occasion wear. The shopping experience is enriched by one's immersion into Indian Mughal heritage that retains a natural and organic atmosphere.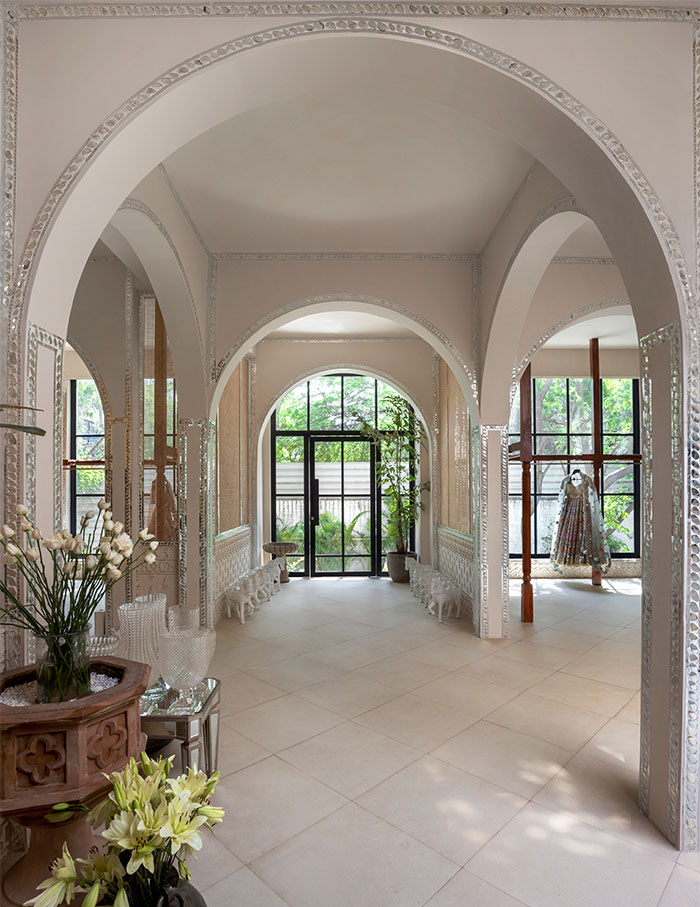 Echoes of Lucknow
As one steps into the store, one is transported to another era. The grand arches and pillars pay homage to the tombs and havelis of Lucknow. Motifs carved on the walls are  geometric patterns designed by Abhinav and his team themselves, and tie together rich references to the Mughal culture of Lucknow and the designer's artistic sensibilities.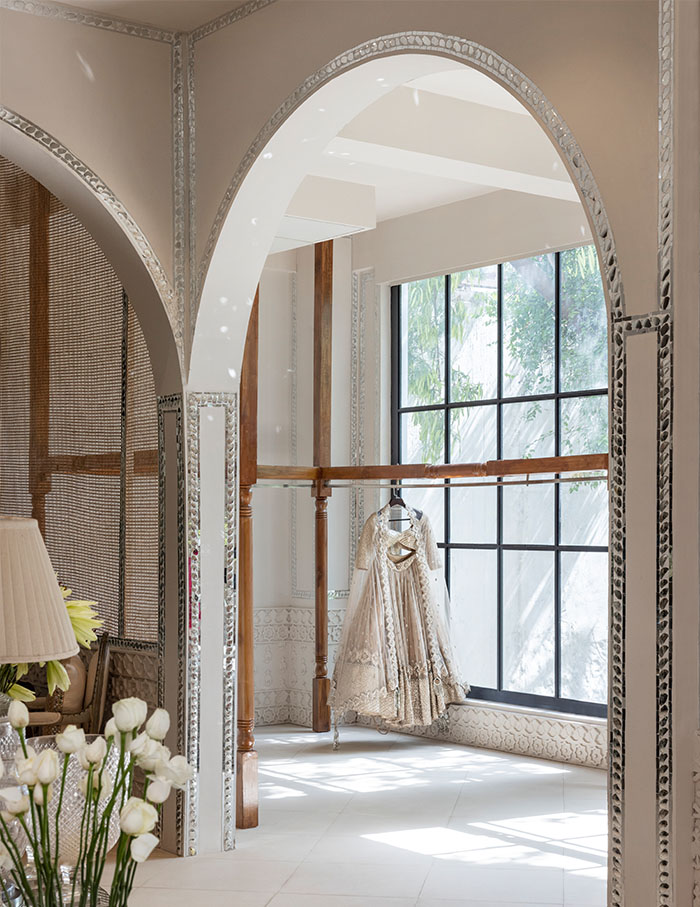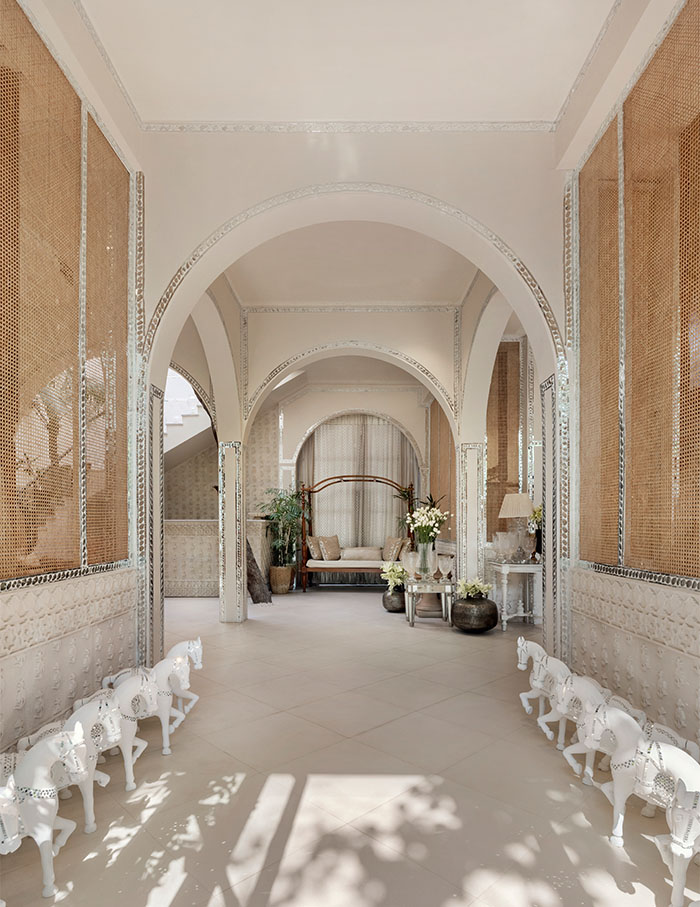 The ethos of the label resonates in the space that it occupies. Along the perimeter of the walls and on the curtains are small mirrors that take inspiration from the mirror work of Sheesh Mahal and allude to the signature sheesha artwork that the brand is known for. Much like Sheesh Mahal, the space is designed to appear as a palace of mirrors when candles are lit at dusk.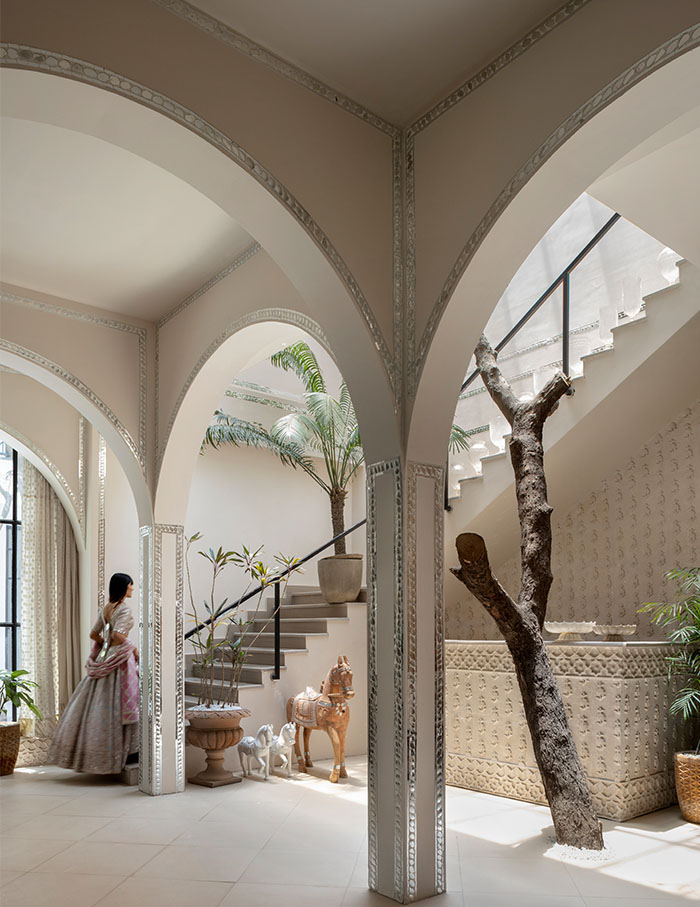 Bathed in Sunlight
Although the store pays tribute to the grandeur of the Mughal period, the space maintains a minimal aesthetic. "We have tried to remain young, and I have used this space to express myself in newer and different ways," explains Abhinav Mishra. The store is spacious and high-ceilinged, making it appear elegantly clean.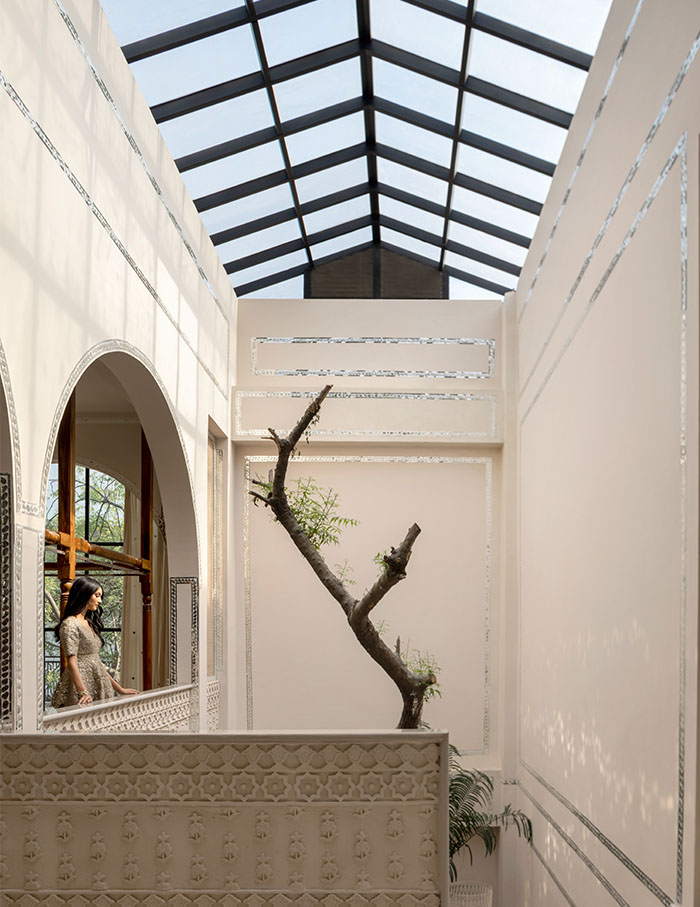 A cheerful and airy atmosphere pervades as sunlight filters through the long glass windows and ceilings onto tall greens and reflects off the beige monochrome walls. Fresh tube roses and lilies surrounding the windows lend a natural and organic atmosphere to the space.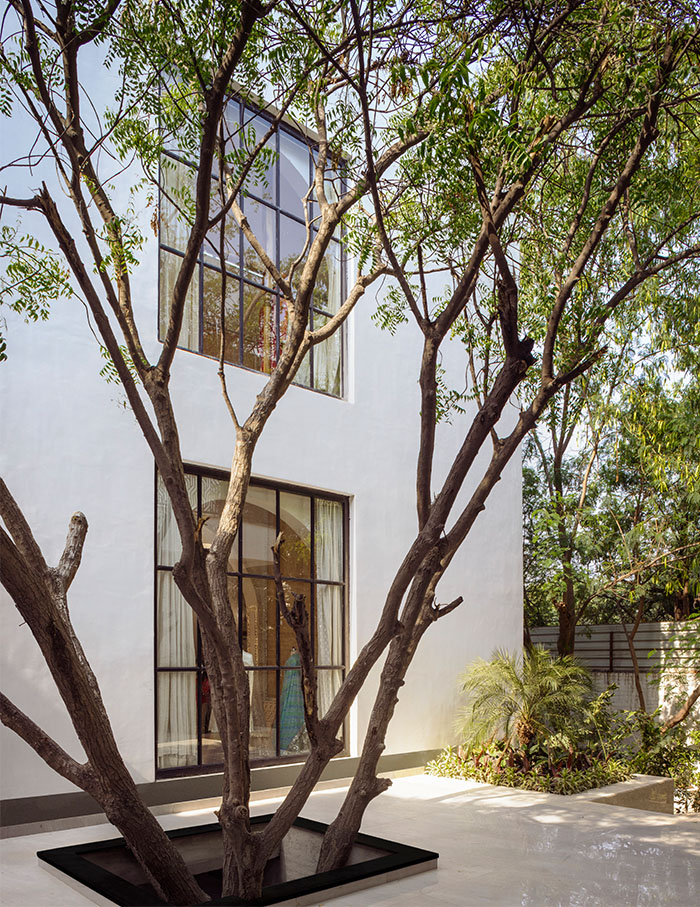 An Extension of Oneself
Abhinav Mishra is deeply attached to this space and calls the store his second home. He describes it as an extension of his personality, and asserts that the space will keep evolving as he does. "I will continue to make additions and spruce up the space depending on new collections as well as my own inspiration," he concludes.