Design
A truly flexible work haven—Seema Puri Mullan and Zarir Mullan craft a brew of colours, textures and personalities in this Delhi office
NOV 25, 2022
| By Ishika Paruthi
Seema Puri Mullan and Zarir Mullan of SEZA Architects & Interior Designer's engineer a 3,000 sq ft office space in the heart and soul of India, New Delhi.
Curated with a palette of greys and browns, concrete finishes and ribbed wood panelling, this space is a blend of hues, textures and distinct characters which makes it stand out.
The curious brief
Seema and Zarir had previously designed a home for the family and hence, while designing their office, there was a sense of comfort as they were familiar with each other's styles. SEZA opted for a path less trodden and didn't go for a traditional office layout. They wanted the space to be warm and welcoming but at the same time relaxed and informal.
The entrance was a tricky area and after multiple discussions, the space has been designed as a flexible one—it can be used as a waiting lounge or for informal meetings as well as a relaxation space for the directors. Moreover, since the building is new, a lot of structural changes weren't required!
Tour every turn of this flexible office
The versatile entrance lobby sets the mood for the rest of the layout. Seema and Zarir wanted to exude a raw and unfinished grey space liberating from the conventional norms and stand out.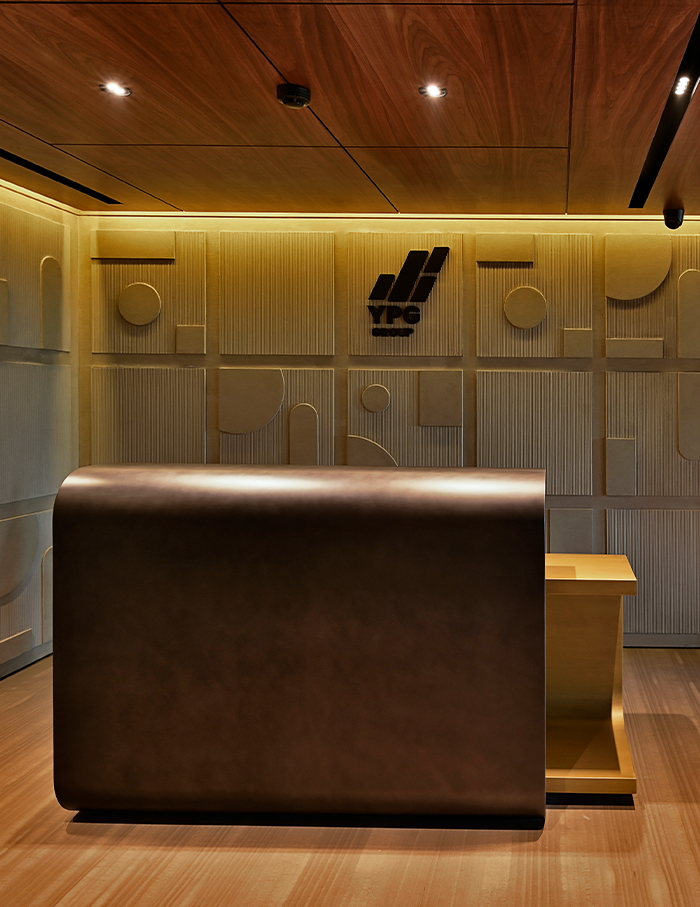 A wall panel greets us at the entrance which consists of a grid of rounded squares defined by 3 inch grooves in relief. A part of these squares is raised either in a circular, capsule or rectangular shape while some panels are grooved and some are plain. Each of them is coated with a concrete resin finish.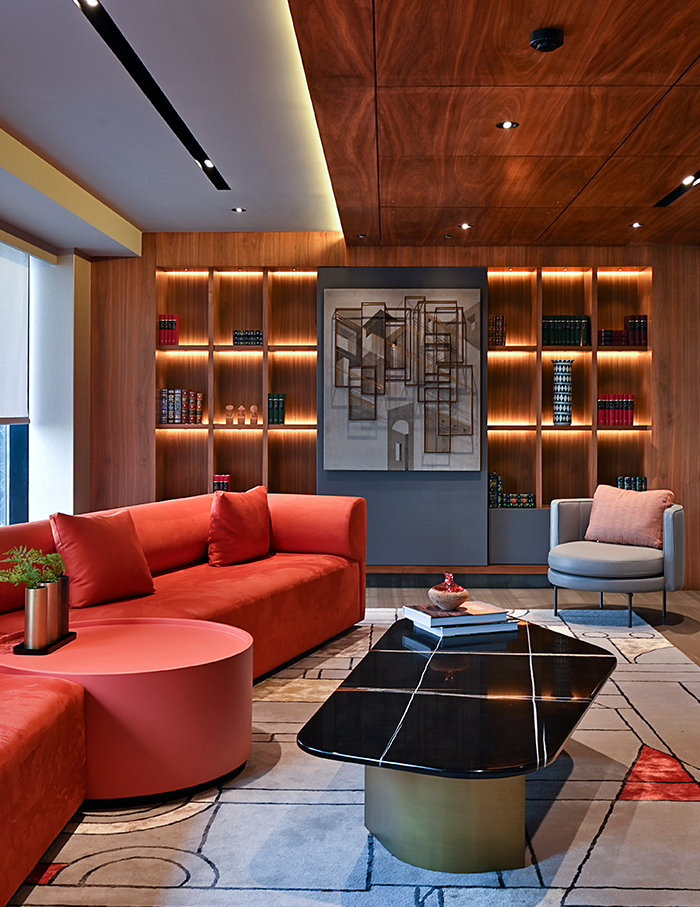 The layout is a play of curvilinear and rectangular forms which creates a true contemporary vocabulary.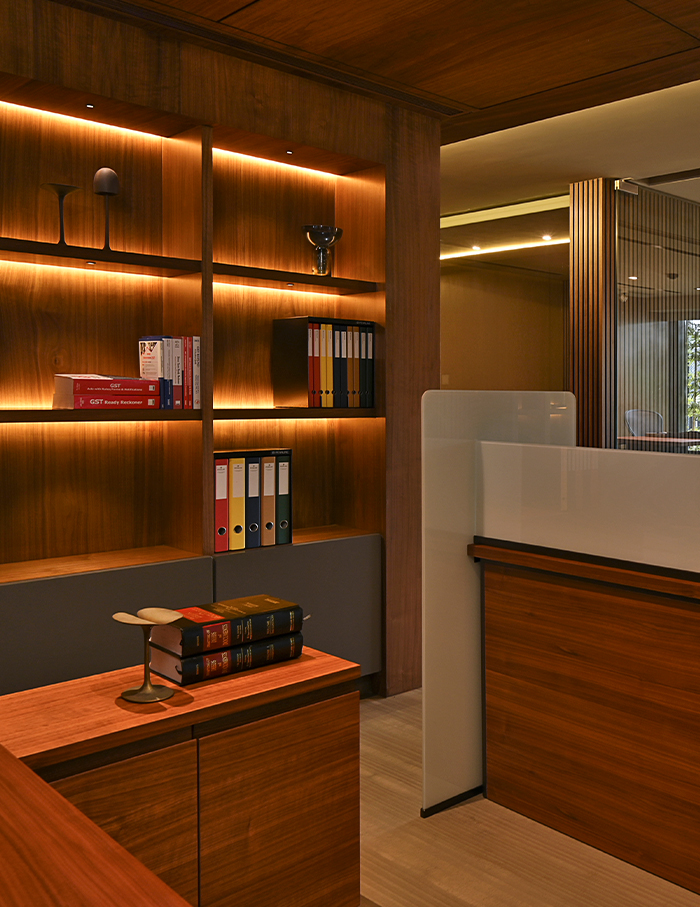 A plush waiting area sits next to the entrance. It has two separate seating – the concrete of the entrance lobby finds itself being interpreted in the form of an abstract art installation on the wall.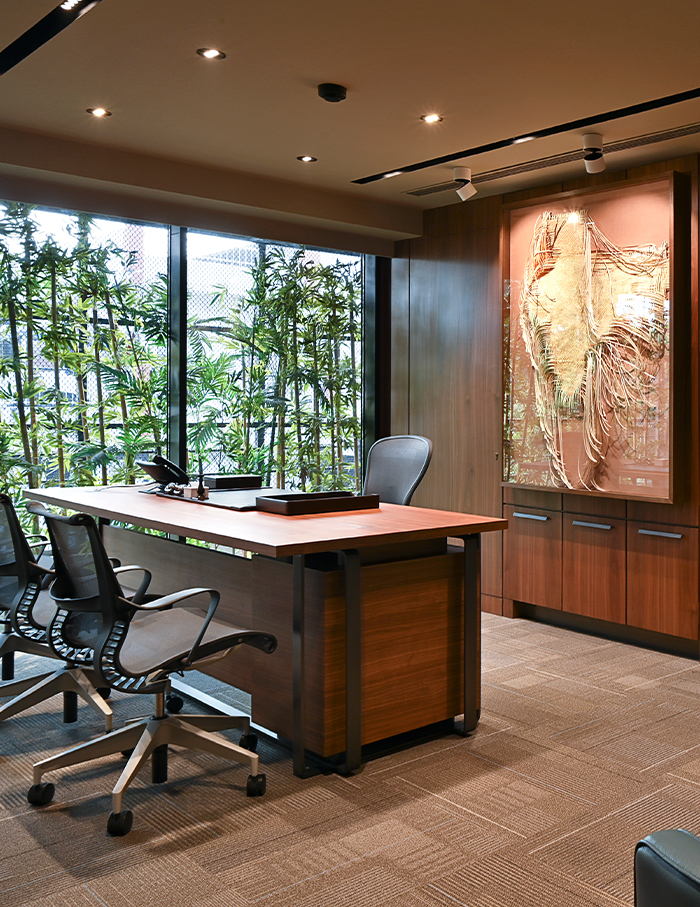 There is an orange angular sofa which acts as a striking contrast to the grey stone floor and warm wooden ceiling. This space acts as a waiting lounge, an informal meeting room as well as a space for the directors to relax.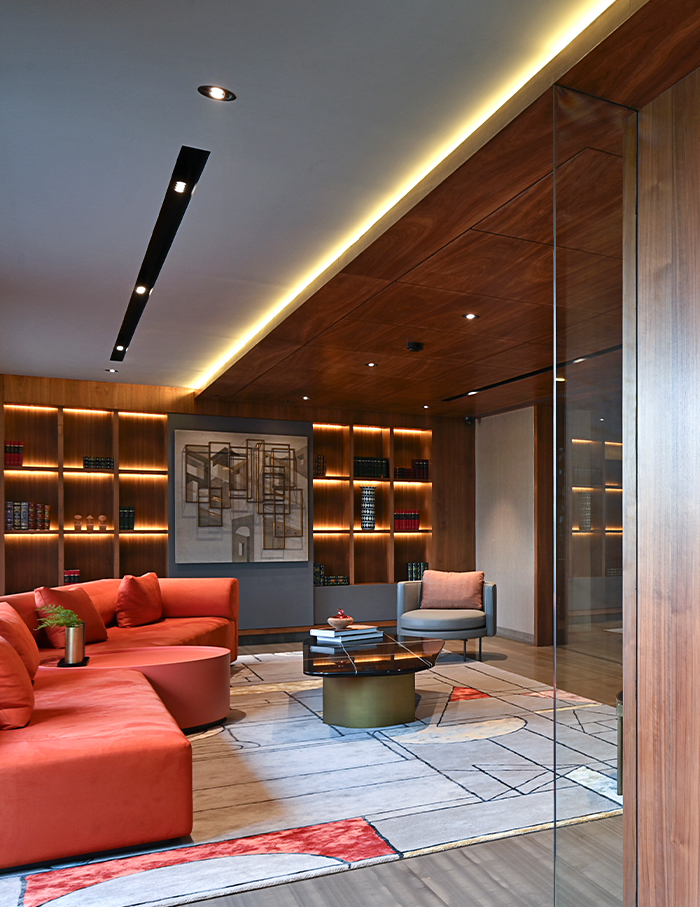 The next stop is the main office space in the centre which is surrounded by the director cabins and conference room, each of which opens onto a continuous deck wrapping all around the office space.
What the designer fell in love with
The entrance is one area the designers loved designing. It is a challenging space – it has multiple doors, all of which had to fit in the grid created for panels. Seema and Zarir wanted a raw and edgy look which was implemented very well through the raised panels in circular, capsule and rectangular shapes. This run of panels adds a unique character to the entrance.
The building in itself is designed with a stunning wraparound terrace which has a large overhang. This allows for abundant sunlight to come in but keeps out the heat and also reduces dependence on artificial light, keeping the space cool. Seema and Zarir have also incorporated bamboo on the outside to reduce internal heat gains which creates more green areas to look onto.
The space is an amalgam of curvilinear forms with rectilinear ones to create an interesting mix of spaces!
You may also like: The classy brass-y office by CraftsPOD Design Studio realises itself in shades of russet and brass