Homes
A spotlight in every room— this 3,500 sq.ft. home in Bengaluru designed by A Sketch is a combination of rustic essences with contemporary elements
FEB 14, 2023
| By Tamanna Doctor
"A wonderful gift may not be wrapped as you expect," said author Jonathan Lockwood Huie. Designed by Principal Architect Maya Nair of A Sketch, this Bengaluru home is a gift from a loving father to his son. 
The rustic essence of the colour palette along with avant garde elements tie in this 3,500 sq ft apartment home together.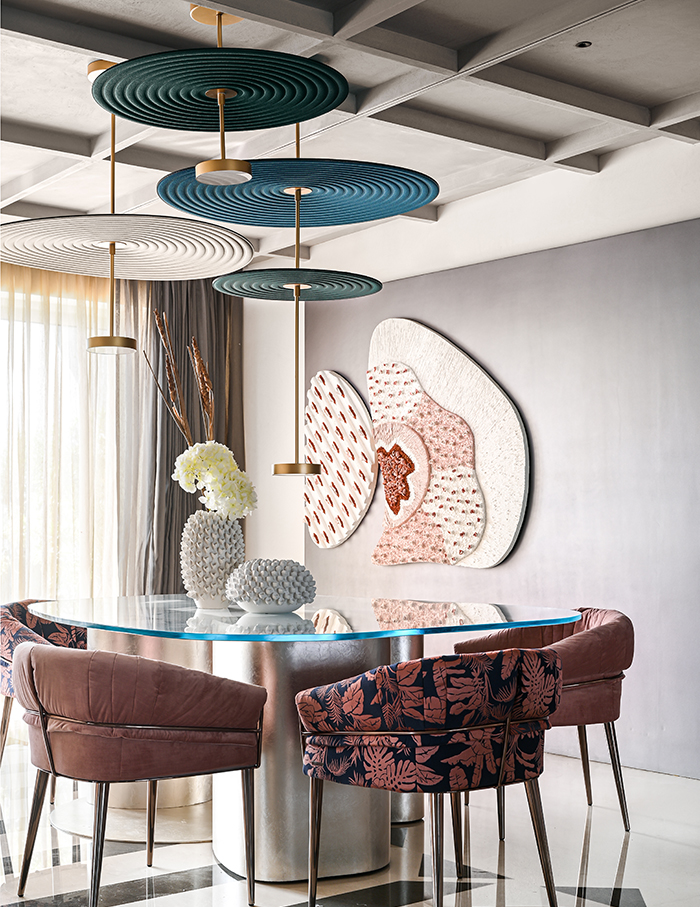 The curious brief
Since the home was a gift to the owner's son, he had clear intentions of making the place ultra luxurious, classy and bespoke. 
The design philosophy behind the home was clear, to create a relaxing atmosphere. Maya ensured that each space has a dramatic element that is emphasised by softening the intensity of the surrounding components.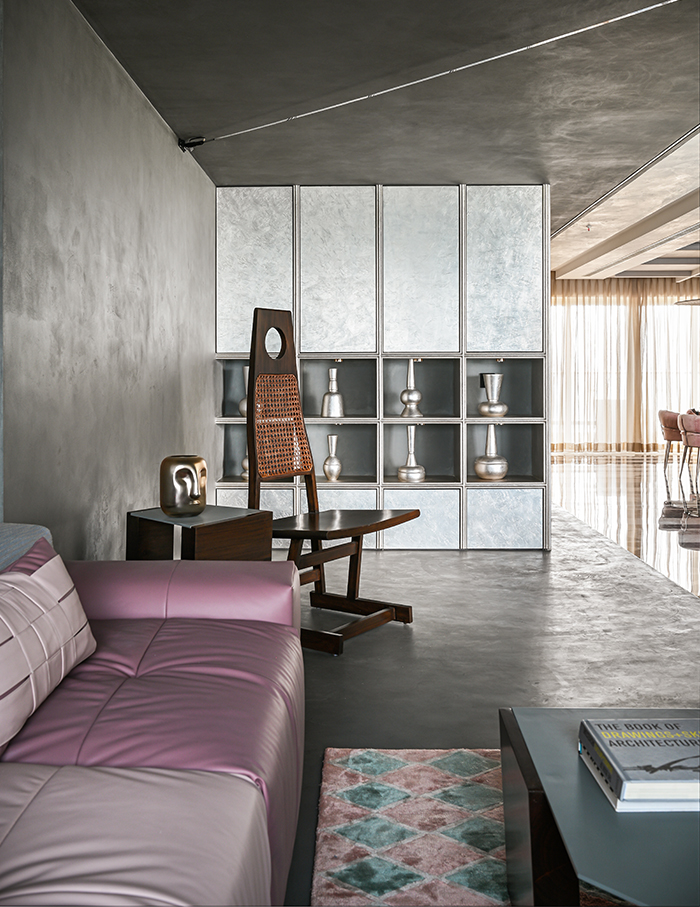 Tour the home 
Entering the apartment, a palette of blues and pinks against a comprehensive backdrop of grey demarcate the spaces. The foyer opens up to living and dining spaces on either side with glimpses of entertainment nook. With tones of blue, grey spread across the living room, the wavy wooden console stands out.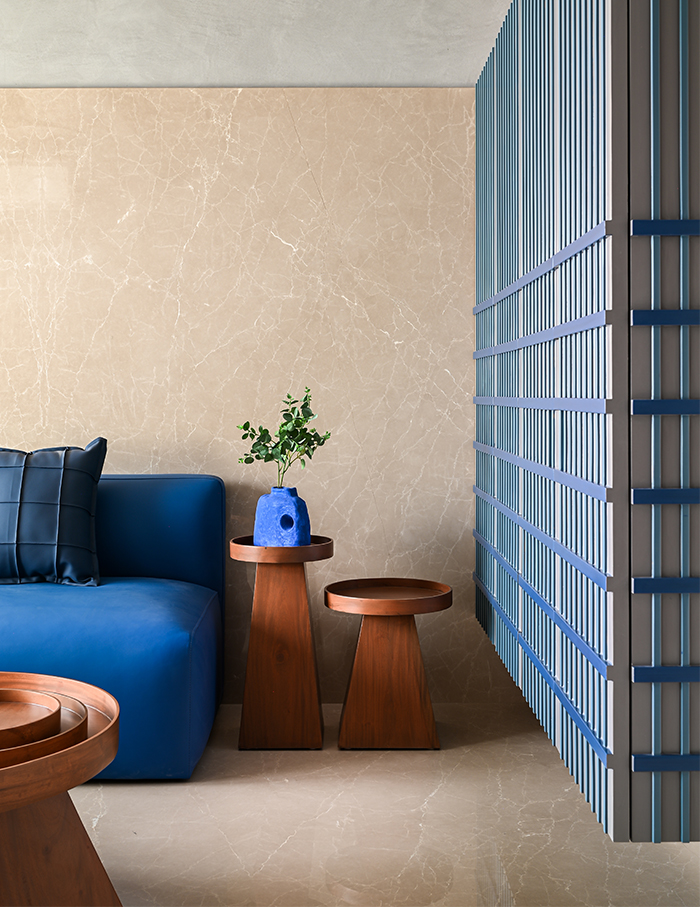 Adorned with stately accessories, the dining area has plush pink chairs with a clear glass top table perfect for comfy family dinners. A unique asymmetric artefact hangs up against the wall acting as a bespoke backdrop. To add to the theatrics of the space, a three piece eccentric chandelier against a grid ceiling above the dining table, renders a play of geometries.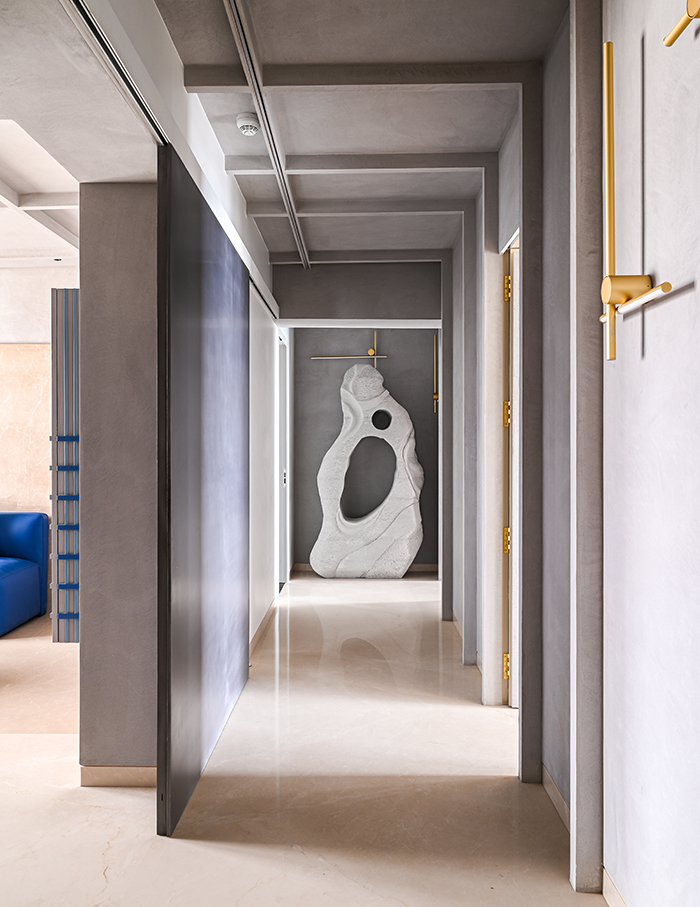 Perfect to unwind in, the entertainment nook is decked in playful shades of pink and grey to follow the theme and snuggle on the couch with a cup of coffee for hours. 
Inspired by a jewel box, the pooja room possesses silver leafings with a gold tint and sheer panels to soften the harshness of the structure.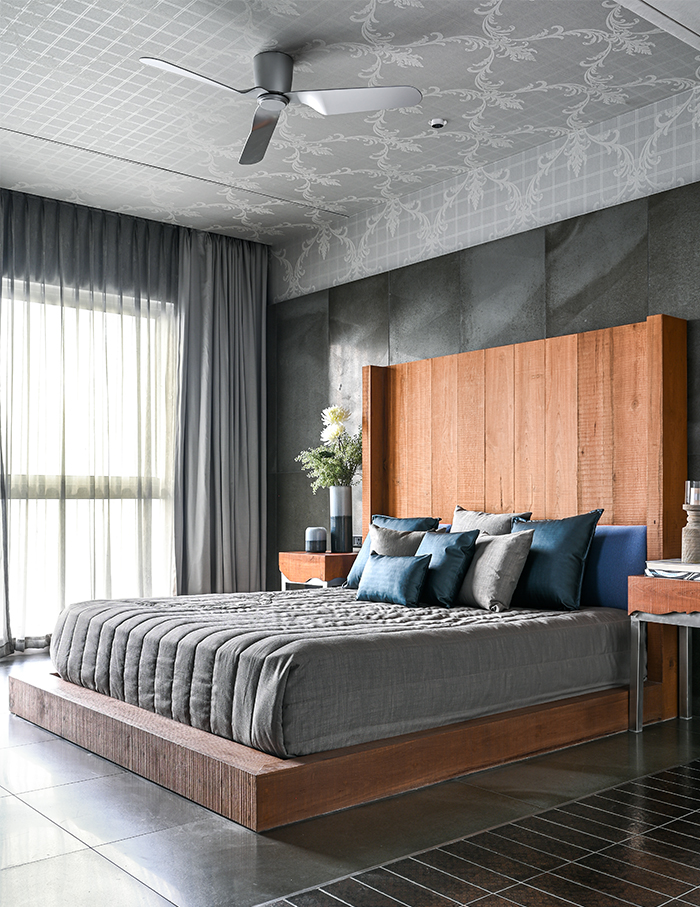 Split by a corridor, the bedrooms are present on either side of it. Each bedroom, adorned with natural stones, has the spark of its occupants. Made with a mix of AAC block and lime plaster, the custom made sculpture at the end of the corridor was commissioned to the artist Kiseki Beetle from Mumbai. 
Ideas to bookmark
The recurring theme of having a spotlight shine on a particular element in every space adds theatrics to the entire home. "Every space had to have a dramatic spot, we ensured this by toning down the surrounding spaces by selectively going for subtle shade and textures." concludes Maya Nair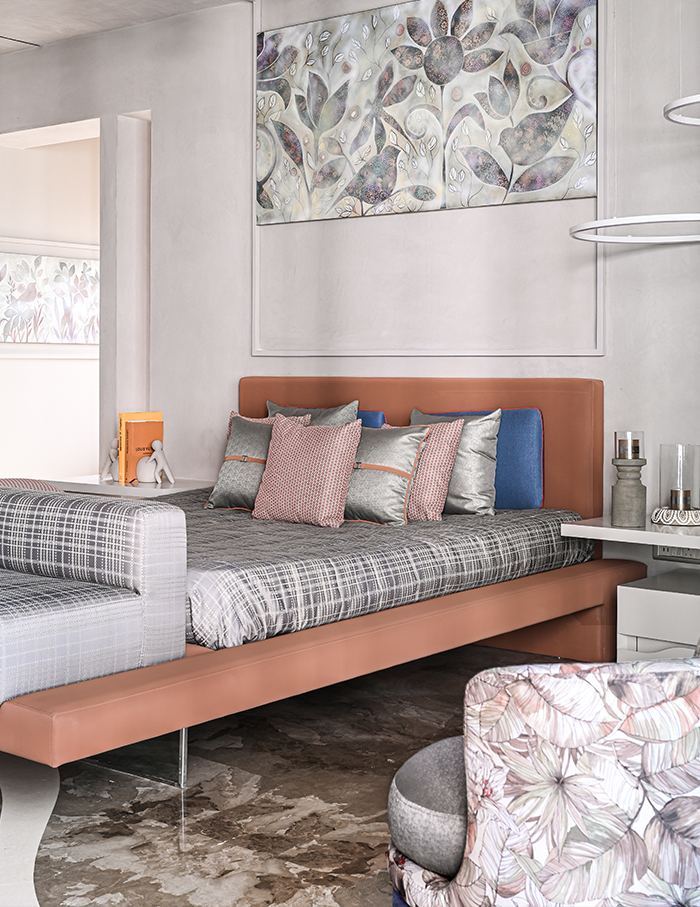 You may also like: Shrouded by chickoo trees, the Nirmal Farmhouse in Bharuch by Dipen Gada effortlessly mitigates the boundary between indoors and outdoors by submitting to what nature has to offer