Design
6 black bathrooms that are unapologetically fresh and fabulous
AUG 23, 2023
| By Esha Shah
Bathroom — a space that often becomes our next rejuvenating escape after the bedroom is a place where thoughts flow freely, we pamper ourselves and sometimes lose track of time. A clever design approach can transform a bathroom into a sanctuary where even the longest days dissolve into relaxation.
In a sea of colours, the power of black often defies the rules of conventional bathrooms. Just like we seek that go-to colour in our wardrobes, infusing this power colour into your home can evoke an entirely new sense of gratification and a renewed love for the colour black. From bold and deep to soft, intense tones, browse ELLE DECOR India's edit of black bathrooms that make it the perfect alcove to rewind at!
The luxurious gold-plated black bathroom, Fine Lines Designers 
Palatial and bold, this bathroom is Andheri, Mumbai designed by Sunil Jasani, CEO of Fine Lines Designers, dips into the timeless hues of gold and black, creating a voguish feel. 
"Black furniture with gold accents and complements is crucial in this design style and is a recurring combination in this building," states Sunil. Keeping a touch of personalisation and making this rustic abode homely at the same time.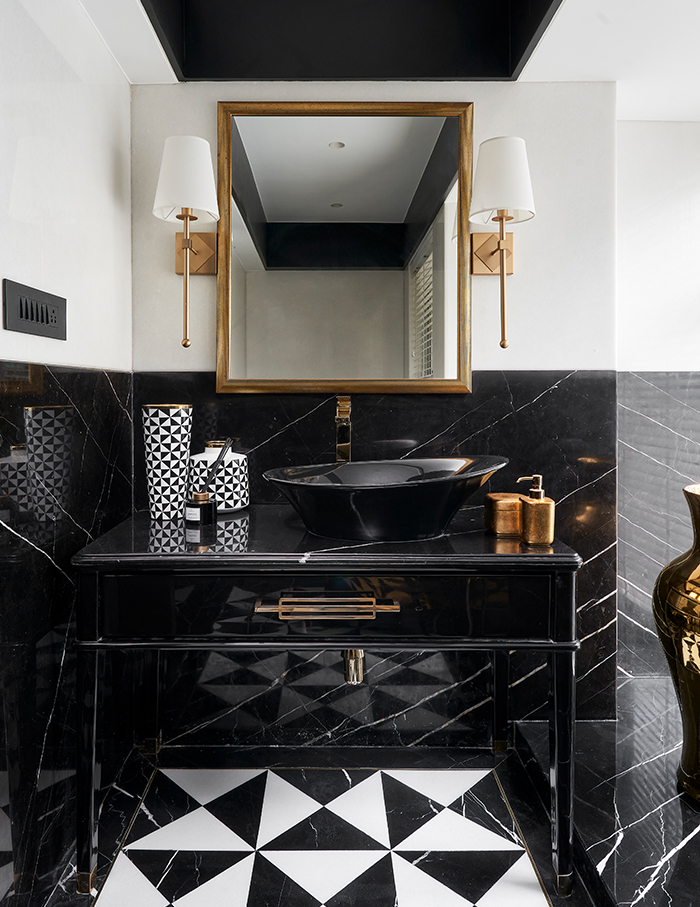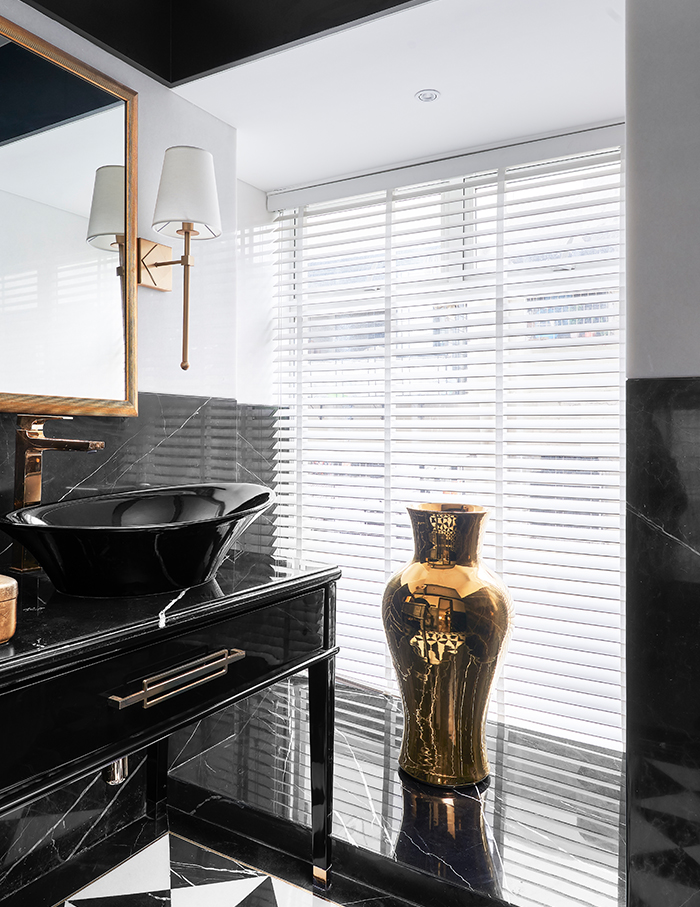 The artistic-themed palatial black bathroom, Manoj Patel Design Studio 
An exuberant bathroom space featuring different themes in areas that all intertwine with the use of black such as a playful chequered black and white floor that creates an illusion of depth. The colour interplay includes a striking maroon mosaic open-head shower area and charming rustic translucent black wardrobes that harmonise with the textured floor tiles. Inside, the bathroom boasts a chic atmosphere with tasteful artistic touches, evoking serenity. Adding a final flourish, lush green plants accessorise this lavish and artistic black bathroom.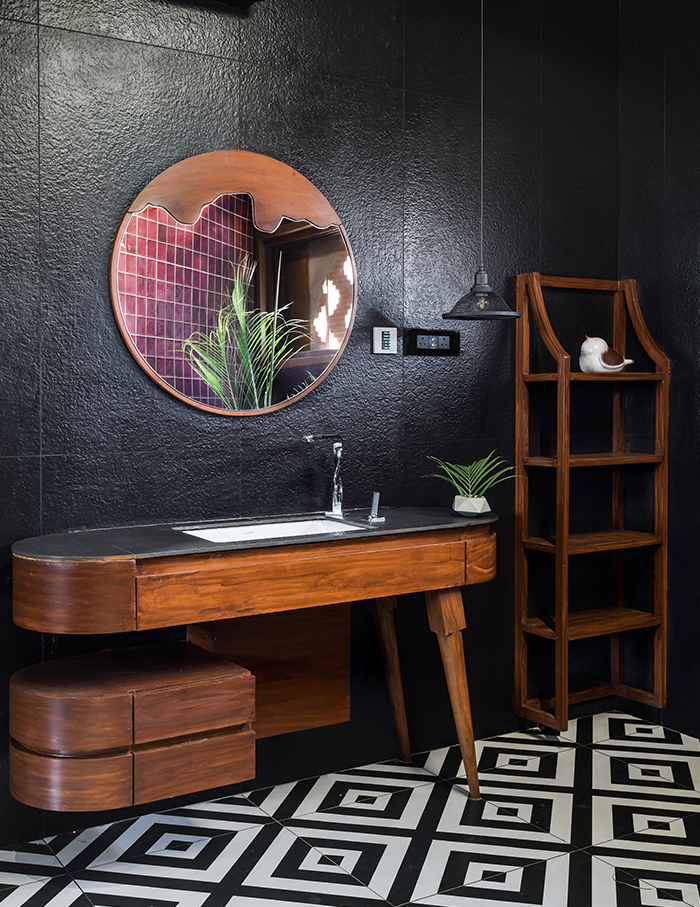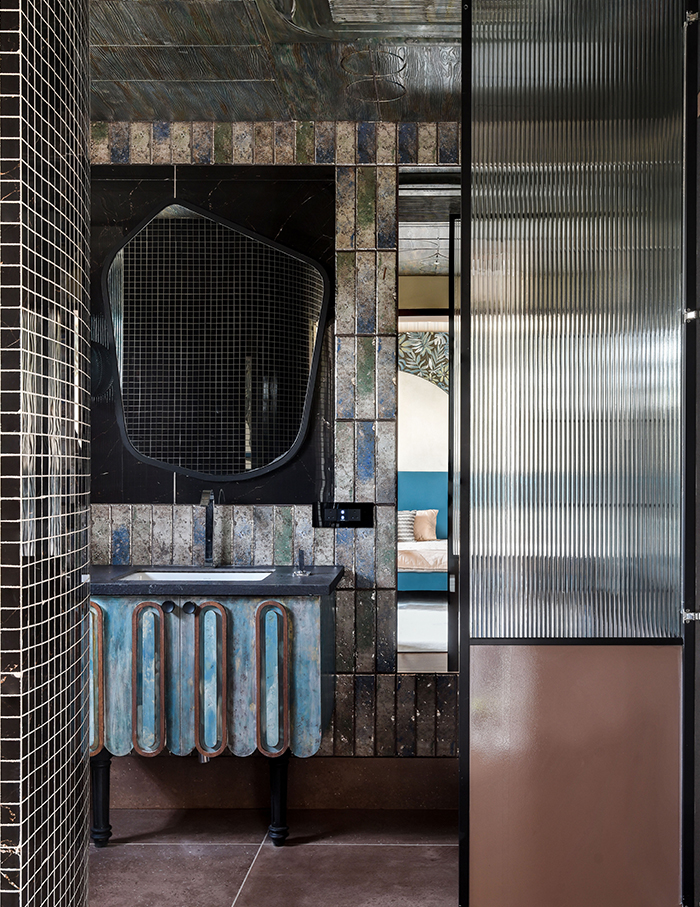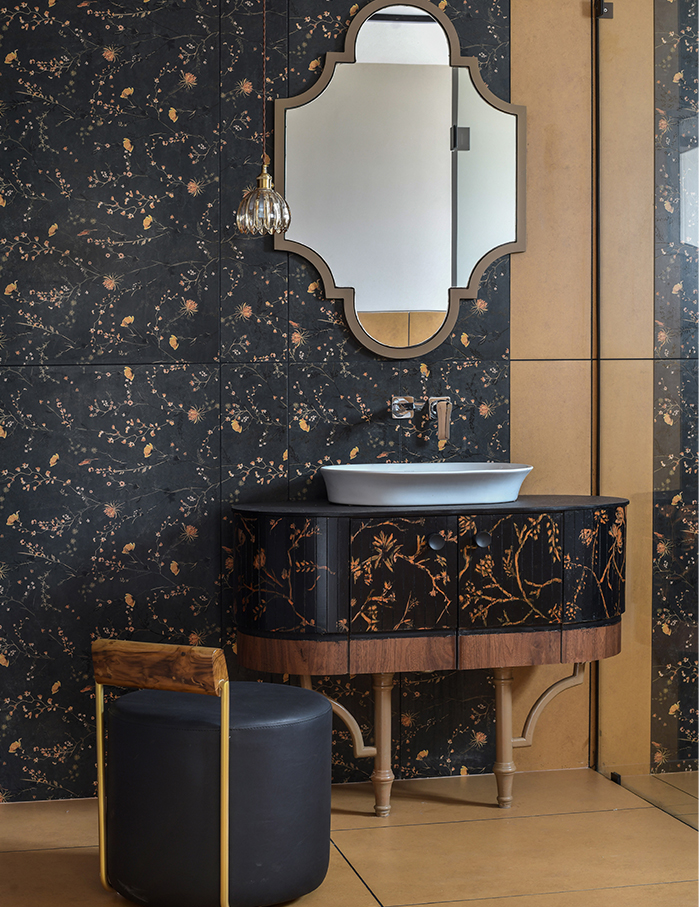 The enchanting nature-inspired black bathroom, Amritha Karnakar Architectural Design 
Located on the picturesque west coast of Maharashtra, this botanical haven of a bathroom weaves tradition and contemporary designs together. Embracing the beauty of an age-old chickoo tree, the space is adorned with a combination of matt and glossy wall tiles sourced from Glitorium, imbuing the area with a serene and tranquil ambience. Adding a touch of vintage allure and traditional artistry, locally-sourced wall hangings crafted by Rajashtani artisans adorn the white ceramic walls creating a harmonious mix of old and modern aesthetics.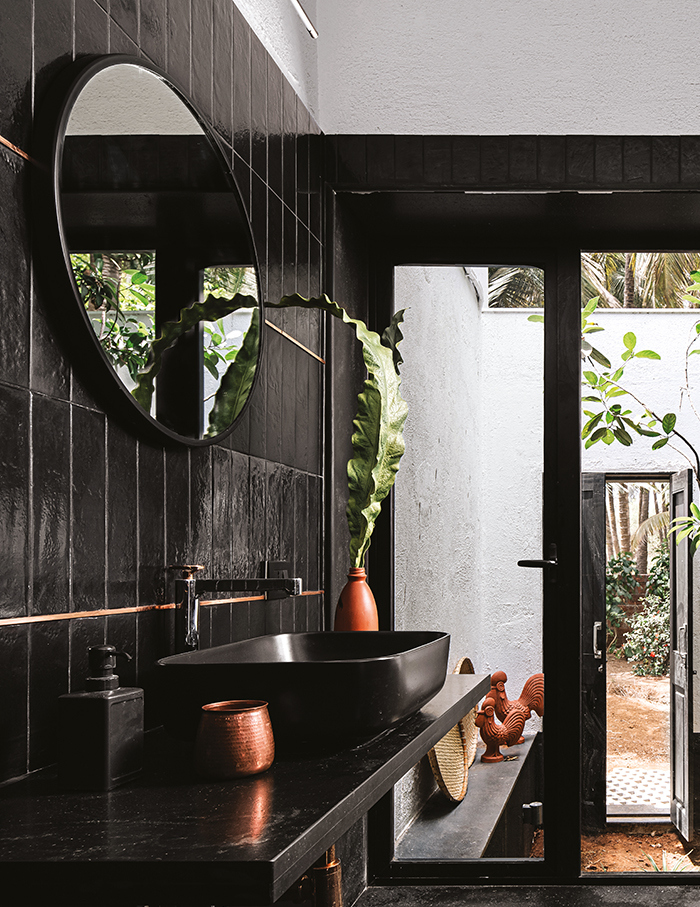 The charming realm of the rustic and elegant black bathroom, Inari Atelier & Architecture Saga 
Situated amidst the vibrant city of Bengaluru, this understated sophisticated powder bathroom promises a tranquil haven for relaxation and unwinding. Architects Deekshita Sanjay and Ruthvik Prakash, from Inari Atelier and Architecture Saga, prioritise excellent ventilation in their design, creating a space that caters to the client's specific requirements in terms of textures and colours.
At the heart of this creation, lies a custom-designed black mirror adorned with a rustic black rim, seamlessly widening the entire space. The upper section of the bathroom showcases an accent wall featuring a striking black panel leaf-like pattern, creating a contrast against the lower level embellished with elegant caramel brown marble, exuding an aura of refined taste and timeless style.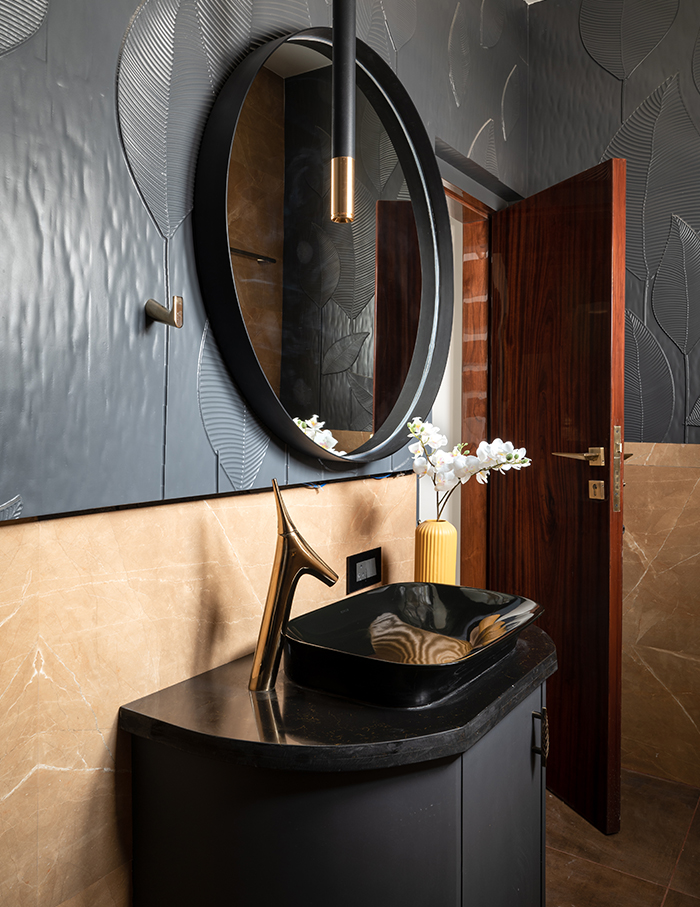 The tropical and nature-enveloped black bathroom oasis by Hiren Patel Architects
Located on the outskirts of Surat, close to the banks of the Tapi River, there lies a spacious black bathroom designed with an open layout. This unique bathroom offers a serene retreat for relaxation and rejuvenation. Hiren Patel, the architect and CEO of Hiren Patel Architects, constructed this residence for his associate and industrialist Lavjibhai Daliya.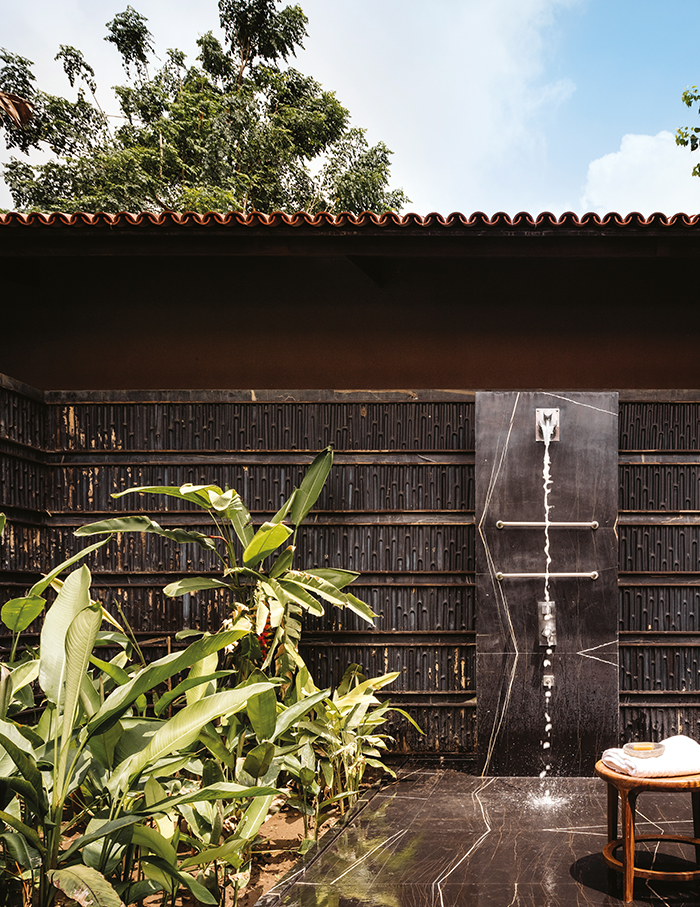 The marble-ous and motif-printed black bathroom, Usine Studio 
Nestled in a home in Vadodara, this exceptional and multipurpose bathroom was designed using a blend of natural stones like granite, white Italian marble and Zebrano from Hansgrohe. The blend of black and white creates a mesmerising symphony of contrasts. Embracing creativity, the use of motifs on the wall creates an artistic feel in the entire space. This black bathroom beguiles the overall vibe of the house with pops of vibrant colours, creating a serene oasis that promises both relaxation and artistic admiration.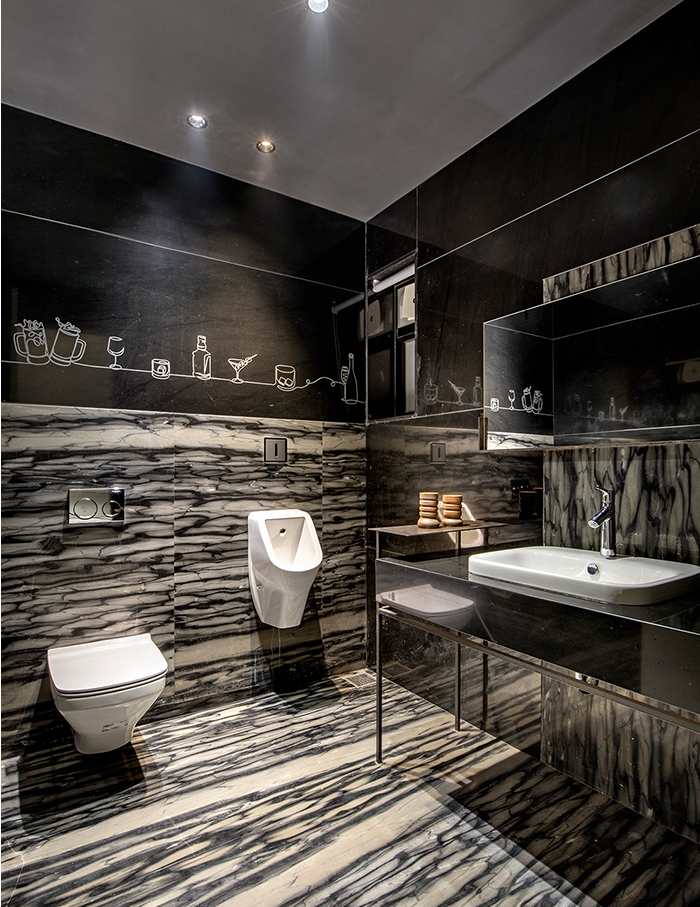 Loved touring these bathrooms? Now read: 9 office interiors that add life to work-life balance