People
5 questions with Mukesh Savlani, CEO of Welspun Flooring
SEP 11, 2020
| By Aneesha Bhadri
There's no denying that 2020 has changed the way we live and work. As we cautiously contemplate getting back to a workplace routine, office settings will be required to undergo transformative changes. It's time for businesses to reconfigure their office space to "place more emphasis on choreographing the movement of its occupants in ways that ensure safe distancing," says Ritam Dey, Head of Design, Welspun Flooring. To this end, the enterprise has introduced Spatium6, a revolutionary flooring design. The company's CEO Mukesh Savlani sheds light about this new-age collection and adapting to the new normal.
What are the USPs of Spatium6?
Spatium6 provides ample cues via clear visual floor markers and intuitive layouts to forge a safe work environment. Keeping in mind that colours and patterns can affect the human psyche in different ways, the flooring design incorporates this therapeutic ideology into its aesthetic with hues that soothe. This collection is ideal for areas with high footfall. The floor markers on the tiles ensure a safe distance is maintained and the tiling follows a clear layout. They essentially help easily demarcate areas as employee-free and safe-distance zones around workstations.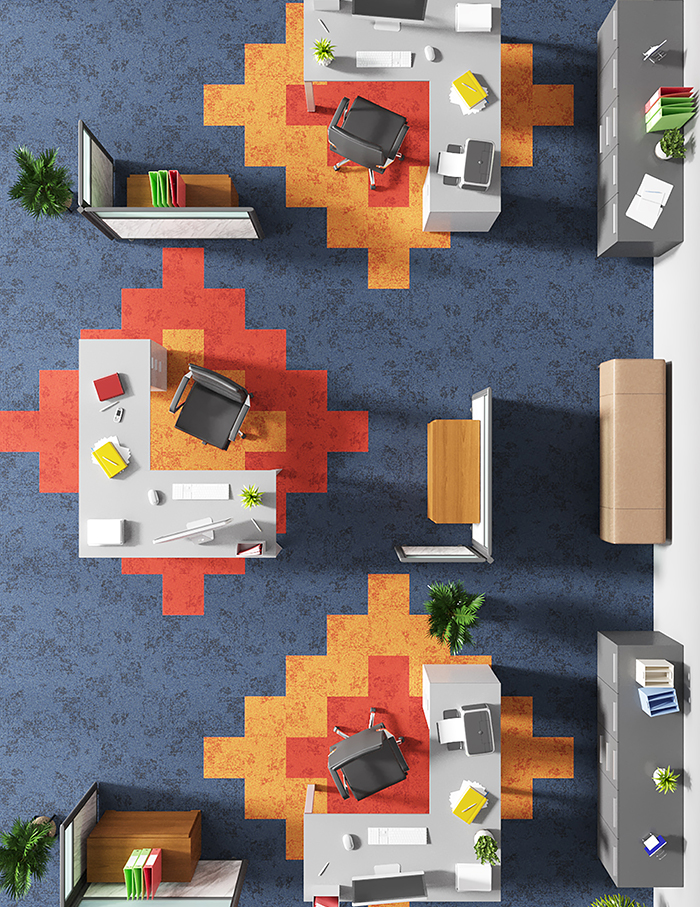 How does the collection impact employee productivity?
It is indisputable that colours and patterns affect the human psyche. For instance, we use the colour blue because research shows that it has a calming effect on the mind, while the Mandala patterns seen on Spatium6 can alleviate modern-day stress. We've incorporated these findings into the making of the collection to put people's minds at ease while they work.
Considering high realty cost, how can establishments maximise real estate without compromising on health and safety?
It is imperative to buy safer building materials including antimicrobial and antiviral products, which minimise threats caused by bacteria, fungus and virus. Another important aspect is to ensure that hygienic processes and procedures are undertaken throughout the building process—right from initiation of construction to the final handover of space. Meanwhile, for completed structures, regular checkups and sanitisation drives are extremely crucial.
What have the last few months been like for you?
The pandemic that's struck has brought its own set of challenges for each business, emphasising the need to innovate. I've learned the importance of being agile—to evolve quickly and adapt to changing circumstances. I've moved away from sticking to timeworn methods; we have to be ready to let go of old ideas, which worked in the past but are not well suited for the present. For me, setting aside some time or engaging in an activity like running just for myself has been the key to staying calm and motivated.
How do you foresee the future of design shaping in this direction?
We're arguably headed towards the most radical period of change in the history of design. The very definition of design will transcend shapes, colours and even graphics. It's going to be all about what we experience and designers will focus more on consumer behaviour or psychology. They will also pay more attention to environmental efforts and concentrate on making sustainable products. Consumer preferences, too, will evolve as they seek safety and hygiene factor in each product. Bespoke creations will be in high demand and the use of digital printing technology is likely to offer the perfect solution. Lastly, wellness and wellbeing will become a basic design element.