Design
12 workplaces which can claim that office is where the heart is
DEC 25, 2020
| By Saloni Rege
We've had enough of this work-from-home situation, where the lines between office duties and home chores are not clearly demarcated. So, we began a search for some cool offices across India and came across 12 workplaces that'll ensure that we won't miss homes, thanks to their comfortable and chirpy vibe.
An office in Rajkot by Ishaan Patel
This 1,250 sq ft office (see scroll above) is planned by the creatives with a soft colour palette and wooden aesthetics for a rustic yet elegant look. A semi-permeable screen with alternate patterns segregates the spaces. We love the flooring, which uses planks in a herringbone pattern. Interestingly, the office is equipped with a mini gym, informal dining space, casual seating, a seven-seater lounger and a terrace, making it the perfect fusion of work and leisure.
The Arched Office by Gaurav Kharkar and Associates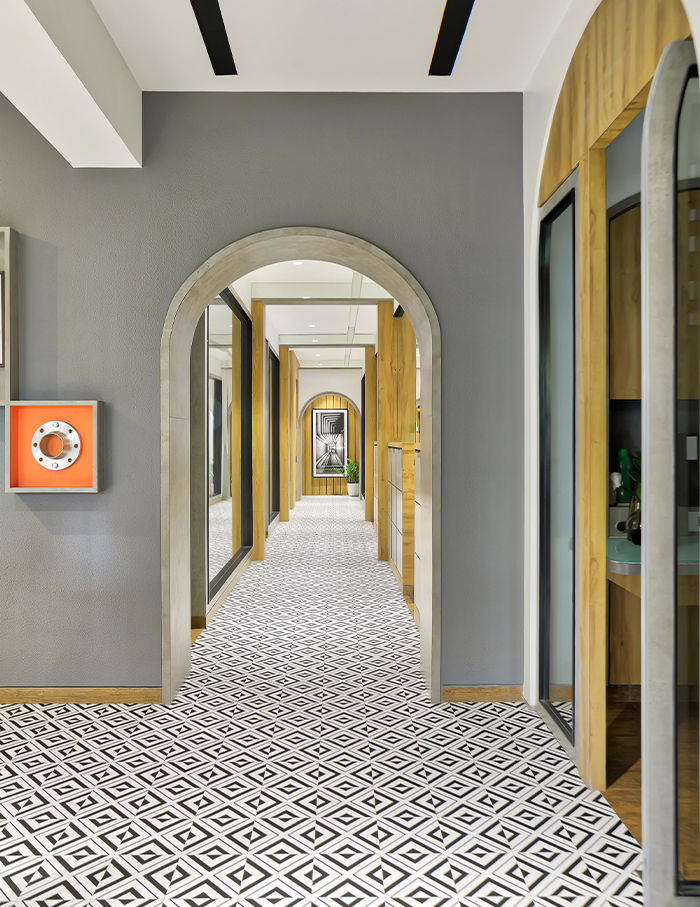 Breathing life into an old and forgotten building, Gaurav Kharkar and his team have ensured that this 1,850 sq ft workplace in South Mumbai retains its arched entrance and arched windows. The office adapts a warm contemporary theme with an antique charm. Pops of orange offset the white wood and grey palette and add vibrancy, while artefacts and other decor pieces highlight the open shelves.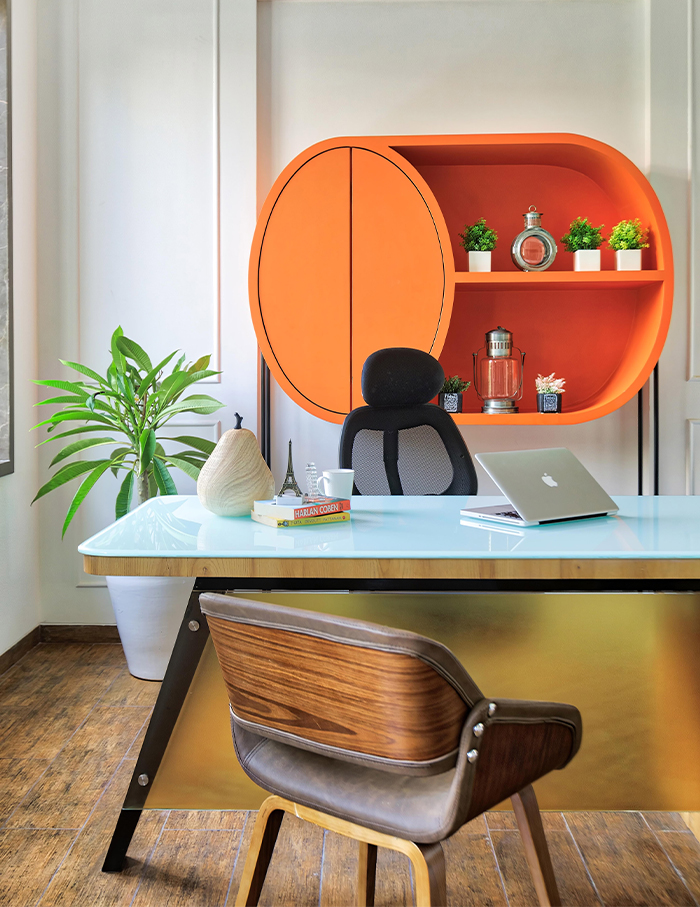 Taking cues from natural geometrical forms, the flooring follows the same print across all parts of the office. The reception has a centre apron finished in grey Italian marble, tucked between two columns. Natural light enhances the quality of space and makes it look pristine. Archway along the aisle provides a picture perfect backdrop for the employees to capture fun moments.
The office of Cityspace' 82 Architects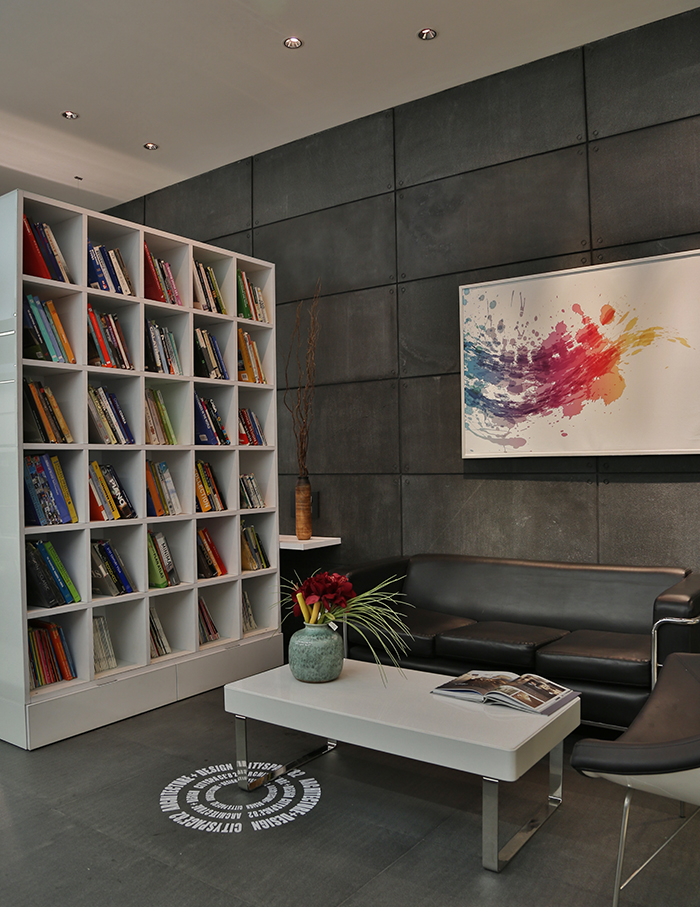 For his own practice, Sumit Dhawan chose to create a 1,800 sq ft proactive workspace in Gurugram with a modern minimalist approach. Curating a sociable environment by fostering creativity within its realm was the prime focus. The studio comes with interactive workstations as well as cosy individual zones. With its monochromatic colour palette in the backdrop and distinctive features in the foreground, the space has a subtle yet vibrant charm.
An office by Blocks The Design Studio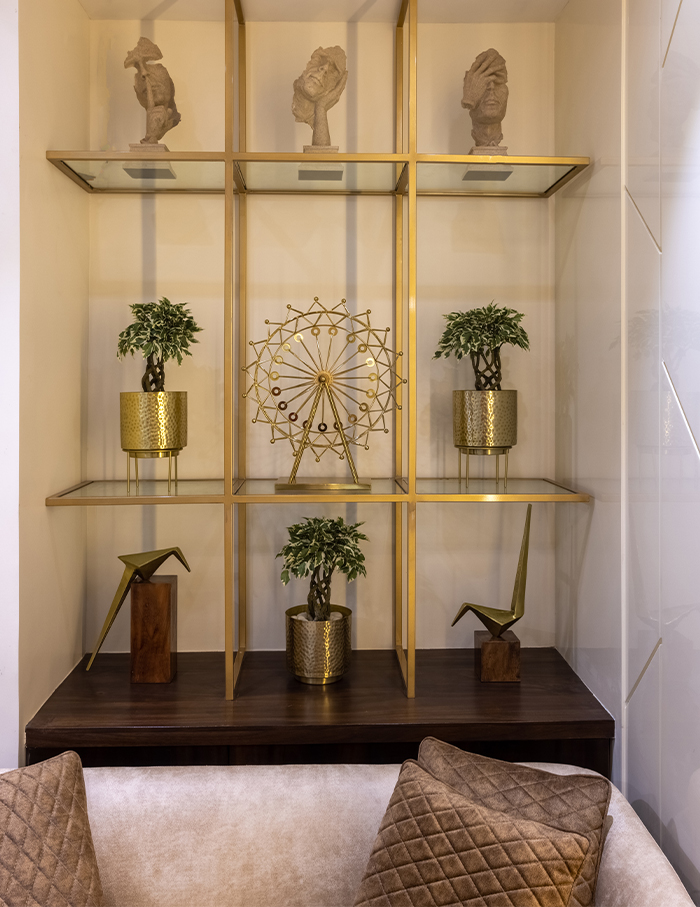 This 2,400 sq ft office for a confectionary brand in Indore is crafted with class and elegance. Located in an industrial area, it focuses on transparency and accessibility that's befitting a luxury hospitality workplace. The office cabins are toned with muted beige brown and charcoal grey surfaces, and coupled with modish brass and gold accents. Concealed green elements add a relaxing vibe to this graceful workplace that displays a world map urging the team to explore and get inspired.
The office of Niraj Doshi Design Consultancy (NDDC)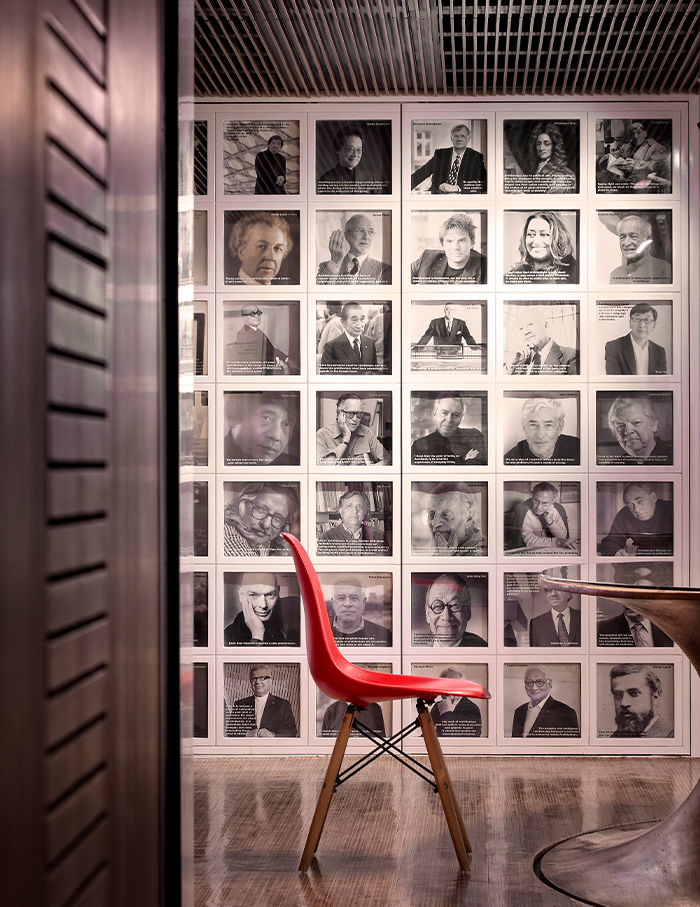 The Pune studio of Niraj Doshi's practice is a 1,740 sq ft area that's evolved over time. It is conceptualized as two distinct zones to serve specific purposes. These are simply named the Formal Indoor Space and the Informal Outdoor Design Studio. The indoor section is complete with meeting rooms and main workspace for Doshi. Seen here is a material palette of recycled plywood for the flooring and Burma teak wooden strips for the ceiling. This space seamlessly extends to the outdoor parts.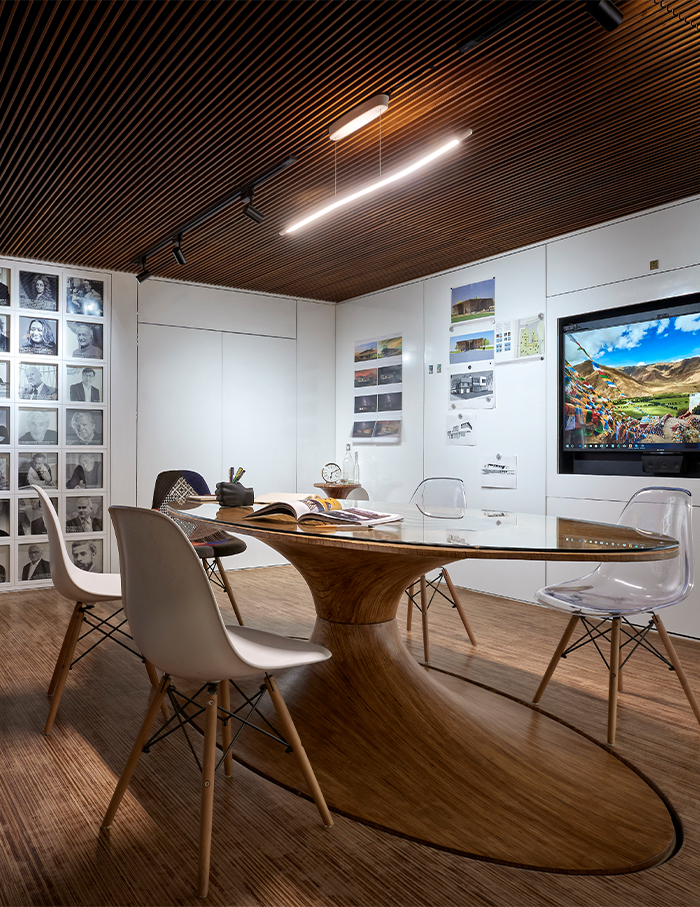 NDDC's team of 10 members all work and unwind in the outdoor studio, which opens to a panoramic view of hills, and boasts sustainable design, sunken seating and greener areas. In a direct contrast to the indoor zones, the material palette outside comprises recycled stage platforms for decking, wooden finish cement sheet for flooring, jute ceiling and bamboo curtains.
Studio SPDA by Shalini Pereira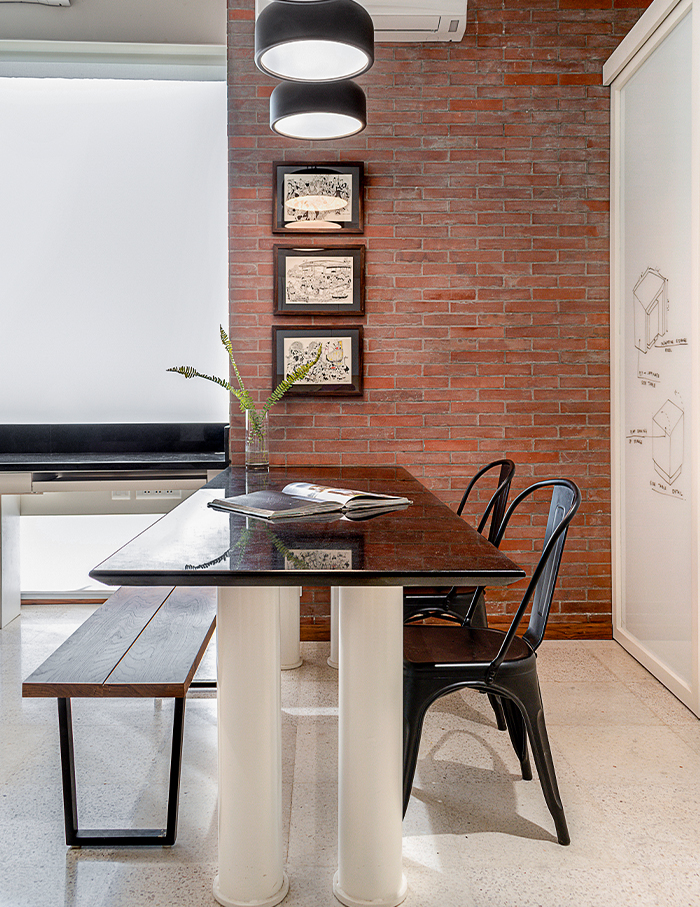 Industrial loft meets Soho chic in this 450 sq ft workplace that overlooks the Gurugram skyline. This studio juxtaposes materials such as exposed bricks, polished concrete, terrazzo tiles, fluted glass, cement fibre board, granite and burl veneer—all of which are aligned by the colour white.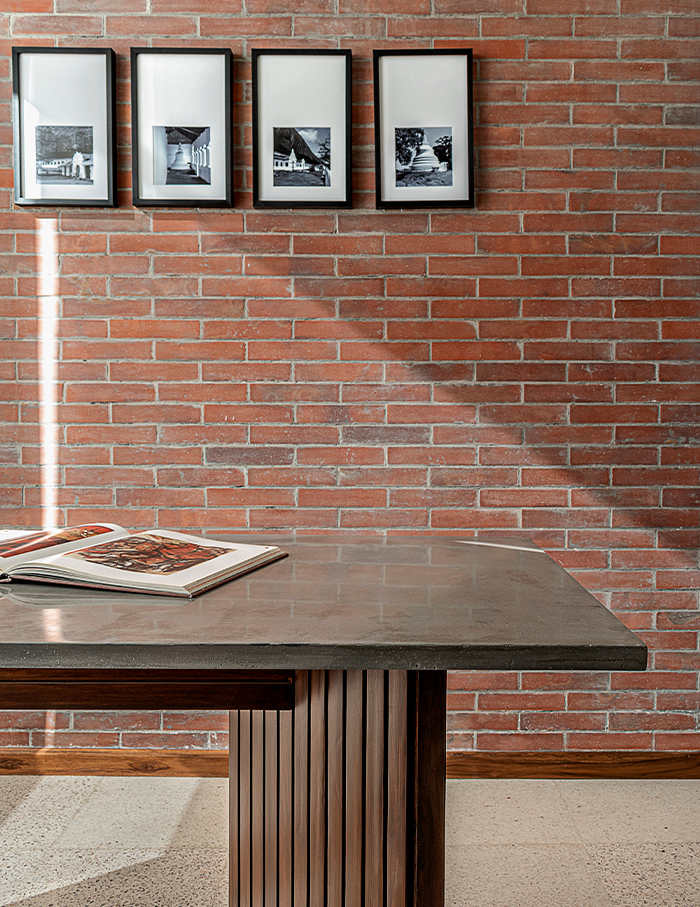 With this design, Pereira ensures that the space looks not just sophisticated but also an illusion of spaciousness, as it draws light from the expansive windows. The exposed brick wall is the statement feature and reflects an earthy feeling. Further, doodles and photographs framed as artwork on walls add a chirpy and artsy facet to the space. A dash of multiple green elements brings the outdoors in.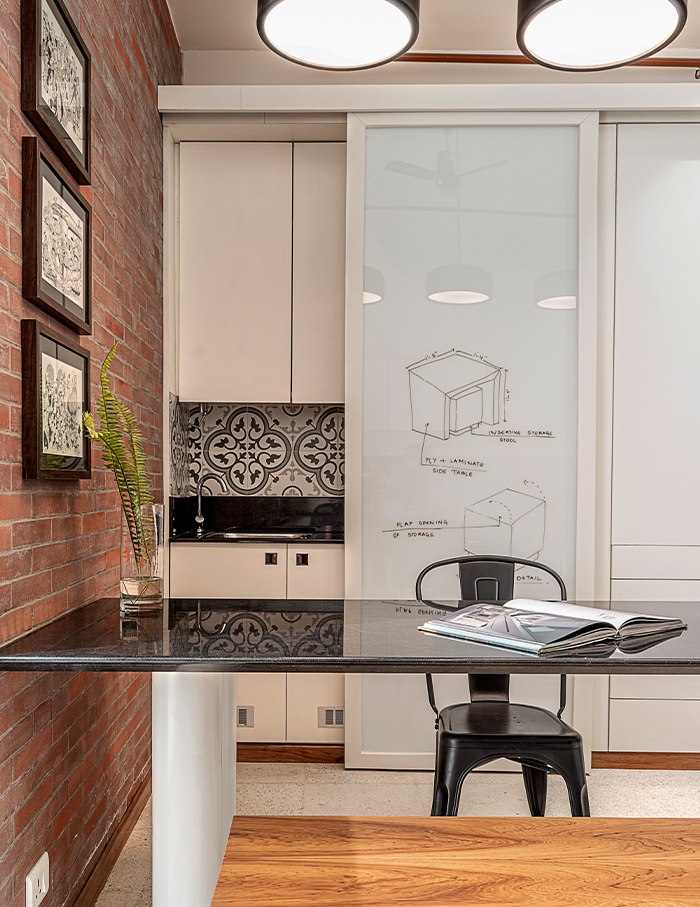 It also houses multi-functional elements like the sliding lacquer glass panel which acts as a storyboard during meetings and a partition between studio and designer's cabin while concealing a pantry utility underneath.
TCG Mumbai by Ultraconfidentiel Design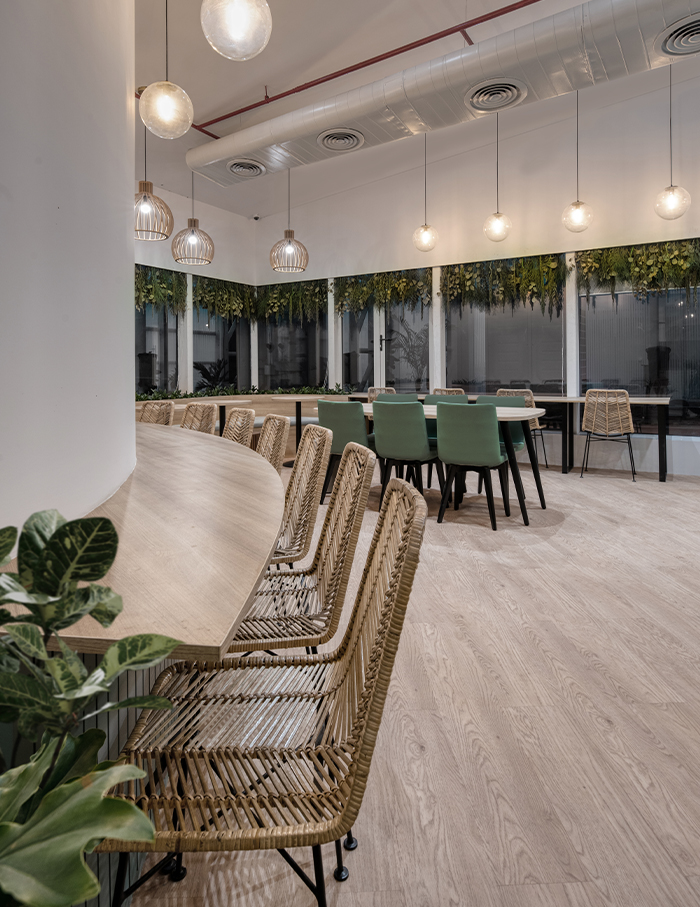 A perfect harmony between minimalism and lavish setting, this 11,000 sq ft capacious office at BKC draws inspiration from Japanese culture. With a free-flowing layout, it merges subtly segregated spaces by material connectivity. Materials like leather, marble, wooden flooring and brass inlay in the board room table form the cynosure of all eyes in the room. Planters preserved and brought in from Italy are placed alongside the glazed glass cabins pairing up with the organic corridor and soft curved cafeteria seating to intersperse interiors with exteriors.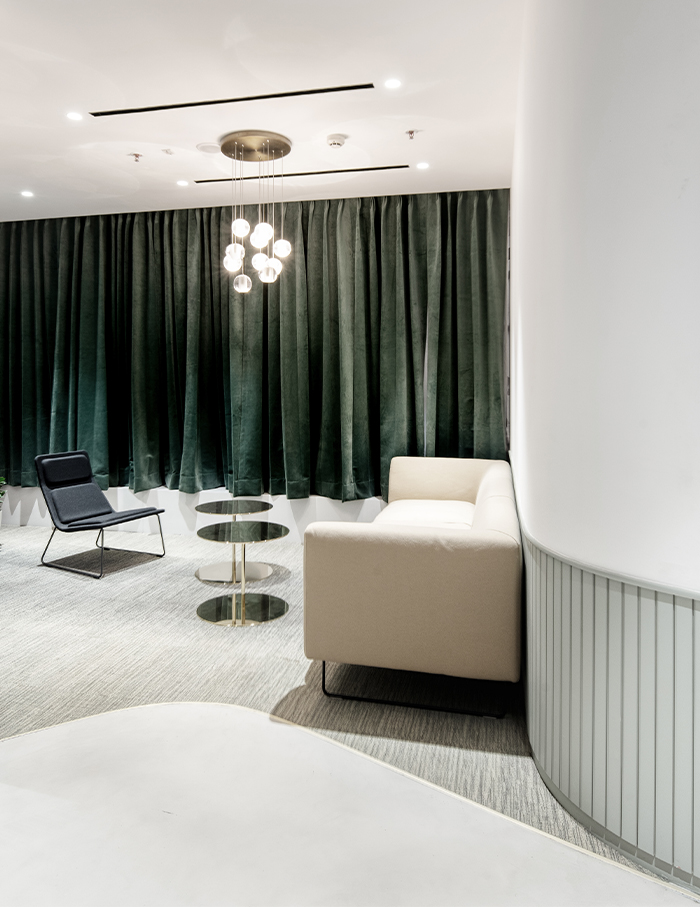 Set against a neutral backdrop of subtle grey and white, the presence of green elements give a fresh and contemporary essence to the workstation area. The wooden task lights align with the veneer laminated desks adding a calming effect to the space. Every nook and corner of the space has been lavishly designed with usage of premium materials that align with the theme. A wave of dynamism is characterised throughout the space effortlessly with a multitude of wooden pieces that act as a sculptural element infused with light.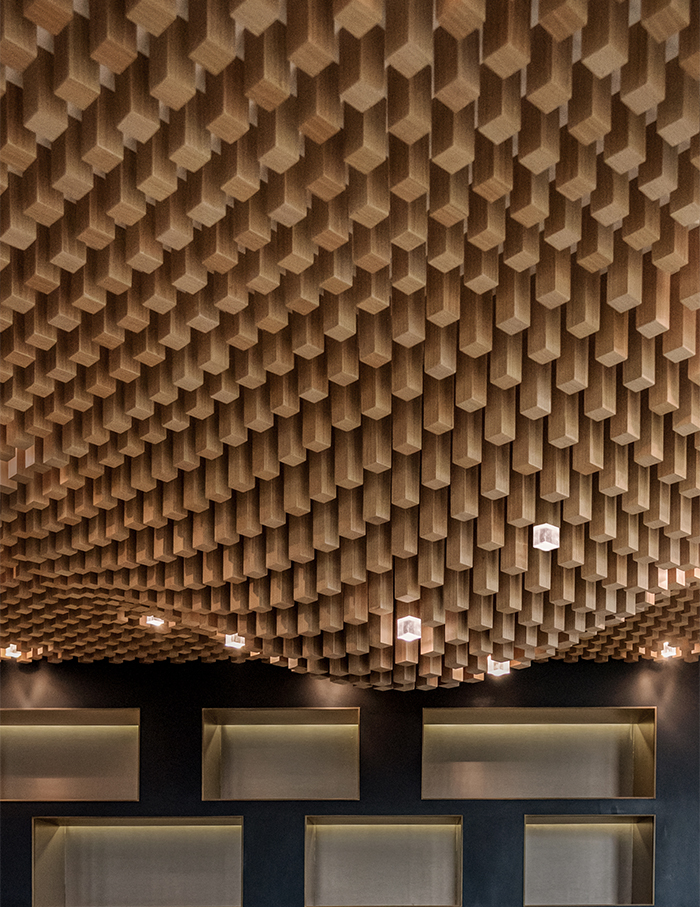 Amorphous shapes carved out from wood dominate the internal spaces as the luxurious ceiling features right from the reception area to the chairman's cabin. The office by Ultraconfidentiel Design has multiple variations of cosy corners and seating arrangements that offer comfort and promote exchange of thoughts.
Alembic real estate office by The Crossboundaries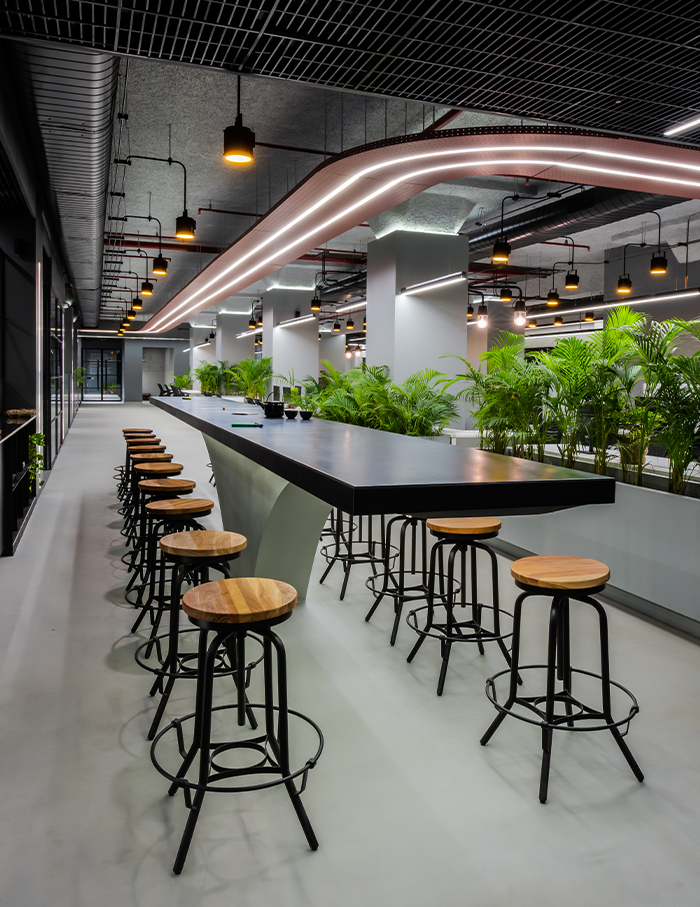 Harsh Boghani along with his team transformed a 55-year-old industrial structure into a 10,000 sq ft workplace. Set in the vast 200-acre Alembic Group campus, the area is revamped into a timeless space merged with modernity and historic essence. With a large voluminous space paired with 12 ft-high ceilings and a grid of concrete columns, The Crossboundaries gave the site a robust character. Jointly shared by two businesses with over 115 employees, the design offers an efficient ambience and clean segregation interlinked with a continuous 30 feet-long elliptical ceiling light orbit.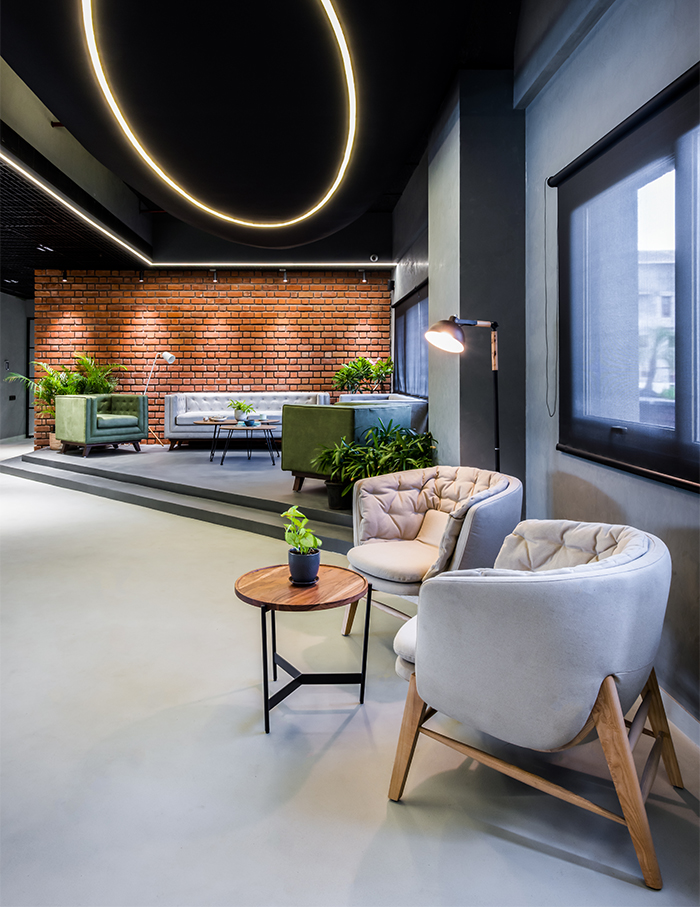 The office is a mix of linear and orthogonal open layout dressed in muted greys, blues and blacks coupled with the warmth of exposed brick walls and splash of generous green palms. Principles of alignment and focal depth rule the space while sleek MS partitions and loose furniture add a visually light element.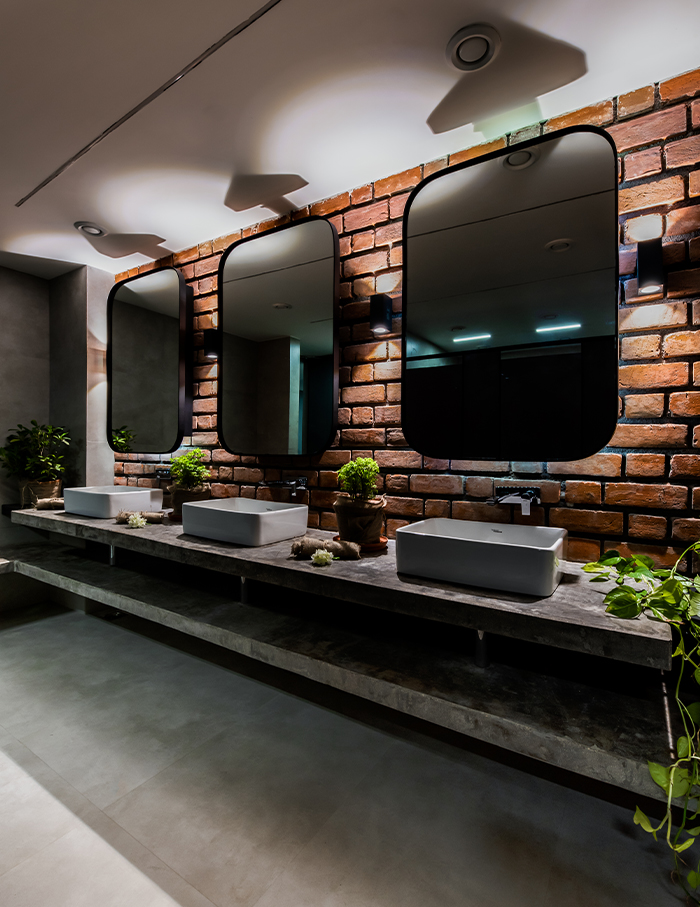 Walls are decked in a muted silver grey stucco and a jet black metal grid ceiling floats overhead. The seamless horizontal surface of Crete flooring covers the expanse of the office leaving aside elevated lounge spaces.Along with meeting cubicles, phone booth pods and terrace gardens for casual conversations, an intimate gathering space such as a reading room has been created as an oasis of calm.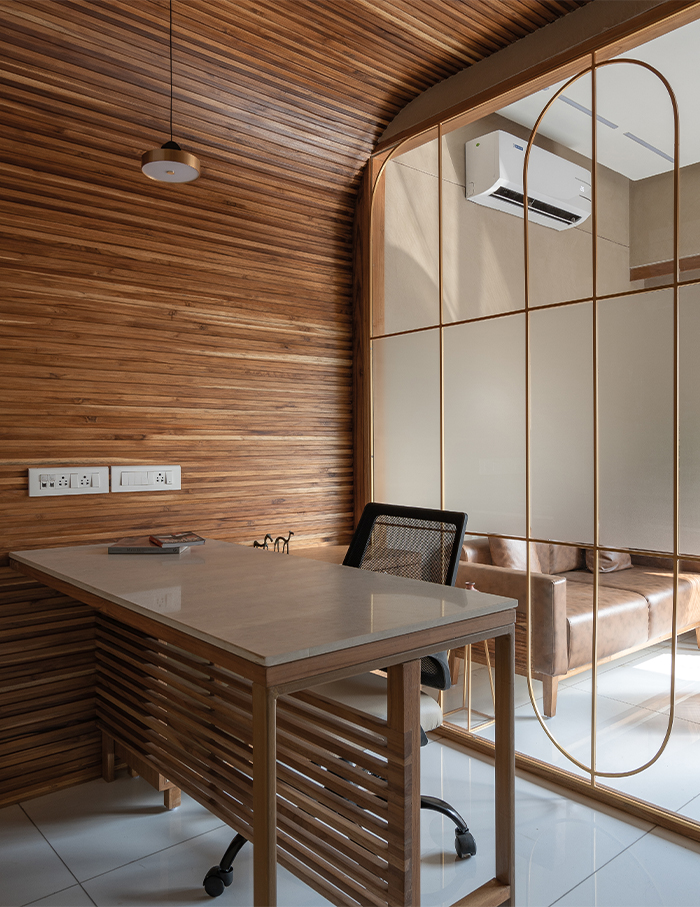 Tucked in a compact rectangular box with two shared walls, this 290 sq ft dynamic workplace in Ahmedabad by Vipuja Parmar and Krishnakant Parmar is a delusion of refractions and reflections created to enhance its expanse. With just one source of natural light at the east end, the space has adopted an open-plan concept for well-lit areas and work efficiency. The see-through glass partitions are accentuated with arched brass frames that add a sleek and elegant look to the space.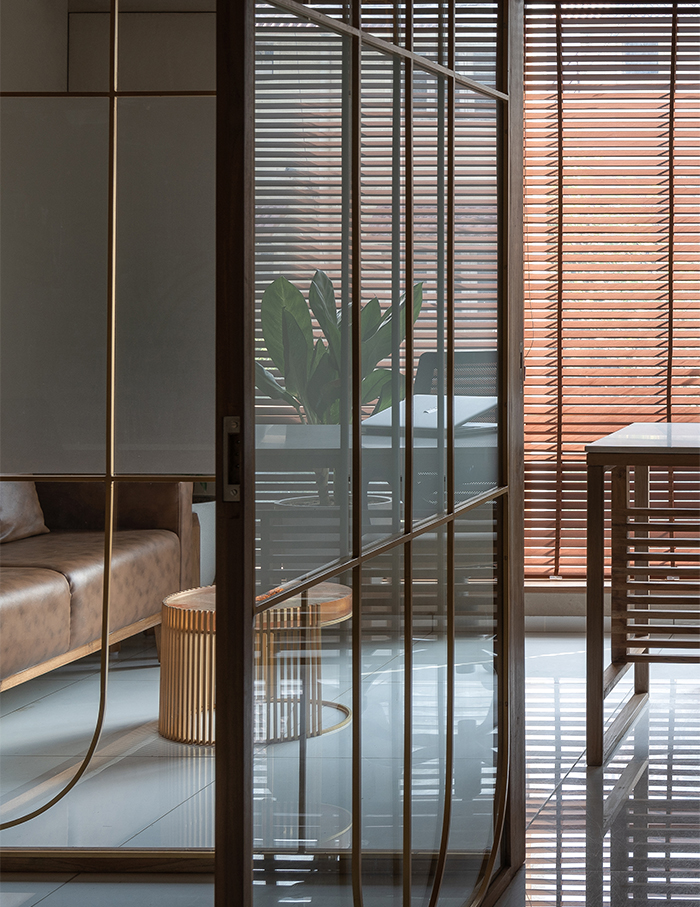 Diverse spaces are marked with the help of tinted glass. A curtain of horizontal wooden strips extends to form a cocoon-like curved ceiling as a sculptural element. Furniture is delicately fabricated and the curtain blinds portray a matrix of shadow patterns thereby making the space look subtle yet artful.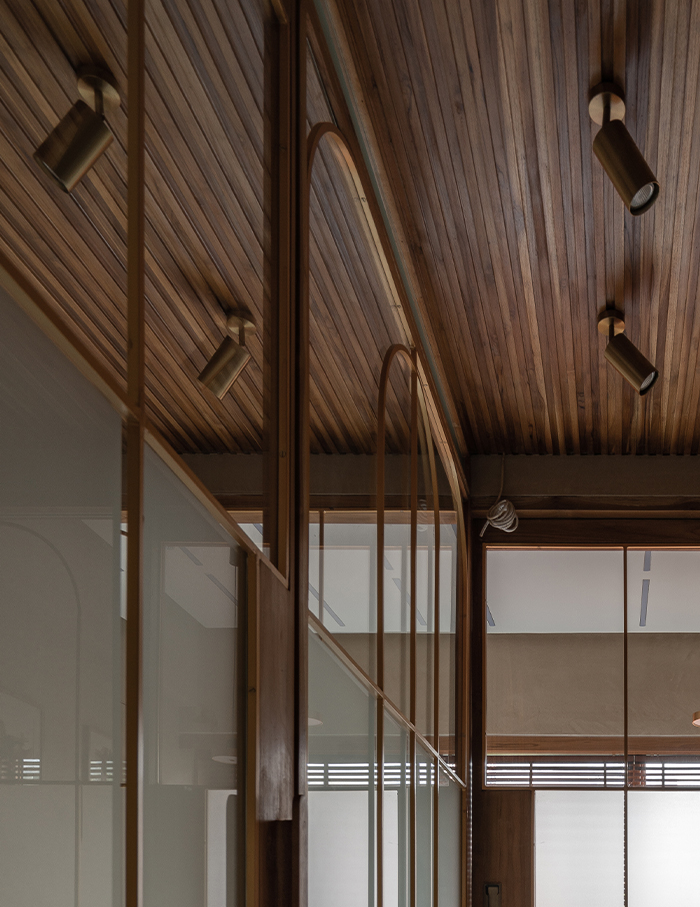 Circuitous Interpretations by Squelette Design
This 800 sq ft office is created for a corporate space of 14 people. Designed with an industrial theme and informal approach by Saumil Patel and Prashant Trivedi, the space is visually integrated but functionally segregated. The space is a combination of social and private working areas.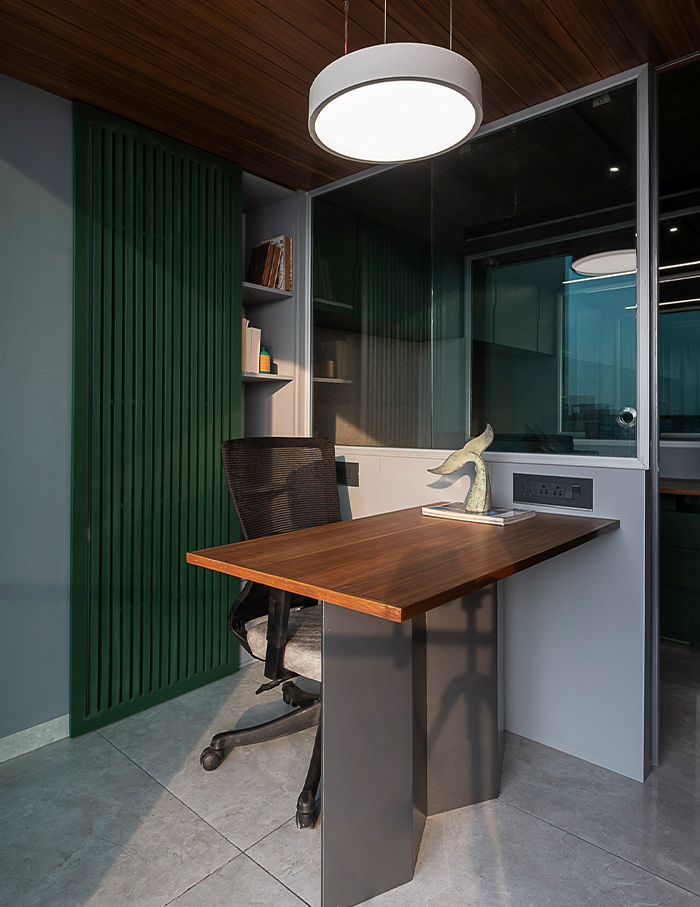 Interiors are crafted in wood, bricks, glass and grey stucco paint, while the ceiling is kept bare with plaster finish and highlighted with track lighting. With customised furniture, a warm essence and green ombre glass for cubicles, this space radiates minimal and subtle vibe.
Corporate Office by Vismit Architects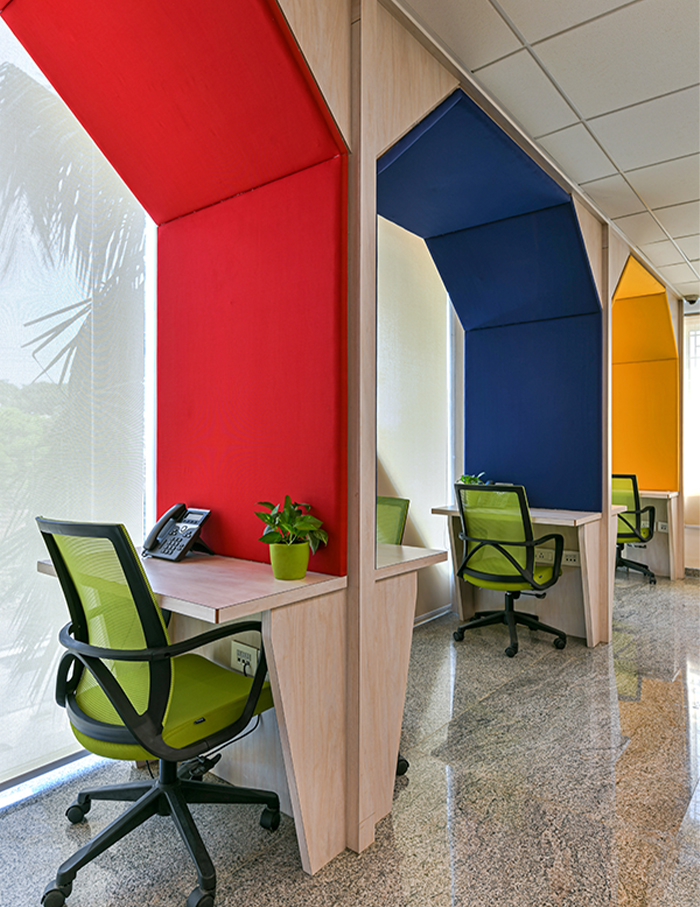 This spacious 15,000 sq ft workplace in Bengaluru by Vismit Architects houses two businesses under one roof. Aside from being segregated for various functions, it also includes breakout zones such as guest rooms, a cafeteria and a terrace garden that opens up to a lavish view of the city.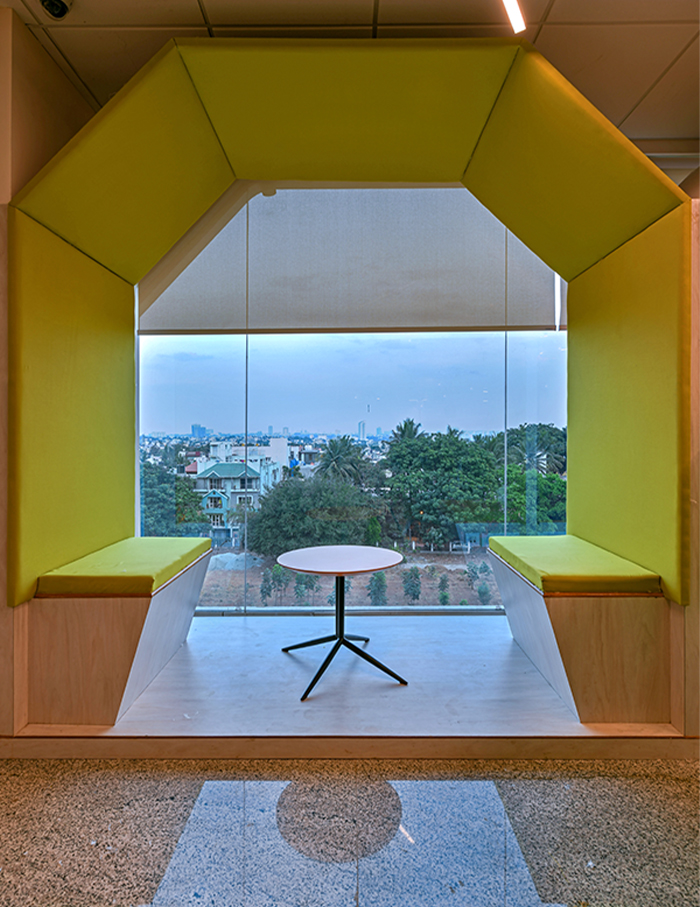 The material palette includes a combination of luxury marble infused with locally available granite, varied vibrant colours that add a peppy vibe and veneer finished laminates. Hexagonal shaped meeting pods extend into a seating space for casual conversations by the window. Accents, bold lighting and planters contribute to this techno-craft chic office space.
The office of MS Design Studio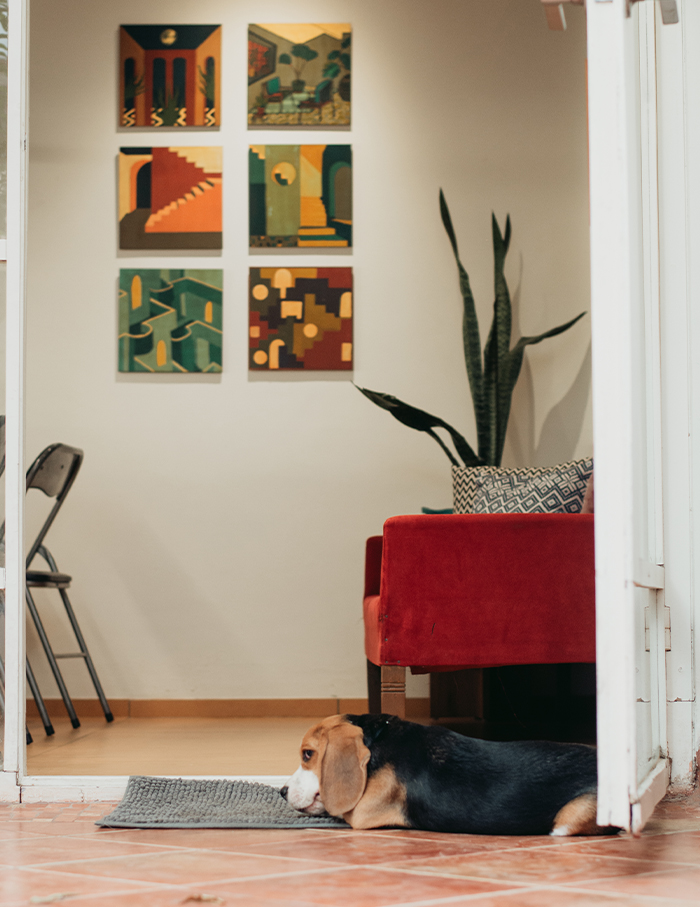 This petite 600 sq ft office in Vadodara is enveloped in minimal yet chic design elements. It embodies the philosophy of designers Shivangi and Manav Patel that relaxation and enthusiasm go hand-in-hand. A wooden partition divides the studio functionally into two parts, while keeping them visually connected. From that point, the workplace extends to a peaceful terrace garden that's accessed through a striking glass screen.