Homes
Gestalt, where the whole surpasses its parts — Inside TaP Design Inc.'s Bengaluru home
OCT 26, 2023
| By Krupakshi Mehta
In the bustling heart of Bengaluru, a 1,500 sq ft apartment has undergone a remarkable metamorphosis. It embarked on a profound exploration of perception, guided by the principles of Gestalt design that emphasise how humans recognise patterns and simplify complex images to create a unified and meaningful whole. Once a blank canvas, this home by TaP Design Inc. is where the boundaries between form and function blur, inviting one to contemplate how, like our minds' perception of the world, this home too finds beauty in the synthesis of its parts. Here every corner whispers the profound message that the whole is indeed greater than the sum of its parts.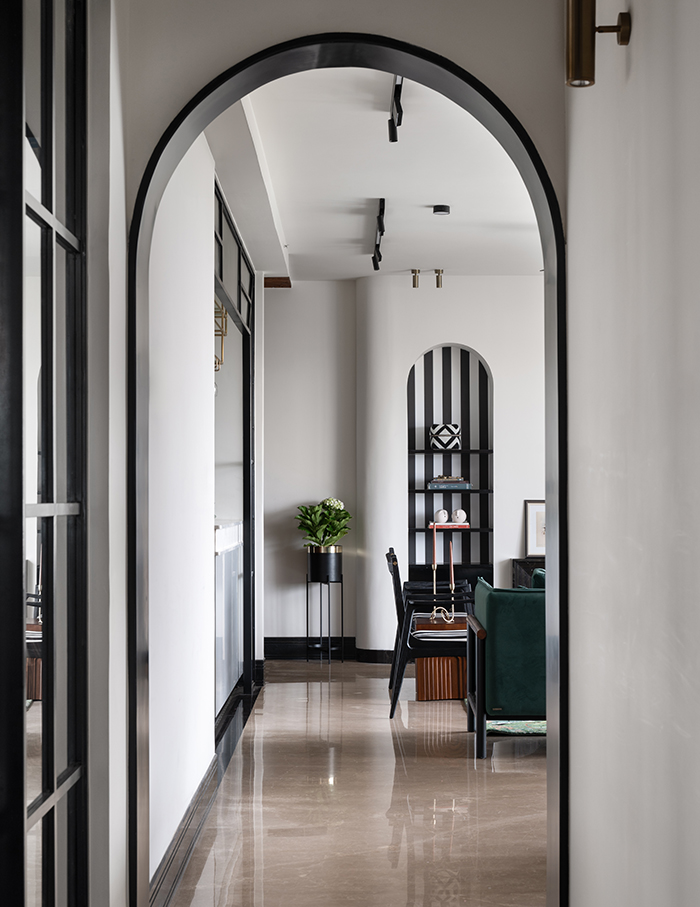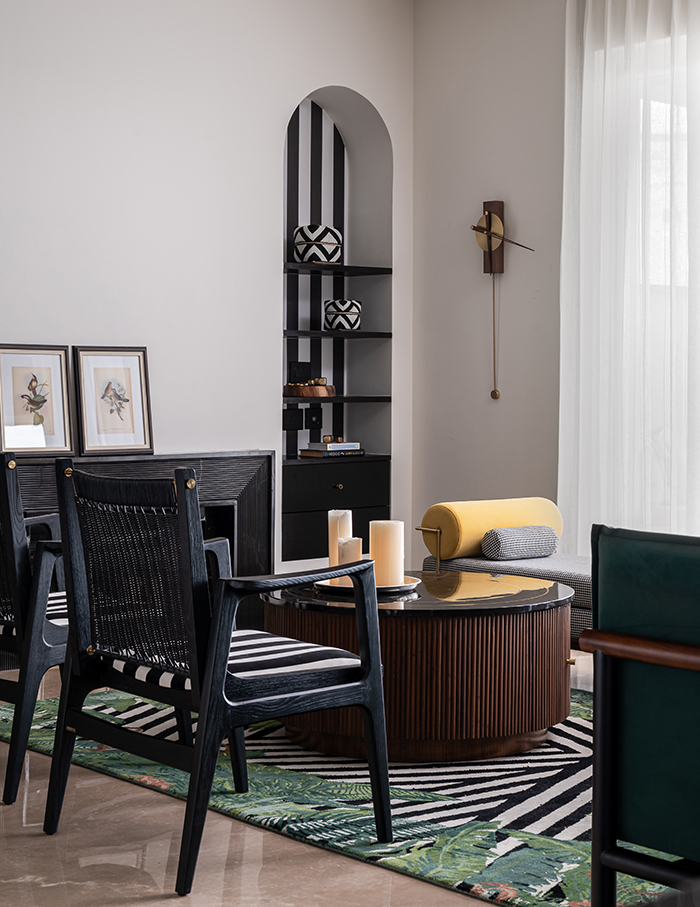 Breaking down barriers
"Civil changes were the most challenging, but we made it happen," says Iesha Parekh and Sneha Talati, Principal Designers at TaP Design Inc. considering the limited height and compartmentalised structure. However, it was within these constraints that innovation thrived. Walls that once divided spaces came down, allowing the apartment to breathe. The owner's vision of a monochromatic dwelling became the guiding star; blending elements, textures and colours.
In the foyer, brass lighting accents, a marble inlay and a strategically placed mirror create an inviting entryway. Geometric patterns inlaid onto the marble expand the space visually.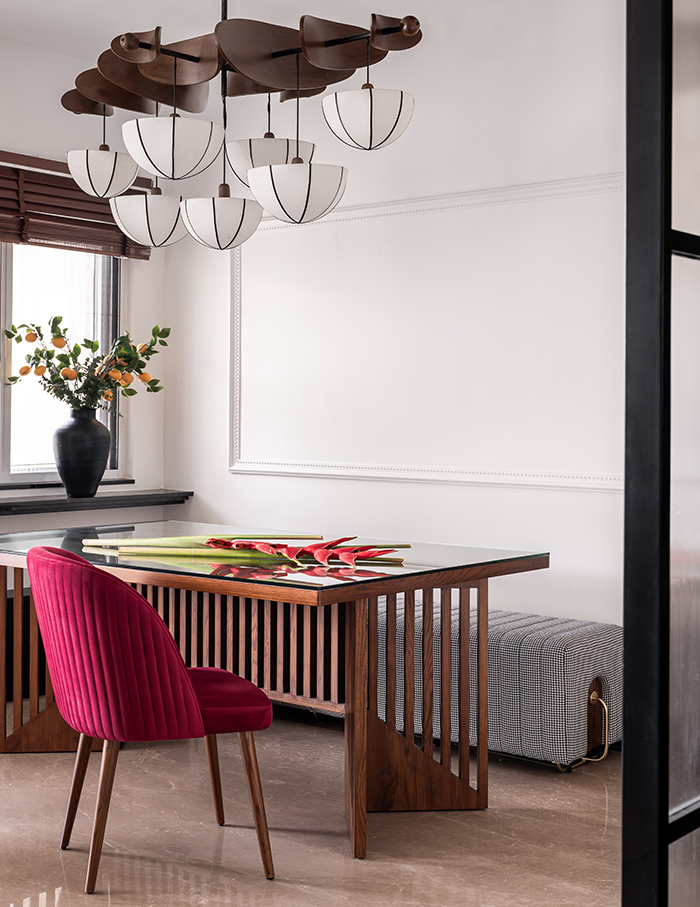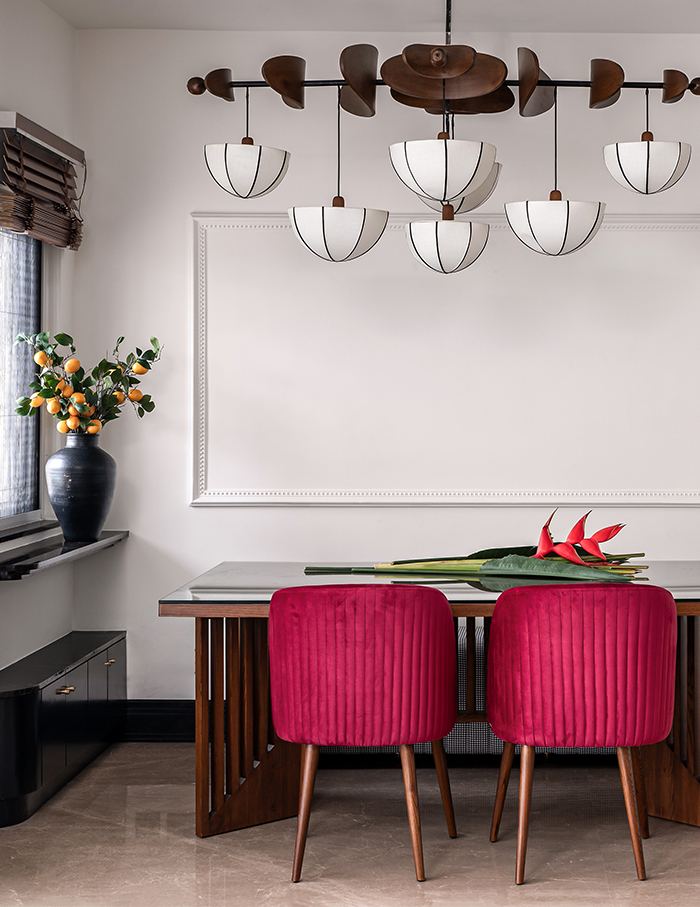 Where the party's at — Living, balcony, kitchen or bar?
The central living space unfolds with a fireplace crafted from brass and marble flutes. Black and white striped wallpaper accentuates arch features. An open bar unit extends the concept of the dry kitchen, using solid brass pipes. Bold colours like olive green, magenta and yellow injects character to the space. The black and white tiles along with bougainvillaea and hydrangea accents visually merge the indoors with the outdoors.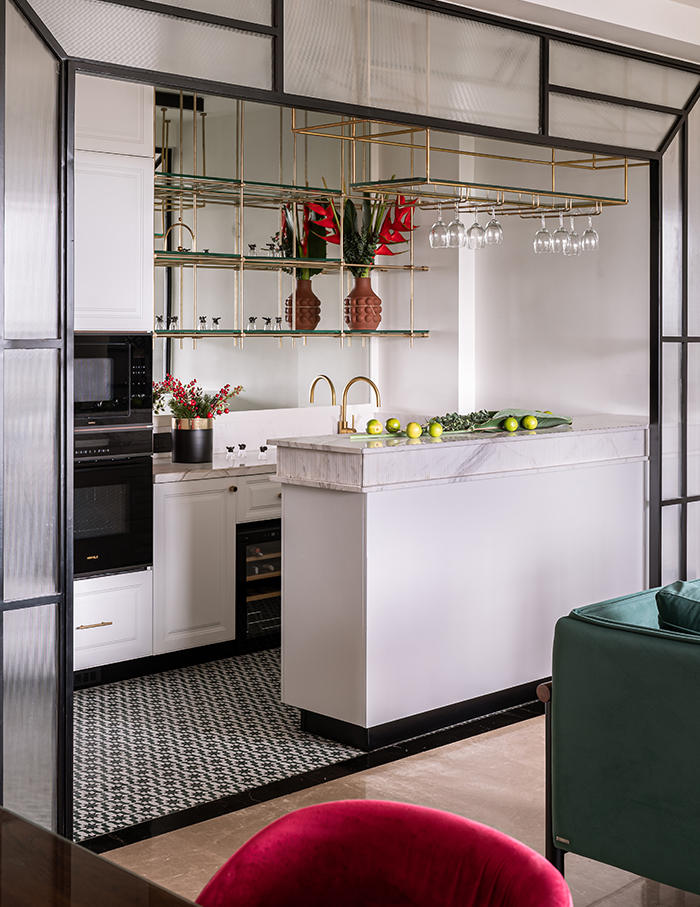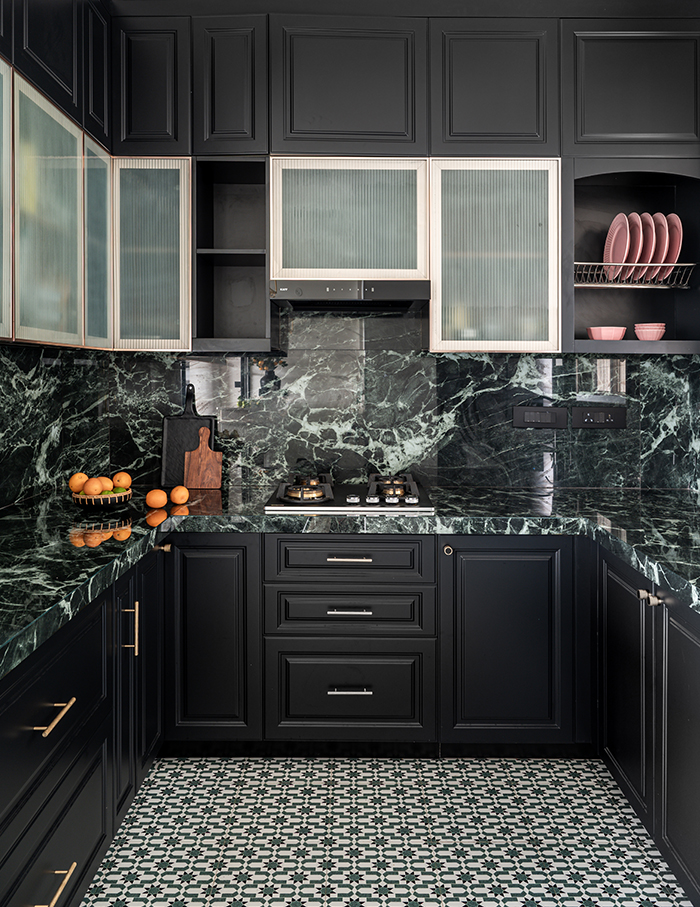 Compact yet brimming with character, the daughter's bedroom boasts a wooden bed, basic white walls and a dresser with see-through fluted shutters. A box bed with minimal components keeps the design simple. Bright hues in the bathroom cater to the daughter's taste, while blush pink drapes add a pop of colour.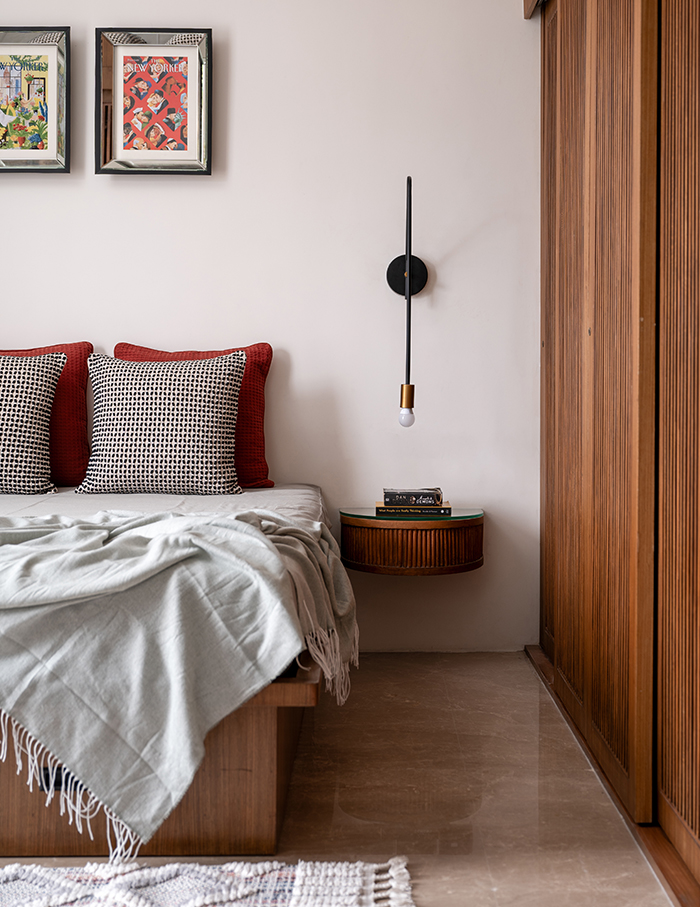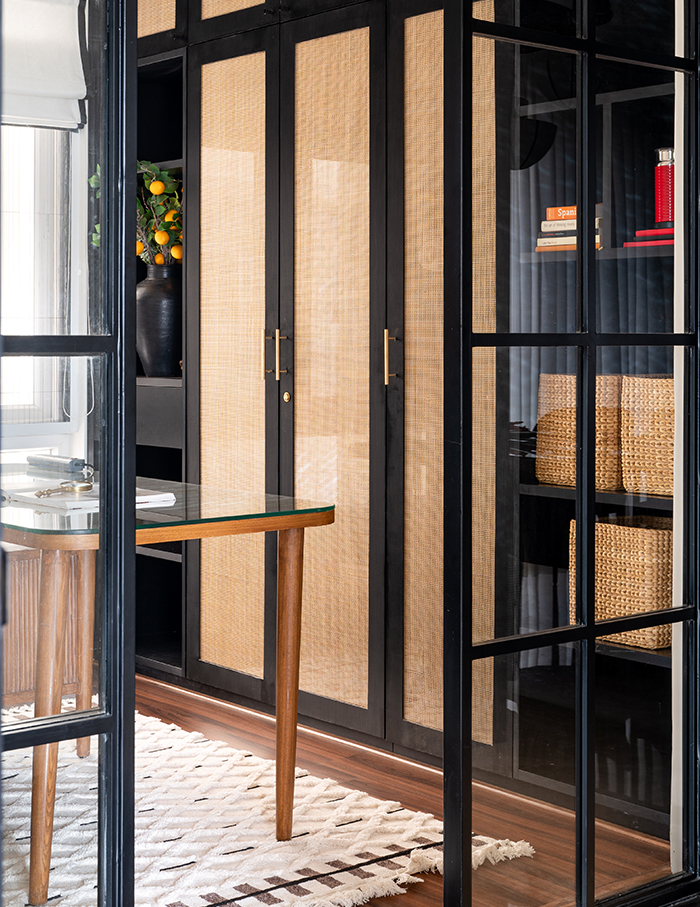 The primary bedroom shines with mosaic tiles in black and white. A spatial separation between the walk-in wardrobe and the bedroom was achieved by joining two bedrooms and reallocating space from the passage.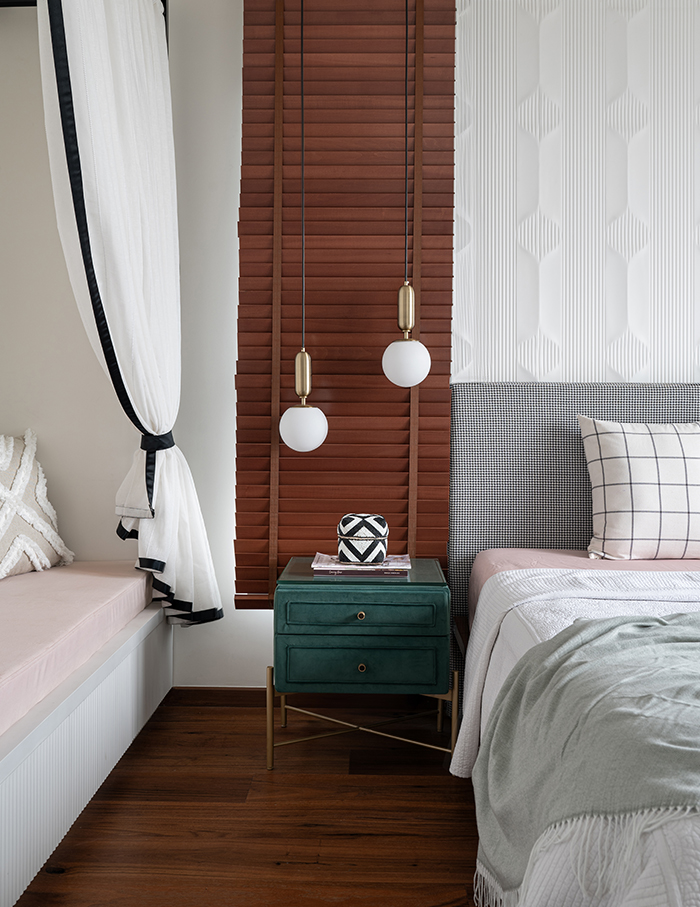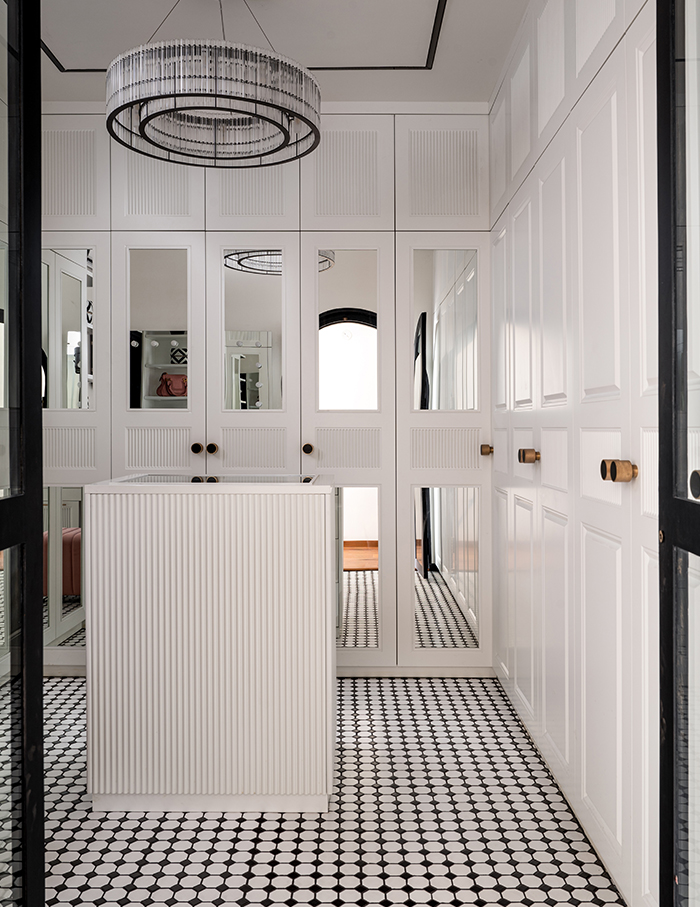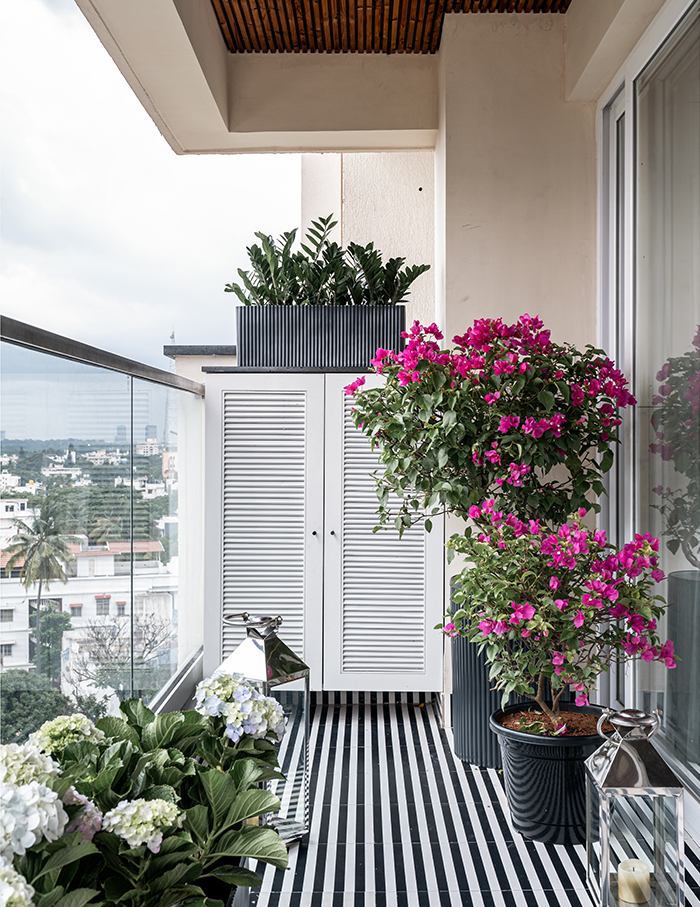 Here, spaces within spaces, figures and grounds converse artistically and elements converge in perfect proximity. In this home, Gestalt's artistry thrives, a testament that even in concrete creations, a deeper truth prevails — the whole always transcends the mere sum of its parts.
You may also like: Cabin home in Bengaluru by Taliesyn redefines the pleasures of simple living with its earthy tones